British designer's $2.6m junior sibling to T50 flagship is intended to be a daily driver.
Gordon Murray Automotive has sold all 100 planned examples of its second supercar, a "more practical" stablemate to the three-seat, V12-powered T50 fan-car flagship that it revealed in August 2020.
The company says orders have been taken from around the world for the $2.6 million T33 coupe, around a week after it was revealed. First customer deliveries will get under way in 2024.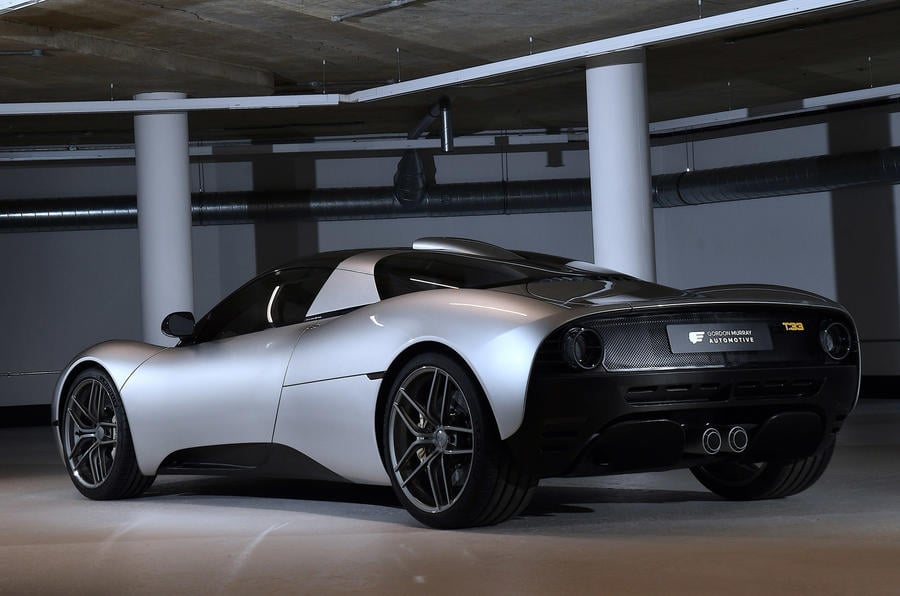 The T33, which is built on an all-new carbon-aluminium monocoque chassis, is slightly longer than the T50 and its cabin is designed for two occupants. The car uses a specially adapted version of GMA's Cosworth-designed 3.9-litre V12 engine with even more low-speed torque but a slightly lower rev limit of 11,100rpm, compared with 12,000rpm in the T50.
Further preserving the T50's status as GMA's flagship, the T33 uses newly developed passive underbody aerodynamic principles to deliver aero downforce as speeds rise, rather than the T50's innovative fan system, which works at any speed.
The T33 weighs about 100kg more than the T50 at the kerb, and its price shaves $1.9m off that of its senior sibling.
"If you can have only one supercar," said GMA founder and boss Gordon Murray, "the T33 is designed to be the one you should have."
In other ways, the two GMA models are closely related. Both are about the same length as the Porsche 718 Boxster but more than 200kg lighter. Their body proportions are considerably different (the T50's screen is around 10-inch further forward to accommodate its centrally seated driver), but they share carefully created family look. Murray and his design assistant Kevin Richards are responsible for the styling of both, created in-house with a small team of CAD modellers.
Murray has used the T33 to reflect his love of 1960s exotics (notably the Alfa Romeo 33 Stradale, Ferrari Dino 206 SP and Lamborghini Miura) and to create a more graceful, less cluttered shape than contemporary supercars.
Rather than copying his favourites, Murray has identified what he believes are timeless details and forms that will feed his long-term aim of preserving the beauty and relevance of GMA cars in the decades to come.
"I've had the T33 in my head for about 25 years," he said, "but until now, we haven't had the facilities to make it. "All of my designs carry 'T' numbers. For instance, the T25 and T27 were city cars, the T34 was our Ox flat-pack truck and the T37 was the TVR [Griffith] project.
"I've been planning a timeless supercar for a long time, and in the early planning I thought about a 3.3-litre engine for it, too, so I reserved the number 33. And now at last we're doing it."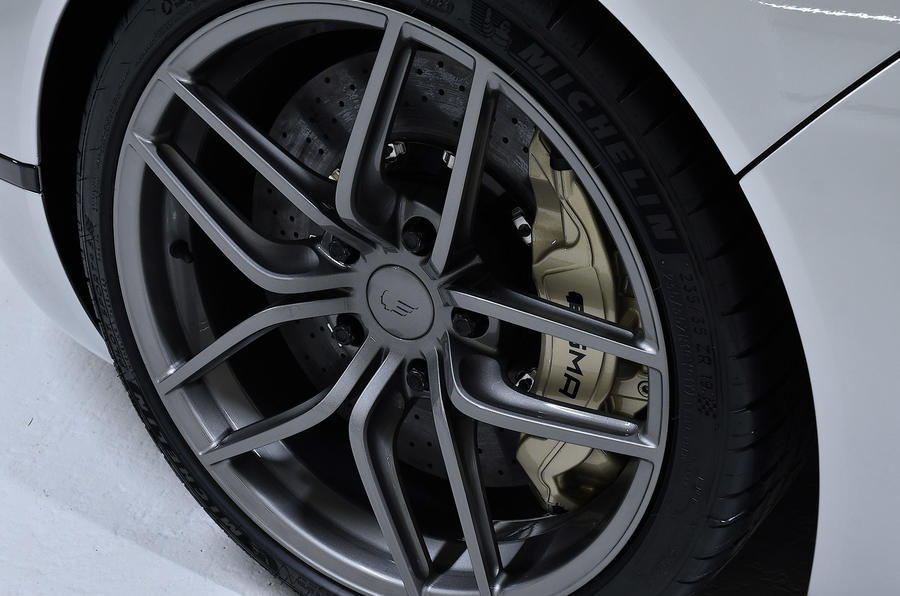 True to its previously announced "never more than 100" principle, GMA will make just 100 examples of the T33 coupe, running initial prototypes this summer and delivering cars from 2024.
Two T33 spin-offs are planned. Murray said they are likely to be a roadster and "some sort of track-specific model" in the vein of the T50S Niki Lauda.
Although its proportions are different and it's built for two occupants, not three, the T33 follows most of the principles used by the T50 (and before that, the seminal McLaren F1). It has a cleverly packaged and spacious cabin, with occupants protected by a carbonfibre safety cell. Many of the carbonfibre panels have a honeycomb core, and there is a light alloy frame to carry the major loads. There are three luggage compartments: one in the nose and a pannier-like one ahead of each rear wheel. Total luggage space is 280 litres, said Murray – "about the same as in a small hatchback".
The all-independent coilover suspension components are changed from the T50's, because the T33's weight distribution is not the same and its newly patented passive aero architecture ("we learned some important lessons from the T50") leaves entirely different packaging space under the body.
The double wishbones at the front are carried on an alloy subframe, while those at the rear are mounted directly on the gearbox, with the engine as a "semi-structural" chassis component capable of providing enough compliance to quell refinement issues yet providing the rigidity needed for a suspension mounting.
The steering retains hydraulic power assistance and the wheel and tyre sizes are identical to the T50's: 19-inch at the front and 20-inch at the rear.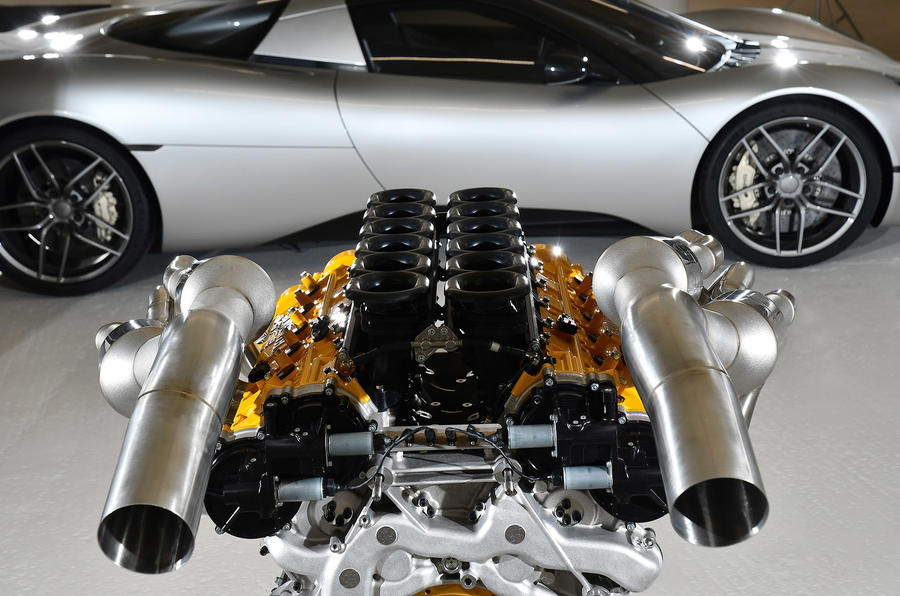 The T33's V12 produces 447kW at 10,500rpm and gives its maximum torque output of 457Nm at 9000rpm. It will pull away from 1500rpm in top gear and delivers 75 per cent of its peak torque at 2500rpm.
Reflecting GMA's attention to detail, the T33's engine gets different heads and camshafts and a reconfigured variable valve timing system in line with its slightly different positioning. The standard gearbox is a six-speed manual, but a paddle-shifter is optional. Murray said the T33 will be GMA's final non-hybrid car and hinted at hybrid and EV projects already well advanced.
It will also be the first car to be built at GMA's spacious new headquarters just off the M3 in Windlesham, Surrey. The entire run of T50 and T50S models are being built at GMA's base on the edge of Dunsfold Aerodrome, about 30km south, near Guildford.
GMA cites seven guiding principles for its growing car family: light weight, exclusivity, hand-built quality, components engineered for visual quality as well as functionality, beautiful exterior styling, Murray's close personal contact with customers and what he describes as "driving perfection".
Murray expects the T33 to attract half of its buyers in the US (orders are already being taken), so it will be sold in both left- and right-hand drive. GMA plans to achieve full federal type-approval, rather than depending on the more tenuous 'show or display' rules that other manufacturers use in the US.
"For a company like ours, it's a big decision to spend £28m (AUD$53m) on federal approval," said Murray, "but we're very confident about the car's compliance, and when we achieve it, in effect we will have two cars in one: a European version and one for the rest of the world. That will make it all worthwhile."
Steve Cropley