Hennessey Performance has turned its hand to the Ford Bronco Raptor.
Hennessey has focused back on what's made them so popular over the years, turning American muscle cars and trucks into high performance monsters. Its latest, based on the Ford Bronco Raptor, is called the 'VelociRaptor 500 Bronco', and features a visual overhaul and a healthy bump in performance.
Under the 'hood', its twin-turbocharged 3-litre Ecoboost V6 remains, but Hennessey has managed to extract an additional 66kW and 150Nm of torque, reaching a peak of 373kW  and 746Nm. Though derived primarily from an ECU tune, the gains are backed by numerous hardware upgrades to ensure longevity. These include an uprated intercooler, new induction system and a new stainless steel exhaust system that reduces back pressure. Performance figures haven't been disclosed, but expect an improvement on the factory 6sec 0-100km/h time.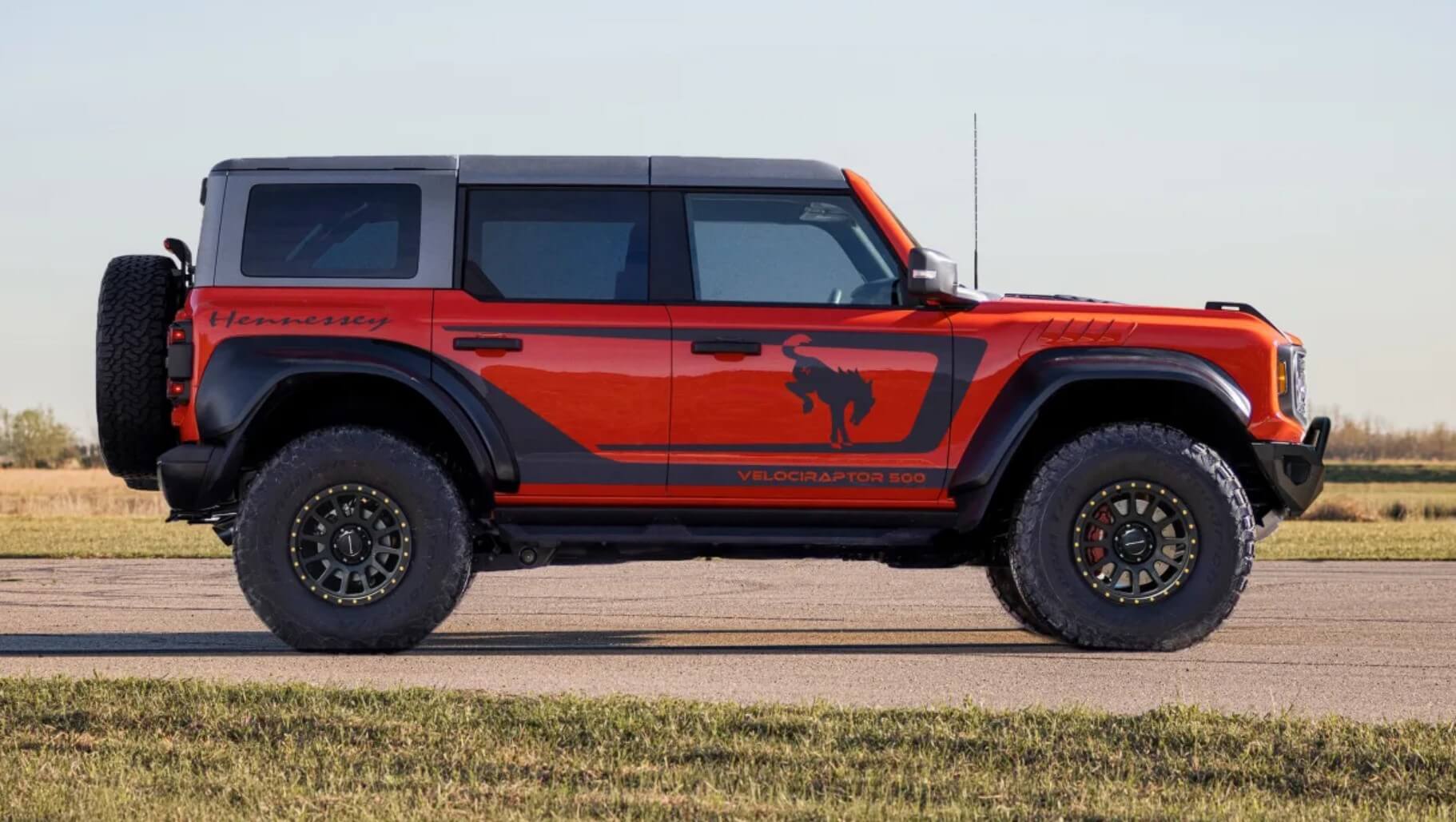 Its design doesn't differ drastically from the standard car, either, but Hennessey has added a few new components to increase aggression and functionality. At the front, there's a new 'VelociRaptor'-branded bumper, improving front end protection that also supports a set of LED flood lights, the rear bumper is also new. Move towards the passenger compartment and you'll also spot a further pair of spotlights mounted either side of the windscreen.
Side on, the tuner has applied unique heritage decals to go with its bold Hennessey branding. There's also a set of electronic fold out steps and the 10-spoke, 18-inch wheels are new too, retaining the large 37-inch tyres of the standard car. Changes are limited inside, but custom-embroidered Hennessey headrests, new floor mats and a unique Hennessey plaque are included.
John Hennessey, company founder and CEO said: 'Our customers are big fans of the new Bronco, but they've been asking us for more power and greater performance capabilities from day one. Ford's Raptor version is a big improvement, but the engine has even more potential. Our engineering team has released its potency to create the ultimate all-powerful off-road SUV.'
Yet despite these ruminations from Hennessey, we feel there's still more to come from the Texan tuner, which makes sense considering the real Velociraptor was actually less of a pack-hunting predator, and more a prehistoric turkey.
The Hennessey Ford Bronco package costs from $32,950 (cAUD$50,000), with the Bronco Raptor itself priced from around $70,000 (cAUD$107,000) in the US. Neither are available in Australia through official channels, but some importers are making the car available for conversion.
Sam Jenkins