The Hennessey Mammoth 1000 TRX is a ludicrous machine in every respect, yet it's also an outrageously enjoyable ride.
This is the Hennessey Mammoth 1000 TRX. 'Mammoth' because, well, it's a big hairy beast, '1000' because it has 1000bhp (745kW) and near-as-dammit 1000lb ft (1355Nm) of torque, and 'TRX' (T-Rex, geddit?) because it's based on Dodge's hottest Hellcat-powered Ram TRX 1500 pickup.
It's a significant increase on the RAM 1500 TRX which produces 524kW of power and 882Nm of torque, although at least the RAM 1500 TRX is available to buy in Australia from RAM officially, unlike this Hennessey tuned beast.
Hennessey has spent more than three decades tuning muscle cars and pickup trucks from its base in Sealy, Texas. Not forgetting the Venom GT and Venom F5 hypercars – the former being one of the most exciting cars I've ever driven, and the latter being one of the handful of wildly fast and powerful cars targeting a V-max of more than 480km/h.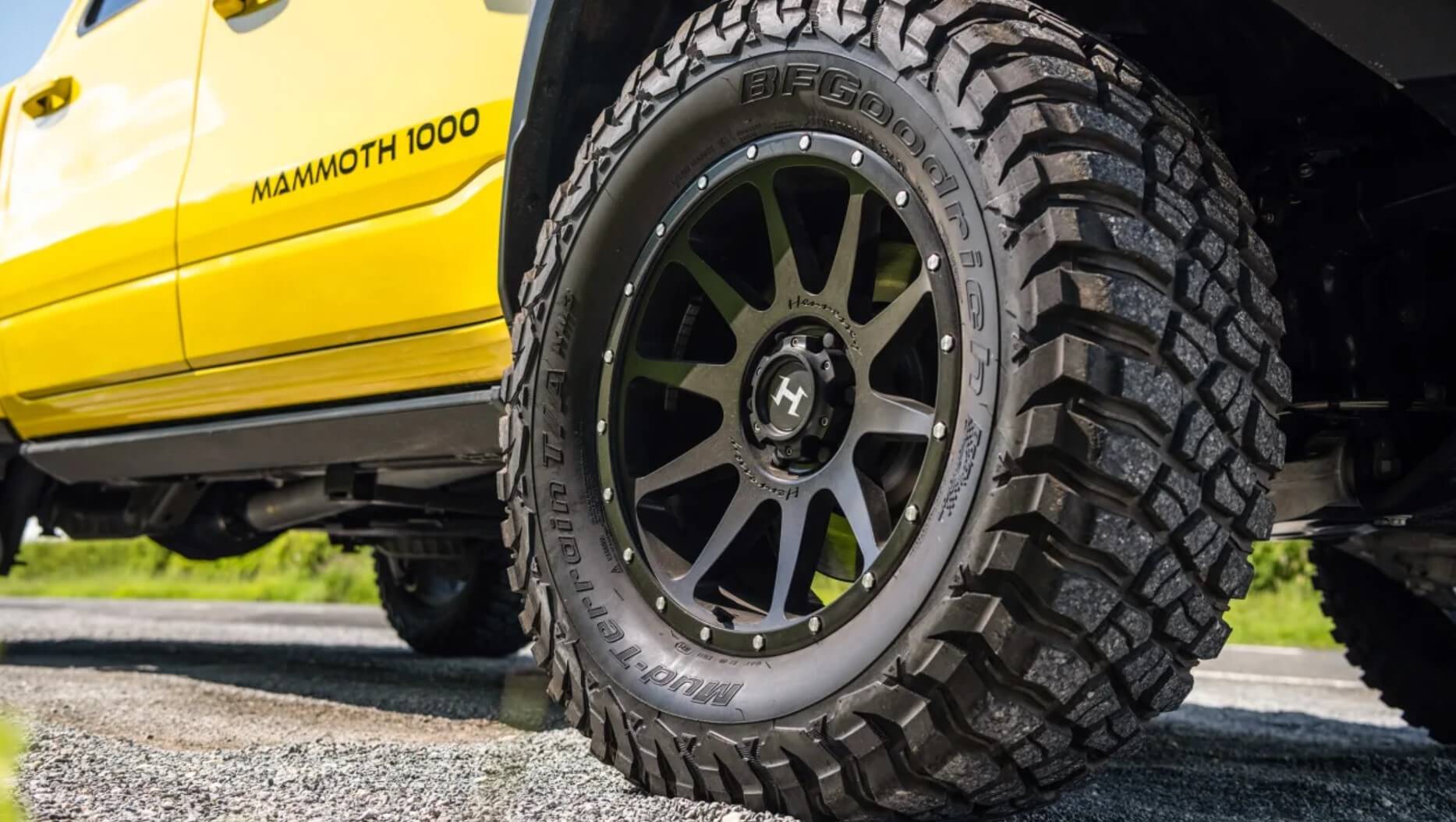 The Mammoth 1000 is the latest monster to leave Hennessey's workshops. With 755kW and 1314Nm, this three-ton truck has outputs to rival a Bugatti Veyron, vital stats that give credence to Hennessey's claim that it has built the world's most powerful and fastest-accelerating pickup.
It's no secret that Americans love their pickups. Much like in the regular muscle car sector, the major manufacturers are engaged in a good-natured but deadly serious battle for bragging rights. As its name suggests, Dodge's bone stock Hemi-powered 524kW TRX regards Ford's 336kW F150 Raptor as something of a Scooby Snack. That might change when the 522kW Raptor R arrives, but Hennessey appears to have that eventuality more than covered, the Mammoth cutting half a second from the standard TRX's 0-60mph (97km/h) time, 3.2sec playing 3.7, with the standing quarter mile in 11.4sec at a terminal speed of 120mph (193km/h). Top speed is limited to a kay shy of 210km/h.
This test car has the full suite of Hennessey Stage 2 mods. That's to say the regular Hellcat motor treated to a 2.65-litre high-flow supercharger, plus a new induction system and fuel injectors combined with engine management recalibration. There are also lots of cosmetic changes, most notably 20-inch rims wrapped with humungous off-road tyres, an LED lightbar, custom front and rear bumpers, and an abundance of 'Mammoth' badging.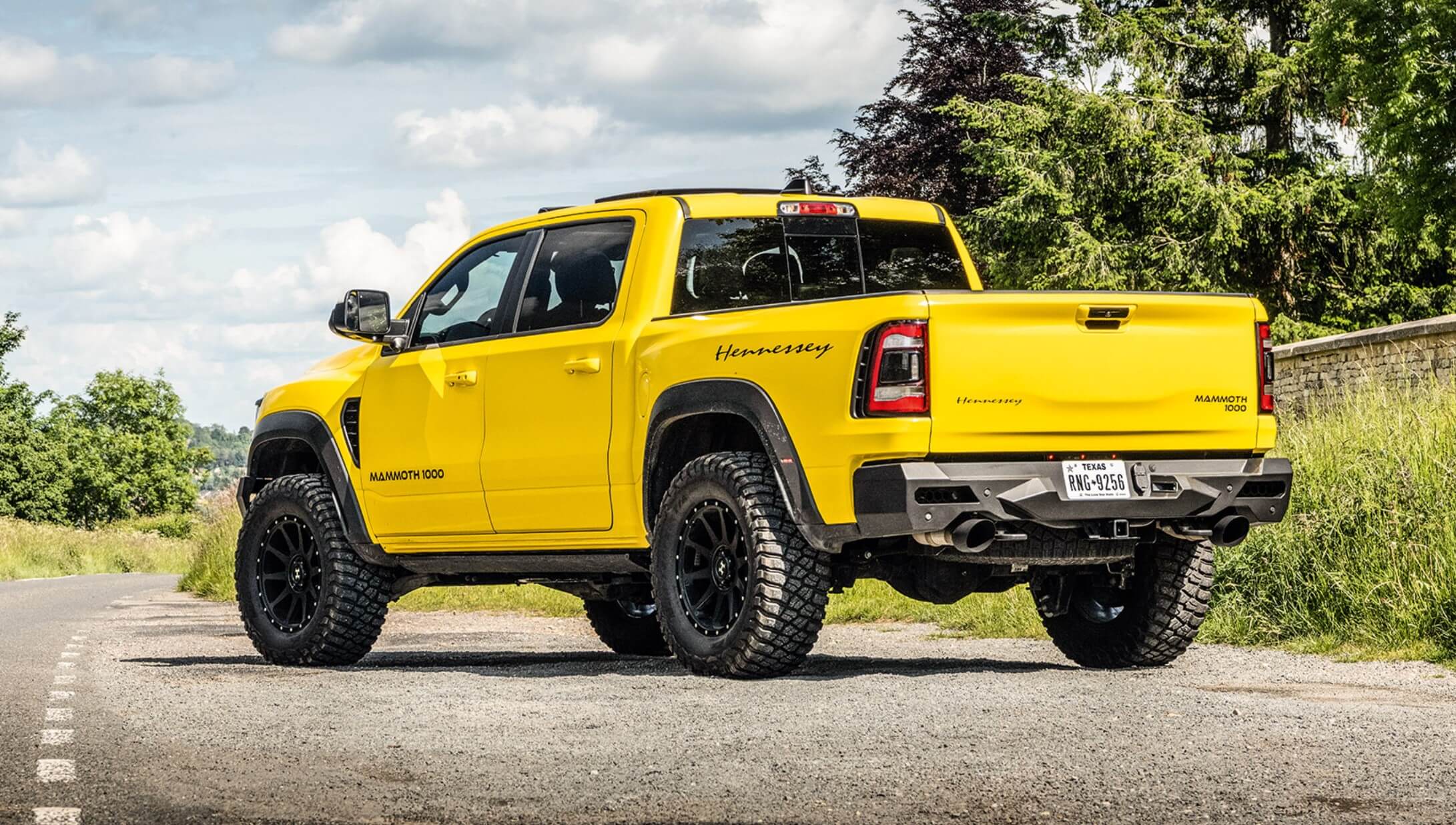 Very little can prepare you for the first time you meet the Mammoth. At 5.81m long, 2.08m wide and 1.97m tall, it's a gargantuan machine. For a while you simply stand and stare, then walk around it, crouching down to look underneath and shaking your head at the ride height achieved with the TRX's special remote-reservoir Bilstein dampers and (optional) 37-inch off-road tyres.
For a man of, erm, compact height, even the prospect of getting into the Mammoth is a little intimidating. Fortunately, rather than having to carry a mounting block around with me, the Mammoth drops its side-steps when unlocked to help you clamber in.
Once up in the driver's seat, you inhabit a high-rise world. It's a hard perspective to get used to because your reference points and view of the road are so far from normal. Fortunately, despite its size, the Mammoth is dead easy to drive. Just drop the eight-speed auto into D, squeeze the throttle and away you go, propelled by a slab of effortless, EV-style torque and a deep V8 rumble.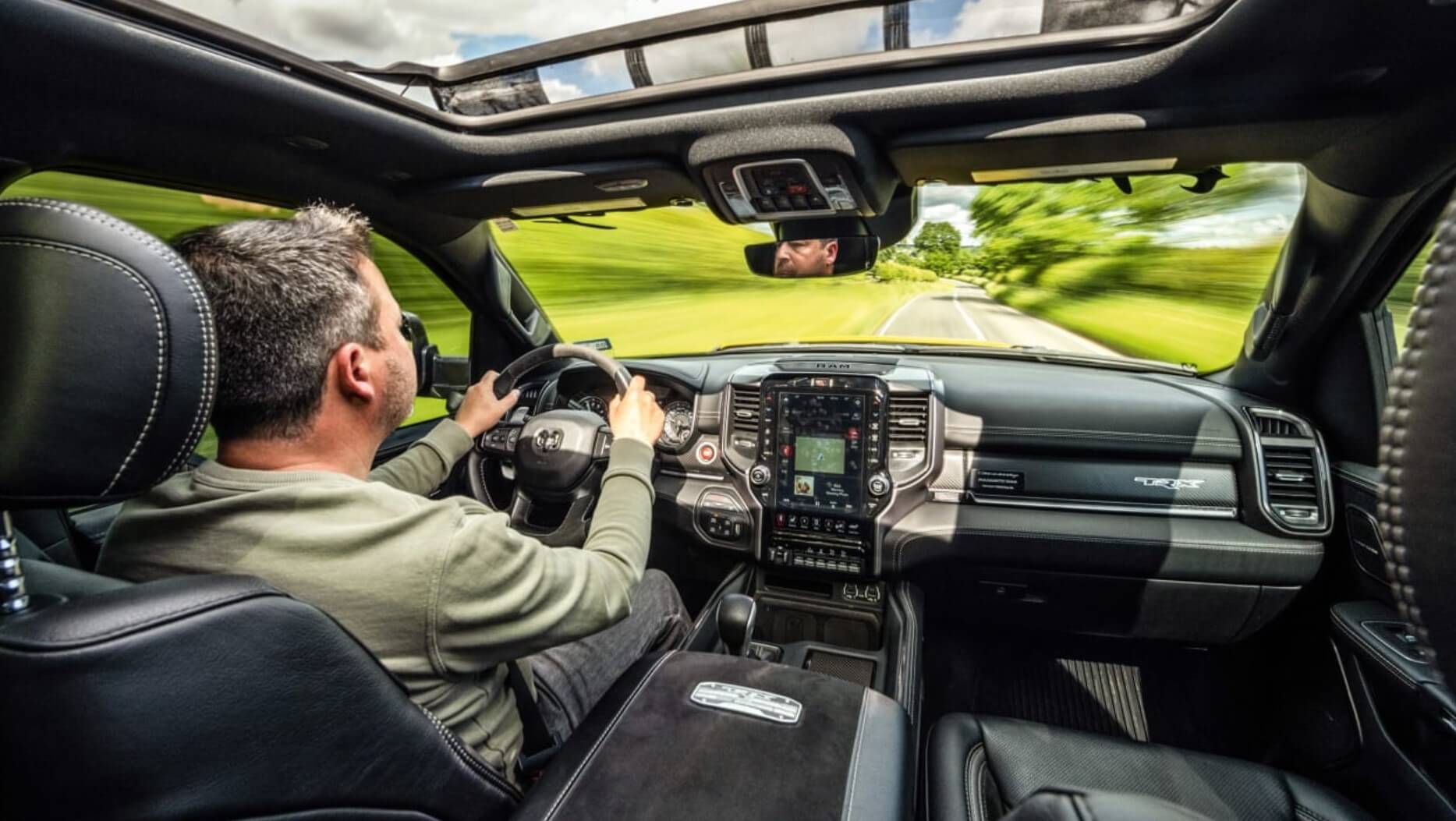 The Mammoth's performance is bewildering. Physics dictates that when you floor the throttle from a standstill it doesn't exactly yelp off the line. There's no avoiding the fact that 3 tons takes some shifting, even a full-blooded Launch Mode effecting more of a heave into action than explosive acceleration. A chunk of the initial energy goes into compressing the rear suspension, but once that big, bluff nose has lifted, things begin to happen rather quickly. Usain Bolt was never quick out of the blocks, but once he hit his stride he just seemed to pile on more and more speed. Once it has overcome its own inertia, the Mammoth delivers that same exponential speed gain.
The noise is something else. Eight angry cylinders hollering in competition with a whining supercharger, it's the perfect soundtrack for the drama you find yourself in the middle of. Once into third gear it just goes and goes and goes, until the sensation of sitting so high up in something so heavy going so quickly sets self-preservation alarms ringing in your head. It's like riding an avalanche.
Beyond the madness of its full-noise straight-line stonk there's still a lot to get used to. Weirdly it's surprisingly easy to place on the road, which is a good thing given how much of the lane it occupies. I'd expected it to be like a super-sized old-generation AMG G‑Wagen, which has such woolly steering that you aim it like a boat, but despite the lifted suspension and knobbly tyres the Mammoth offers an unexpected degree of connection and decent directional precision.
Braking needs forethought if you're digging into the straight-line performance. The brakes themselves are impressively powerful with decent progression, but this kind of mass takes some stopping. Better to deploy some LMP1-style lift-and-coast, both to offer the brakes a bit of respite and to help the Ram find a rhythm with the road. This is not a vehicle that wants – or needs – to be stood on its nose into every corner.
Hmm, corners… On wide, smooth, fast roads the Mammoth manages to make progress with considerable swagger. Sweeping corners don't ask too much from the front tyres, so it feels grippy and pointy enough that you just peel through gradual curves with barely a roll of the wrists.
Tighter corners are a different matter. With greater speed and more aggressively applied steering input, the Mammoth's mass, centre-of-gravity and high side-walled tyres suddenly become very apparent. From the outside it might look fun having both inside wheels clear of the tarmac, but from behind the wheel it feels like that moment when you lean back slightly too far on your chair. To the Mammoth's credit, those fancy Bilstein dampers maintain their cool even when you're asking something the size of a modest mid-terrace house to tackle a tightening downhill corner at 100km/h.
There's some understeer if you're overly optimistic with your turn-in speed, but once you learn where the limits of the front tyres are, there's actually a decent balance to be found. Traction isn't a problem with four-wheel drive, and if you find the right corner and summon the nerve to nail it you might even feel the Mammoth start working its rear axle a bit harder to neutralise the handling balance. It really shouldn't work, but it does.
Monstering A- and B-roads is all part of the fun, but what this truck does brilliantly is simply make progress. It's one of those cars that you feel you could drive all day, in any weather, across any terrain. Given that Hennessey's homeland is Texas this is to be expected, but I'm not sure I appreciated quite how good it feels to drive something that feels so utterly indomitable.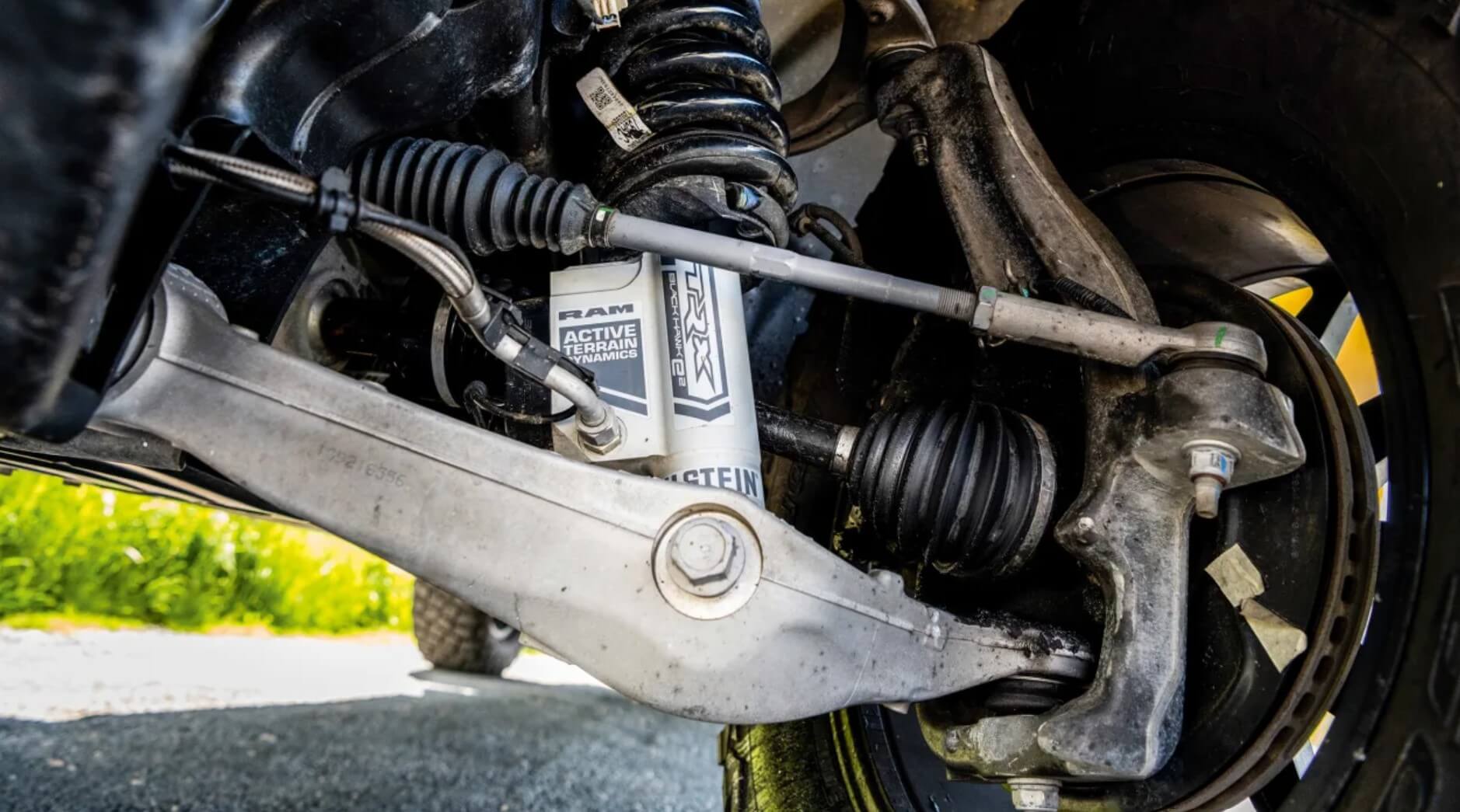 It's functional too, with space to accommodate five adults in icily air-conditioned comfort, plus the muscle to carry a ton of payload in the truck bed and tow almost three and a half tons. If, like many Hennessey customers, you and your buddies have a race car, dune buggy or speedboat to enjoy at weekends, I can't imagine many machines better able or more enjoyable to haul them with.
There are downsides. Unsurprisingly, this 3-ton, 6.2-litre supercharged beast likes a drink. During our time with the Mammoth it averaged a little under 32L/100km. It's also MASSIVE. Stop anywhere and you need at least two parking spaces. More like four if you're heading to the supermarket. You also need to be prepared for other people's reactions. Some love it so much they almost crash into you while trying to wave or take photos. Others positively loathe it. I guess that's inevitable, and not so dissimilar to driving any other extreme car, be it a hypercar or hypertruck.
Hennessey has already sold somewhere in the region of 300 Mammoths. Tick every box on the upgrade and options lists and – in the US – it roughly doubles the showroom price of a regular Ram 1500 TRX from circa $80,000 (AUD$116,000) to more like $150,000 (AUD$218,000).
The Mammoth is a ludicrous machine in every respect, yet it's also an outrageously enjoyable ride. The Thrill of Driving comes no bigger than this.