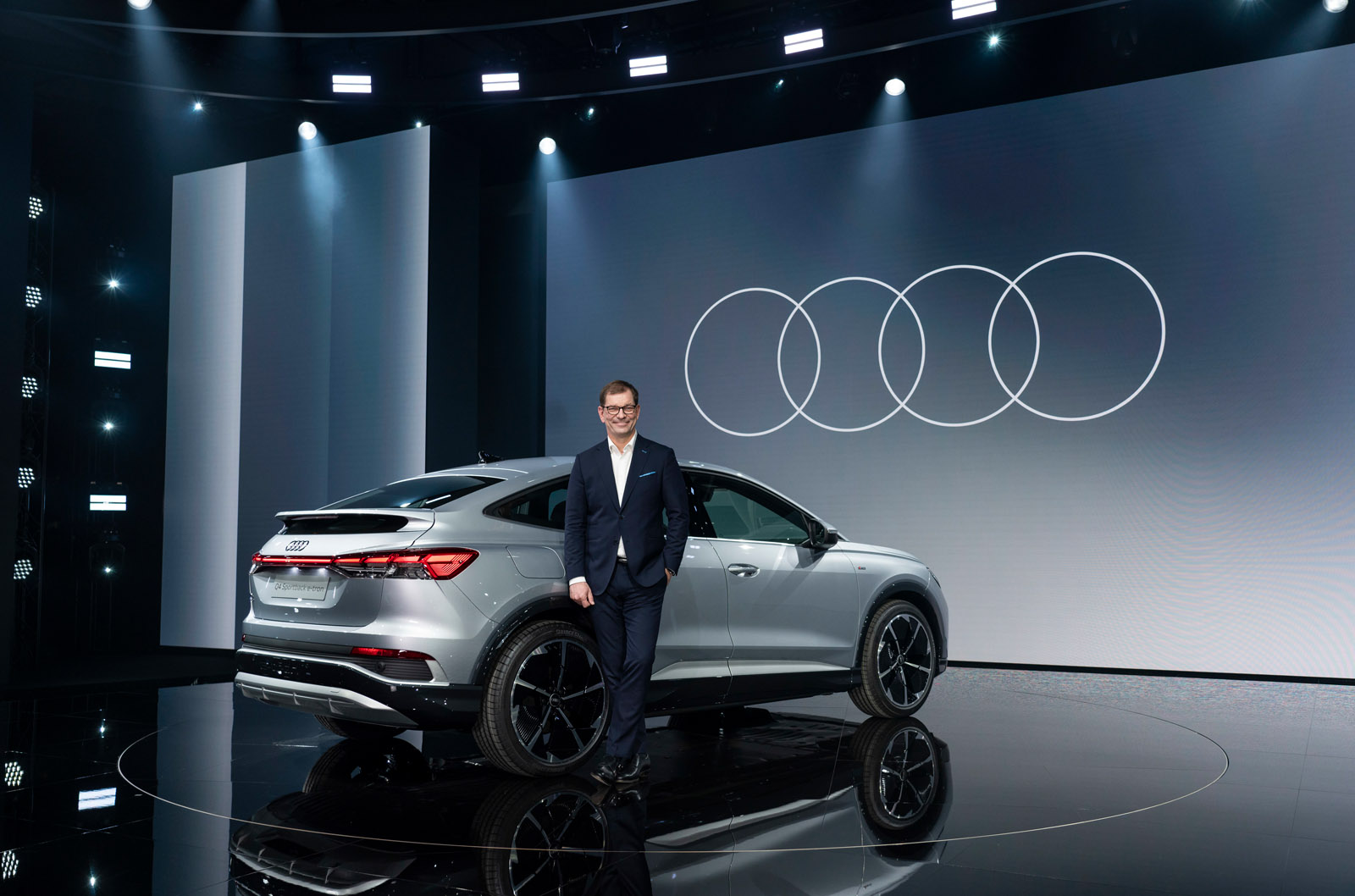 Audi recently revealed its most affordable electric car yet, the Q4 E-tron, a mid-size SUV tipped to sell for between $50,000 to $65,000 when it arrives in Australian showrooms in 2022
It offers generous, Q5-matching interior dimensions in a more compact exterior package and is widely seen as the German brand's first mainstream EV.
Shortly afterwards, the wraps came off the A6 E-tron concept, a realistic glimpse at the electric version of the long-running A6.
Clearly the electrification of Ingolstadt's line-up is gathering pace, and there are questions over what that means for the brand's ICE offerings, its small cars and its market positioning.
Automotive Daily's exclusive partner Autocar recently spoke exclusively to Audi CEO Markus Duesmann for an understanding of what the near future holds for the company as it undergoes one of the most significant transformations in its 111-year history, ushering in no fewer than 20 all-new electric models by 2025.
Could the Q4 E-tron become Audi's best-selling car?
"Hopefully it will. The car is certainly positioned in the middle of our strongest models, and we definitely want to do high volumes with it.
"Battery cars are becoming more and more significant in the market, and we're finding that our BEV clients don't want to go back [to ICE], so we expect strong growth.
"Will the Q4 E-tron be the best-selling Audi? The truth is we don't know. Deciding how much volume to install in our factories is one of the difficulties we have. We can react to changes, and that's a good thing, but predicting demand was always difficult for cars with combustion engines, and this is harder."
The Q4 E-tron is as big inside as the Q5 yet more compact. Does this suggest that EVs will change the classic model range structure?
"It's a good question, and we've thought a lot about it, but we expect the line-up to stay much as it is now. In all segments, we have customers wondering when we'll launch an EV that suits their preferences.
"You're right to think that our EVs' ratio of internal to external size is better, but buyers' preferences depend on more than that: budget, whether you sit high or low, whether the car is short or long… So we expect the classic segments to stay."
Will electrification cut the number of Audis on offer?
"I wouldn't expect the number of models we offer to rise, and perhaps it will fall a little. The number of combustion models will certainly fall as we launch electric models, but cutting the total number of models isn't a priority for us. Keeping our stable together is the priority."
You've said Audi won't develop any new engines, but Ford has gone further with the goal for all of its European cars to be EVs by 2030. Will Audi make a similar announcement?
"No, my official announcement is that the last combustion cars we make will be the best of that type we ever make. It's too early for us to announce a final date, given the disparate requirements of our many markets. But we're in the process of reviewing the whole Audi strategy, and this will certainly be a discussion point for us."
Some manufacturers say the impending Euro 7 efficiency standards will add huge cost to engines, which, together with a fall in battery prices, will cause the cost of EVs and combustion cars to cross over. What's your view on this?
"It's certainly true that meeting Euro 7 [standards] adds a lot of cost to combustion engines and that a crossover point is coming – we think by the middle of the decade at the latest. Euro 7 is a real headache, especially since it doesn't do much to improve the environment. So we will reach this crossover point soon."
There are suggestions that BEVs have progressed so quickly that plug-in hybrids (PHEVs) might be needed only for a short time. Do you agree?
"We see the PHEV as a convenient bridge technology, but it's also a technical overkill, because it requires a car to have two powertrains – one of which will soon be an expensive Euro 7 combustion engine. And it still doesn't make mobility CO2-neutral. That's why we're strongly focusing on BEVs for future Audi models."
Is this to say that you would prefer not to offer PHEVs?
"No, we offer them now. The needs of our subsidiaries and our customers force us to do that. It probably sounds hard, saying it like that, but that's how it is. We're convinced that pure battery-electric vehicles are the future."
Are batteries truly reducing in price, and if so, how fast?
"Many things influence battery costs: commodity prices, materials supply, fluctuating demand, transportation… But the technology trend is that costs will go down, and significantly. We've predicted a 50% drop by the middle of the decade. The technology is already far enough developed to see that this can happen."
How will electric motors progress?
"They will develop more too, especially when problems of battery range and [EV charging] infrastructure reduce. There's not much sign of design convergence at present, but this will change over the next 15 years. The main drivers will be size – have you seen those tiny motors they use in Formula E? – plus weight, efficiency and cost. It's not an easy technology. It looks easy and there are fewer legislative problems, but it's still very difficult to do well."
Many manufacturers say that the existence of small cars is under threat, because they aren't profitable. What's the truth?
"Earning money from little cars is definitely difficult. Diesels have already disappeared from little cars, because they're just too expensive to make; cheaper to use, maybe, but expensive to make. We continue with the A1 Sportback, because it's only two-and-ahalf years old. In the longer term, we will stay with cars in the A1 and Q2 [crossover] bracket. It's not where we make money, but it's a segment that our customers like, so we will continue."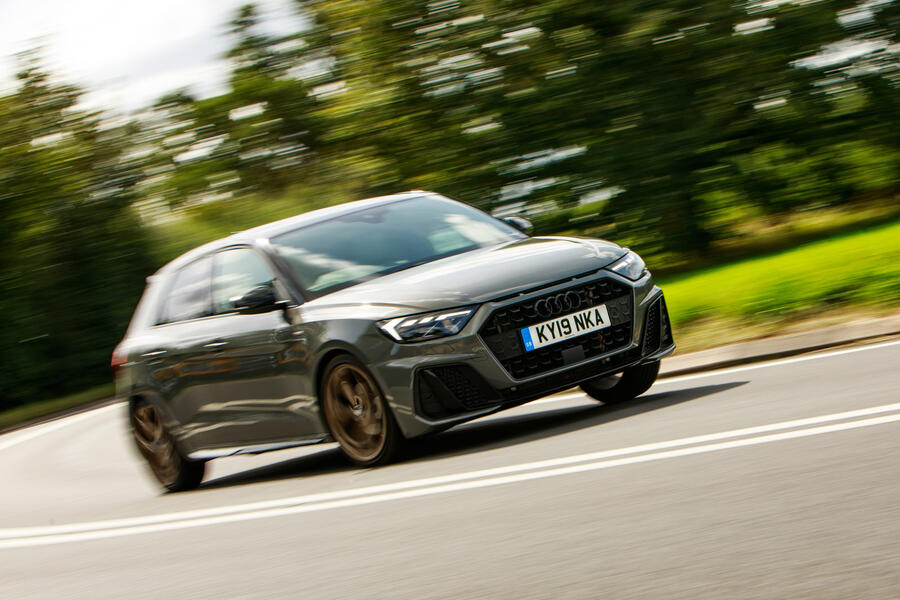 So Audi will continue building the A1?
"I don't say that we will have a successor for the A1; that's not so likely. But in the entry segment, we will definitely have an offer."
It has often been said that Audi is the Volkswagen Group's biggest profit-earner. Is that still true? And if so, does that mean that you can do more of what you want?
"Yes, it's true that we're one of the money-makers, along with Porsche. Our claim has always been 'vorsprung durch technik' [progress through technology], so we're always aiming to emphasise Audi's position as the spearhead of Volkswagen Group technology, and we will do more of that.
"This is why I'm also responsible for engineering across the whole Volkswagen Group. In a position like this, it's always helpful if you're making some money."
Steve Cropley