It may look like a 1967 Ford, but Charge Cars' EV Mustang is anything but. We visit the factory where this classic electric Mustang is built.
Charge Cars's striking Electric Mustang is an electromod of the iconic 1967 Ford Mustang fastback.
In fact, calling it an electromod is a bit of an understatement, for the Electric Mustang is a forensic re-engineering, design-sharpening, luxuriating and electrification of the car made famous by the 1968 Steve McQueen film Bullitt.
In Charge guise, the muscle car features an extensively upgraded steel monocoque imported from the US; body panels and an interior fashioned from carbonfibre in the UK; a state-of-the art quad-motor battery-electric powertrain built in Britain; and completely new running gear and suspension, also British-designed and supplied where it is built.
The Electric Mustang has been developed to European Union small-series legislation, which has meant crash-testing and compliance with lighting and vision regulations.
"Everything we've done is always the best way. It has been expensive, but we've been very thorough," says chief creative officer Mark Roberts. Roberts has expertise spanning a 30-year career at McLaren stretches back to the groundbreaking F1 supercar of 1992.
Many of Charge's staff are ex-McLaren, while some have served in race teams, both Formula 1 and the World Endurance Championship, and others at British specialist sports car manufacturers.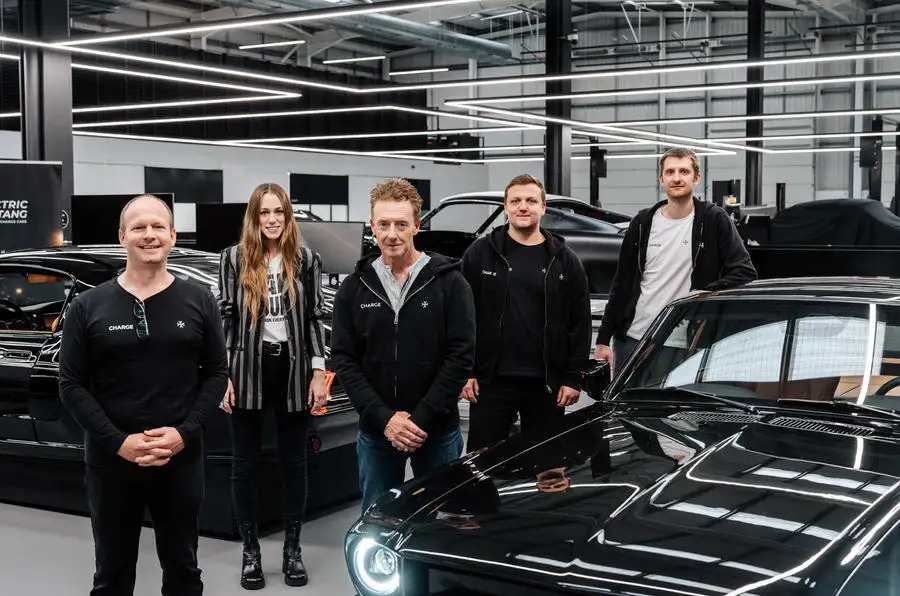 Roberts is the point man for this team of 85 people and CEO Vadim Shagaleev, a Russian entrepreneur who founded a music streaming business and now finds himself heading up a specialist British car maker through his links to compatriot Denis Sverdlov, better known as the founder and CEO of the Arrival Group.
Charge lives under the umbrella of Kinetic Group, founded by Sverdlov and two other Russian investors, whose main UK business is the billion-dollar Arrival Group, the electric van and bus start-up, quoted on the Nasdaq and poised to deliver its first vehicles this year from a factory in the UK.
A 1960s muscle car may seem a million miles away from a parcel-delivery van, but the two projects are interlinked by shared battery cells, motors and engineering control, plus a common desire for breakthroughs in BEV technology. There's also a close link between the Electric Mustang and the Arrival Car, an autonomous taxi in development with Uber for ride-hailing operations using the same technology base.
"The hardware and software is very similar to Arrival, but Charge Cars is a very different company with its own targets and deliverables," says Roberts. "In effect, we're testing some of the technology for them – and in some areas, we're ahead in development."
The cool monochromatic interior of Charge's headquarters, an industrial unit in the Middlesex town of West Drayton, accessed off the not-at-all-glamorous A408, is more stylishly designed than Arrival's industrially efficient complex in Bicester, also reflected by the site's role as supplier of the Electric Mustang's battery packs and motors.
Power comes from four motors, grouped in pairs at the centre of the front and rear axles and linked via conventional driveshafts, one for each wheel.
The battery packs use the same cell chemistry as in the Arrival Van, tubular 2170 cells from LG Chem, packaged into Arrival's unique 204 cells per module carbonfibre units in a hexagonal shape.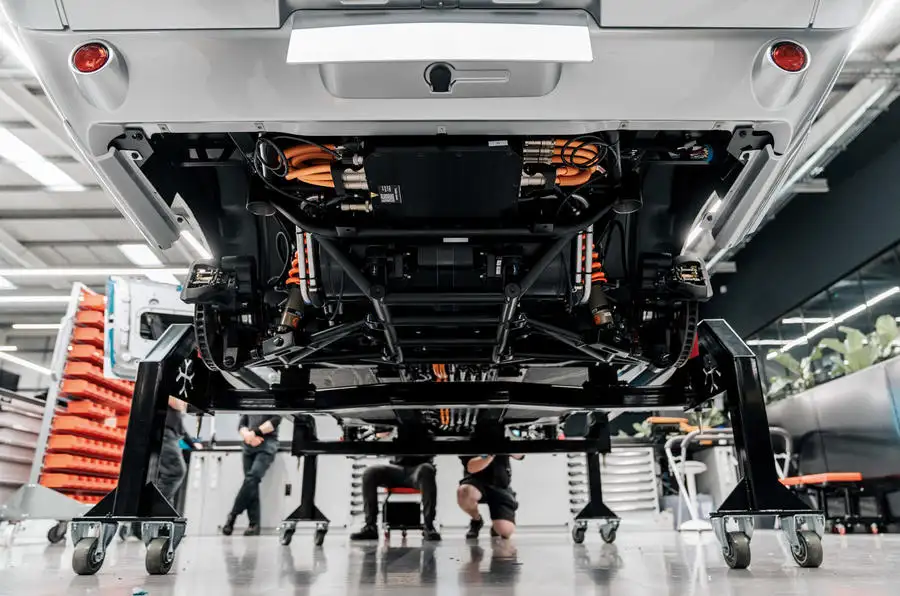 The Electric Mustang has 17 modules in total, nine packaged into a floor-mounted unit and eight into what was the rear-seat area, adding up to a fairly modest but very usable capacity of 63kWh for a claimed range of 320km. Charging can be done at a rate of up to 22kW on AC or 50kW on DC.
These battery packs weigh a reasonable 305kg, including individual cooling systems with a heatsink plate and plumbed-in water/glycol cooling, each packaged into a bespoke carbonfibre case.
Of course, you can't build a multimillion-dollar business around an iconic design registered to Ford without that firm's consent. Charge pays a "significant" licence fee; it's barred from using the Ford trademark but can deploy the Mustang name. Each car will carry an authentication plate indicating the Ford licence agreement.
Matching the design theme of the factory, Charge's marketing show car looks stunning in its glossy black paint finish. The detail with which the 1967 Mustang body has been updated is astonishing and has come at considerable engineering and componentry cost.
"We've re-engineered the body from the ground up," says Roberts. "It might look like a 1967 car at first glance, but every panel is different, the glass is unique and we have flush glazing, pop-out door handles and bespoke switches inside. We call it a ground-up new car."
Roberts reckons that none of these bespoke panels would fit an original '67, especially the rear slam panel. That's totally remade in carbonfibre using patterns developed from 3D scans of the original and then redesigned to give a smoother, more sophisticated look that also accommodates new rear lights. The same technique has resulted in unique composite closures and front wings.
The bonnet, for example, is two-piece bonded, carbon prepreg. It weighs in at 8kg, which is 14kg lighter than the steel original.
The same attention to detail gives the front end a unique look, where the chromed-steel headlight shrouds that give the original much of its design character are replaced with curvaceous carbonfibre ones housing annular LED headlights.
Tuning the dynamics is very important, too. "We're not going for the ultimate Nürburgring time," says chief technical officer Matas Simonavicius. "That wouldn't be the character of a muscle car. We want more fun in the drive, more everyday-usable dynamics."
A unique feature of the Mustang's dynamic behaviour will be torque vectoring administered by individual control of each motor, which theoretically can actually be reversed. For this reason, the production area at West Drayton incorporates a test cell with a four-wheel dynamometer for setting up and fine-tuning drive characteristics.
The weight distribution is unusually balanced for a muscle car too, at 42:58 front to rear. This is thanks to the centrally mounted main battery pack, which concentrates weight at the centre of the car, rather than at the front axle, as might be expected with a hefty Detroit V8.
Charge's rear sub-frame and motor assembly weighs 298kg, a little heavier than the front sub-assembly, and when added to the weight of the aft-positioned secondary battery pack, it biases the weight rearwards.
Although production is still in the ramp-up phase towards the 2023 Job One, Charge has, like every car maker, an advanced model programme and is eyeing up its next EV.
"We're talking almost daily about Project 2," says Roberts. "It could be a another ground-up car or we could do our own design. As you can imagine in a car-mad company like this, there are a lot of ideas."
In industrial terms, the battery-electric technology and motors would be carried over, probably in a new and improved generation, but what form the body should take is still hotly debated.
A convertible would work, although Roberts rules out a "small open-top car" – like a classic British roadster – as not compatible with the sizeable battery pack needed for a decent range. Intriguingly, he says there are certain designs "beyond a certain age" that could be used without the need for a licensing deal.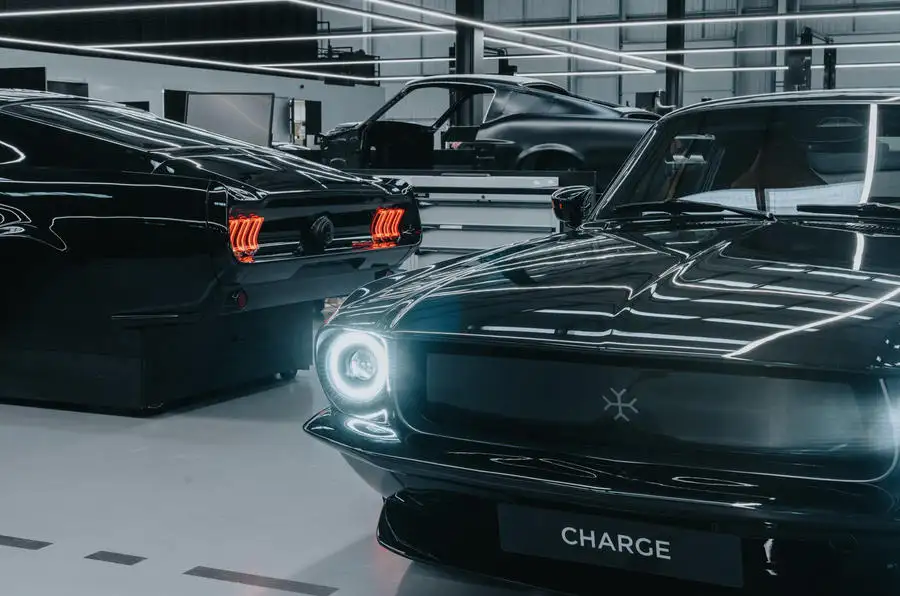 There are also thoughts about longer range, bigger-battery versions of the Mustang, plus higher-performance and limited-edition models. Performance is already strong, mind you, with 400kW of power and a mighty 1520Nm of torque good for a limited top speed of 250km/h and a 0-100km/h time of 3.9sec.
So who will buy Charge's creation? Much of the interest, perhaps unsurprisingly, has come from the US, where there's a devoted following for the Mustang and buyers are more than likely to already own at least one petrol-engined example. There's also demand from the UK, Europe and Asia.
Some collectors are keen and have already paid in full, says Roberts, stumping up the £350,000 (almost AUD$600,000)in one go. Others have secured build slots with a £50,000 (AUD$85,000) deposit. Of course, some of the cars have already been ordered in Highland Green, the colour of Frank Bullitt's screen star.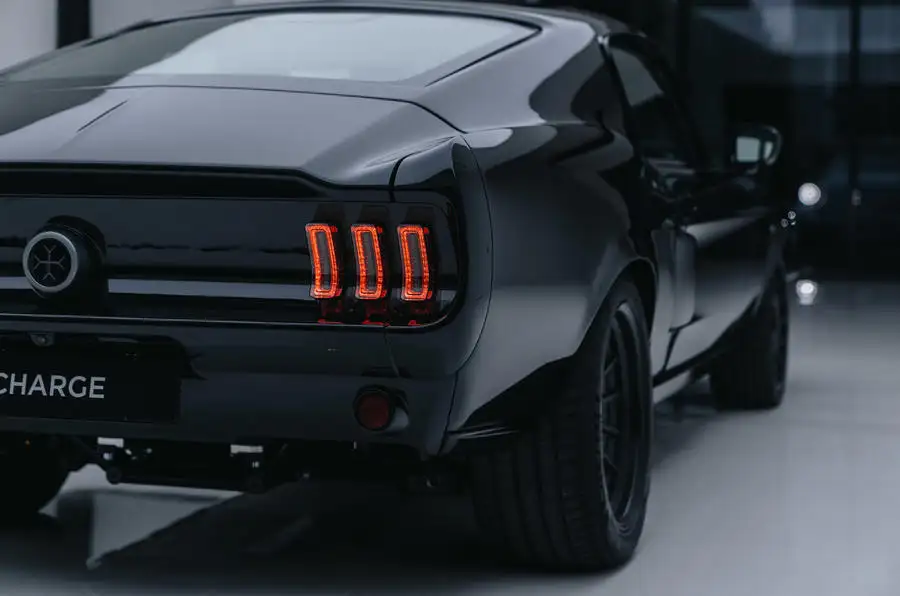 Maybe that sums up the romance of Charge's electrification of this 1960s classic: show off your wealth and concern for the environment at the same time as your enthusiasm for classic American metal. It could well be a winning combination.
The core of Charge Cars' Electric Mustang is a re-engineered steel bodyshell assembled in Tulsa, Oklahoma, by a specialist company that uses Ford's original tooling.
Bodyshells from this supplier are typically used for restorations and restomods, but Charge has designed its own version of the body with many subtle modifications. It is built on specially commissioned jigs to correct the dimensional variations inherent in a 55-year-old design. All of the main closures – doors, bonnet and boot – have been redesigned and surfaced by Charge in composite, as have other key panels, like the front wings, bumper panels and splitter.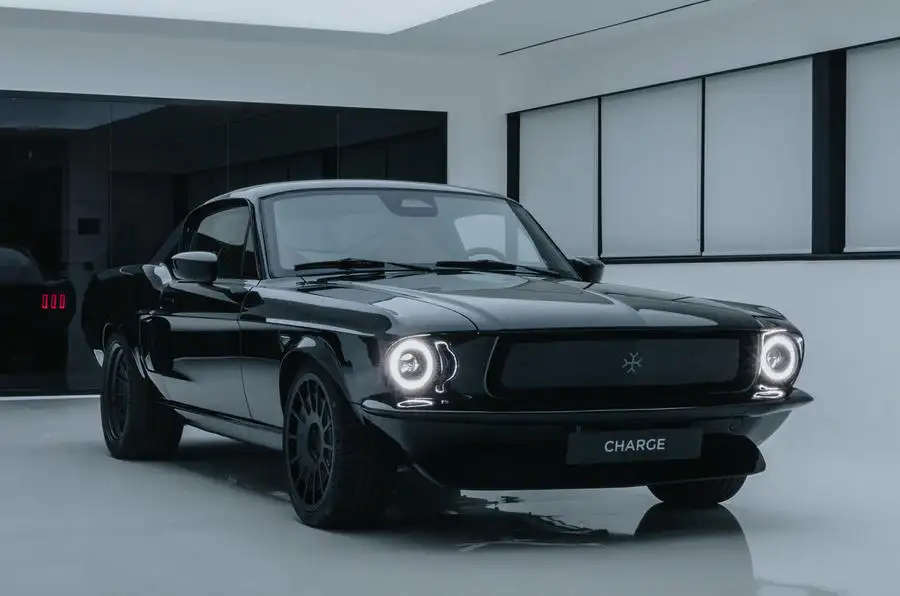 After arrival in the UK and inspection at Charge's base in West Drayton, the bodyshells are sent to a supplier in northern England for acid dipping and e-coating in preparation for painting at a specialist paint shop opposite the main plant. Final assembly is done by small teams of workers, who take a painted bodyshell to completion at a single workstation, including fitting all the glazing.
The Charge factory's capacity is eight cars in build at any one time, with maximum output of two cars per week.
The battery packs and motors are supplied by the Arrival factory in Bicester, the dual-motor units being built up into sub-frame sub-assemblies at West Drayton. The suspension has bespoke wishbones and spring/damper units, and the brakes are also bespoke. According to Charge production boss Steve Mills, the trickiest part of assembly is the interior, due to the numerous components and exacting standard of fit and finish needed.
Back to top
The initial customer cars are scheduled for delivery in the first or second quarter of next year.
Julian Rendell