We drive Hyundai's striking concept electric N concept that previews the Ioniq 6 N.
This is the RN22E, the latest in a line of recent Hyundai concept/prototype cars that act as a test bed for future developments. Or, to give it its full name, 'Rolling Lab, N, 2022, Electric. What you're effectively looking at is the forthcoming Hyundai Ioniq 6 N in full touring car battle dress, stuffed with a host of technologies aimed at making it both fast and fun on road and track.
In fact, the touring car reference is more than just a passing quip, as the 22E will become the firm's entry in the ETCR, and in doing so, will become the first race car based on a dedicated EV platform to compete in the series. It also happens to pack a 430kW punch and some sophisticated aero to keep it on track.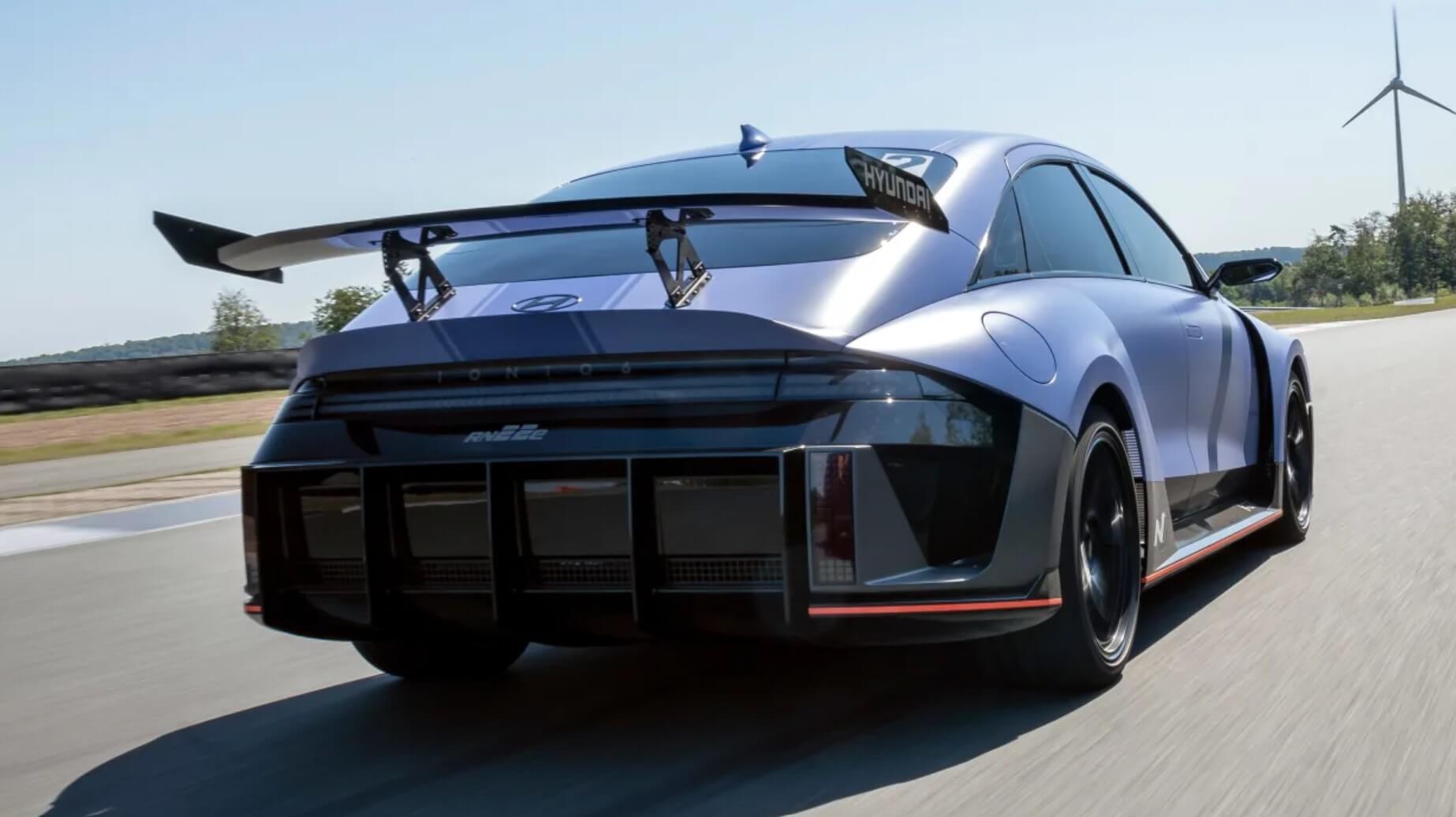 So, it's another two ton EV with fairly awesome accelerative performance, but in many ways that's not the biggest draw of the 22E. Where it gets really interesting is with the tech it's trialling for future use in a whole new generation of N-branded performance EVs. We've loved Hyundai's spirit in creating a series of ICE-powered performance cars, along with an image centred on genuine driver interaction and enjoyment, and motorsport. Now, the N department is taking the lead in trying to apply those same qualities to EVs – no easy task.
The first thing is a new twin-clutch type of rear differential, known as eTVTC, so chosen because its layout enables an immediacy of response that is imperative to get the best from an electric motor's fierce and instant torque delivery. The results I'll find out soon enough with a handful of laps on track, but the other aspect is even more intriguing: this is Hyundai's latest generation of artificial sound and its N e-shift 'virtual gearshift' idea, all of which seeks to put some of the driver involvement back into EVs. Why? Because as Albert Biermann – now semi-retired from his role as head of N and acting as a consultant – says N cars need to be fun to drive and involve the driver in a process, a near-silent EV with just stop and go pedals struggles to do that. We wouldn't argue with him.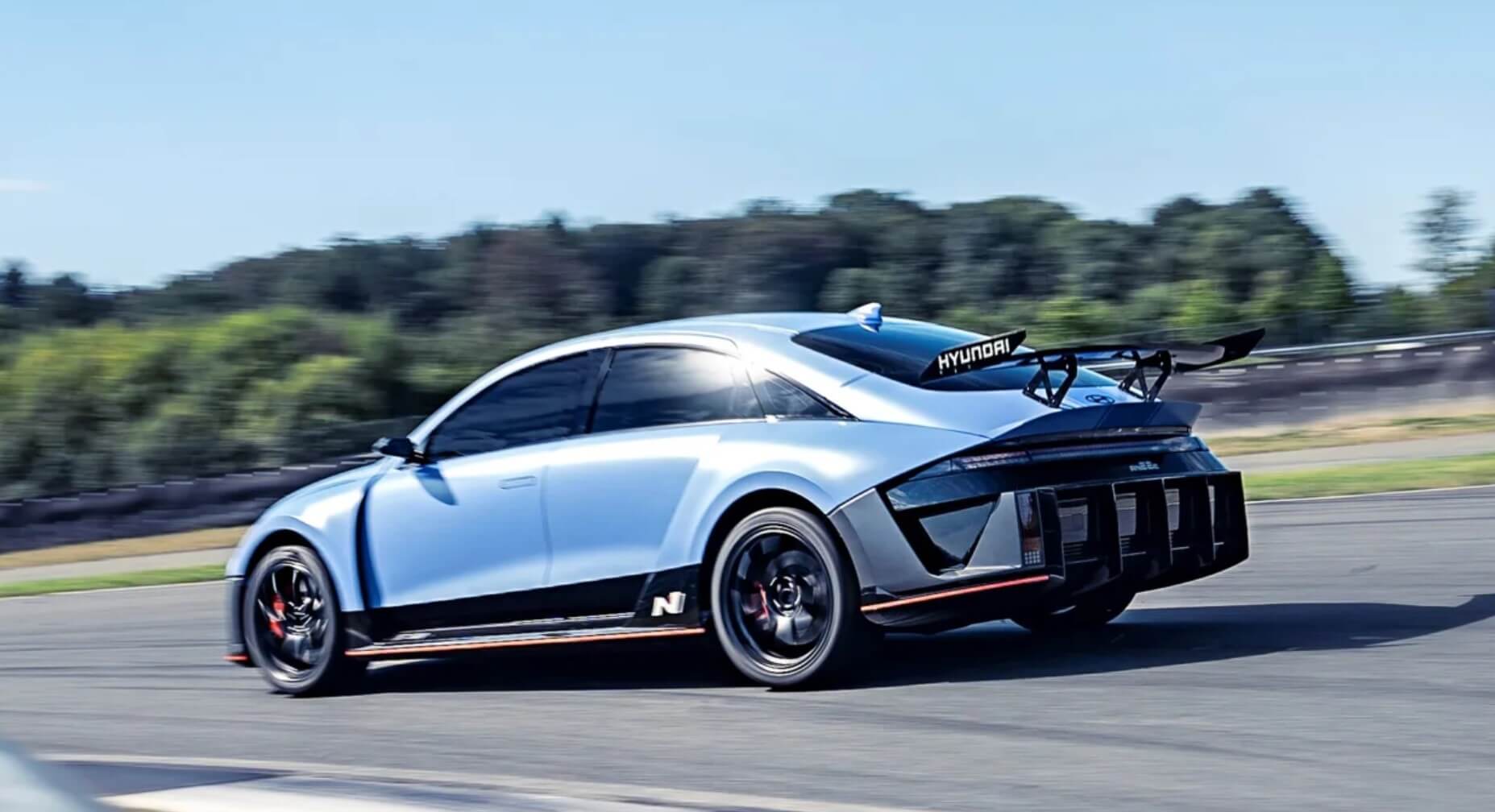 It's a big, intimidating car, the 22E. As you can see for yourself, it really does look like nothing else, which is meant entirely as a compliment, and it sounds like nothing else too when the N test driver switches the 'fake' sound on. I've never been a fan of fake sound or artificial sound embellishment in ICE cars, but if you've got no sound to start with it's interesting to explore what might be possible. This feels different, because it's teamed with vibrations as well, giving the 22E a deep melodious note somewhere between a V8 and V10. To hear the car driving past the pit garages making this noise is the strangest thing – it doesn't sound quite authentic, but it's close enough that you struggle to put your finger on exactly what is going on…
The 22E is built on Hyundai's latest 800V E-GMP platform, and features motors on the front and rear axles (making it the first AWD N car), each producing 160kW and 270kW respectively. That's backed up by 740Nm of torque, and then powered from the 77.4KW battery, which with the correct charger can go from 10-80 per cent in just 18 minutes – an important claim when the N department are trying to make this EV relevant for track day goers. To that end, there's been an awful lot of work done on keeping the powertrain cool, both with the technology of the motor itself and with the cooling setup of the vehicle. The engineers are already confident that it can lap repeatedly without any noticeable drop-off in performance, and with further improvements in the pipeline.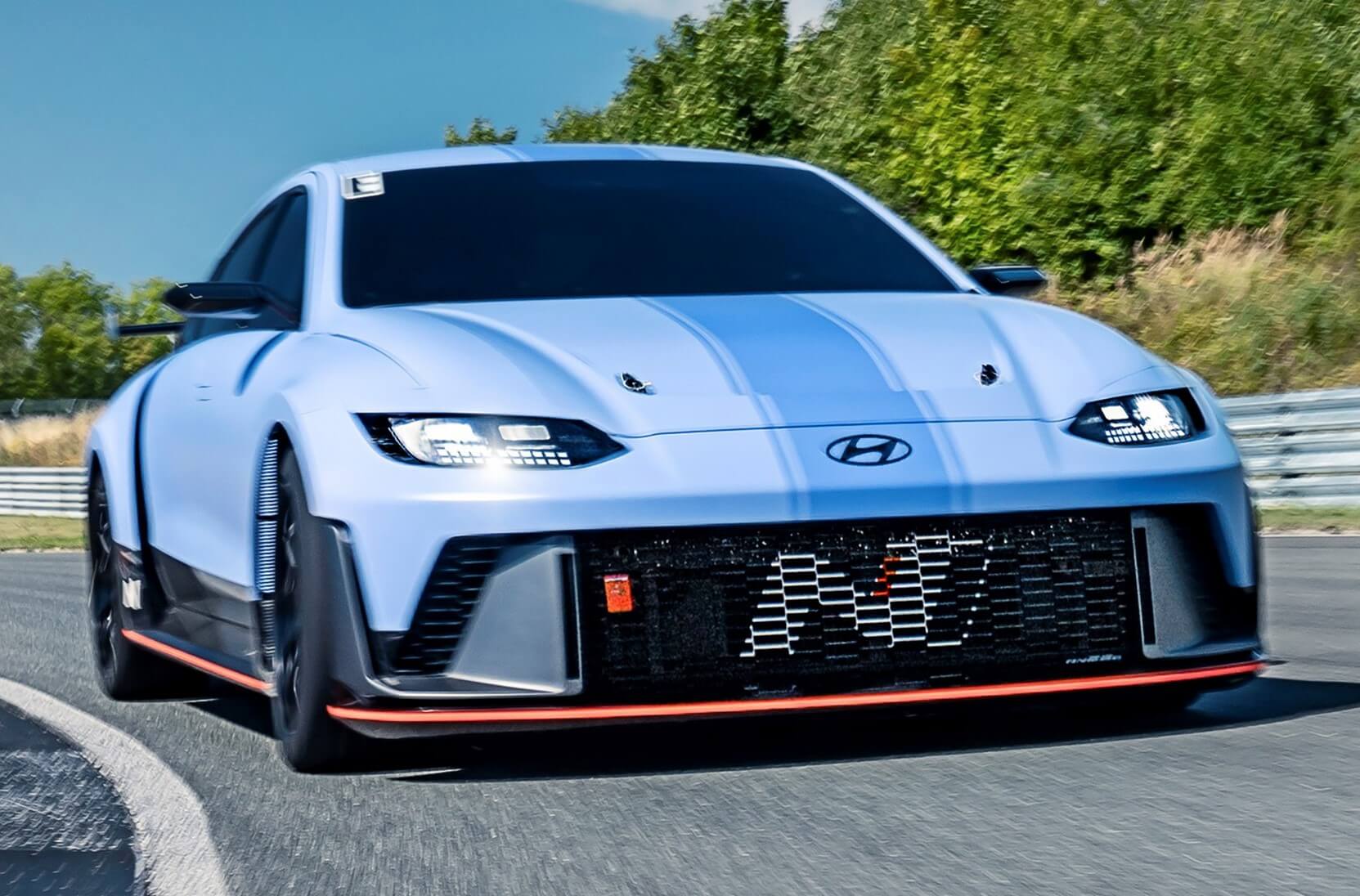 I'm expecting the 22E to bolt out of the pitlane with a stab of the right hand pedal, and of course, it doesn't disappoint. I'm more surprised at how cleanly it slices into the next series of apexes, the front biting and the rear rotating as I'd like, helped no doubt by regen software that also seeks to negate the weight of the car by introducing a feeling of agility. Even better is the sort of controlled drift you can hold on the exit of corners, which isn't like anything I can say I've experienced in an EV before. There's clearly some momentum at play, but it is good fun, and the diff gives it fabulous adjustability.
Now, though, for N e-shift. It's relatively early days for the system, but it effectively restricts peak power, then introduces a break in the delivery before bringing it back in with a controlled jolt. 'Shifting' is via the usual paddles behind the steering wheel. The car is very slightly slower, but the trade off is – in theory – that elusive sense of driver involvement.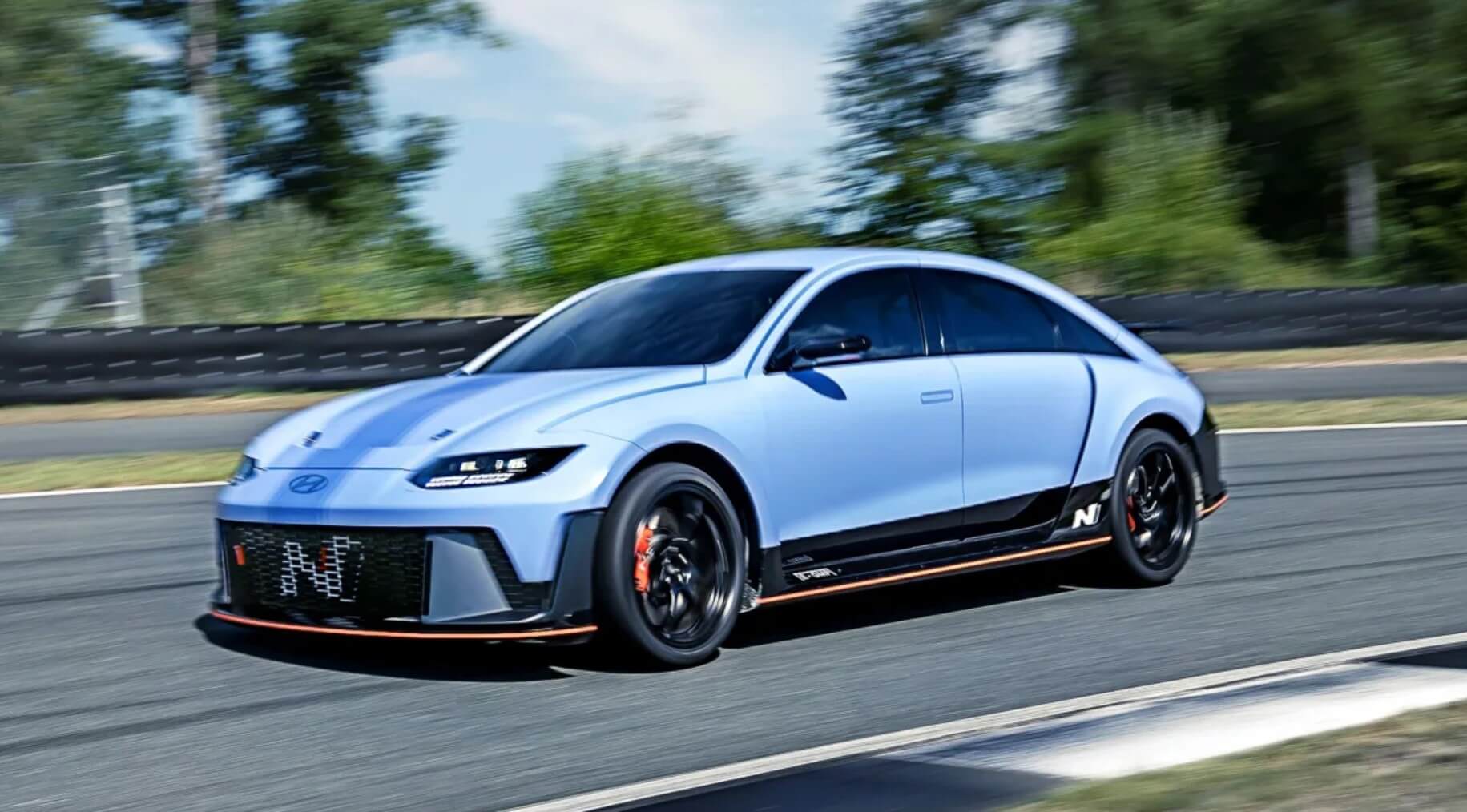 As it stands, it feels like a promising idea that has a little way to go yet. The shifts – for want of a better word – are slower than I was expecting; it reminds me of an SMG 'box in an old M3 (single clutch automated) in that there's an awkward pause before the next gear drops in. Making the most of it isn't helped by there being no graphic to advise what 'revs' you have, nor one to tell you which 'gear' you're in, and I also find that on downshifts at speed the ear says a shift is possible but a click of the paddle has no effect until the speed has dropped further than expected. But the concept is hugely intriguing, because immediately driving around this circuit becomes a lot more than choosing speed with two pedals and the racing line; now the brain has to work a lot harder.
An Ioniq 6 that looks and drives like this may well be restricted to the racing track, but the tech within this car will form a major part of next year's Ioniq 5 N – the world's first true electric hot hatch, albeit a very big one. That Hyundai is going for it all guns blazing can only be applauded, and while – as it concedes – there's a little more development still to go, it's a fascinating attempt at creating an EV with the driver interaction to compete with performance cars of the past.
Adam Towler