The design ethos of the Neue Klasse range is radically different, but the individual models may well look alike.
The six BMW Neue Klasse EVs set to arrive between 2025 and 2027 will feature more design overlap than the brand's existing line-up, according to group design boss Adrian van Hooydonk – but he insisted they will maintain individual identities.
The radical new design language was previewed by the Vision Neue Klasse concept and will first be seen in production form in 2025 on the next-generation BMW 3 Series sedan.
That will be joined by an electric BMW X3 SUV equivalent, and then four more cars will follow in the space of 24 months.
Current BMW models all feature distinct design identities, particularly with variations of the German brand's trademark kidney grille.
Asked if that approach would carry over to the six Neue Klasse cars, van Hooydonk told Automotive Daily network partner Autocar: "That's a philosophy we will try to uphold."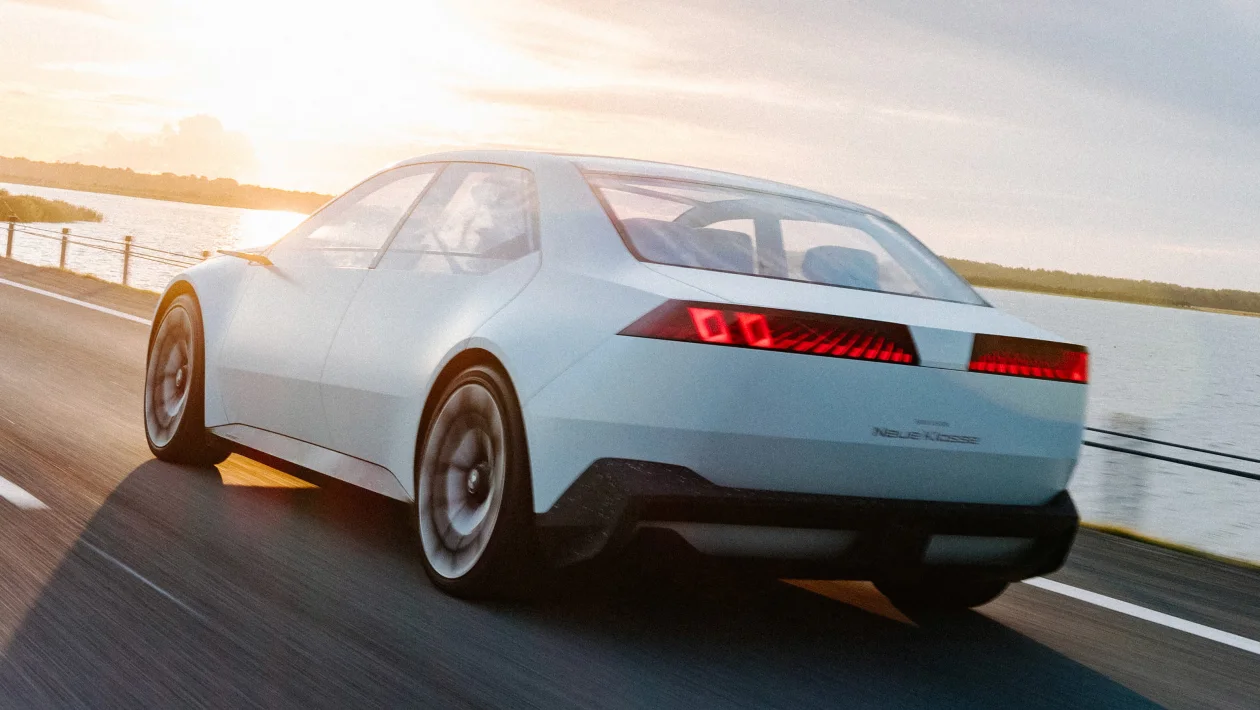 But he added: "Since they will come in such short succession, you will see a strong overlap, perhaps stronger than when you do a whole model generation in 10 years, which is what we used to do.
"We used to have 10-year cycles, often starting with the 7 Series and then trickling down, and then the last one would come 10 years after the first one. Now the change will come in a relatively short space of time, so it will feel like we turn the pages all at once.
"Two years isn't a long period of time, so it will appear as if they have grown together a little more – but you will still recognise individual characters."
Van Hooydonk hinted that the order in which the six EVs will be released will be dictated by "lifecycle mainly" but also "where we feel demand is strongest for change or technological update".
Vision Neue Klasse concept
The Vision Neue Klasse concept gives the best look yet at BMW's all-electric future, previewing a dramatic change in exterior and interior design direction alongside the introduction of highly advanced drivetrain technology.
By the end of 2023, BMW will have an electric car on sale in each of its core market segments, and it aims for more than a quarter of its global sales to be electric by 2025, rising to a third just a year later.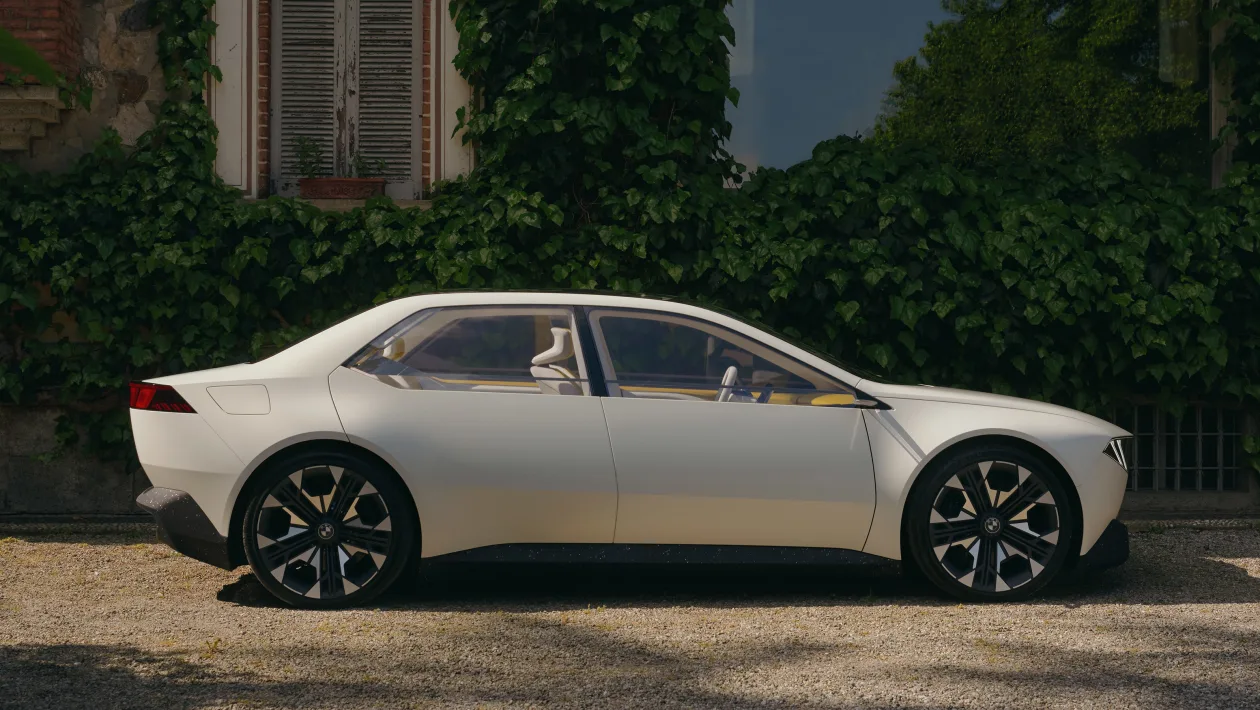 Now well on the way to achieving those goals with its current fleet of electric sedans and SUVs, BMW is shifting its focus to the launch of a radical new family of EVs.
It has dubbed this 'Neue Klasse' as a reference to the family of brand-reshaping premium sedans and coupes that it launched in the 1960s.
BMW will launch six Neue Klasse EVs in the space of 24 months, although not all of them will be based on the same platform because of the differing requirements of the various segments BMW seeks to cover. CEO Oliver Zipse pledged: "From SUV to sedan, we will have something for every customer."
The first is set to be a striking 3 Series-sized sedan, a direct rival for the likes of the Tesla Model 3 and Hyundai Ioniq 6 – and while BMW bosses said this new Vision Neue Klasse concept doesn't directly preview a production car, it's understood that it gives strong clues about what to expect from this pioneering EV.
Beneath the skin, the new sedan – and its closely related range-mates – will be almost completely unrelated to BMW's current crop of EVs, and this technological revolution will be signalled by a totally new design treatment that does away with many established hallmarks and reinterprets others for the new era.
Zipse hailed the advent of the Neue Klasse as no less than a completely new approach to vehicle development: "Mobility is a positive for freedom, self-determination and economic prosperity. Mobility is life. People want progress but are aware there are downsides.
Every impact leaves a footprint, and that has to be solved. Some may see that as a heavy burden, but I see it as our biggest opportunity: innovation will make mobility more sustainable, and that's the reason why BMW has a bright future."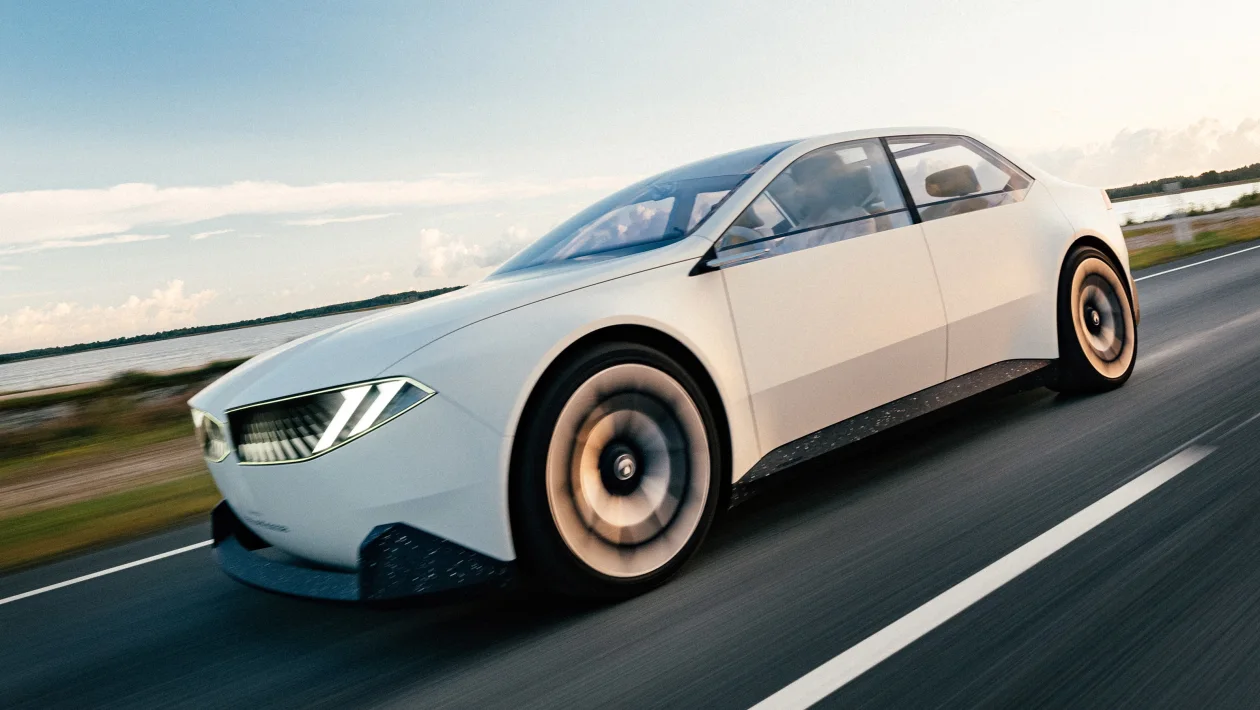 The Neue Klasse cars, Zipse promised, will be "more BMW than you have ever experienced before". He added: "We won't shy away from our roots but have freed ourselves from the shackles of the past. We've had the courage to skip a step."
BMW design director Domagoj Dukec – who has been outspoken in recent years about his belief that the company's designs must be at once striking and, to an extent, polarising – suggested that this change in approach will be no less than transformative for the German manufacturer.
"I believe the BMW brand will be a different brand once we've launched the Neue Klasse," he told reporters. "Our promise is that the Neue Klasse will do so many things differently but some things will stay the same."
The Vision Neue Klasse is clearly an evolution of the outlandish i Vision Dee concept that BMW showed at CES 2023, drawing on that car's sharp-angled silhouette (which Dukec refers to as a two-and-a-half-box shape, rather than a full three-box) but with wide-reaching refinements that paint it more obviously as a close preview of a production car.
BMW has labelled it "clear, elegant, timeless", highlighting features that will become hallmarks of the Neue Klasse line-up, including a broader, horizontal interpretation of the firm's kidney grilles, expansive side windows, slimline LED light designs and a "monolithic" silhouette, which is, according to Dukec, "much cleaner in its surfacing and details" than those of recent BMW cars.
Not only does this promote a fresh, futuristic treatment, it also means Neue Klasse cars can be made with simpler tooling and fewer components.
The front end is described as a "single interaction area", with the headlights programmed to display an animation when users approach the car.
"Light has helped us strengthen our identity in recent years," explained Dukec, adding that BMW wants "to replace chrome with light".
Meanwhile, the 'grille' panels are designed to host the many cameras and sensors needed for high-level driver assistance functions, although hidden behind the seemingly opaque bodywork for a cleaner look.
The 'grille' could also, it has been suggested, display notifications about the car's charging status or even direction indicators.
Similarly, the light clusters could show different colours and designs depending on which driving mode is selected.
Future BMW sedans
Notably, while SUVs account for a huge proportion of BMW's global sales, the Vision Neue Klasse and i Vision Dee concepts have taken the form of sedans, because the firm believes "there is still a future for flat, low cars – especially the [sedan]", according to Dukec.
There's a strong link with the original Neue Klasse cars to consider, too: "When we did the Neue Klasse in the 1960s, there was a reason for the silhouette: when you make a fastback, you make a car faster-looking."
Dukec also acknowledged the influence of the legendary E30-generation BMW 3 Series on the design of his latest concept: "We want to bring the essence of making a [sedan] highly emotional. That was also something about the E30, which wasn't a sports car but offered a certain simplicity and a desire for people who were looking for an elegant car but also for people who were looking for dynamism. This is what we want to express with this car."
Technical details of BMW's next-generation EV platform remain to be revealed, but R&D boss Frank Weber said it will bring "30% more range, 30% faster charging, 25% more efficiency" compared with current cars.
It is already known that BMW's new Gen6 lithium ion batteries – with cylindrical rather than prismatic cells and slimmer than current units – will be 20% more energy-dense, able to charge at up to 270kW (to add 300km in just 10 minutes) and ultimately offer up to almost 1000km of range.
Changes to the design and production processes of these next-generation batteries are estimated to cut costs by as much as 50%, which could have significant implications for the final prices of BMW's EVs – although the firm has given no indication of what the Neue Klasse cars will cost.
The EVs will initially be built at BMW's new factory in Debrecen, Hungary, in a process that is said to be entirely free from fossil fuels, be much more dependent on the use of secondary materials and have a lower CO2 output.
Its factories in Munich and Mexico will get the necessary upgrades in 2026 and 2027. Just as revolutionary as the new concept's tech and design is its interior, which previews how the ninth generation of BMW's iDrive operating system will reshape the brand's approach to interior design.
Neue Klasse interiors
Neue Klasse EVs will be marked out from current cars by their minimalist cockpits, which feature only the bare minimum of physical controls, even dropping the iDrive rotary control knob that has been a hallmark of the brand's interiors since the E65-generation BMW 7 Series arrived in 2001.
Instead, users interact with the new system using a slick central touchscreen, BMW's voice-activated Intelligent Personal Assistant and a new Panoramic Vision head-up display, which extends across the entire windscreen to provide information at "the ideal height" for the driver and front passenger.
This is operated primarily using a switch on the right-hand spoke of the steering wheel, but the driver can transfer content from the touchscreen to the holographic projection using a swiping gesture.
Other clues to Neue Klasse interiors come in the form of the concept's bright yellow corduroy upholstery, chunky, squared-off steering wheel and 'floating' centre console, which holds a wireless phone charger.
Also, BMW highlights that just one bracket supports each of the front seats, leaving more room for rear passengers' feet.
Dukec said a priority of the interior design team was instilling a sense of comfort, ensuring that "you don't feel you're in a cold environment of technology."
He predicted that users will be thinking "I know this. It feels somehow familiar to me, like when I'm at my parents' place. But still it's very different and pleases me with everything that is relevant to me in my daily life today."
Additional reporting by James Attwood