Ineos confirms Defender-rivalling electric off-roader is the first in an ambitious expansion strategy for Ineos Automotive.
Ineos Automotive will substantially grow its line-up to four vehicles by the end of the decade, beginning with a new, smaller electric off-roader in 2026 which could potentially beat the electric Land Rover Defender to market.
The follow-up to the larger, combustion-powered Ineos Grenadier will be built in Graz, Austria, by manufacturing giant Magna Steyr – which already produces the Jaguar I-Pace, Jaguar E-Pace, BMW Z4 and – most recently – the Fisker Ocean.
Magna will also handle all engineering development work for the electric off-roader, it has confirmed, having been heavily involved in the conception of the Ineos Grenadier. Notably, Ineos Automotive's chief operating officer is Hans Pessler, who previously served as a project manager at the Austrian firm, which is perhaps best known for building the Mercedes-Benz G-Class, a project in which Pessler played a leading role.
The latest G-Class is selling in record numbers and contributing to historic revenues of around $78,000 per vehicle sold for Mercedes-Benz, up around 25% on pre-pandemic levels. Future Ineos models beyond the Austria-built EV are expected to be built at its factory in Hambach, France, although the firm hasn't ruled out opening new operations around the globe.
Commenting on the latest evolution in the partnership between the two firms, Ineos Automotive CEO Lynn Calder said: "Having worked together on the engineering of our crucial first product, we've seen first-hand the value of applying Magna's agility, expertise and experience to a complete vehicle development program.
"Deepening our collaboration is a natural next step as we use the Grenadier as a springboard for our continued growth as a global automotive brand with our second model line. We'll once again work with the very best partners to launch another world-class product to our customers in 2026."
Ineos's ambitious expansion plans underline company owner Sir Jim Ratcliffe's determination to establish his automotive division as a brand rather than the maker of a single, niche off-roader, as well as building its credentials in the electric and luxury car markets. As such, the cars are expected to be sold under the Ineos brand name, with the Grenadier designation reserved for that model. Rumours had suggested the smaller car would be sold as the Grenadier Sport, but this is no longer believed to be the case.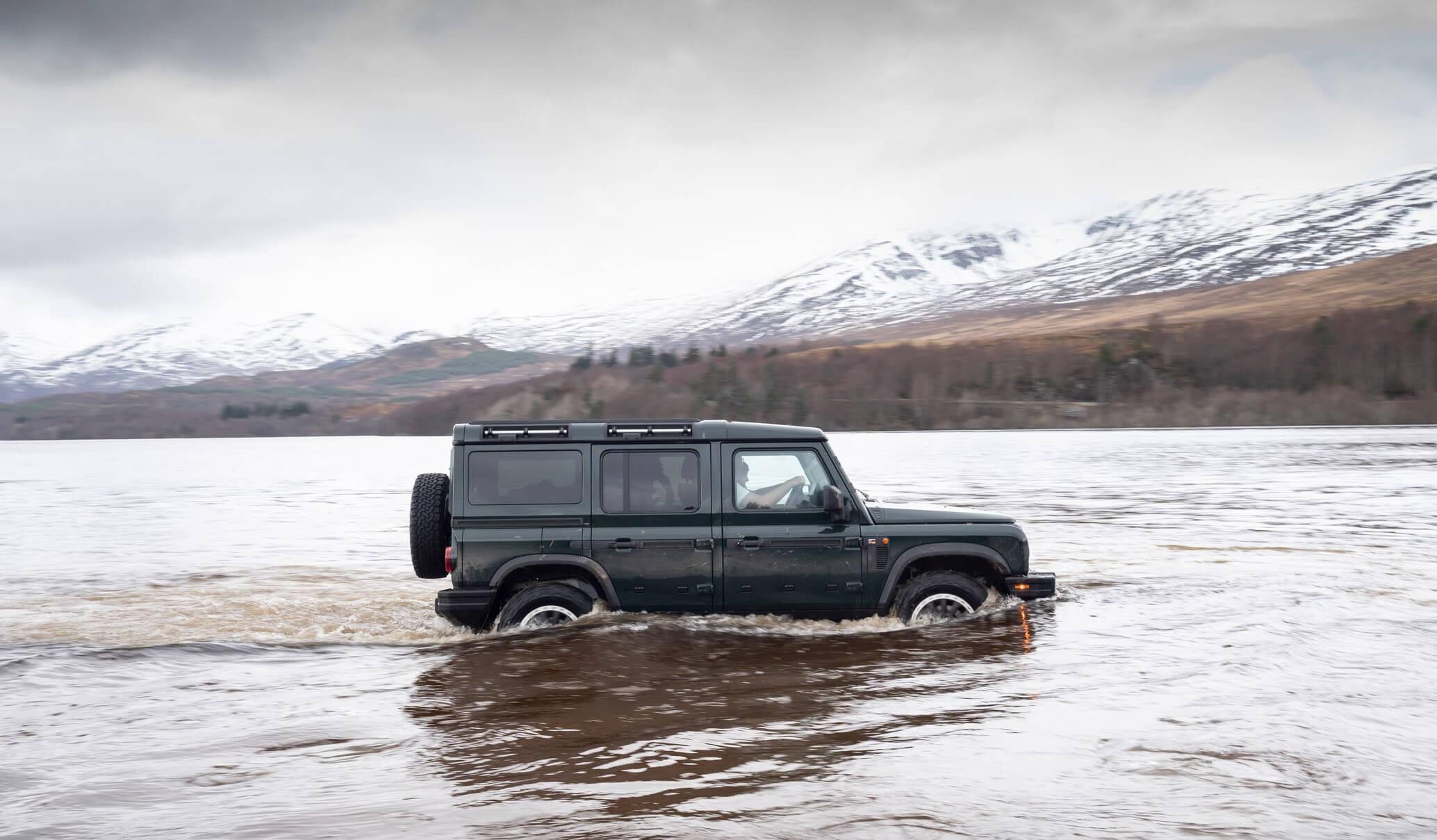 After initial delays, production of the Grenadier is set to ramp up to around 25,000 cars per year over the course of 2023, while sales will open in crucial new markets, including the US. However, the Hambach plant has substantial additional capacity for extra shifts, plus space that is currently given over to contract manufacturing projects for its former owner Mercedes-Benz but which are likely to be phased out over the coming years.
In the meantime, development of the new, smaller electric off-road model is believed to be well advanced, with the styling all but signed off and a freeze on platform development imminent. The car will be significantly shorter than the 4.7-metre Grenadier, potentially placing it as a rival in size to the Land Rover Defender 90, which is 4.3m in length.
It will sit on an all-new, Ineos-developed platform created specifically for electric propulsion but will feature many of the Grenadier design cues, as well as its off-road ability. It is expected but not confirmed that Magna Steyr will continue to be closely associated with the project. A target range of 400km has been set by Ratcliffe.
Ratcliffe said: "It will be smaller than Grenadier and have its own character, but it will still look like a younger brother – the family resemblance will be there. We saw the latest clay model last month, and Toby [Ecuyer, who designed Grenadier] is basically there.
"Because it's electric it will inevitably carry a bit of a weight penalty, but my expectation is that it will still have the range and capability of the Grenadier. We aren't going to compromise."
Before Magna was announced as a manufacturing partner, Pessler suggested the new 4×4 would be a highly bespoke proposition: "We have thought about linking up with another manufacturer and sharing technology, but if we want to be honest about going into this off-road niche and ensuring that all of our vehicles have the level of capability we believe makes them authentic, then we have to go our own way."
Pessler also confirmed the platform will be scalable up and down in size but said his team was still defining its full potential. He went on to dismiss using sophisticated torque vectoring systems or in-board motors, saying any car that is developed by Ineos needs to be easy to maintain in the field.
The technical concept for the whole car is scheduled to be signed off by the end of the year, with detailed revisions and test work expected to be carried out from early next year. This will include reliability testing on Austria's famously brutal Schöckl pass, which Ratcliffe has determined every Ineos car must be able to traverse more times than any other rival on the market.
That raises intriguing questions about the smaller electric car and larger, Grenadier-sized luxury model that Ratcliffe has revealed are also in the product plan for the firm. While making use of the same platform and layout as the Defender 90 rival and requiring significant off-road ability to stay true to the Ineos brand's ethos, the smaller car is expected to have more of an urban focus.
A rival in terms of size, if not potentially all-road capability, would be the 4.1m-long Jeep Avenger. Likewise, the luxury model, tipped to be an extravagantly upgraded version of the Grenadier rather than a bespoke model, is expected to forgo some of its off-road capability as a trade-off for better on-road manners.
Pessler highlighted the challenges of scaling his engineering team to develop the new models, saying: "It's easy to bring in the expertise, but it is the culture I need to focus on most. We have a huge amount to do, but it's crucial we don't grow too quickly." In addition to developing the new cars, Ineos has committed to introducing annual model-year updates of the Grenadier.
There is also the prospect that the car itself will need replacing or heavily updating by the end of the decade. While Ratcliffe refused to rule out hydrogen-powered versions of these cars being developed, he did concede it was unlikely given the time frame for their launch. Working in partnership with Hyundai, which currently sells the Nexo FCEV and has bold plans to expand its hydrogen commercial offering in the coming years, Ineos had been developing a hydrogen-powered Grenadier prototype.
However, Ratcliffe conceded that the short-term adoption of the fuel was unlikely for anything beyond large commercial vehicle use, and he highlighted the sporadic roll-out of refuelling stations globally as a significant drawback and a reason for focusing on battery-electric development initially.