Ineos details a starting price and availability for the new Grenadier 4×4.
Ineos is ramping up to launch its Grenadier in Australia in the second half of 2022, priced from $84,500 before on-road costs, and has detailed its Australia retail strategy as it prepares to open pre-reservations in October.
That entry price is for the two-seat version of the commercial Grenadier, which will be sold alongside a five-seat crew-cab commercial variant and the full-size passenger-carrying SUV, prices for which have yet to be detailed.
First customer deliveries will get under way in the final quarter of 2022, and the company envisages sales will be skewed towards commercial variants.
Ineos plans to "make the buying process as convenient and painless as possible" with an equal focus on providing a digital retail model and a physical dealer network, which will eventually comprise 16 retail sites. Agreements have already been signed with:
Purnell in Sydney, NSW
Brighton Automotive Holdings in Melbourne, VIC
SLRV Expedition in Gold Coast, QLD
Aaron Brain Motors in Shepparton, VIC
Buckby Motors in Launceston, TAS
John Oxley Motors in Port Macquarie, NSW
Rex Gorell in Geelong, VIC
Caravana in Brisbane, QLD
Frasers in Newcastle, NSW
In addition, Ineos has partnered with Bosch to provide aftersales support and plans to open 34 service-only facilities across Australia. Globally, Grenadier owners will be able to have their car repaired and maintained at some 10,000 Bosch outlets in 150 counties.
Ineos is also exploring the possibility for BMW technicians to service the Grenadier, which is available with a choice of BMW straight-six petrol and diesel engines.
Ineos's head of sales and marketing, Gary Pearson, explained that the Grenadier's predominantly built-to-order production model means the company won't be "proactively building stock", because customers "will want to do their own thing". He suggested that lead times will be in line with what is "typical" of other manufacturers.
He also told us that although Ineos is "not insulated" from the ongoing global semiconductor shortage, it has factored in any potential delays that might arise from the situation and is "very happy" that it will meet its proposed deadlines.
As for future powertrain options, Ineos remains committed to a simple petrol-and-diesel offering from launch. Pearson suggested that although "electric technology has moved on hugely in the last few years", an EV drivetrain wouldn't yet be compatible with the weight, functionality and intended use case of the Grenadier.
Ineos does, however, have a fuel cell development partnership in place with Hyundai, which Pearson said has "no marketing spin around it". Ineos, he said, "wants to be at the forefront of developing the hydrogen economy".
So far, Ineos has had 18,000 people in the world register an interest in buying a Grenadier, with around three times that number on their general database of Grenadier fans. However, only 2,000 people are likely to get their cars in 2024.
The Grenadier was designed by Toby Ecuyer, who started his career as an architect and recently moved into designing super yachts. It shares the same boxy proportions as the old Defender, with similarly angular doors and window glass. It also shares the Land Rover's slatted radiator grille, flat bonnet, round headlamps and upright windscreen – and, under the front bumper, there's a thick sump guard.
There are some elements of the Mercedes G-Class mixed into the Grenadier's design, too, which is no surprise considering Ineos's partnership with the Austrian engineering company, Magna Steyr. The firm has handled the production of the G-Wagen since 2018 and will also help Ineos piece together the Grenadier.
Ineos has sourced two BMW engines to power the Grenadier. Both are 3.0-litre six-cylinder turbo units. There's a diesel with 181kW and 550Nm of torque, and a petrol engine 210kW strong and with 450Nm. The permanent four-wheel drive with shiftable low range and a central locking diff is Ineos' own design, but power is transferred via an eight-speed ZF automatic gearbox.
Inside, the vehicle takes on a rugged approach that mixes practicality and durability with the latest technology and plenty of comfort, the company claims.
Almost every element of the Grenadier has been designed from a clean sheet of paper, including the cabin. With the car's focus on being easy to operate in the most extreme conditions (e.g. when wearing gloves) – as both a commercial vehicle and a lifestyle off-roader – the Grenadier's cabin features big buttons and controls that have been inspired by maritime set-ups and heavy machinery, according to Ineos Automotive's Head of Design, Toby Ecuyer.
The idea behind this approach is to boost ease of use and how logical the layout is; with that in mind every switch is labelled with writing rather than an icon, so it's obvious what function it operates.
A number of trim levels will be available, including two and five-seat commercial variants; the former can swallow a Euro pallet in its load bay. All models will feature the same centre stack of toggle switches and an overhead row of toggle switches on the headlining. This will be home to functions such as the front and rear electronic differential locks, while the centre diff lock is operated manually via a lever on the centre console next to the BMW-sourced gear selector.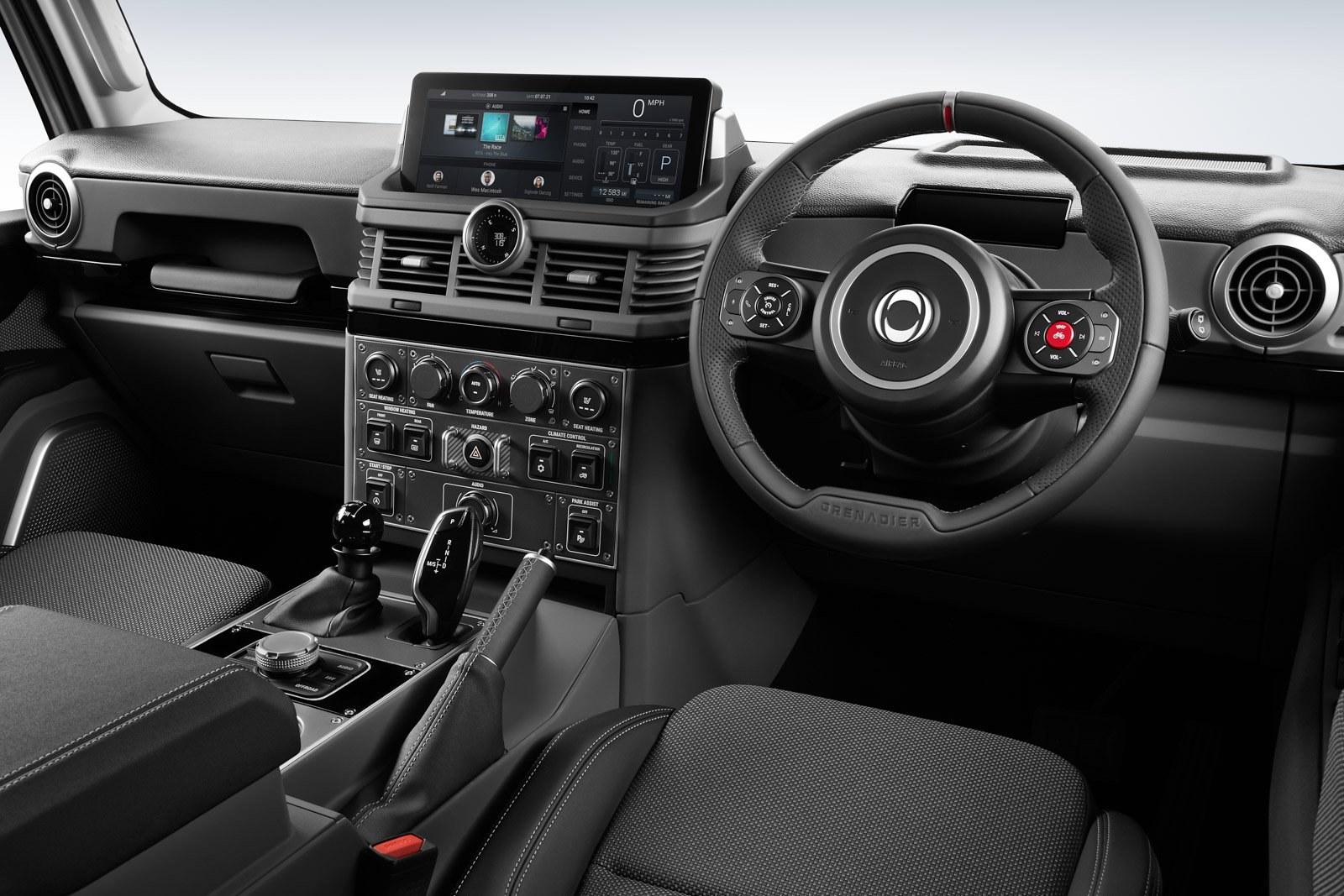 Extra panels in the roof are available to control electronic extras such as roof lights or a winch; pre-wiring for these panels and accessories comes fitted as standard, while the Grenadier will also offer an optional 2,000-watt AC power converter to run various different accessories, such as power tools.
Alongside the BMW turbodiesel and turbocharged petrol powertrains that have already confirmed, Ineos Automotive has sourced the infotainment system from the German brand, with the 12.3-inch touchscreen (also controlled through a rotary dial on the transmission tunnel) uses BMW's operating system. However, the Grenadier's graphics are bespoke.
Navigation will be through either Apple CarPlay or Android Auto connectivity – a move Ineos claims will help boost usability, integrating with owners' devices, and stop the tech dating. There's also an off-road pathfinder function given the Grenadier's intended use and capability.
It's all part of the relatively young car company's promise that the Grenadier – and everything inside it – will stand the test of time, helped by Ineos removing complexity from the car. There are around half the number of ECUs inside the Grenadier next to a comparable vehicle, which means there's less to go wrong and less to fix if there is a problem.