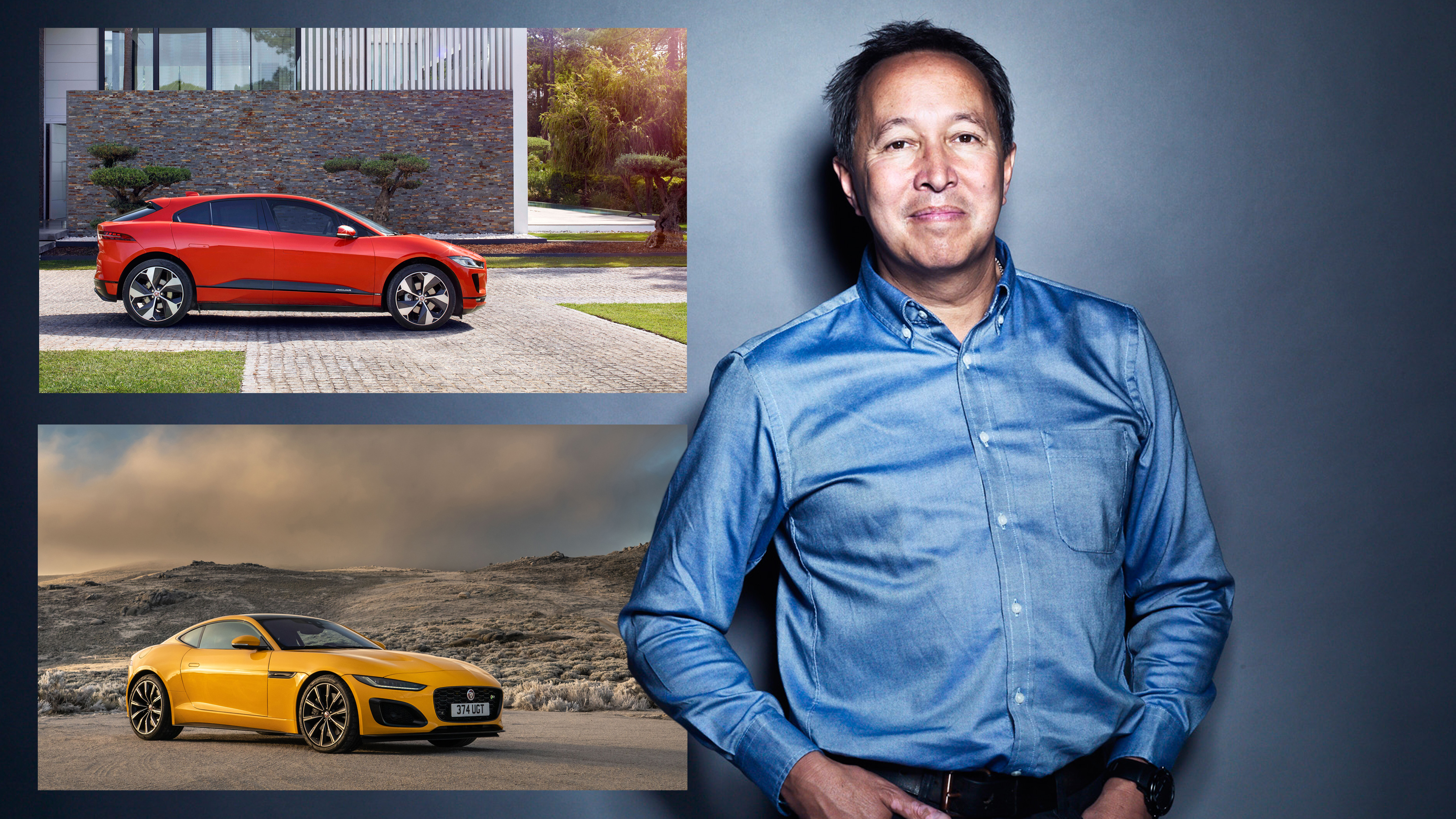 Design director Julian Thomson talks about new XJ, plus sports cars and small Jags.
2020 is still is set to be a big year for Jaguar with the new XJ ushering in the second phase of the brand's big electrification story, plus major facelifts due to the big-selling E-Pace and F-Pace SUVs.
So we caught up with Jaguar's design director, Julian Thomson – now nine months into his new role – to find out what we can expect from him and his team in the future.
We started by talking about how things are going to change, with Thomson's predecessor, Ian Callum, having done the job for so long.
"Now we start a new chapter – and it has been 20 years – and it is time for a change," said Thomson. "It's really a chance to put some magic back into the brand and really extend its true potential.
"We're breaking a few of the rules which were set down by my predecessor."
We speak to Thomson over a video link with him working out of his attic office, bedecked with paraphernalia he's picked up over his more than 35 years working for Ford, Lotus and Volkswagen before heading up Jaguar's Advanced Design Studio in 2000.
The impact of the current crisis on the future can't be ignored, with Thomson saying, "I think people will be more concerned about personal spaces and their health in their cars. You know, those little capsules will be more of an escapist unit, so I think material is going to be very, very important."
New Jaguar XJ
That seems to play well to the forthcoming XJ, which Thomson promises will bring a different type of luxury to that sector. "It's going to be a very, very luxurious, very, very calm, tranquil piece of transportation," he says. "But it's not overtly flashy, it's not overtly expensive,
"It's not about loads and loads of bling and ridiculous price points and the rest of it. We appeal to a customer, we hope, who is more of an intellect, knows a little bit more about design and the materials we put into our cars.
"It's a car which you make an emotional connection with. We don't want all our people who get our cars to just sit in the back of them and just be driven around in them. They can be used like that, but at the end of the day, we know that these cars are there to be experienced and driven and enjoyed; enjoyable to sit in, relaxing to sit in, and beautiful to look at."
Unlike the I-Pace, Thomson hinted that the XJ would have a more traditional sedan look with a longer bonnet. "If a cab-forward looking car doesn't suit a certain type of vehicle, I don't think you should do it," he said. "We're there to make the best looking cars we possibly can, so the new XJ, it does have a bonnet on it, and it's a very, very elegant shape, it's probably a little bit more traditional than the I-Pace."
While excitement around a new XJ is building, its sedan siblings, the XE and XF are struggling for sales with rumours that they might be replaced by a single model or nothing at all. Thomson is certain of the direction any replacement has to take, though
"The market for three box sedans, executive sedans is absolutely ruthless," he admits. "Jaguar's succeeded in that market where it's made products which are very, very different, which is something that connects more on an emotional level. If we had to do them in the future, and I hope we do, that's where we'll position them – as something much more special."
SUVs remain key
The SUV's place in the Jaguar line-up seem assured, though, with a large electrified SUV, rumoured to be called J-Type, expected to roll off the same Castle Bromwich production line as the XJ in the not too distant future.
Thomson wouldn't be drawn on that model, but did admit the importance of SUVs in Jaguar's line-up: "They still are continuing to rocket, and they do make a lot of sense.
"They give you a great feeling of security, they're very, very practical, so I can see why people like them. And our SUVs are our most successful products and they're very, very good. So I guess what people want"
However, Jaguar has always been about sports cars, and Thomson has no intention of that ever stopping. "I'd be disappointed if the world just all went to one place," he said. "I think it's much more interesting for a car designer to have a whole range of products. I will never say that I hate those and I love those, even though I do love sports cars more than anything else.
"It's right at the heart of Jaguar, it's what Jaguar's all about. It's where we started. It's where we built our name on, and so we have to have them going forward in the future.
"It's what our brand is all about and what differentiates us … it's the story you're buying into when you buy one of our electric cars or one of our SUVs, you're buying into that legacy, all our cars have a little bit of that sports car in them."
More sports cars or smaller Jaguar models?
Currently, Jaguar the only sports car Jaguar has in its line-up is the F-Type, but Thomson revealed his wishes for it to be joined by another sports car. "I hope there's more than one," he tells us, while promising that they'll be bespoke models rather than just a sporting version of an existing model. "It's got to be the real thing," he says.
Although technology like JLR's new PTA platform architecture would make it more cost-efficient to build new Jaguar sports cars, Thomson did issue a warning. "You're probably well aware of some sports cars which are compromised because they use the engine out of this or the heater out of that, or the dashboard out of that.
"You know, you've got to save money in the right places to allow you to afford to get it right in the other places on a vehicle. There will be things in a sports car that would have to be unique, and we have to recognize that."
It's not only sports cars that Thomson has a passion for, he also revealed a love of small cars – and is well aware of how the current climate could increase demand for small, luxurious vehicles.
"I would love to do smaller Jaguars," he says. "I think reflecting on what's happening around the world, I would love to do cars which are smaller, more efficient and have all the inerrant values of a Jaguar.
"They'd be a beautiful thing to look at, a fantastic interior, and just great to drive – I'd love to do smaller cars like that.
"And I think there's a place for those as well now, I think in the modern and urban environment that's what people need."
"People still do equate cost and size a little bit, and I think we've got to break that paradigm somehow. A lot of people have tried to do it, I'd really hope in the modern world we can do a small luxury car. I'm convinced we can do a Jaguar one very, very well. We just have to see where we position it and how we price it."