Skoda's new CEO Klaus Zellmer explains how the Czech brand will remain budget-friendly in the electric era.
It's hardly surprising that Klaus Zellmer, chairman of Skoda for the past six months after more than two decades at Porsche, enthusiastically describes himself as a car guy. Anyone who has spent his working life rising through the ranks at the legendary German sports car maker (he was CEO of Porsche Cars North America for five years from 2015) is bound to fit that description.
The more interesting question is why a 23-year Porsche man should be drafted into Skoda, which sits at the opposite end of the Volkswagen Group's price and prestige spectrum – especially since one of his recent Skoda predecessors, Bernhard Maier, spent five years as Skoda's CEO after a similarly lengthy Porsche stint.
Zellmer says it's all a coincidence, so my opening question about whether aspects of Porsche management are seen as useful to the job of running Skoda gets short shrift. The group does stuff like that, with managers and designers too. The main similarity between both jobs, says Zellmer, is that he's moving from one successful company driven by a strong brand to another.
According to contemporaries, Zellmer has been chosen to lead Skoda because of his reputation for dynamic management. Previous chiefs have built and burnished the marque along the same broad path, but Zellmer will be the one who must lead it headlong into the electrification age. And as every car exec knows, that task is hardest for affordable marques because the considerable investment required has to be especially carefully balanced against the returns from modest car prices. Yet there's plenty of ambition at Skoda: by 2026, it will have launched three new EVs; by 2030, it expects 70 per cent of production cars to be battery-powered.
To achieve these things, Skoda has two life-changing projects on its agenda: its now-until-2030 strategy plan called Next Level, and the development and adoption across the whole range of a new design language called Modern Solid, a move group bosses have already described as "the most dramatic change" since VW acquired the Skoda marque in 1994.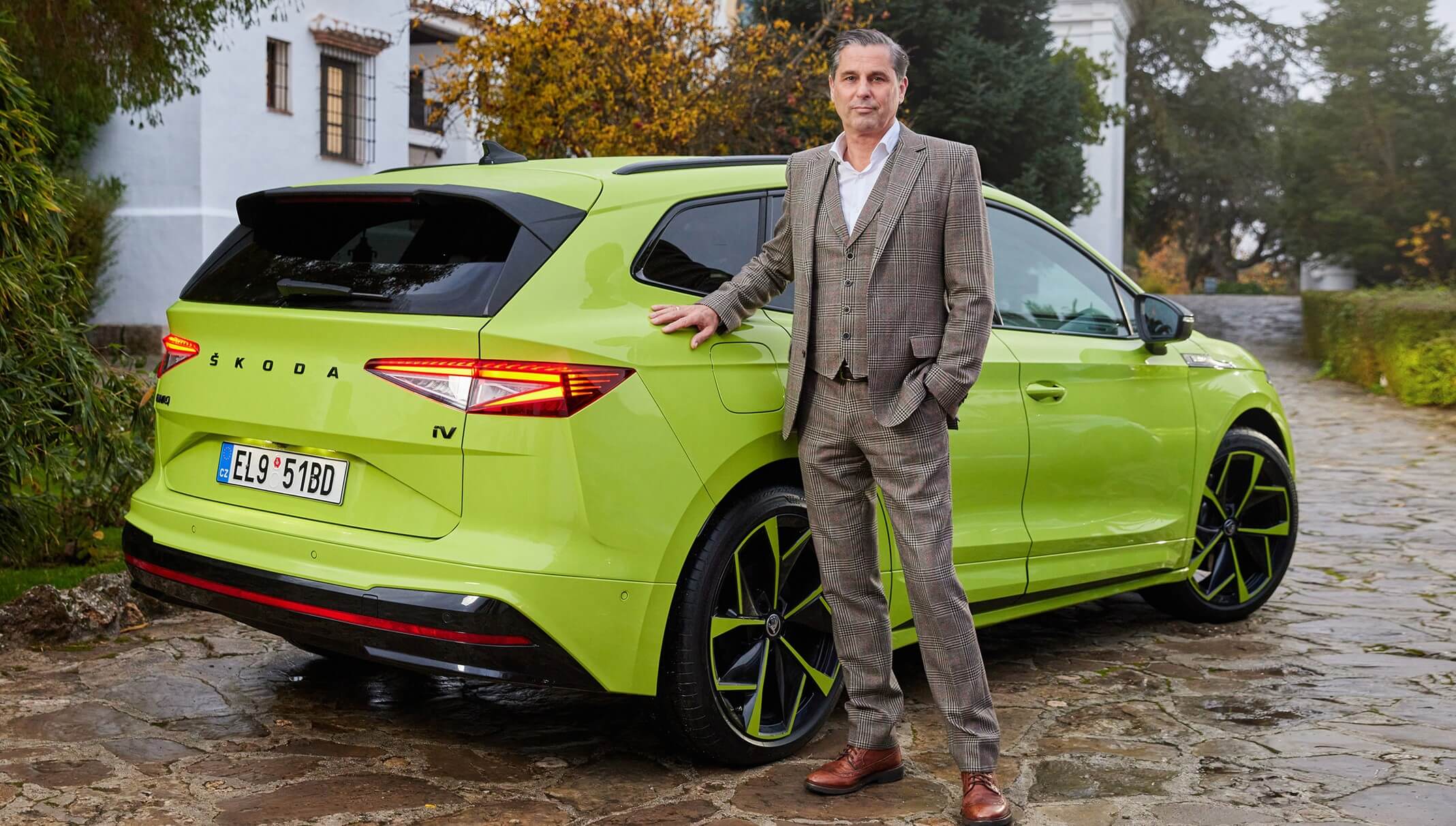 Both moves are consistent with the VW Group's reputation as the industry's most successful manager of car marques that have a high degree of commonality, and whose cars fit into similar price ranges. Perhaps one reason for the success has been a concern in recent years that some of the models have been getting too close. "We need to do a better job of clearly distinguishing Skoda from Volkswagen, Seat and Cupra," says Zellmer, "to ensure that our sales are incremental, not substitutional.
"The term Modern Solid contains two attributes that will guide our future designs," explains Zellmer. "It sets us a completely different target from Volkswagen, for example, who talk about Timeless Progressive. We are for young families, people we call 'everyday explorers'. We want our products to be very functional, but attractive with it. We want to fish in a different pond from the others so that our real opponents are external car makers, not our own brands."
I'm intrigued to know whether Zellmer has modified these core strategies, given they were drafted before his arrival, but both have such solid fundamentals that his job is mostly about implementation. Skoda, he says, is full of positive surprises: "This is a very honest, very hands-on company – we started in 1895 – and the Czech people are very pragmatic. They always find a solution. That's the basis for our motto 'Simply Clever'. In meetings, if we run into a roadblock we always say the same thing: let's find a Simply Clever solution. And it works."
During its 30 years in the VW circle, Skoda has earned a reputation for creative use of the parts bins to produce singular models like the Yeti, Roomster and Superb: I wonder if this independence can continue, and if it's important to the new chairman. He cites as his answer last year's rugged-looking Vision 7S concept for a seven-seat EV (the only vehicle of this format in the group), and says that as well as giving an early view of Modern Solid styling, it defines the upper end of Skoda's product range.
The brand will always stay in "value for money" territory, he says, with today's Fabia currently at the entry point and the Scala, based on the VW's Group's A0 city car platform, the most recent arrival in that arena. Simply Clever will stay, too, says Zellmer. He has teams at work right now on finding brilliant, innovative ideas (remember the Superb's door pocket umbrella?) and moving them into the digital age. In recent times, smaller models haven't been selling strongly because, like most car makers in this period of component shortages, Skoda has had to concentrate on products and markets that most effectively contribute to the return of 8 per cent on sales the group regards as success. (Zellmer is proud that if you remove the "three figures of millions" lost on unwinding its Russian operations, Skoda last year returned an 8.2 per cent margin despite sales depleted by around 20 per cent.)
Looking forward, the chairman cites building affordable battery EVs as the biggest challenge facing the car industry but says Skoda has pitched itself into the centre of the problem. "Our next car will be an A0-based BEV," he says, "and that should get close to a price of €25,000 (AUD$38,500) – a good step. But getting below €20,000 (AUD$30,800) has to be the goal, and it will be tough if we're going to offer our levels of safety, quality and design."
He adds: "We're already working on it. We've been tasked by the VW Group to look into a concept that will go below the A0. It is too early to talk about details, but I'm optimistic we can do it. I wouldn't be sitting here in this seat if I wasn't. But I don't want to overpromise, because it's hard. Let's talk in a couple of months. Then, hopefully, we'll know more."
Do low-cost cars need a big volume? Zellmer doesn't believe so, despite "fighting for every car" through the Covid years. "People ask if we can do 1.5 million, even two million, cars," he says, "but I don't believe that's the point. We've shown over the past years that we're resilient; our breakeven point is now lower than 70 per cent. I say a million cars is a good number for Skoda, and anything more has to add very significantly to the bottom line."
Six quick questions with Klaus Zellmer
Do you love cars?
"Definitely. I've always been a car guy. I was brought up in Stuttgart, Germany's Detroit, with cars all around. As a teenager, I repaired and rebuilt eight consecutive VW Beetles partly to make money but mostly because I enjoyed fixing things. I still like getting into the workshop today, when I can."
What did you drive home last night?
"It was a black-on-black Superb, a classic limousine. I really love them."
What's your dream car?
"I love the Skoda Popular Monte Carlo, a beautiful two-door coupe from the late 1930s."
Other makes?
"I only have eyes for Skoda."
Do you prefer F1 or top-class rallying?
"Rallying, especially since Skoda is doing so well in its class with the Fabia RS. I find it super-exciting: look at what the drivers have to do to win! I think it's beyond even F1 or top-level motorcycle racing."
Will SUVs prosper in the electrification age?
"SUV demand has grown constantly in recent years, and advantages like the driver's view, the luggage space and the easy cabin access will continue to matter. If we run our EVs on renewables, the difference between saloons and SUVs won't matter at all."