Volvo's design chief Jeremy Offer's unorthodox background influences his unique approach to car design.
New Volvo design chief Jeremy Offer is the first to admit that his "background is not the traditional automotive profile".
The Brit joined the Swedish firm in May after a six-year stint at electric commercial vehicle start-up Arrival, but the bulk of his 20-plus year career has been spent working in industrial design and consulting.
But it's that unorthodox background that made him the choice of Volvo boss Jim Rowan, himself an automotive outsider who previously worked in tech. "I've got a unique take on the automotive industry, and that chimes with what Volvo is doing and the area the automotive industry is heading," adds Offer.
Automotive Daily Network partner Autocar recently spoke to Offer about how his unique approach to car design will shape the future of Volvo.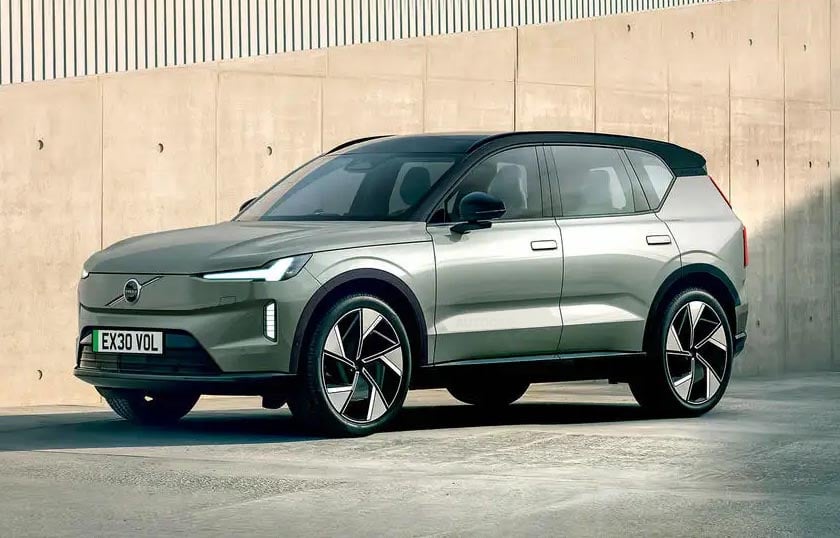 What will you bring to Volvo?
"Automotive design is no longer about the one area of vertical integration the automotive industry traditionally had – the engine – and it's now about core computing, software and the user experience: human-centred design.
These are all the things I have a lot of experience in coming from more of a consumer electronics background. "The automotive industry is becoming more device-like, an extension of your digital lifestyle that needs to be seamless when you get into your car. So creating that requires a more holistic idea of what designing a car is about rather than just interior and exterior styling. That is key."
What about the emotional response a vehicle can offer?
"With an EV it's no longer about the visceral – the sound of the car, or changing gears and the interface that you have with the mechanical components of the car. It probably hasn't been there for a lot of people for some time, frankly.
"Those experiences now come from different areas. So, for example, creating a new language around premium and luxury by allowing more space and light into the vehicle. That helps to define that feeling that when you get into a vehicle: there is that wow factor, but it's more of a sensory feeling around the interior space that you're in and the ergonomics."
What do you bring from outside the car industry that can help push Volvo forward?
"It's about creating cross-functional teams that can enhance the experience. I have so much breadth of experience, from modelling in Alias to designing user-centred experience flows.
"There was a period in time when design shifted from dumb physical products – your kettle or your toaster – to connected physical products like your laptop or phone. The Nest thermostat was a big one for this: all of a sudden it was about connectivity and a digital interface, and the physical product itself became a portal.
"We're seeing that with the automotive industry now. We're seeing the car becoming a physical portal to connected software and services, so something that's key is ensuring that flow of your digital life as you move from home to work to your car, a seamless integration with the technology. But it's still about the driving experience, and that is another dimension that fully electric gives you: the EX30 can do 0-62mph in 3.6 seconds. Which is insane."
What about distinctive Volvo design features, like the headlights?
"I'm a big believer that the certain key brand expressions like the Thor's hammer headlights are kind of sacrosanct, and Thomas [Ingenlath] did an amazing job of bringing in those themes. Where I see development is in technology. So when we can start to use thinner light blades, for example, that creates a much more technical futuristic expression of what the Thor's hammer looks like."
So you're not looking to reinvent Volvo's car design then? "With the heritage that Volvo has, certainty in terms of form language, we will iterate and move it on. A lot of that is defined by the use cases, and defined by the technology. But we're not going to throw the baby out with the bathwater: it's about moving that design language into this new era."
Volvo has a tradition of estate cars. Could you make an estate sexy again?
"All I can say is that there's no reason why an estate can't be sexy. If we were to design an estate or a saloon, there is no reason why great design can't make it sexy. That's a really key point: there is a feeling that coming from my background, exterior design is secondary now to user experience. It's absolutely not: creative direction is one of my absolute strengths. I will make sure every Volvo that has my name on it will look incredible."
Some of your rivals have been moving to quite extreme designs. Is that something you're considering?
"The idea of aggressive and noisy styling is definitely not something in the Volvo DNA. Our design language is quiet, there is a sort of humility and elegance to it. Frankly, when you're surrounded by so much visual noise in cities, having something like that stands out because of its quietness, confidence, and intelligence. In a plethora of frankly, overstyled vehicles Volvo's design language is a pinnacle of form following function, or rational simplicity."