It Begins
Among the 30 new electric vehicles launching this year, Kia's EV6 is arguably the most exciting.
LAST YEAR, 17,234 ELECTRIC VEHICLES were purchased by Australians. That figure represents a 230 percent increase over 2020 when approximately 5200 EVs were sold in Australia. In 2022, dealerships around the country are expected to welcome at least 30 new battery electric vehicles to showrooms and the potential for continued triple-digit growth is set to continue with industry predictions that total sales will top 35,000.
Among those 30 new electric models, Kia's first-ever EV, the EV6, arguably represents the most highly anticipated of them all. That's saying something given that Audi's long-awaited e-Tron GT is finally due late this year. But the anticipation around the EV6 is justified as its cross-over shape and SUV dimensions represents the type of vehicle most Australians buy. And the fact that the EV6 was a sell-out success before the first example was delivered last month further underscore its status. Kia Australia has confirmed that the 500-unit allocation for 2022 has been exhausted, but it is in constant dialogue with HQ in South Korea in an attempt to secure further examples.
The EV6 is the first in a 14-model electric-vehicle future from Kia. It feels like an important milestone in the march of the EV, so join us as we discover the new Kia EV6.
2022 Kia EV6 AWD

Motor Permanent magnet synchronous front and rear  Power 74kW @ 4500-7700rpm at front axle and 165kW @ 4500-7700rpm at rear axle for a total system output of 239kW Torque 255Nm at front axle and 350Nm at rear axle for a total system output of 605Nm Transmission Automatic single-speed reduction gear, all-wheel drive Steering Rack and pinion, electrically-assisted Suspension McPherson strut front, independent multi-link rear, magnetic dampers Brakes 325mm ventilated front and rear discs, ABS Weight 2105kg Top speed 190kph 0-100kph 5.2sec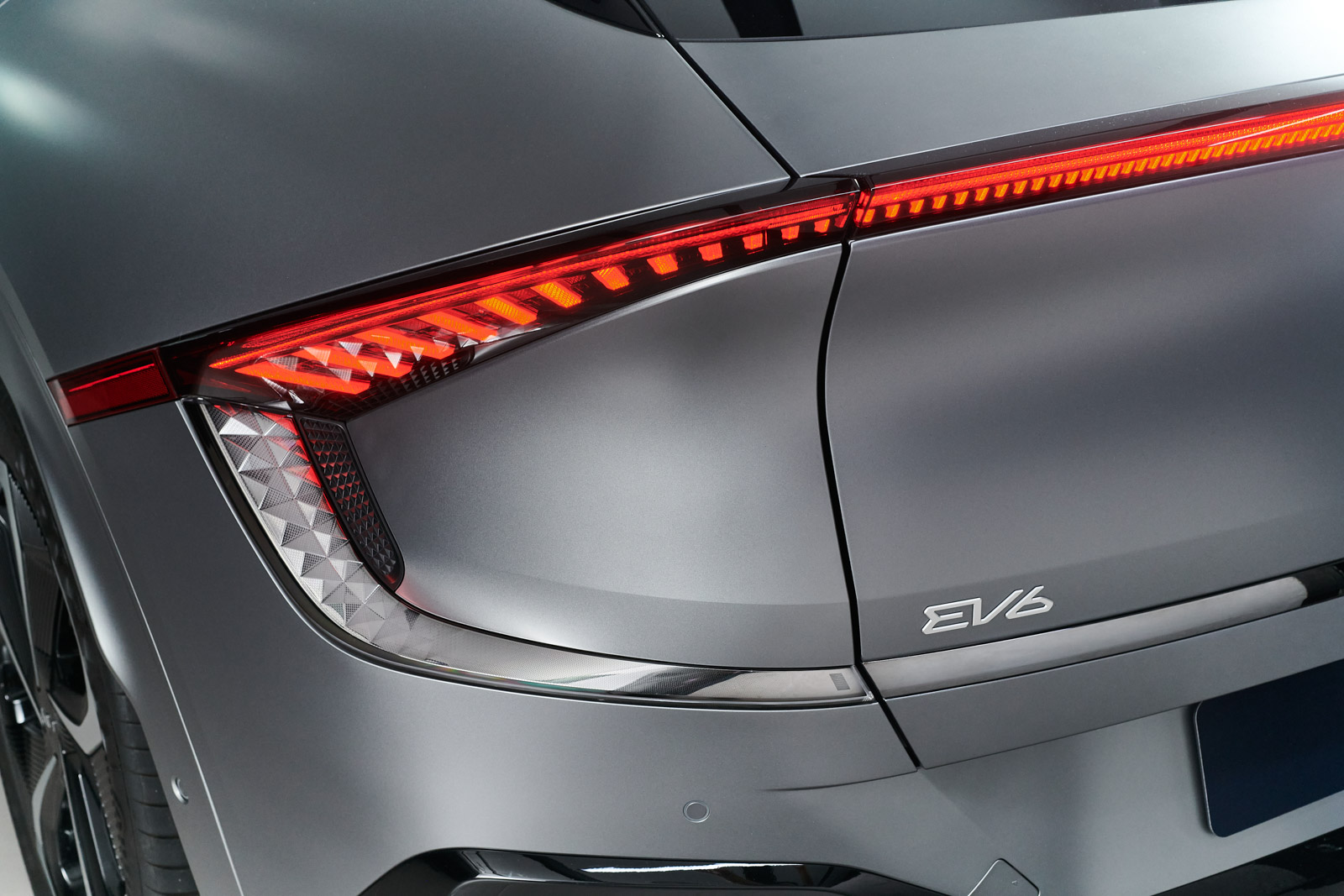 CREATIVE FREEDOM

The new EV6 signals the future direction of Kia's design and technical philosophy.
THE 'MECHANICAL' LAYOUT OF an electric vehicle affords automotive designers more freedom than if they were drawing metal to shroud a traditional drivetrain. There's also the temptation/expectation that the design of an electric vehicle must project a Tron-like futurism. While early adopters and those who want to signal their purchase choice gravitate to a design that shouts its EV-credentials, many consumers find overt displays of futurism off putting.
For us, the Kia EV6 strikes an impressive balance of signalling its future-facing design and technological direction, while offering something familiar to customers who aren't quite ready to leap into the realms of sci-fi design. It also doesn't hurt that the rear of the EV6 has more than a passing resemblance to the Aston Martin DBX, especially when finished in the stunning Moonscape Matte of our test example.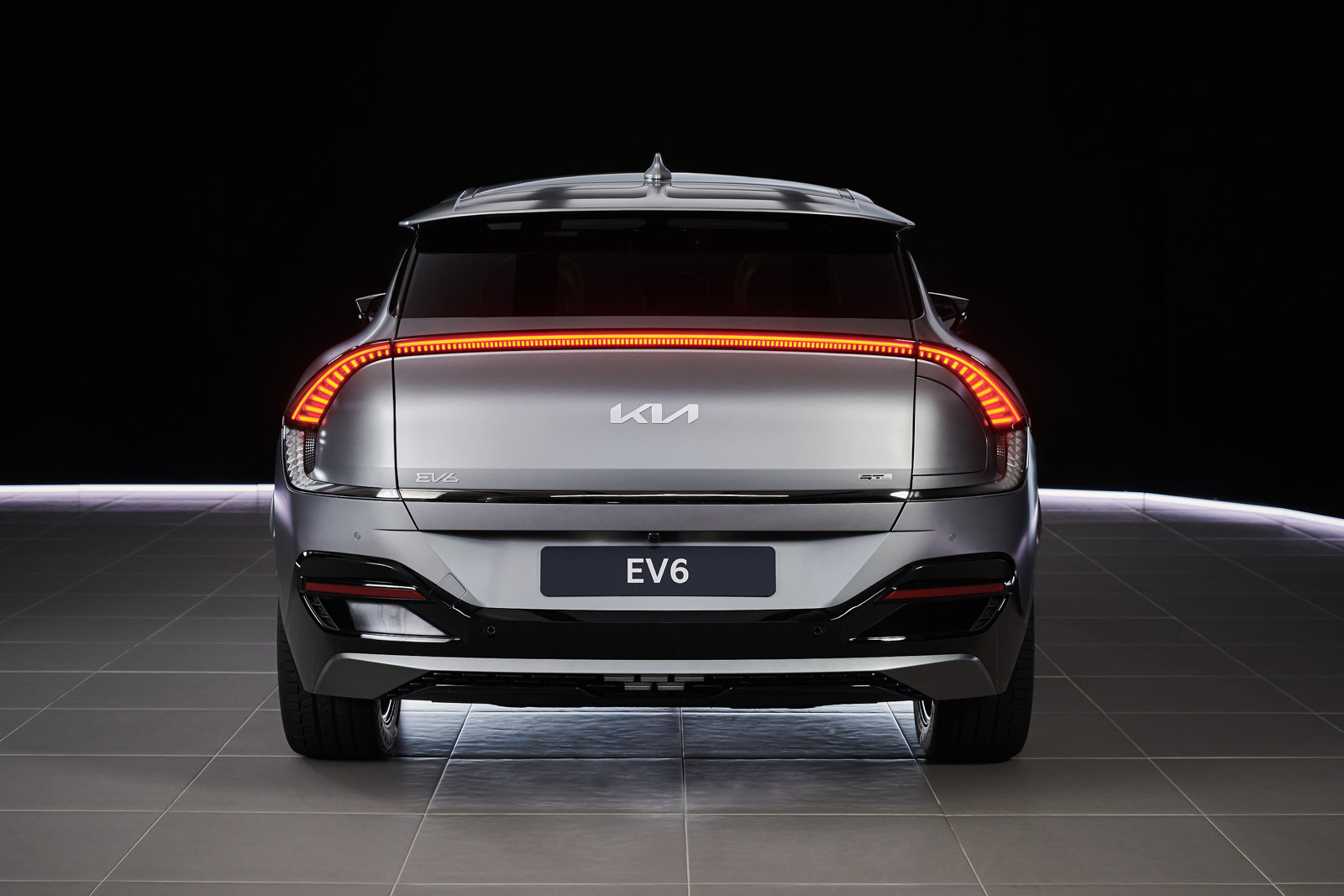 Karim Habib, Head of Kia Global Design, explains the philosophy and inspiration behind the new EV6; "The EV6 is the blueprint of our future product. It defines the brand we want to be and the customers that we want to speak to. The EV6 is born out of our ambitions to create bold, original and inventive products. We want to strike a balance between contrasting elements – the sportiness of a fastback, the compact stance of a hatch and maybe even the raw strength of a rally car."
Under Karim Habib's direction, the exterior of the EV6 was designed by Luc Donckerwolke, a name that will be familiar to Lamborghini fans. During more than a decade at the Volkswagen Group, Belgium-born Donckerwolke was responsible for some of the Group's most enduring designs, including the Lamborghini Murcielago and Gallardo, and Audi's original A7. He's clearly not lost his touch as the EV6 is a striking-looking vehicle, more fastback than upright cross-over.
During our time with the EV6, it drew admiring glances and positive comments from numerous sources. While positivity from inner-city-types was to be expected, we were twice engaged by burly high-vis-wearing tradies who wanted to know everything about the EV6 and when it was launching. Both commented on how much they liked the looks of the bold new Kia.
The boldness continues inside with an interior that heralds a new design direction for Kia.

Jochen Paesen, Head of Kia Interior Design, explains his process for the EV6: "We are attracted by the exterior of cars, but we fall in love with the interior, where we spend most of our time. For the EV6, designing an inspiring space was one of the most important things for us. We believe that every element that creates an interior space can boost people's creativity and inspire them. It's certainly not just about putting a big screen on the dashboard."
And while the EV6 does feature a big screen, it's beautifully integrated within the overall design ethos of the cabin. Twin 12.3-inch screens are used for the infotainment display and instrument cluster, and they arc across the top of the dash in a sophisticated curve.
Jochen Paesen also explains the freedoms granted by the flat-floor-layout: "Space innovation starts with the foundation; the platform. The EV6 is Kia's first vehicle to apply a new dedicated EV platform [the E-GMP]. With a flat floor, it allows for diverse interior layouts."
Another benefit of the skateboard platform is that the wheelbase and track can be stretched relative to the overall dimensions of the vehicle. Though relatively compact at 4680mm in length (4695mm for GT-Line models) and 1880mm in width (10mm wider for GT-Line), the EV6 sits on an enormous 2900mm wheelbase.
Sustainability measures don't stop with the drivetrain either, but include extensive use of recycled material for interior trim, most notably the carpet. In fact, the interior of each new Kia EV6 features the equivalent of over 100 500mL plastic bottles.
Now, let's dive under the skin of the EV6.
LEADING THE CHARGE

As with the EV6's design process, Kia has taken a holistic approach to its adaptation of technology.
AS YOU'D EXPECT, THE VERY CORE of the new Kia EV6 is its EV platform, known as E-GMP and shared with the Hyundai Ionic 5. The E-GMP platform, whether single-motor rear-wheel-drive or dual-motor all-wheel-drive, features a 77.4kWh lithium-ion battery that weighs in at 477.1kg – for some perspective, the battery in Audi's e-tron GT weighs 900kg.
Charging using domestic AC supply, the EV6's battery can be replenished from 10-100 percent in 11 hours (comfortably overnight). However, the system supports both 400- and 800-volt fast charging, and using a 50kW DC outlet, the battery can be charged from 10-80 percent in 73 minutes. With a 350kW fast charger, that 10-80 percent benchmark drops to just 18 minutes. The charge port is cleverly hidden within the driver's side taillight cluster.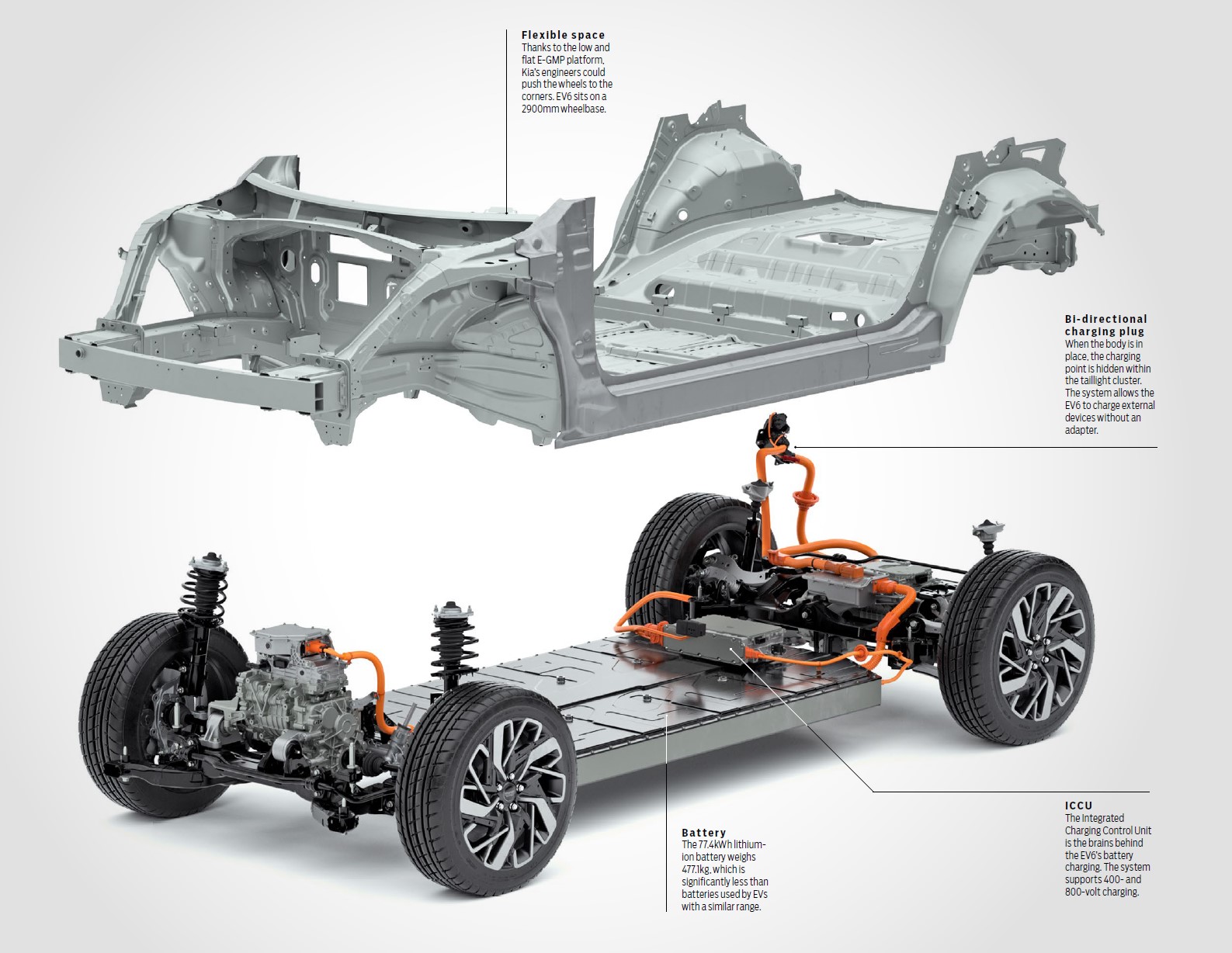 Both the entry-level Air model and GT-Line RWD variant are powered by a single permanent magnet synchronous motor producing 168kW and 350Nm. The range-topping (for now) GT-Line AWD that we test adds a 74kW, 255Nm motor to the front axle, for a total system output of 239kW and 605Nm (note that the rear-electric motor is rated at 165kW in the GT-Line AWD). The EV6 GT is due later this year or early 2023 and will use the same 77.4kWh lithium-ion battery pack but has a total system output of 430kW and 740Nm – yes, those are German super sedan numbers.
All EV6 variants use a single-speed transmission with a 10.65:1 final drive ratio.
According to WLTP testing, the EV6 Air boasts a range of 528km, while the GT-Line RWD variant claims 504km. The GT-Line AWD has a claim of 484km and during our testing we found the claimed range to be highly accurate – after covering 300km of mixed driving, the indicated distance to empty was 179km. It's this accuracy that builds trust and reduces range anxiety to a thing of the past.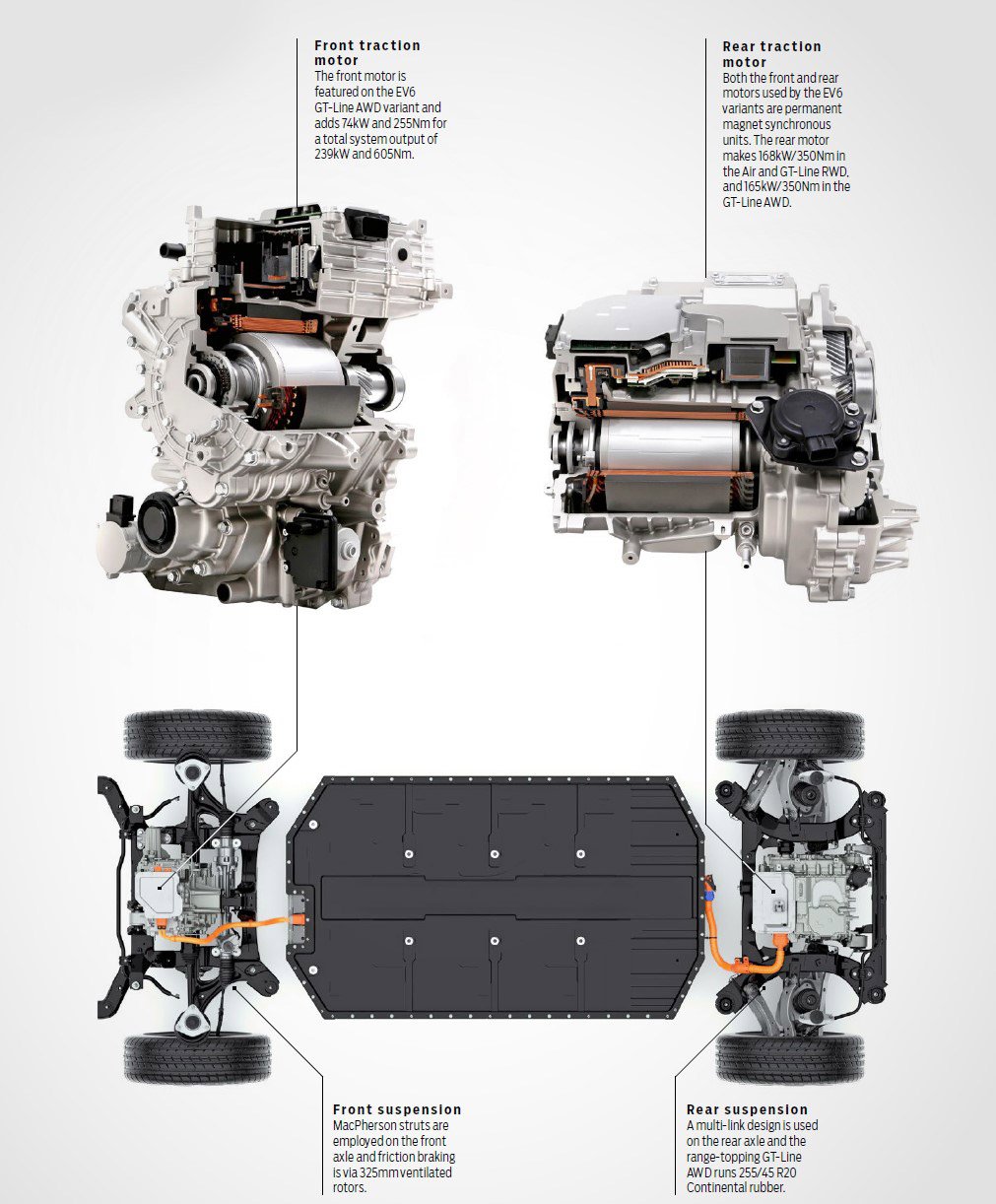 The EV6 features MacPherson struts up front and a multi-link set-up on the rear axle, and the suspension tune has been optimised for Australian conditions by chassis guru Graeme Gambold.
As you'd expect of a range-topping and future-looking model, the EV6 features an abundance of safety systems. Standard across all variants, the passive safety systems include the full suite of airbags, while the active safety list stretches to include multi-collision braking, AEB, lanekeeping assist, lane-follow assist, blind spot collision warning with rear cross traffic warning, and blind spot collision avoidance assist with rear cross traffic collision avoidance. While this isn't the complete list of standard equipment (there's not enough space), the GT-Line RWD and AWD variants add parking collision avoidance assist – reverse, surround view monitor with 3D mode, and blind spot view monitor.
Powered front seats are standard across the range – six-way in the Air and eight-way in the GT-Line variants. The Air features a six-speaker audio system while the GT-Line models boast a 14-speaker Meridian Premium Sound System that comprises five speakers, four tweeters, four woofers and a subwoofer. The dual 12.3-inch displays in the curved dashtop screen are worth highlighting, and additionally, the GT-Line variants add an augmented reality head-up display.
As with the design of the EV6, Kia has delivered a fine balance of future-facing technology and familiar easyto- use systems. For those that want their EV6 to replace an old-faithful family car, the new Kia won't frighten you, but for those that want to embrace the future of transport, the EV6 has also got you covered.
LOCAL KNOWLEDGE

For more than a decade, Kia Australia has been localising the ride and handling characteristics of its cars. The EV6 is the latest in over 50 models to be tuned for Australian conditions.
FOR 25 YEARS, I'VE LIVED EVERY CAR enthusiast's dream. I've had more than my fair share of supercars, racetracks, helicopters and fancy hotels. But one of the very best things I've done in my career is several days embedded with Kia's local engineering team as they tuned an upcoming and still-secret model for Australian conditions. Lying on a tarp on the side of a road changing springs, dampers and anti-roll bars is about as far from a chopper ride over Monaco as one can get, but for me, this is the car industry at work. And in a world of CAD-sign-off and 'global spec' it's encouraging that Kia Australia continues with its Ride and Handling Programme.
This was nearly a decade ago but the man in charge then is the same chassis engineer and driving god that continues to tweak and tune Kia models for Australian conditions. Graeme Gambold is softly spoken and unassuming, but he also holds the highest driver accreditation one can achieve at the Nurburgring. Whether turning a steering wheel or twirling a spanner, Gambold moves with a deliberate unhurried nature that belies the results – not only can he make a Kia development hatch do otherworldly things on a twisty road, he can whip out a MacPherson strut in minutes.
"Kia Australia's local tuning programme is an important process for our product range," explained Kia Australia's Chief Operating Officer Damien Meredith. "And once again, despite the constraints thrown our way by Covid, our local product team and Graeme Gambold, along with our colleagues in Namyang, have worked together to customise a product to best suit Australian roads and driving styles."
Testimony to both the fast pace of the industry and Kia's on-going commitment to the Australian market, Graeme Gambold has localised the ride and handling characteristics of more than 50 Kia models over the last 10 years. According to Roland Rivero, General Manager of Product at Kia Australia, the Local Ride and Handling Programme is now part of Kia customer expectation.
"Our local tuning programme is part of our DNA and a key component to Kia's success in Australia," said Rivero. "I believe it's now an expectation when car buyers are considering Kia products that this has been done and so, despite the unprecedented circumstances of Covid-19, we didn't give up on the programme and particularly not for our new brand halo, the EV6.
"It certainly helped that we've been on this journey with Namyang's Ride and Handling teams for a long time and we also have an established relationship with the team in ZF Sachs. They have travelled to Australia so many times in the past and have a thorough understanding of our local conditions, so during lockdown our history with them was vital, as it made the process of tuning via correspondence achievable. Otherwise, if it was a case of sight unseen, the process of conveying our desired compressions and rebound forces would be difficult for them to understand, particularly as our tune is unlike any other region." he added.
But the last word belongs to the man in charge of the local ride and handling programme, Graeme Gambold, who explains why he enjoys the EV6 so much.
"Personally, as a chassis dynamist, I think the biggest part of that enjoyment of driving the EV6 is the width of the battery in the car. A typical ICE vehicle has an engine and a drivetrain that has a high centre of gravity but it's all in the centre of the vehicle, therefore it works like a moment in roll. But with a dedicated BEV, it has a big flat battery in it, so it has to lift the energy on the inside to actually upset the car, creating a very flat roll dynamic. This makes the EV6 feel very light, nimble and responsive.
"One of the things we are always tuning for in Australia is large body movements on country roads at 100km/h and that is always manifested with a high centre of gravity roll dynamic in conventional cars. Electric cars don't have as much of that, they have a lot of vertical movement, because of the weight but they don't have the lateral roll, so we can use that as a bit of a tuning tool." Graeme explained.
"Best car Kia has ever made," he concluded.
REVOLUTION

For more than a decade, Kia Australia has been localising the ride and handling characteristics of its cars. The EV6 is the latest in over 50.
WATER IS HISSING INTO THE wheelarches and the wipers are dancing across the screen to their fastest beat. As they have been for much of the last few months, the roads on the outskirts of Sydney are slick with rain and leaves – just where did summer go? In fact, it's been so wet that we've abandoned our Sydney photoshoot in favour of one we completed earlier in Melbourne. Given Melbourne's reputation for rain, the irony is not lost on us.
The range-topping Kia EV6 GT-Line AWD shrugs off the conditions and simply demolishes the twists of this challenging road. It's the same tight and technical piece of tarmac that we reserve for our most serious dynamic assessments and it's been kissed by the sticky rubber from a Ferrari SF90 Assetto Fiorano and the surrounding rock faces have reverberated to the howl from a Porsche 911 GT3. This is where the big boys come to play.
Today is the first time that we've fired up and down the road's length in an EV. Not because we think that EVs shouldn't be subjected to the toughest dynamic tests, rather that their range makes it a fraught exercise given the distance back to base or a decent charging station. Again, the EV6 dismisses such concerns.
At launch, Kia will offer Australian customers three variants of the EV6. Priced from $67,990, the rear-wheel-drive EV6 Air kicks things off, while the also rear-drive GT-Line RWD model asks $74,990. Both models are powered by a rear-mounted permanent magnet synchronous motor that delivers 168kW and 350Nm. The range is topped, for now, by the $82,990 GT-Line.
AWD that we are testing. It adds a 74kW/255Nm electric motor to the front axle giving the GT-Line AWD a total system output of 239kW and 605Nm. Regardless of model, all EV6 variants at launch use a 77.4kWh lithium-ion battery with the ability to support 400- and 800-volt DC fast charging.
While we've yet to performance test an EV6 variant, Kia's performance claims strike us as more than a touch conservative. Rear-drive EV6 models are said to take 7.3 seconds to accelerate from 0-100km/h, while the GT-Line AWD cuts that to 5.2 seconds. While that second number isn't anything to sneer at, and is quicker than most current hot hatches, it doesn't marry up with the way in which the EV6 hauls itself out of tight hairpins on our chosen test route.
Due late this year or early next year, Kia will launch the all-wheel-drive EV6 GT that boasts 430kW and 740Nm. It's claimed 0-100km/h acceleration time of just 3.5 seconds makes it easily the fastest accelerating Kia of all time and a match for many supercars. There's no official word yet on pricing but there's early speculation that the EV6 GT could top $100,000.
The all-wheel-drive system affords the EV6 GT-Line remarkable purchase out of corners, with the Kia firing down the road in a manner not dissimilar to that of a Mercedes-AMG A45 S. There's little in the way of squat under hard acceleration, just a mad rush of instant torque causing the scenery to start streaking past the side glass. In fact, the chassis sits remarkably flat regardless of what you ask of it – roll during cornering and dive under brakes is incredibly well controlled.
Speaking of braking, the EV6 allows you to adjust and tailor braking response more than any car I've ever tested that wasn't fitted with a roll cage and numbers on the door. Kia suggests that Normal Brake Mode is the choice for everyday driving, especially in traffic, where the regenerative braking effect is mild to moderate. Sport Brake Mode brings a more aggressive, though still linear-feeling regenerative braking effect and shortens the pedal stroke. We're not talking Porsche 911 GT3 levels of pedal feel and response, but Sport mode would quickly become my default. In addition, i-Pedal Regenerative Braking adjusts the regen effect so that the EV6 can operate as a single-pedal car. Ramping up the i-Pedal level to its max (via the left-hand paddle behind the steering wheel), the EV6 can be driven smoothly using only the accelerator pedal. As a long-time left-foot braker, I found this a little disconcerting at first, but was soon marvelling at how smooth the Kia was braking and enjoying the challenge of judging the correct distance at which to lift off the volts.
While our dynamic test route is largely smooth, the EV6 and its ZF Sach's Selective Damping Control 3 (SDC3) dampers – also used by Mercedes-AMG and Maserati – do a remarkable job dealing with broken tarmac. Despite riding on 255/40 R20 Continental rubber, the EV6 GT-Line AWD glides over expansion joints with barely a noise or shimmy transmitted into the cabin. Bigger, jagged-edged hits are heard rather than felt and the suspension does an excellent job of catching body movements over higher speed crests and compressions. In fact, if you didn't possess some technical knowledge regarding the weight of batteries (477.1kg in this case) and electric motors, you'd never guess the weight of the Kia. The EV6 GT-Line AWD gives no clues to its 2105kg mass (rear-drive variants are an even 2000kg). If I could suspend my knowledge of EV weights, I'd have guessed that the EV6 weighed no more than 1800kg.
The EV6 is an interesting car to test and to pass judgement on. It weighs as much as an SUV, though you'd never know it. It offers the interior space and practicality of the best crossovers and it delivers performance and dynamic capability that rivals several hot hatches. It's probably closest to a mid-sized performance SUV and judged as such it is mightily impressive, especially that it rides with such pliancy and composure – it doesn't feel heavy footed, rather it moves with surprising delicacy. Of course, this all bodes extremely well for the EV6 GT with its promise of supercar performance.
Perhaps more than that, however, Kia's first crack at a dedicated EV gives car enthusiasts hope that not only can the future be green and fun, but so can the present.