As with the EV6's design process, Kia has taken a holistic approach to its adaptation of technology.
As you'd expect, the very core of the new Kia EV6 is its EV platform, known as E-GMP and shared with the Hyundai Ionic 5. The E-GMP platform, whether single-motor rear-wheel-drive or dual-motor all-wheel-drive, features a 77.4kWh lithium-ion battery that weighs in at 477.1kg – for some perspective, the battery in Audi's e-tron GT weighs 900kg.
Charging using domestic AC supply, the EV6's battery can be replenished from 10-100 percent in 11 hours (comfortably overnight). However, the system supports both 400- and 800-volt fast charging, and using a 50kW DC outlet, the battery can be charged from 10-80 percent in 73 minutes. With a 350kW fast charger, that 10-80 percent benchmark drops to just 18 minutes. The charge port is cleverly hidden within the driver's side taillight cluster.
Both the entry-level Air model and GT-Line RWD variant are powered by a single permanent magnet synchronous motor producing 168kW and 350Nm. The range-topping (for now) GT-Line AWD that we test adds a 74kW, 255Nm motor to the front axle, for a total system output of 239kW and 605Nm (note that the rear-electric motor is rated at 165kW in the GT-Line AWD). The EV6 GT is due later this year or early 2023 and will use the same 77.4kWh lithium-ion battery pack but has a total system output of 430kW and 740Nm – yes, those are German super sedan numbers.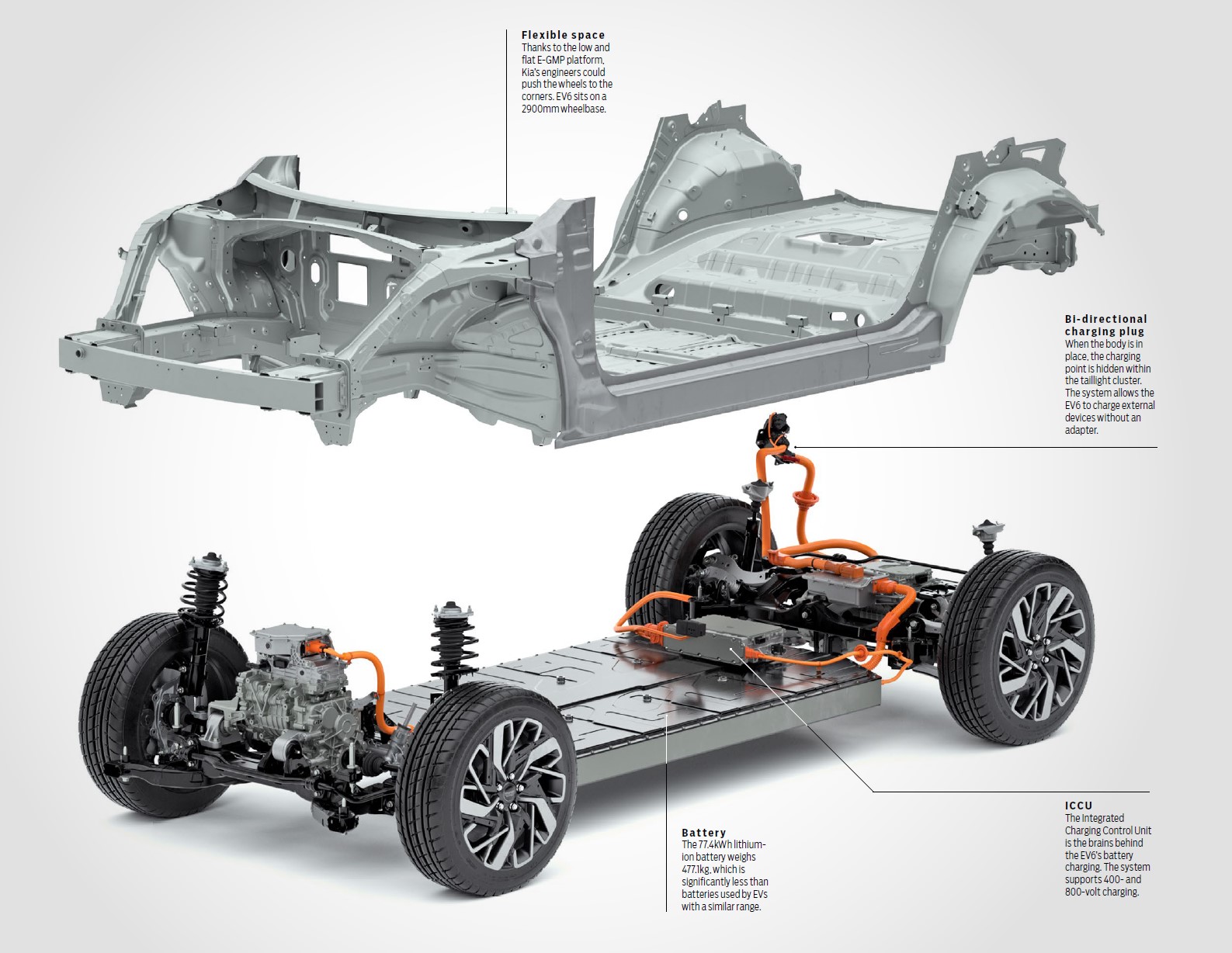 All EV6 variants use a single-speed transmission with a 10.65:1 final drive ratio.
According to WLTP testing, the EV6 Air boasts a range of 528km, while the GT-Line RWD variant claims 504km. The GT-Line AWD has a claim of 484km and during our testing we found the claimed range to be highly accurate – after covering 300km of mixed driving, the indicated distance to empty was 179km. It's this accuracy that builds trust and reduces range anxiety to a thing of the past.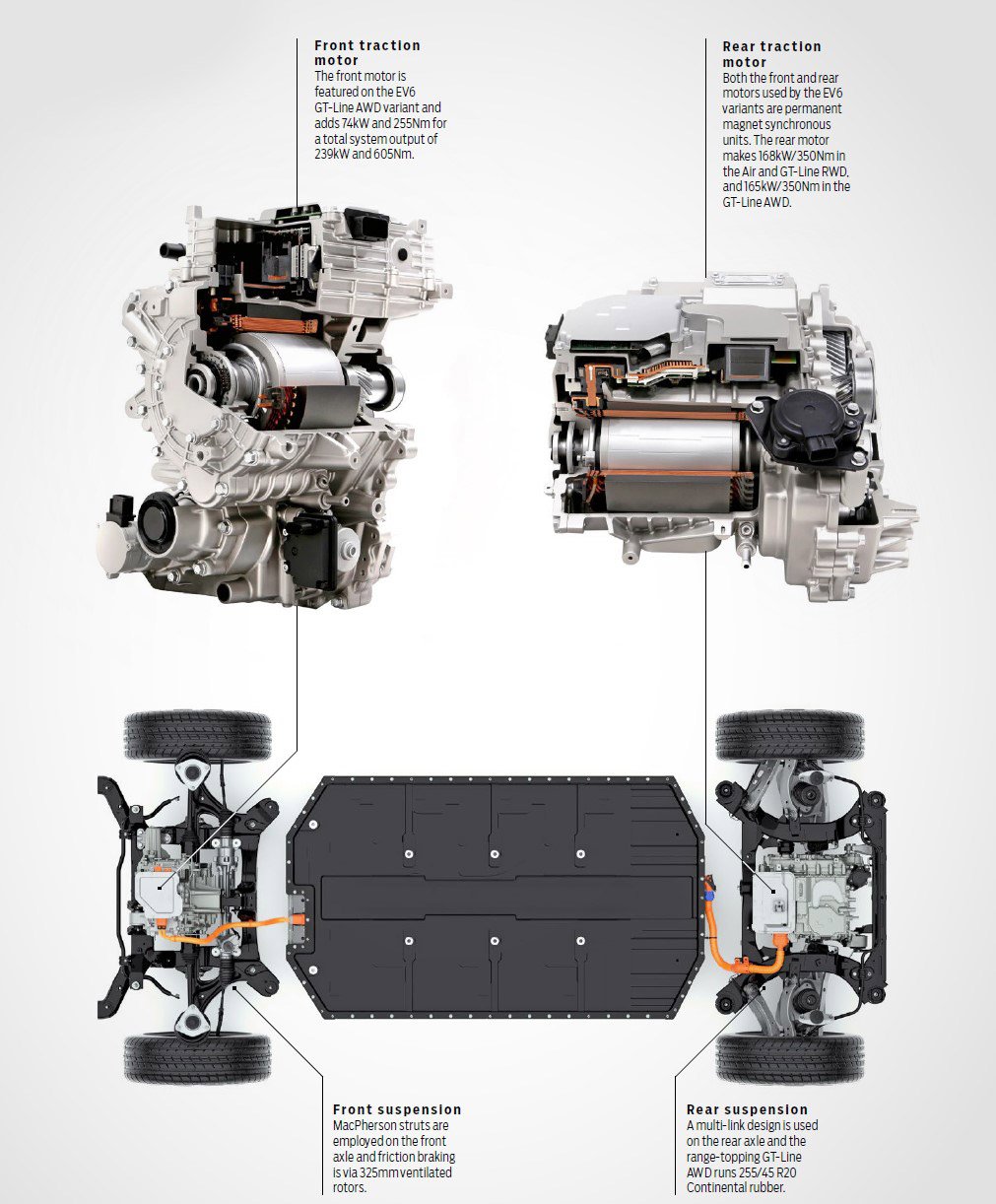 The EV6 features MacPherson struts up front and a multi-link set-up on the rear axle, and the suspension tune has been optimised for Australian conditions by chassis guru Graeme Gambold.
As you'd expect of a range-topping and future-looking model, the EV6 features an abundance of safety systems. Standard across all variants, the passive safety systems include the full suite of airbags, while the active safety list stretches to include multi-collision braking, AEB, lanekeeping assist, lane-follow assist, blind spot collision warning with rear cross traffic warning, and blind spot collision avoidance assist with rear cross traffic collision avoidance. While this isn't the complete list of standard equipment (there's not enough space), the GT-Line RWD and AWD variants add parking collision avoidance assist – reverse, surround view monitor with 3D mode, and blind spot view monitor.
Powered front seats are standard across the range – six-way in the Air and eight-way in the GT-Line variants. The Air features a six-speaker audio system while the GT-Line models boast a 14-speaker Meridian Premium Sound System that comprises five speakers, four tweeters, four woofers and a subwoofer. The dual 12.3-inch displays in the curved dashtop screen are worth highlighting, and additionally, the GT-Line variants add an augmented reality head-up display.
As with the design of the EV6, Kia has delivered a fine balance of future-facing technology and familiar easyto- use systems. For those that want their EV6 to replace an old-faithful family car, the new Kia won't frighten you, but for those that want to embrace the future of transport, the EV6 has also got you covered.
Read more on the new Kia EV6 in our exclusive special feature.
Jesse Taylor