Lamborghini electric GT crossover is due in 2028, followed by the Urus EV – but there's a lifeline for petrol-powered sports cars.
The first fully-electric Lamborghini will be an all-new, radically styled 2+2 crossover arriving in 2028, adding a fourth model line to the Italian brand's range, and it will be swiftly followed by an electric-only second-generation Urus SUV, CEO Stephan Winkelmann has revealed exclusively to Automotive Daily Network partner Autocar.
Intriguingly, the launch of the electric duo also raises the possibility of the firm's sports cars – currently comprising the Lamborghini Huracán and Lamborghini Aventador – keeping petrol power as part of a plug-in hybrid system for at least two more generations, the first launching next year and the second at the turn of the decade.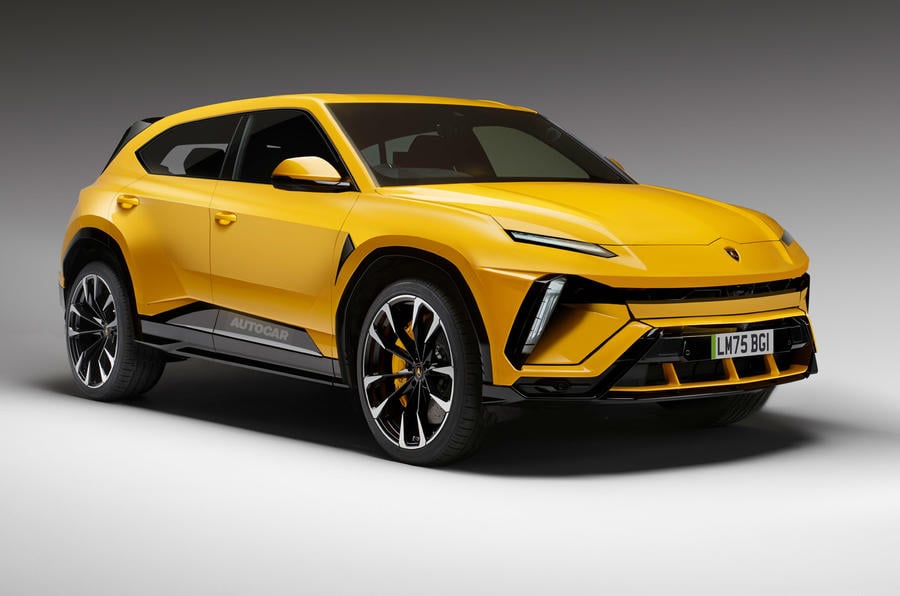 This means they could be on sale until at least 2035, when most regions are expected to legislate full electrification for new cars.
The continuation of the sports cars as combustion-engine models is a potential consequence of the new EVs dramatically reducing Lamborghini's fleet-average CO2 emissions. Moreover, the fact it remains a relatively low-volume manufacturer, despite setting a new production record of 8405 last year, means it could be subject to different emissions regulations to mainstream makers.
Winkelmann also pointed to ongoing talks about the use of synthetic fuels as another avenue that could potentially help Sant'Agata meet emissions targets while still building small volumes of hybridised ICE cars, although legislators are currently debating the viability of this.
Winkelmann said: "The first step is to launch two fully electric cars by 2030. As a result of that, we have some time to decide whether we can stay with the internal combustion engines or if we have to go fully electric.
"The pressure to decide the final details isn't here yet. If the European Parliament decides on a ban, that will influence us, of course.
Lamborghini's big SUV gamble undergoes the toughest test in the business. Massively capable wherever it goes, while being extremely conspicuous and costly while it does it
"But there are also markets other than Europe that we must consider, as well as regulations that we are still waiting for clarity on, for where we go next.
"Let's say that we will welcome harmonisation of global plans. There are so many markets with so many different plans that we must take all the time we have to consider the best route forward. It's not simple.
"Of course, we must make decisions well ahead of any deadlines, and it might be that we can't wait for the regulations to commit, but this strategy with the two fully electric cars is a decision that gives us more time to consider."
While Winkelmann didn't offer specifics, the new 2+2 crossover is expected to draw light inspiration from the Lamborghini Estoque saloon concept, which was revealed in 2008 but never made production.
Lamborghini insiders suggested at the time that there was significant customer support for the car but that the cost of its development versus projected sales meant it didn't make it from the Volkswagen Group's prioritisation list to production. Funds were instead focused on a rapid development of its SUV offerings – including the ultra-successful Urus, of which 5021 examples were sold last year.
However, instead of being designed around a four-door saloon silhouette, the EV is expected to sit higher, as a result of its floor-mounted battery pack, and to have significantly more dramatic styling to highlight that its powertrain differentiates it from other Lamborghinis.
While it is loosely being described as a crossover, Winkelmann highlighted that the different packaging requirements of an EV "open up interesting avenues" in terms of its eventual design.
Lamborghini design boss Mitja Borkert recently asserted that all future vehicles from the firm will still "look like spaceships".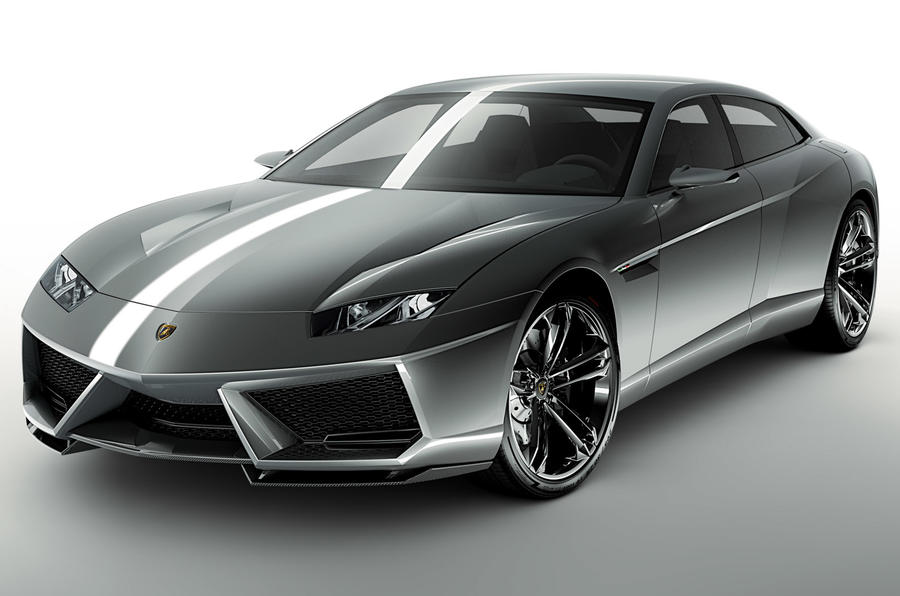 The 2+2 might also be a two-door, given that it is likely to use the same Bentley/ Audi-developed Artemis platform that will underpin Bentley's new family of EVs. These include its mooted new range-topper, which is loosely described as a successor to the Bentley Mulsanne limousine.
The popularity of superluxury four-door saloons has waned in recent years. Market analyst Jato Dynamics' data suggests that they have fallen from 21.6 per cent of the sector's sales mix in 2010 to just 9.1 per cent today.
There is a possibility of the 2+2's starting price being in excess of $600,000 and topping Lamborghini's line-up in terms of price. However, the impact of hybridisation on the cost of its most expensive model today, the Aventador, has yet to be revealed.
Bentley is set to introduce its first electric car in 2025, having committed to launching five EVs by 2030.
In light of Winkelmann's acknowledgement that the Urus will go electric by 2030, it is inevitable that the twinned Bentley Bentayga will as well.
Winkelmann confirmed that the strategy to launch the 2+2 and then the new Lamborghini Urus was a result of family-oriented customers being more open to going electric.
"For now, electrification suits these kinds of vehicles," he said. "That will develop, but we must plan for what we know will work best today. There are definitions that I think no electric car in our sector has yet resolved sufficiently: not just acceleration and handling behaviour but also responsiveness, braking feel and multiple acceleration protocols. These are unproven in high-performance EVs and things we must spend the next years working out."
The revelations from Autocar's exclusive interview provide the first details to support Lamborghini's stated electrification plan, which was announced one year ago and which will come to fruition over the next decade.
Called Direzione Cor Tauri, referring prosaically to the Latin name for a bull's heart and the brightest star of the constellation of Taurus, the plan lays out a three-step strategy towards electrification.
The initial stage, a celebration of pure-ICE specials, is set to conclude this year, ahead of the launch of Lamborghini's first plug-in hybrid, the successor to the Aventador. This will be revealed later this year before sales start in 2023.
By the end of 2024, all three of Lamborghini's models – the Aventador, Huracán and Urus – will be sold as plug-in hybrids.
That will allow the company to record official CO2 outputs at half today's levels by 2025, the pair of EVs then providing a further significant reduction.
"What's clear is that customer perceptions have shifted," said Winkelmann.
"They are aware of the legislation and interested in the technology so long as it marries sustainability with enhanced performance from what has gone before.
"That's why [Lamborghini's] hybridisation phase is coming first: that has been digested and accepted by the customer base. Even the majority of petrolheads say that they have accepted our vision on that. And in turn, that opens the door for a new breed of customer to look at full electrification."
Q&A: Stephan Winkelmann, Chairman and CEO, Lamborghini
Does electrification open up the possibility of even more Lamborghini model lines?
"Going from a two-model company to a three-model company [with the Urus in 2018] was a huge step. The investment, in terms of money and people, is huge. We must make each step work before we look to take further ones. The new car is our next hurdle."
"So far, we still have good news, in that we're taking more orders than we have production capacity, meaning waiting times are more than a year. But I do see dark clouds: interest rates rising, inflation, raw material prices, energy prices. It's a global issue that will have an impact of some kind. But our mission is to meet the challenges."
Given its success, how much does the Urus protect you?
"It definitely gives us more stability. At the time, launching it felt like a real bet, but it has been a huge success and given us the space to invest in a fourth model line. If we hadn't done it, it wouldn't have just been our future that would be harder but also our present."
Is there more room in the market for other SUVs?
"There are limits to what we can do, both in terms of production numbers, which we don't want to extend too far, and in terms of pricing, which we don't want to take too low."
What about more special editions?
"We will continue to make them once in a while but always with an eye not to overload the market. The market is still very buoyant for super-special cars, but we have to explore what's feasible. The key here is we pre-explore the opportunities, pre-selling to customers who buy into the ideas. If the interest isn't there, then we don't have to take a risk."
Jim Holder