Modestly optioned but massively capable diesel is the sweet spot of the Land Rover Defender 110 range.
Of all the Land Rover Defender variants, the D240 is one of the best positioned, and could be quite the hit once the model launches in Australia during the second half of 2020. The D240 S we're testing here will be priced from $88,800 plus on-road costs.
It uses a 2.0-litre turbodiesel with 177kW and 430Nm, and while these modest outputs don't quite translate to sparkling fuel economy, in S form the Defender's pre-option price is reasonable. It's also worth remembering that this is one of the world's most capable cars – maybe even the top one.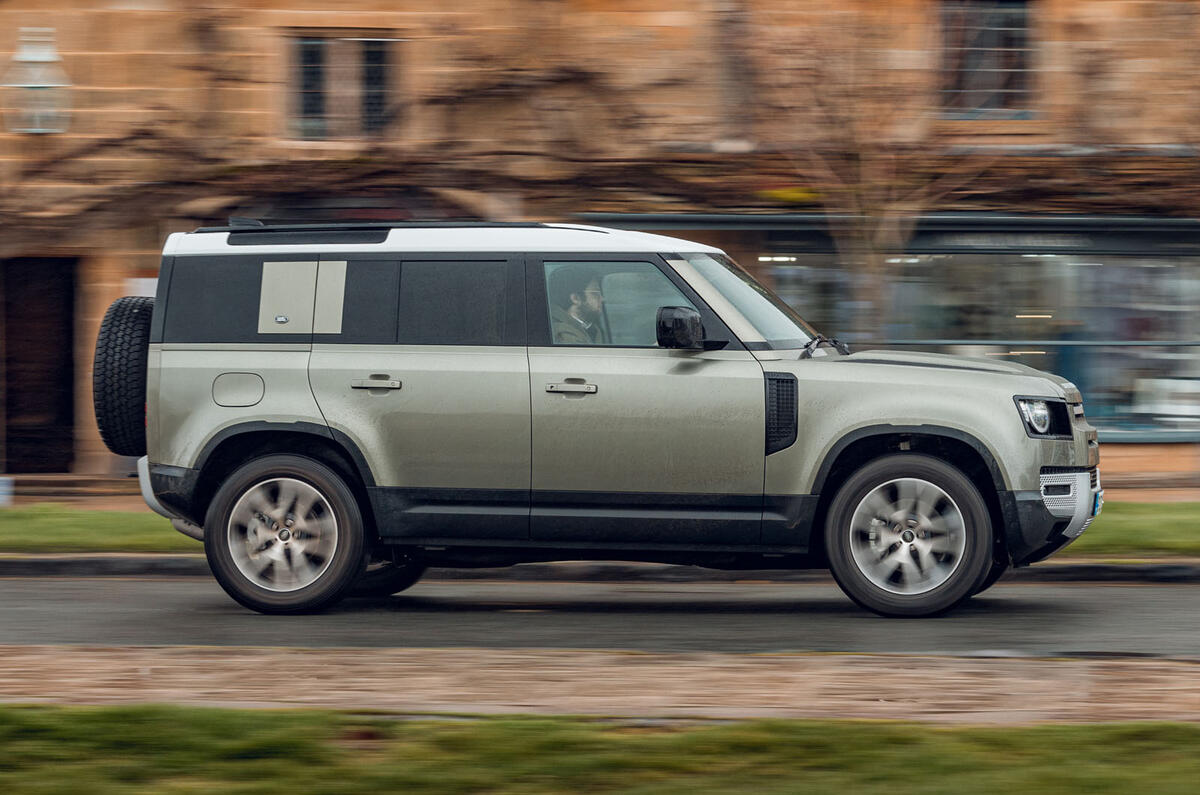 To recap, the new Defender arrives in five-door '110' form first, with the short-wheelbase 90 to follow. Both are based on the most rugged derivative to date of Land Rover's longitudinal-engined architecture. This largely aluminium car comes with 2.0-litre diesel and 2.0 and 3.0-litre petrol engines, can tow 3500kg, and on air springs (steel coils come later) wades 900mm of water. It has remarkable off-road credentials.
Here, though, we drive it on the road, at length, for the first time. And a narrow road at that, which was my biggest concern for this 2105mm-wide car when I first drove it in Namibia – a large country which while it has fewer surfaced roads, they're plenty wide enough.
I needn't have worried. The Defender has a tall, upright driving position, a large steering wheel and a low window line. The body's edges are also easily gauged, so it's simple to accurately guide the thing along even tight roads.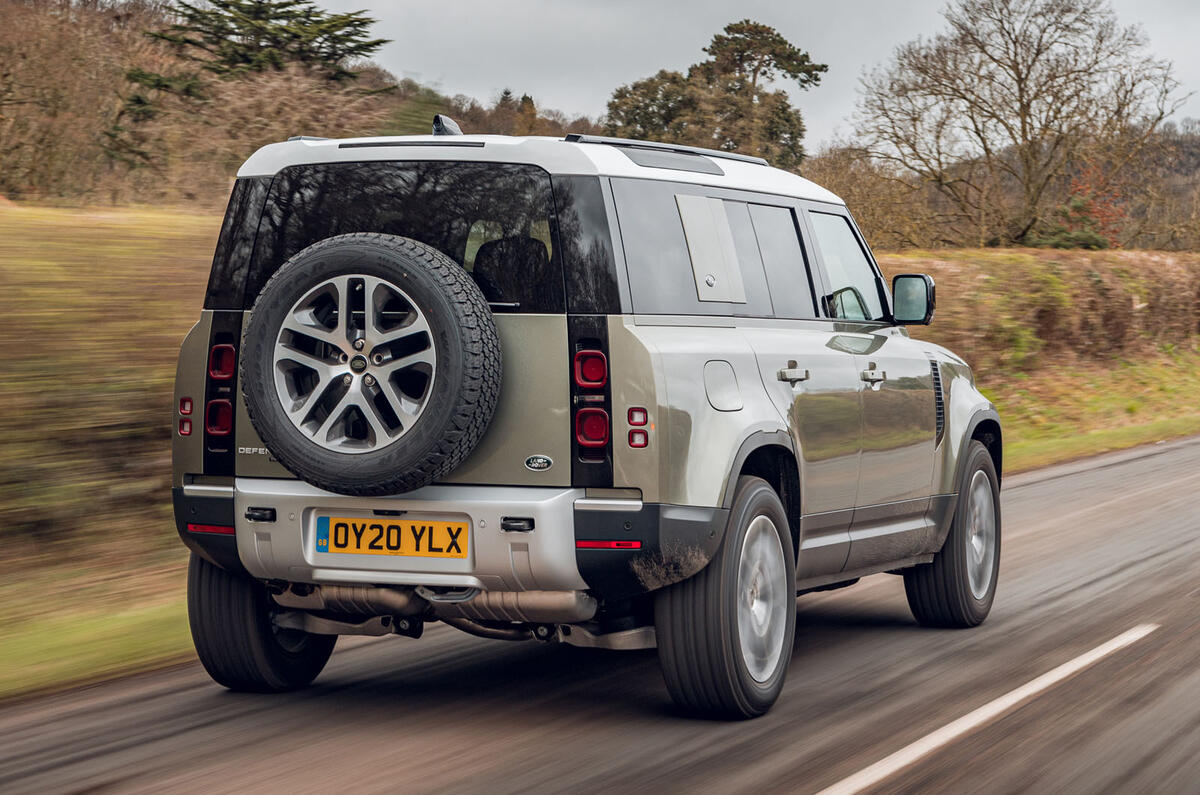 The ride's remarkably good while you do it, too. Land Rover has opted to give the Defender a relaxed gait, with noticeable lean but a controlled roll-rate and effective body control, even when the chassis is loaded up.
Too many manufacturers seek to tie down an SUV to achieve a 'sporty' ride, but eschewing that tag (Land Rover insists the Defender is 'a 4×4') has allowed the Defender's ride to breathe, and yet this is combined with really exceptional composure. The dynamics are engaging without trying to be too sharp.
The 2.0-litre Ingenium diesel is also quiet. When this engine family first rolled out, the diesel was a grumbly thing, but now refinement is first rate – as good here as in any of the cars in which we've tried it, and quieter than its counterparts in the Ford Ranger Raptor or Toyota Land Cruiser. A muted thrum is typically as noisy as it gets, and the smooth eight-speed transmission (with low-range ratios) is the only option.
The electronically locking centre differential is standard, though an e-diff at the rear is an option. Inside, all Defenders feel good.
This S is just one step up from the base trim (available only with the 147kW diesel) and here we have part-electric, part-leather, heated front seats, digital displays and smartphone integration. That every model gets body-colour trim and exposed screw-heads means all get a dose of functionality, too, so none feels the poor relation, and the classic Defender cues make this a special cabin. Mind, at almost $90,000, it should be.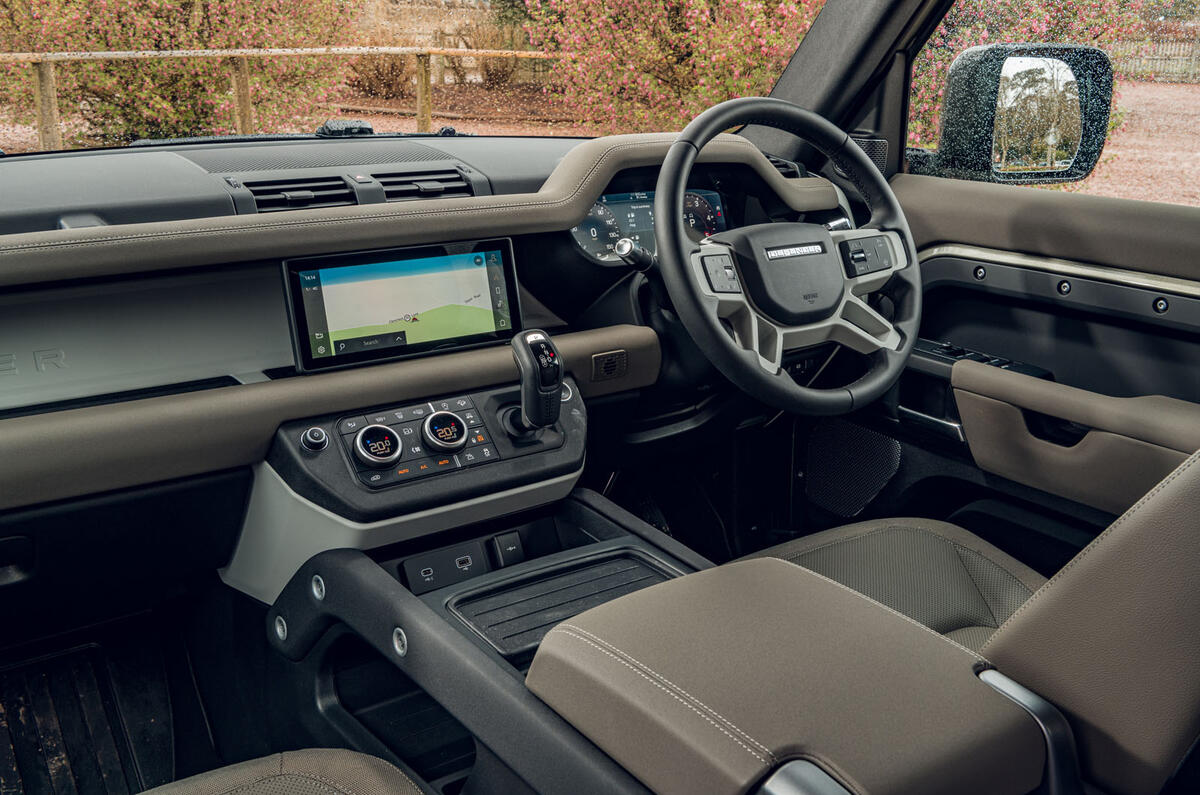 Only diesel Defenders fitted with the lightest set of options – those that don't add too much to the 2248kg kerb weight – offer a WLTP fuel consumption below 7.5L/100km, though this betters a Toyota Land Cruiser and is about comparable to a Jeep Wrangler.
A plug-in hybrid Defender comes later, as does a shorter variant, and a commercial version with a 900kg payload, but a pick-up is unlikely.
This new Defender steps off where the last one bade us farewell: as a premium vehicle ripe for individualisation, rather than where the Land Rover story started, as a basic utility and agricultural vehicle.
What's unchanged is how capable it is away from roads. Where it differs is just what a fine, refined and comfortable car it now is on them.
Land Rover Defender 110 D240 S specification and price
Where Warwickshire, UK Price $88,800 plus on-road costs On sale Second-half 2020 Engine 4 cyl, 1999cc, turbocharged, diesel Power 177kW at 4000rpm Torque 430Nm at 1400rpm Gearbox 8-spd automatic Kerb weight 2248kg Top speed 188km/h 0-100km/h 9.1sec Rivals Jeep Wrangler, Toyota Land Cruiser
Matt Prior