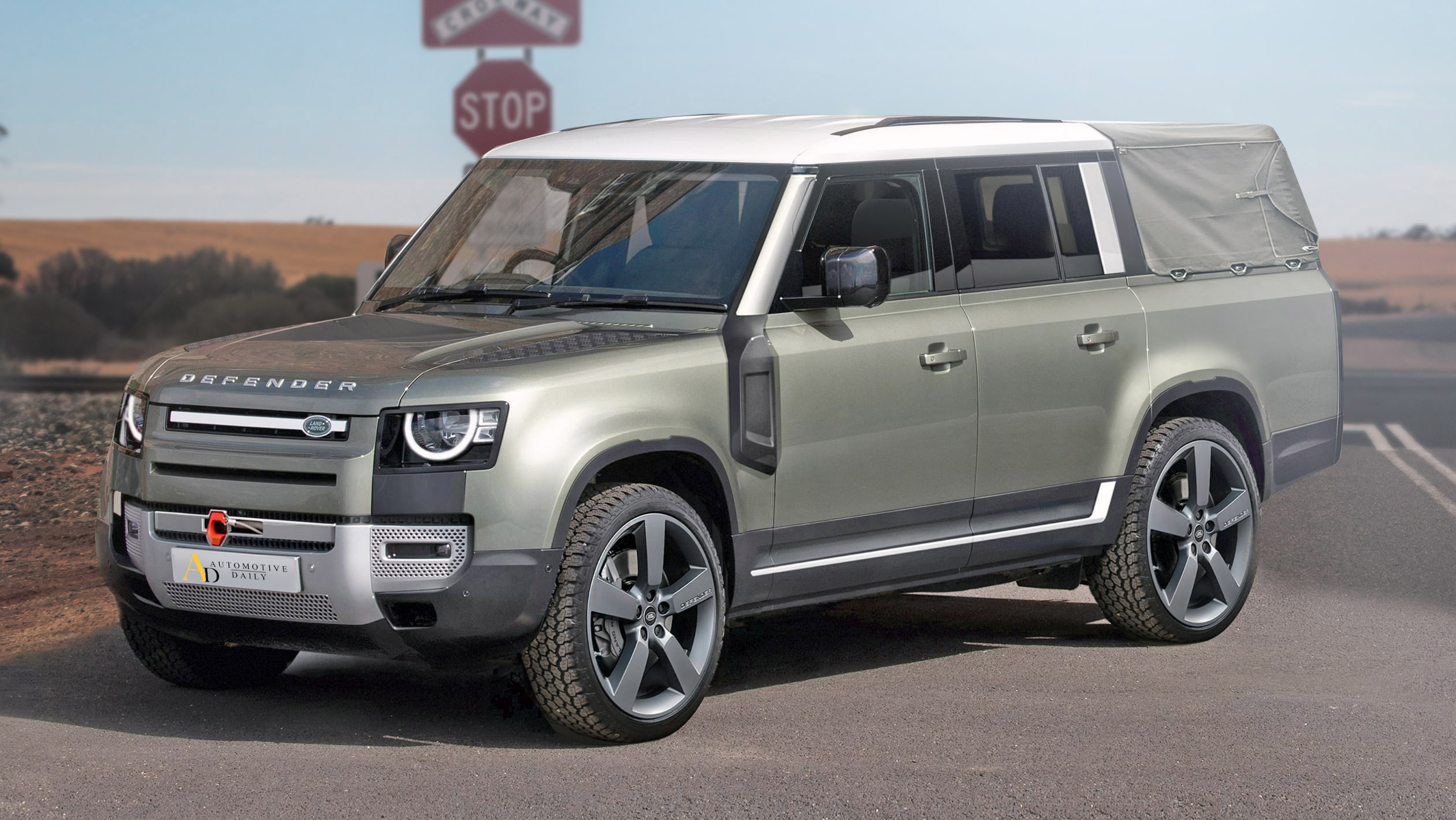 The extra-long Land Rover Defender 130 is set to offer a stretched wheel base, up to eight seats, and perhaps an all-new ute bodystyle.
The latest Land Rover Defender 130 spy shots suggest the British brand is very close to introducing the biggest, most spacious and most luxurious version of its reborn 4×4 yet, and it could bring the return of a second-generation ute which we've rendered above.
Set to be launched in early 2022, the stretched Defender 130 SUV was caught by our snappers testing on German roads in a black and white camouflage, with black wheels and dark tinted windows.
Clearly featuring a stretched wheelbase and longer rear doors, the new Defender 130 also gets a considerably bigger rear overhang, compared to the 110. Both features liberate more space within the cabin and allow the 130 to offer seating for up to eight – one more than a Defender 110 with the optional third row.
Following on from the longer Defender 130, Land Rover is rumoured to be secretly developing a pick-up version of the Defender that is expected to sit on the same extra-long platform. When it arrives, the dual-cab pick-up will rival both the Ford Ranger and Toyota Hilux.
The firm has previously hinted that an open-backed version of its reborn 4×4 would be "technically possible". Jaguar Land Rover's executive director of vehicle programmes Nick Collins further added that not only is a Defender pick-up feasible but that "there is customer demand" enough to justify one and "there were no structural limitations" to a Defender pick-up and that "you can make a pick-up from a monocoque".
"We always said the Defender would be a family," Collins said, and that while talking about future plans should be "saved for another day", we should "watch this space".
When it arrives, it's rumoured that the Defender 130 will be positioned as the most luxurious version of the Defender, with the flagship Land Rover off-roader set to be offered in top-end trims only, except for the possible ute which would likely be based on lower-end specification – at least for the majority.
Claimed to measure in at around 5.1-metres long, the Defender 130 would be something like 342mm longer than the 110 and around 227mm longer than its closest rival, the Mercedes-Benz G-Class.
Under the bonnet of the prototype is Land Rover's latest mild-hybrid 3.0-litre inline six-cylinder petrol, that should provide for around 294kW and a 0-100km/h sprint of around 6.0 seconds. There are plenty of options when it comes to diesel though, which would suit a ute quite well in Australia.