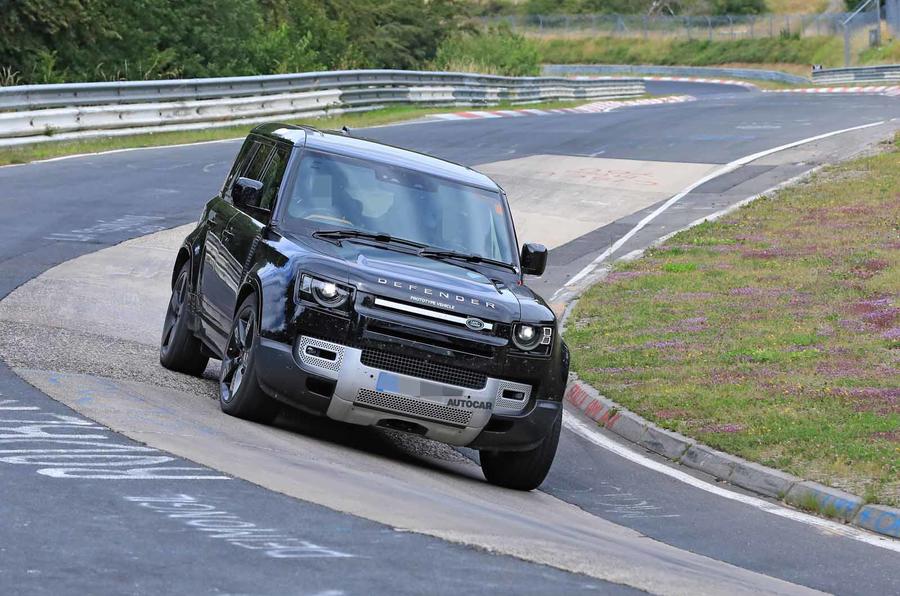 The range-topping V8 version of the new Land Rover Defender has been caught on video undergoing high-speed testing at the Nürburgring.
Although not the natural habitat for the rugged off-roader, this latest spy footage provides a clue as to what powertrain Land Rover will be using for the reborn 4×4, which is likely to debut next year.
Audio suggests test mules are using JLR's familiar supercharged 5.0-litre V8 "AJ" power plant, rather than a turbocharged BMW powertrain. However, production of the long-serving AJ will come to an end before this year is out, as the Bridgend Ford factory in which it's made is closed down.
For future high-performance models, JLR is set to use the twin-turbocharged 4.4-litre V8 that BMW produces for its larger M cars, under a wide-reaching powertrain deal struck between the two firms.
This alliance began with the intention to develop electrified powertrains, but sources close to the German manufacturer revealed last year that it has been extended to include supplying JLR with a range of internal combustion engines.
Although the use of the 4.4-litre V8 has yet to be officially confirmed by JLR, Autocar understands that it's merely a formality. It's plausible that the 5.0-litre engine is being used primarily to test the Defender's dynamic responses with the weight and power increases.
Automotive Daily's exclusive partner Autocar understands the V8 Defender is intended as a low-volume special variant rather than a series-production mainstay. Land Rover may well be stockpiling the Ford-built V8 for use in the Defender, because emissions targets are much less of a priority for low-volume specials.
Interestingly, sources tell us that JLR's Special Vehicle Operations (SVO) division isn't directly involved with the Defender V8 project. Instead, it's an offshoot of the existing Defender engineering operation.
Track testing suggests that extensive chassis retuning is required to ensure the Defender can handle the additional power.
Previous shots showed an undisguised Defender driving on the roads outside Land Rover's research and development facility sporting the 'Prototype Vehicle' stickers reserved for testing mules. That was the first official sighting of a V8 variant, which had been rumoured for some time and hinted at by bosses.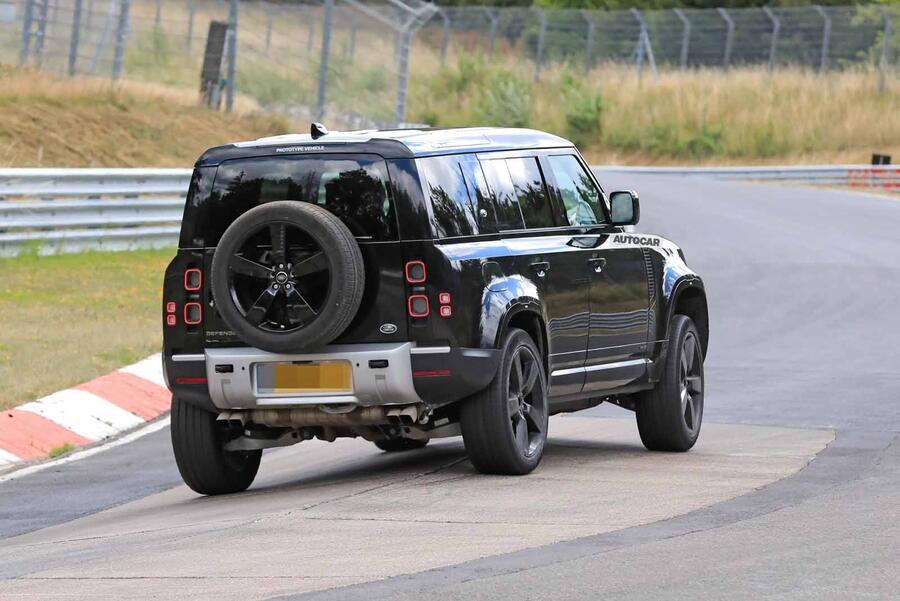 Although no changes were visible at the front, a rear view of the test car revealed a quad exhaust system – used by Jaguar Land Rover for V8-powered variants only. On the Nürburgring prototype, we can now see red brake calipers, again an indication of the extra performance potential.
Sources close to the firm have confirmed the project's existence, but the official JLR response is: "We are unable to comment on the specific nature of these [technology development] programmes."
Automotive Daily's exclusive partner Autocar obtained registration data for the car pictured that shows it has a 4999cc petrol engine, suggesting it's powered by the 'AJ' 5.0-litre supercharged V8 used in the Range Rover SVR and Range Rover Velar SVAutobiography.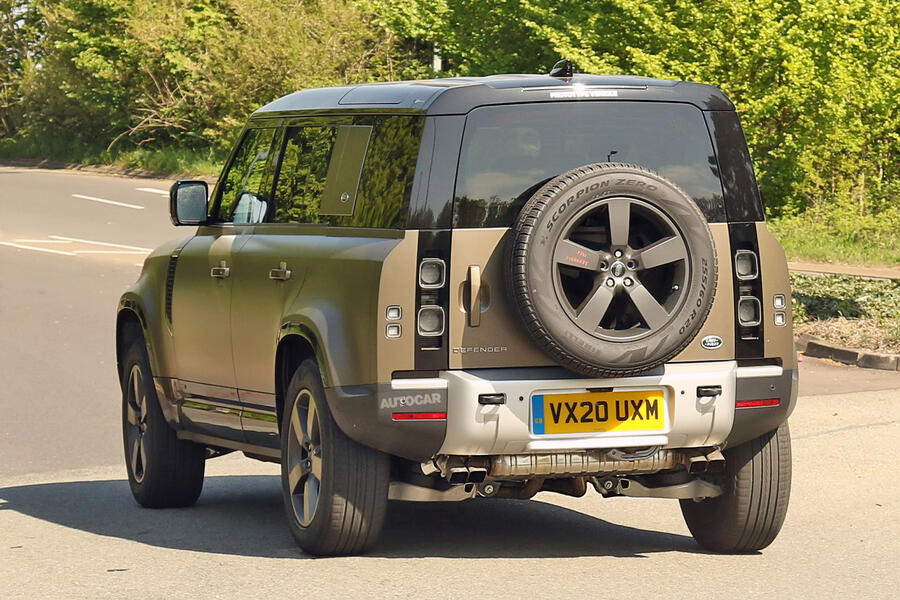 It's likely, then, that the engine won't offer as much firepower as full-on SVO cars, such as the 423kW Range Rover Sport SVR. Indeed, we expect it to be tuned to near or below the 373kW mark.
Likely to be paired with an eight-speed automatic gearbox supplied by ZF, it would still be potent enough to make a credible rival to the Mercedes-AMG G63, which gets 430kW from a twin-turbocharged 4.0-litre V8 but is a good deal heavier than the Defender.
JLR engineers have previously hinted that the G-Class was used as a benchmark for higher-end Defender variants and, with the hot G63 making up a high proportion of G-Class sales, it's only natural that the British manufacturer would want to cash in on the sector.
Either way, chassis revisions will be required to ensure the V8 Defender is capable of handling such power. Air suspension could be fitted as standard, offering a range of driving modes.
The Defender's aluminium-intensive body structure, said to be the stiffest Land Rover has yet produced, provides a strong base for engineers.
Expect the quad-exhaust system to make production, along with the usual larger wheels, lower ride height and subtle non-SVR body add-ons necessary to mark out the V8.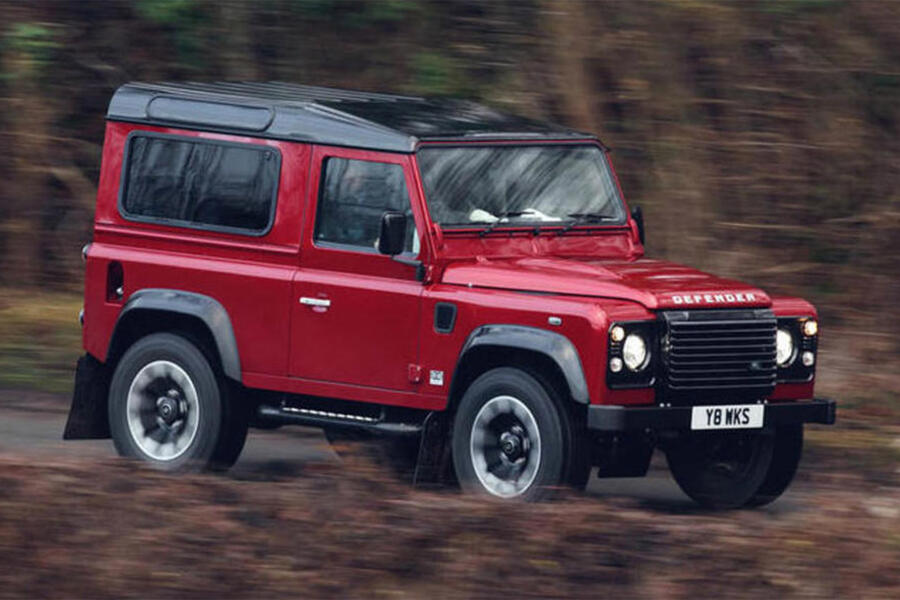 And marked out it will need to be: with prices already exceeding AUD$140,000 for the top-spec six-cylinder petrol Defender, there's every chance that the V8 Defender will cost well in excess of AUD$180,000.
One mystery remains, though: whether Land Rover will offer the V8 in the short-wheelbase Defender 90 as well as the 110 spotted testing.
Conventional wisdom says customers at this end of the market expect five doors, but this is a limited special project, so the unique proposition of a three-door V8 SUV is possible.
Don't expect to see it before late 2021, however, because Land Rover will prioritise the roll-out of fleet-emissions-reducing hybrids and new series-production models.
Lawrence Allan