Inspired by the Elise's influence, Lotus aims to cash in on new sports car underpinnings.
Lotus is confident it can generate revenues from its new bespoke EV hardware, in much the same way the original Elise's bonded-aluminium architecture went on to underpin a raft of sports cars from other manufacturers.
The best-known Elise-based sports cars are the Vauxhall VX220 and Tesla Roadster, but the platform's chief engineer, Richard Rackham, estimates there have been "probably 10 times as many", highlighting that use of Lotus's expertise is wider than broadcast – and underlining just how influential that lightweight structure was.
It's impressive enough that, adapted for the Exige and Evora, it created a family of Lotus models that kept the firm relevant for the next 25 years.
Now Rackham is working on a new Lotus platform for the electric era that could end up matching the Elise underpinnings for both longevity (if required) and for model proliferation, both within Lotus and outside.
"We're way ahead of the game now," he told us. It can be stretched from the size of the Porsche 718 Cayman to the Ferrari SF90 Stradale and will be offered to anyone. "This platform will underpin many vehicles from different manufacturers," he confirmed.
This is the E-Sports platform, which we already know will underpin a Lotus sports car from 2026 and an Alpine one from 2025. It's adaptable enough to fit the batteries either behind the driver to keep occupants nice and low or under them to expand the cabin, affording a four-seater.
It won't produce saloons or SUVs, though. That side of the future Lotus range, starting with an electric SUV from next year, will use platforms created by parent company Geely.
Although the electric Lotus sports car is still five years away, Rackham and his team have already designed the most complicated bit: the rear structure that supports the battery box, drive unit (with one or two motors) and suspension.
Lotus claims this structure is 37% lighter than that of the V6-engined Emira. That's a 1405kg car, nearly twice as heavy as the 731kg Mk1 Elise of 1996, but comparing the weight of the two is pretty meaningless given how much the market and legislation have changed.
The point is that Lotus is innovating again as it looks to convert Geely's cash into a dynamic electric sports car platform that reduces the impact of heavy batteries as much as possible.
One element remains the same: the structure is made of aluminium, mainly because it's light and the parts can be put together without the need for huge investment.
For other car makers, Lotus can supply not just the platform but also the whole electric and electronic architecture, including the infotainment and active safety devices it sources from within Geely. The idea is that the customer designs the body, specifies outputs and for little effort can theoretically start building a car that doesn't have to be a stripped-out track tool but can be a sophisticated car catering to modern tastes.
"This is an entry ticket into vehicle production," Rackham said. "It's a wonderful thing to be able to offer it."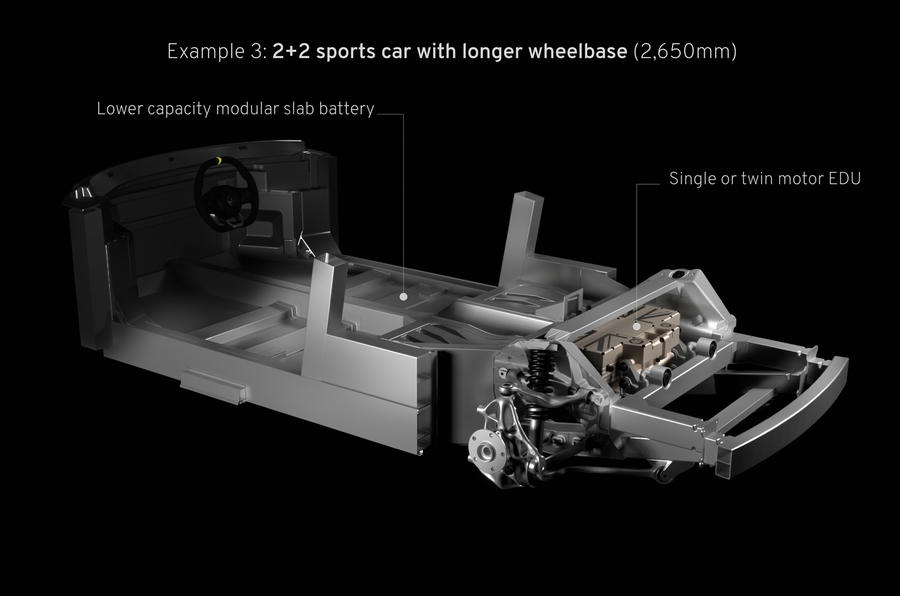 An inadvertent standard-setter
With its stripped-out interior, the Mk1 Elise made a feature of the anodised aluminium used for its structure and in so doing set a new standard.
Anodisation is an electrochemical process that creates a surface that, with a little extra work, can be bonded to another. But it was its decorative function that first attracted Lotus, not its bonding qualities. "It came about because we wanted to get rid of the interior of the Elise to save weight and cost," creator Richard Rackham told us. Anodised aluminium gave it a cool, race car-like look.
Lotus then looked for a glue for bonding anodised aluminium and found one that Ford was using to stick oily steel together. It worked and has now become almost an industry standard, to Rackham's surprise: "It seems everyone sort of got tunnel vision on something that we went scattergun on."
What makes the E-Sports special?
A new aluminium alloy developed by Brunel University is a major contributor to the weight saving. It's stronger so can be made thinner.
The Emira's engine sits on a subframe to isolate vibrations, made of heavier welded steel instead of bonded aluminium because the heat of the engine could melt the glue. However, the electric drive unit of the E-Sports platform is attached directly to the aluminium rear structure by special mounts. The battery box is designed as part of the structure, saving weight.
Gluing aluminium parts together no longer needs heat to complete the bond, cutting emissions in the manufacturing process. Welding aluminium is tricky, because it distorts in the heat, but that issue is reduced with the pulse- welding method, which reduces the number of bonds and rivets needed.
Lifting the drive unit creates space for a large rear diffuser, creating the downforce that would else have to be supplied by a big, drag-inducing wing.
The Elise's double-wishbone arrangement has been replaced by a multi-link set-up made of lightweight, hollow parts that reduce road noise.
The tyres will now point straight ahead, as there's no need to angle them for better grip (toe-in), therefore cutting rolling resistance without reducing grip.