We get a first look at the tech-rich, high-performance electric Lotus Eletre.
The Lotus Eletre SUV, which begins the historic British brand's reinvention as an electric performance car firm offering a breadth of vehicle types, will launch with a £120,000 (AUD$215,000), 657kW range-topper. No details for Australian spec models have been released yet, but we'd expect similar specifications for a local model launch by 2025.
Claimed by the British firm to be the world's fastest dual-motor electric SUV, the Eletre R can hit 0-100km/h in 2.95sec – and continue all the way to 266km/h – thanks also to its 985Nm of torque.
When it launches in Europe and the UK next year, the flagship model will sit alongside two other variants (the standard £89,500/AUD$162,000 Eletre and the sportier-looking £104,500/AUD$188,000 Eletre S), which both make 444kW. All three models come with all-wheel drive.
A 112kWh battery is offered across the board, giving 438km of range (489km in R form) and supporting charging speeds of up to 420kW, good in theory for 10-80 per cent capacity in 20 minutes.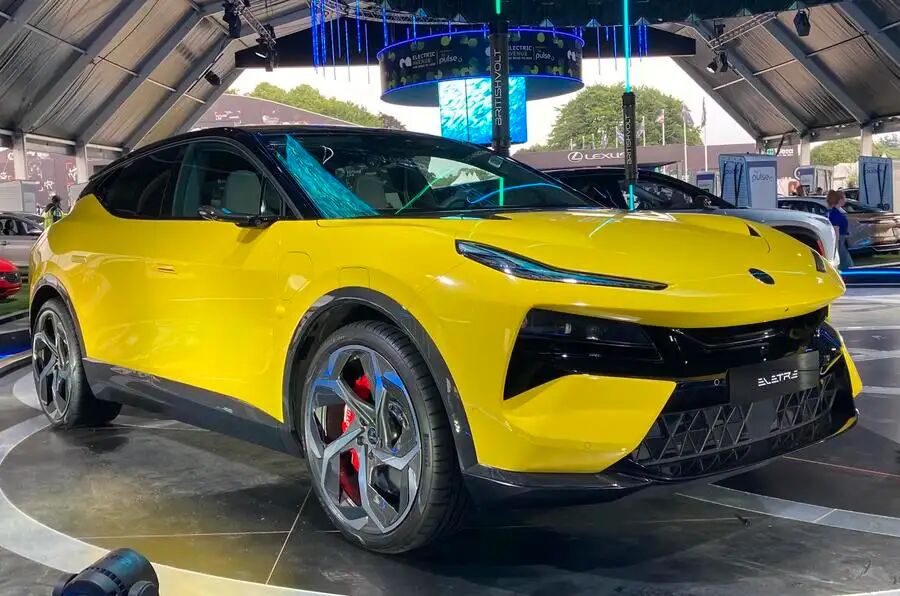 Standard equipment includes active air suspension, torque vectoring, an active front grille, LED headlights and a set of 22-inch wheels. Inside, all cars are fitted with electrically adjustable seats, wireless phone charging and four-zone climate control.
Apple CarPlay and Android Auto are also included, as is a 15-speaker audio system, 15.1-inch infotainment system and LIDAR-guided assistance tech.
Mid-range S spec cars benefit from an active rear spoiler and privacy glass, an upgraded 23-speaker audio system, ambient lighting, illuminated side sills, soft-close doors and an air quality system.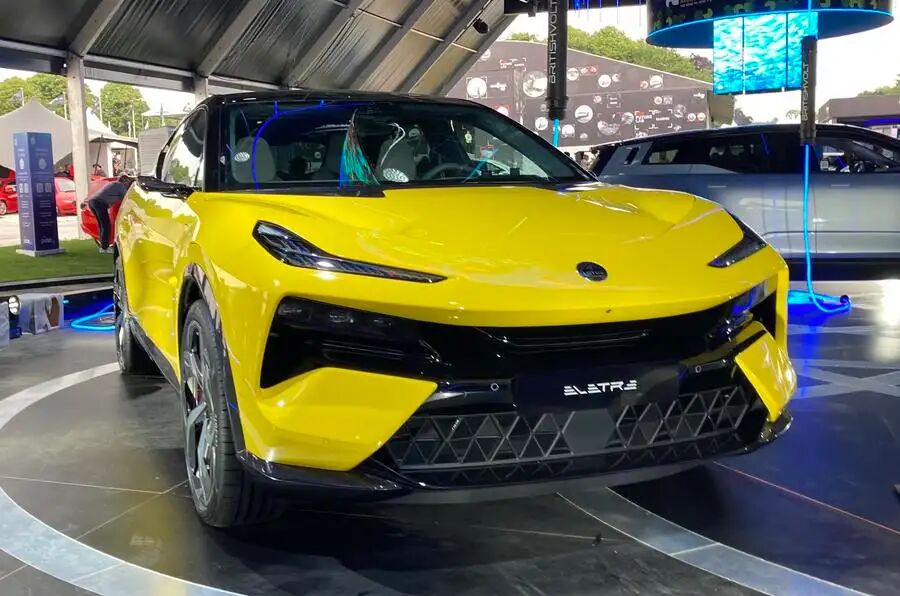 The Eletre R, meanwhile, is the model's most powerful offering, with 10-spoke, 22-inch wheels with performance tyres, stainless steel sports pedals and exterior carbon fibre design features.
R cars also gains a dynamic pack, which Lotus says includes Lotus intelligent anti-roll control and active rear-wheel steering.
The SUV is the first of four EVs set to arrive by 2025 from the Geely-owned British brand. Until its reveal in June, the Eletre was codenamed Type 132 and the subsequent electric models are currently known as Type 133, Type 134 and Type 135, the last of which is the Lotus Evija hypercar.
The Eletre has almost exactly the same footprint as the Lamborghini Urus, at 5105mm long, 2131mm wide and 1630mm tall, but is roomier thanks to its long wheelbase.
It is therefore a large car that caters to demand in China and the US (two crucial markets), although Lotus is also confident of strong uptake in mainland Europe and the UK, with its sub-£100,000 (AUD$180,000) starting price.
There are no true rivals yet. The Lamborghini Urus is the closest comparison but is petrol-engined, while the new Ferrari Purosangue will be hybrid-only. The Porsche Taycan, meanwhile, is a saloon rather than an SUV.
The Eletre's platform is all-new and created by Lotus rather than adapted from existing Geely hardware.
That means the aluminium architecture, which can be applied to smaller and possibly slightly bigger models, must be used widely to justify the investment. As well as being adopted by the other known upcoming models and no doubt more in the future, Lotus will also sell it to other car makers to recoup costs. It expects to announce several significant deals in the coming months.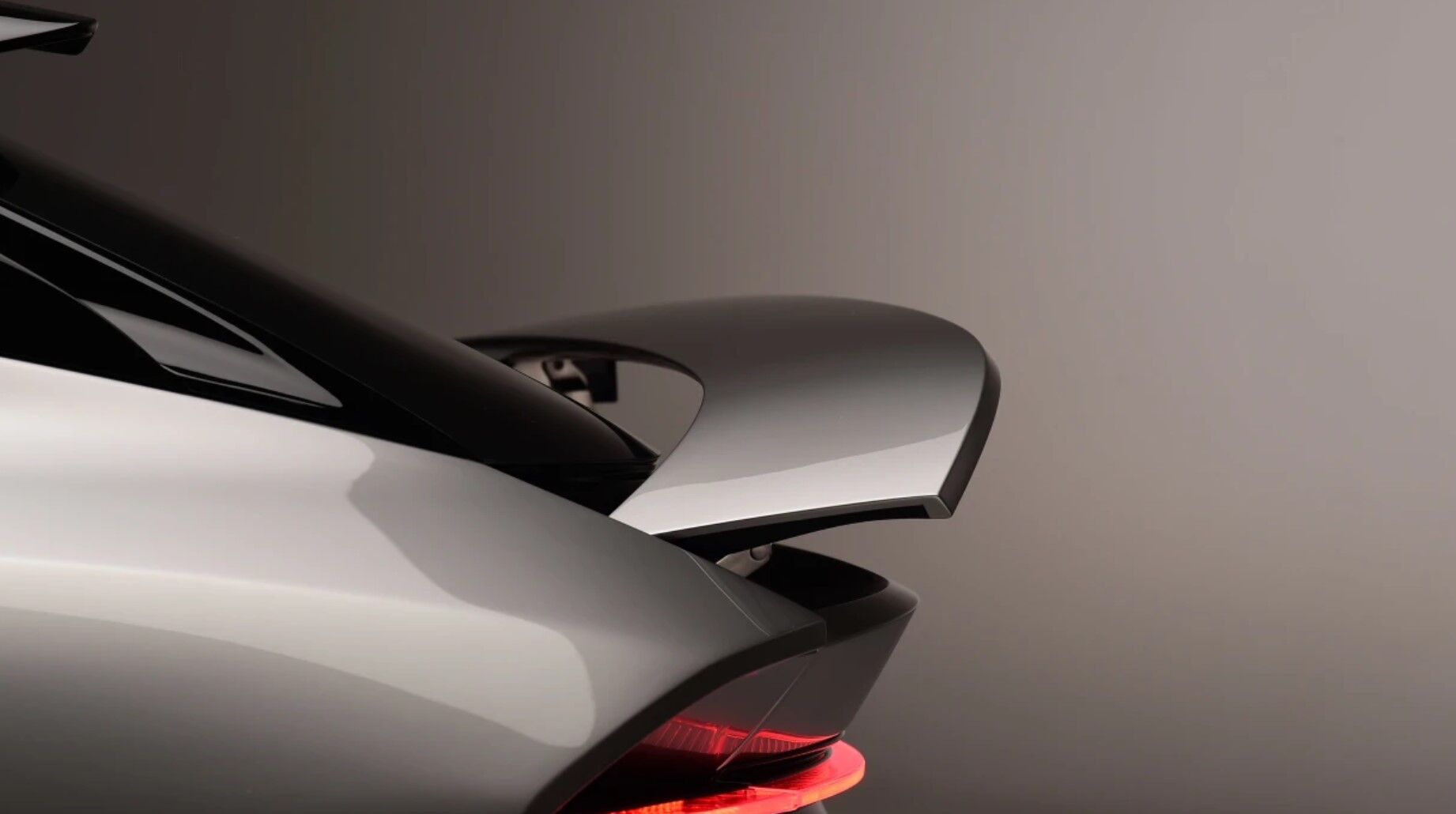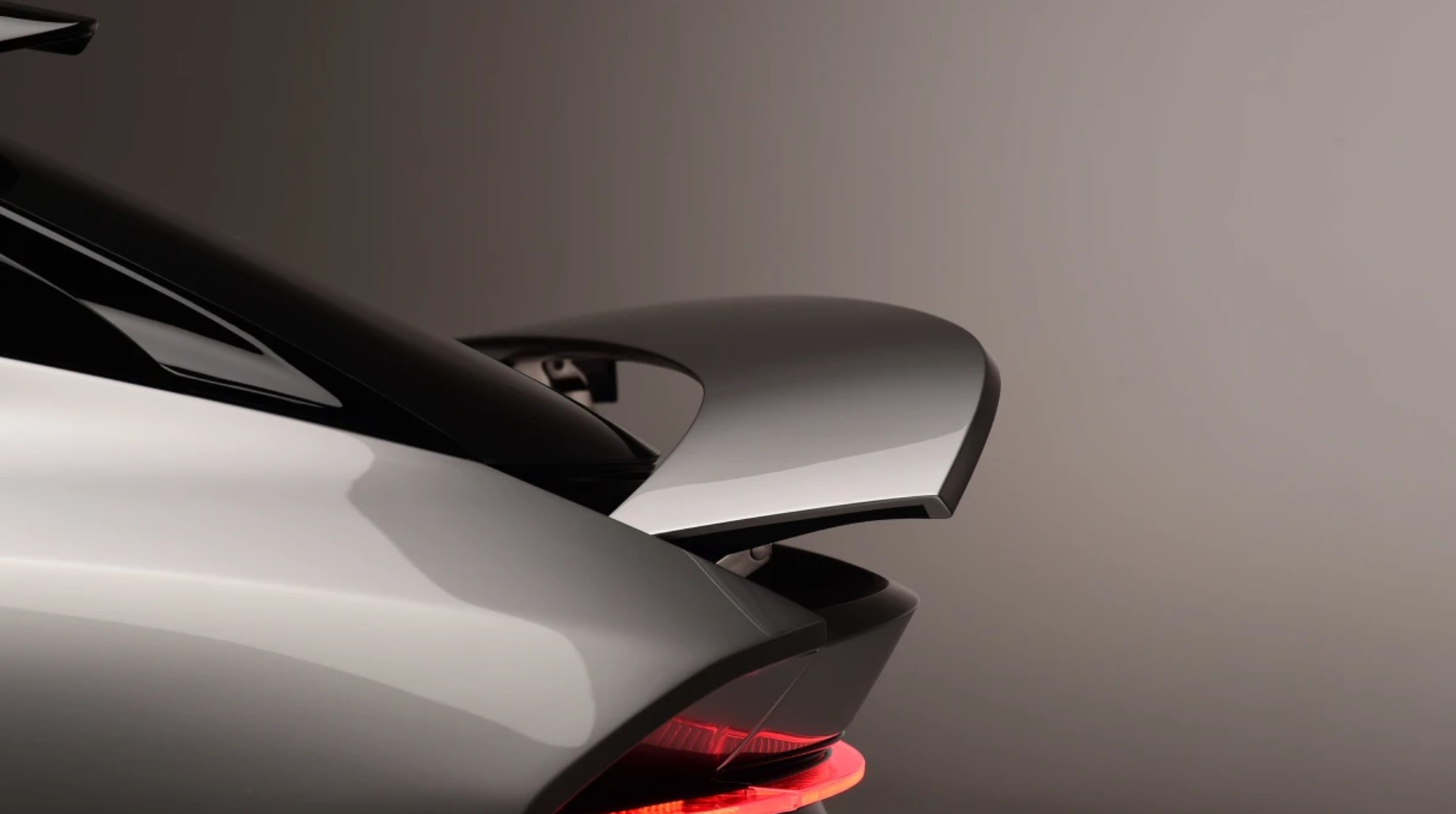 Called the Electric Premium Architecture (EPA), the skateboard-style design is easily adaptable not only to different sizes of car but also to different battery sizes, electric motors, component layouts and intelligent driving technologies.
Lotus has confirmed it will offer air suspension, active aerodynamics and active ride height as standard, while options include active dampers, active rear-axle steering and torque vectoring via an electronic limited-slip differential.
The Eletre was designed at the Lotus Technology Creative Centre (LTCC) in Coventry, Warwickshire – the firm's new design hub for its 'lifestyle' cars that opened four years ago and now has 120 staff. Sports cars are still designed at Lotus headquarters in Hethel, Norfolk.
It has a cab-forward stance, a long wheelbase and very short front and rear overhangs. The compact bonnet echoes styling cues from Lotus's historic mid-engined layout.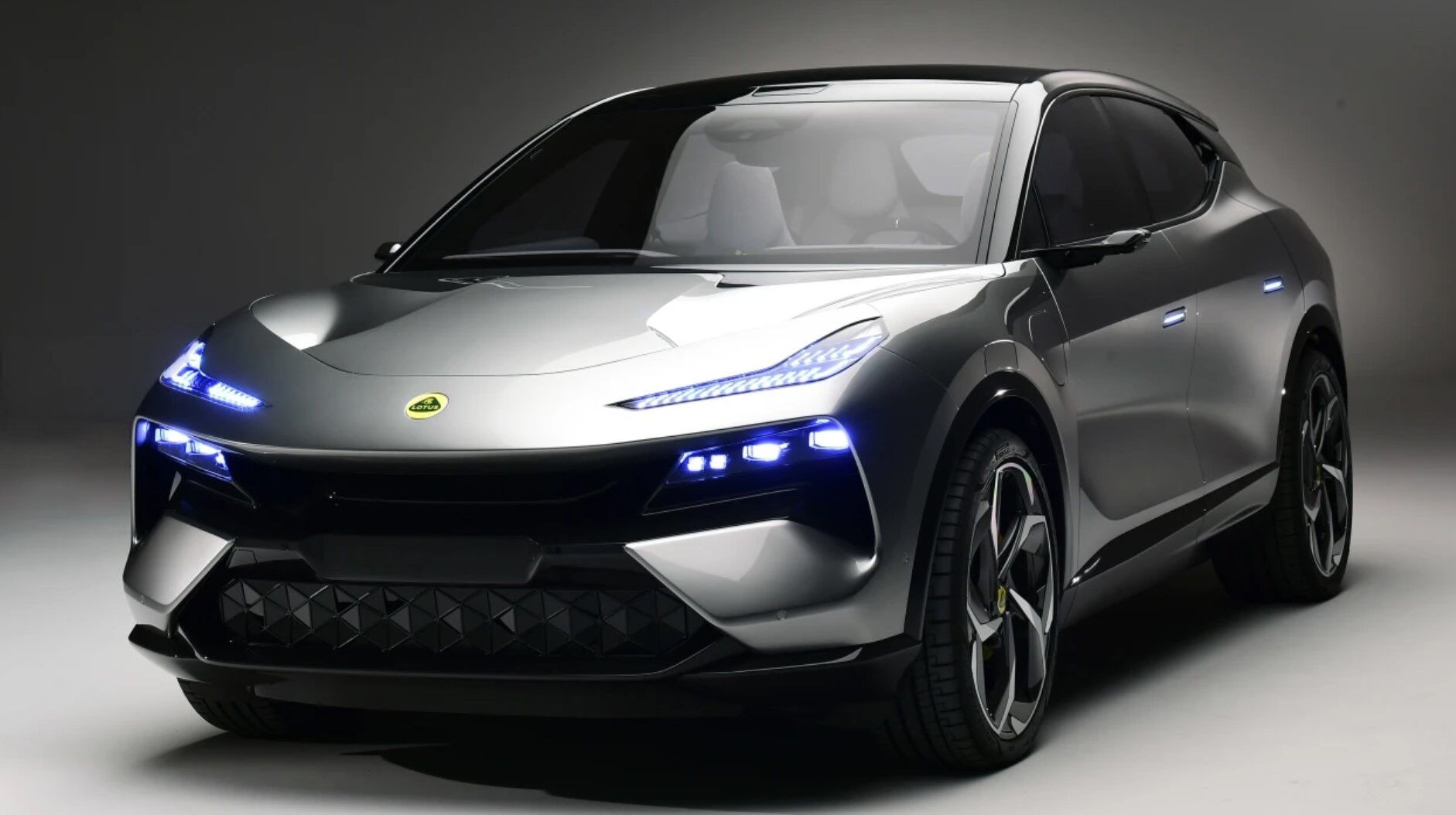 LTCC boss Ben Payne, who led the Eletre's design, said: "We have tried to push the nose forward and have a very short hood and a very sharp nose, all of which helps make the product look longer, lower and sleeker than it really is."
There are a number of nods to Lotus's most recently shown sports cars, including the sharp edges at the front, which are reminiscent of the Lotus Emira and Evija. The glass canopy on top of the body is also intended to mimic the Evija, said Payne.
An important aerodynamic feature of the design, according to Lotus, is 'porosity' – how air flows through the car as well as under, over and around it, enabling less resistance and more efficiency for range, speed and performance.
As seen on the Emira and Evija, air is channelled under the leading edge, emerging through two vents into the bonnet. There are also examples of this behind the front wheel arches, behind the rear wheels and at the top of the D-pillar.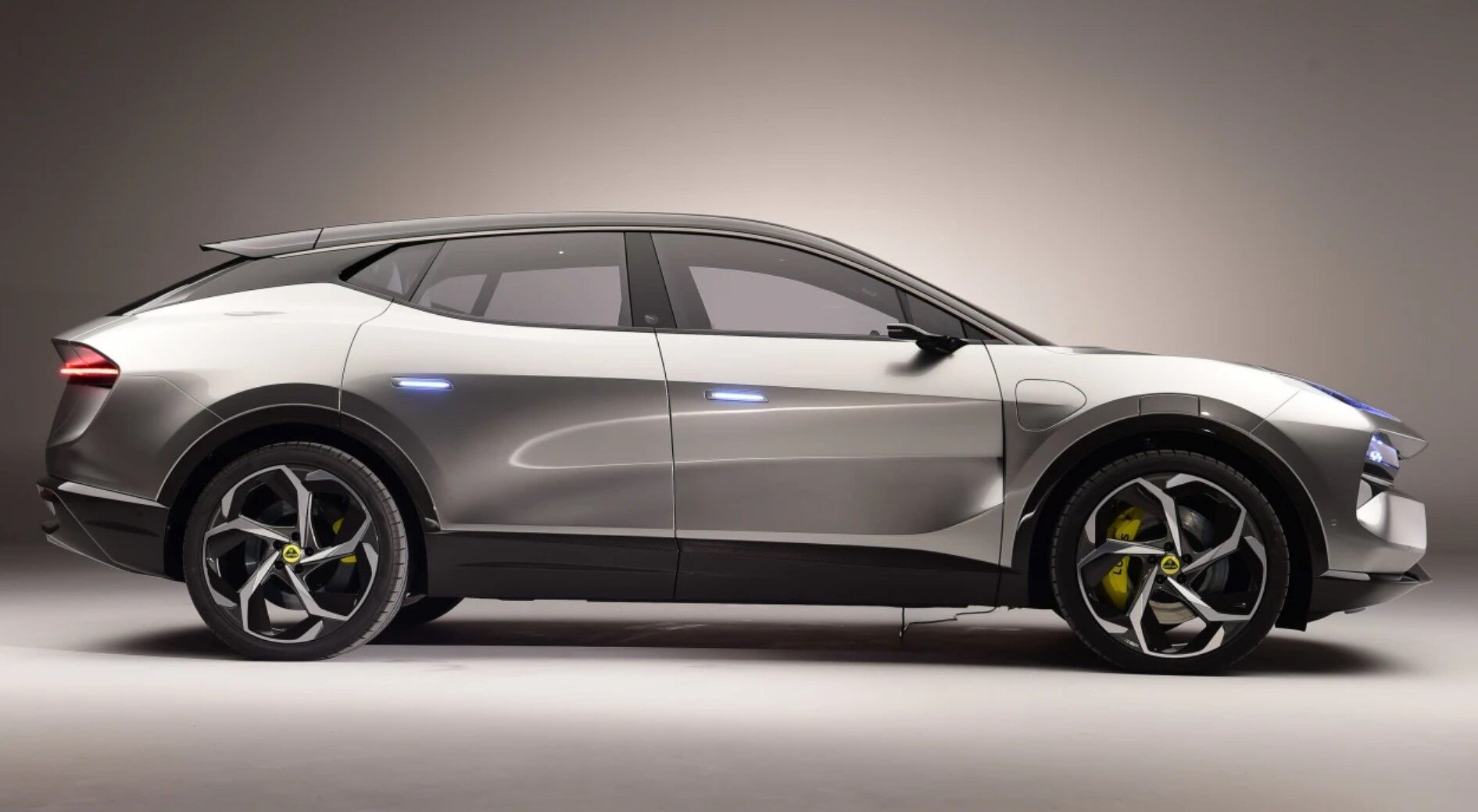 Lotus is trying to push the boundaries with lighting on the Eletre, said Payne: "Audi plays [lighting] very well. The Eletre's lights flick like the winglet of a plane. The main beam light function is hidden."
At the rear, the full-width ribbon light is red when the car is moving. It curves into the air outlets from the wheel arches for another similarity to the Emira and Evija. It can also appear orange or green, indicating the battery charge.
"It's about utilising the technology," said Payne, "and asking ourselves: 'Can we make two functions of one light?'" The rear also incorporates a carbonfibre, three-stage deployable, split, roof-mounted spoiler that is intended to evoke race car winglets.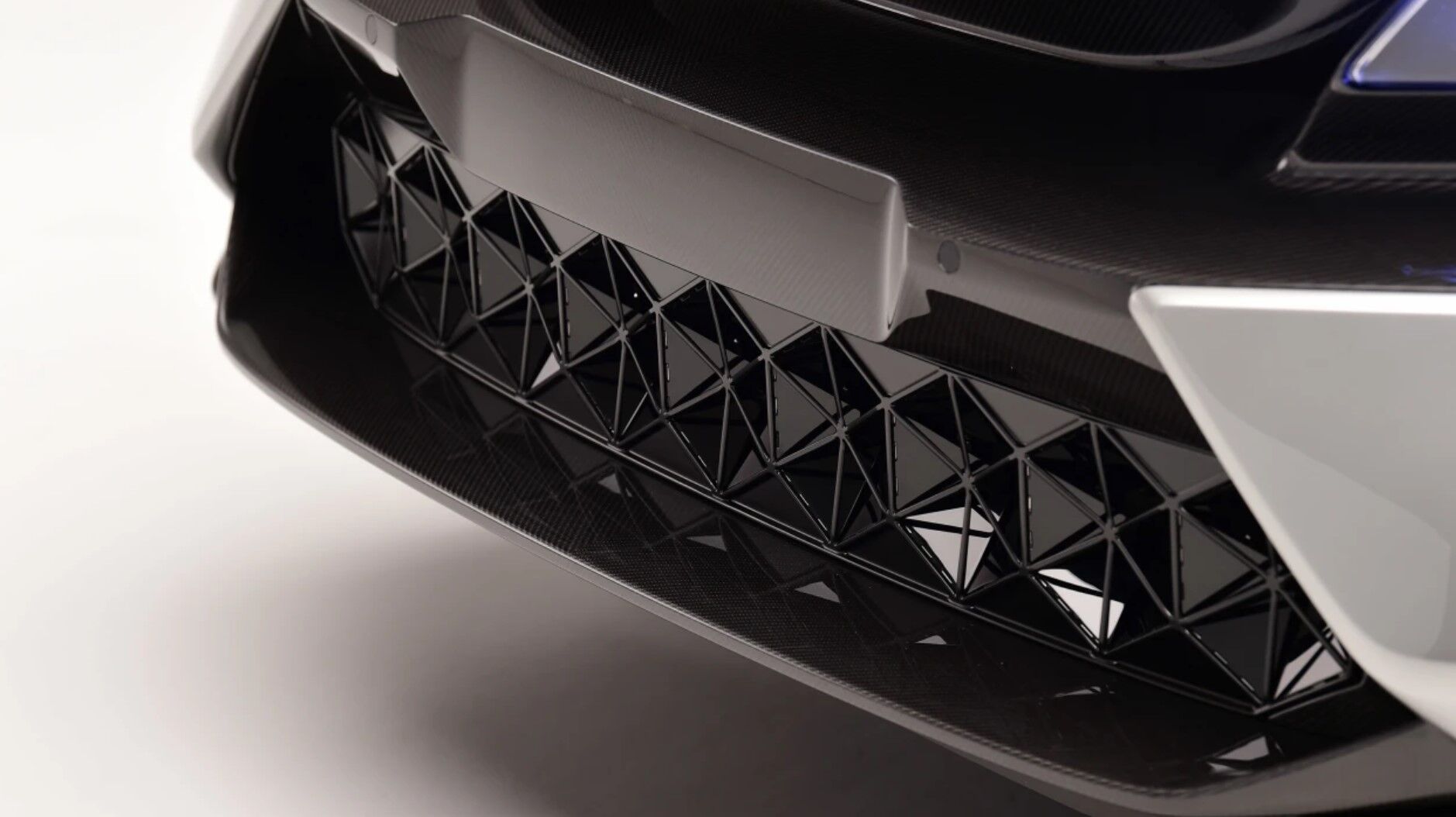 The central part is absent in order to save weight – one of several ways Lotus has sought to promote its trademark emphasis on lightness.
Other examples include putting the charging port on the front wing, which means electricity coming into the car will be as close as possible to where it is required, cutting down on unnecessary internal cabling and the extra weight that this would entail.
Lotus hasn't traditionally been at the forefront of technology innovations, but it is seeking to change that with the Eletre.
It has placed lidar sensors around the Eletre's exterior – something now also adopted by the recently revealed Volvo EX90 and Polestar 3 – which enables it to offer level-four self-driving capability where this is allowed (namely China, which is ahead of the West on vehicle autonomy use).
The hidden sensors emerge from the top of the windscreen and wheel arches when wanted. (The rear sensor is fixed.)
Meanwhile, each door mirror is replaced by Lotus's new Electric Reverse Mirror Display, which houses three cameras – one for the internal rear-view 'mirror', one to contribute to a 360deg view of the car and one as part of the intelligent driving technologies.
This step-change continues inside the Eletre with the firm's new Lotus Hyper OS operating system. Lotus claims the digital cockpit and infotainment system, using tech from gaming firm Unreal Engine, sets "new standards in the automotive world".
Below the instrument panel is a blade of light that changes colour to communicate with occupants – for example, if a phone call is received. Rather than a traditional instrument cluster binnacle, there is a slim strip (less than 30mm tall) to display key vehicle and journey information. In the middle is a 15.1-inch landscape-oriented touchscreen that automatically folds flat when not required.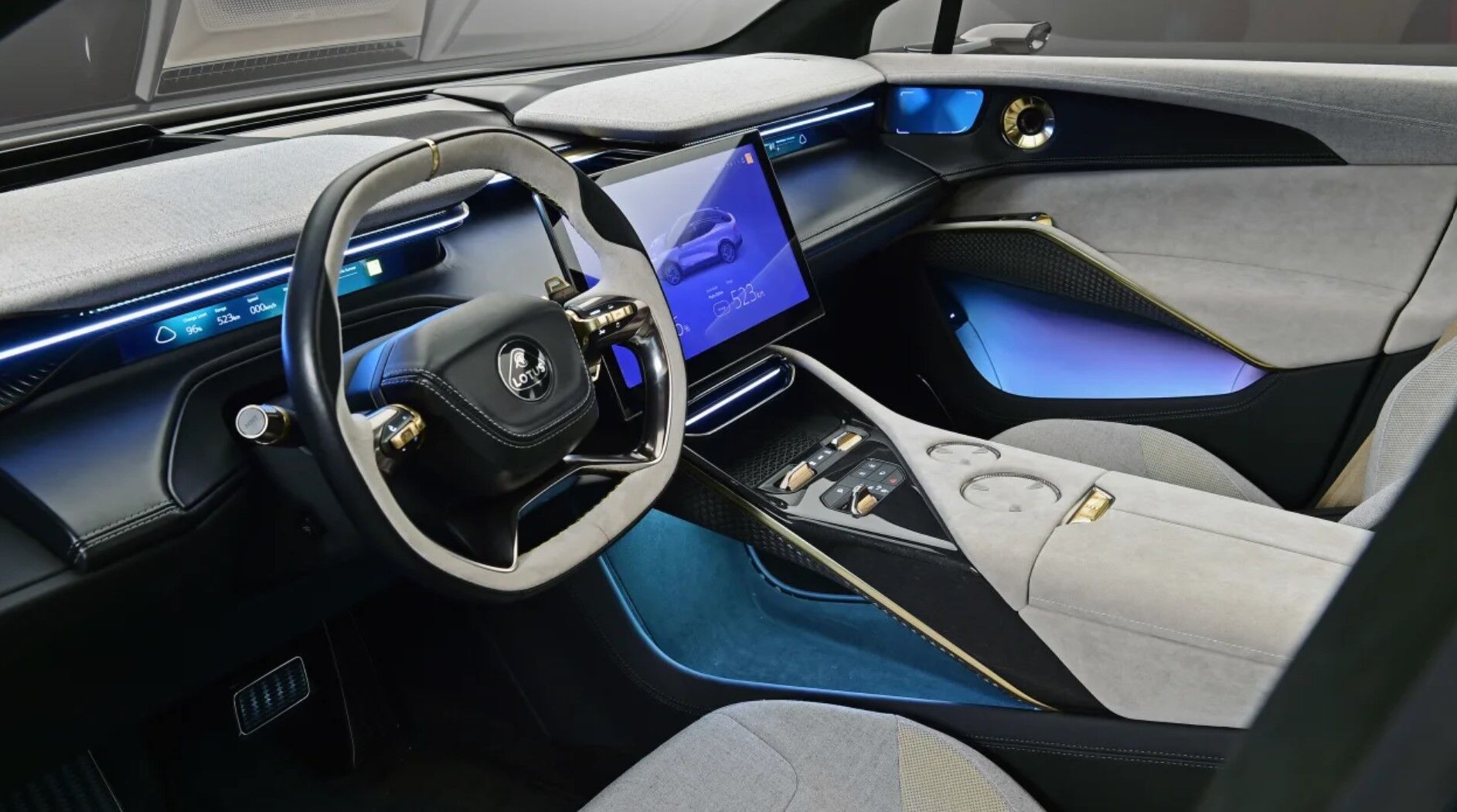 Although everything can be controlled digitally or largely via voice control, certain key functions, such as heating, also have analogue switches.
A camera in the dashboard observes where the driver is looking and adjusts screen brightness accordingly.
For example, the screens connected to the door 'mirror' cameras are at 50% brightness until the driver looks at them to avoid unnecessary distraction.
A dedicated smartphone app, 5G data compatibility and over-the-air software updates are also part of the offering. The interior has a driver-focused cockpit and a high centre console inspired by the Emira and Evija and is intended to be "visually lightweight".
Lotus uses Kvadrat, a sustainable material, on some touchpoints and a wool-blend fabric on the seats that is 50 per cent lighter than traditional leather.
The Eletre will feature five seats, including a split, folding rear bench, except for in China, where it will have four seats.
Combined boot and 'frunk' space will exceed 470 litres, beating the Taycan's 447 litres.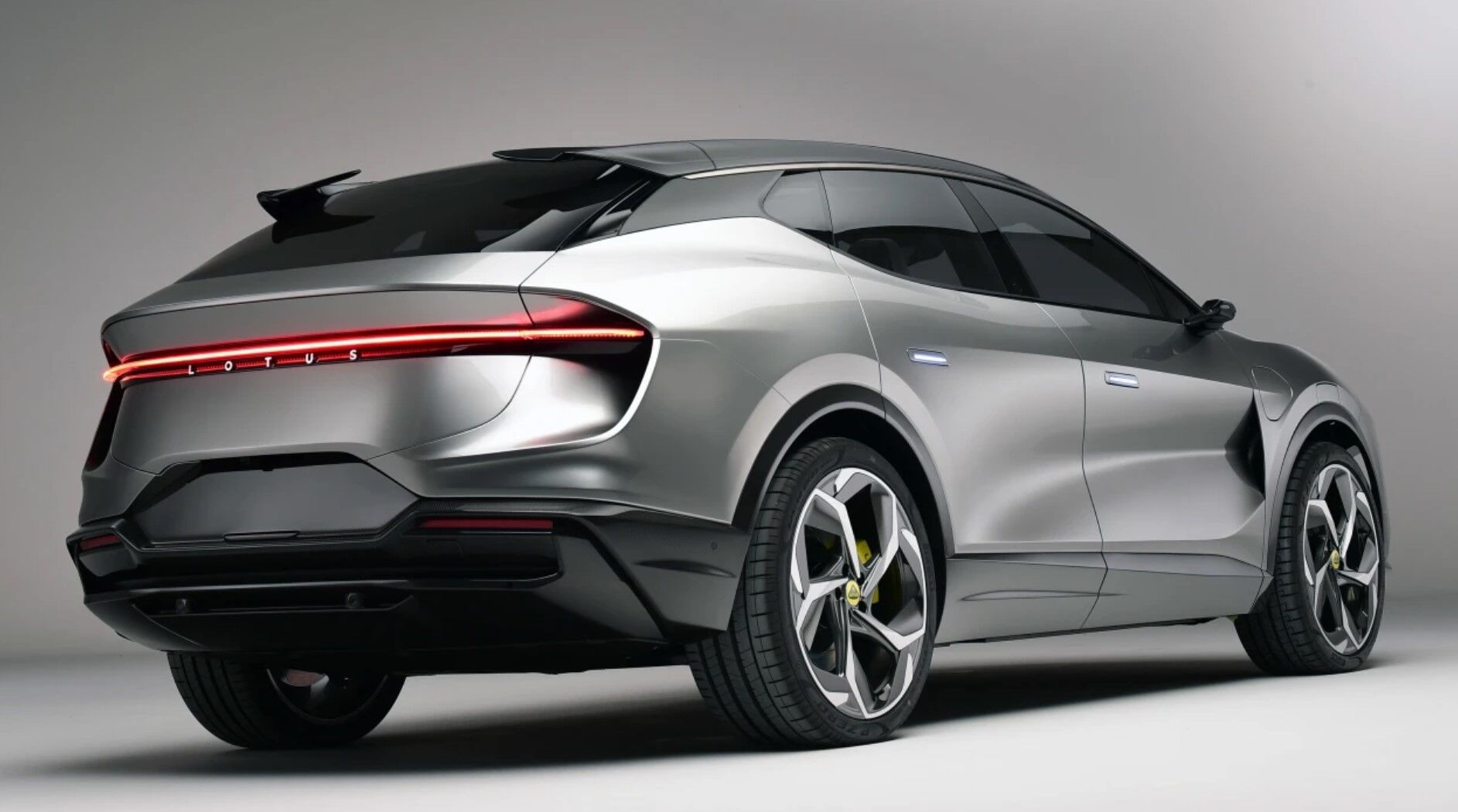 Payne said: "We tried to push it in terms of a premium interior and technology. The car can measure your body temperature. The introduction of those products is key. It's a big step-change for Lotus.
"We've reduced mass where we don't need it. For example, the middle section of the instrument panel isn't needed. Lotus is a driver's brand so we have a 15.1in touchscreen and we're making sure it's the bare minimum [in appearance] for the driver."
The Eletre will be built at the new Lotus site in Wuhan, China.
Sales aspirations haven't been shared, but the plant has annual capacity for 150,000 cars, to eventually include the Type 133 and 134, which could mean up to 50,000 Eletres.
Customer deliveries of the Eletre will begin next year.
Rachel Burgess