Hybrid SUV shares CMA 2.0 platform with next Volvo XC60 and takes design cues from radical concept.
Lynk&Co has revealed the first official images of its upcoming 08 SUV ahead of an official unveiling on 30 March.
The seventh model from the Geely-owned car maker is set for Chinese sales during the second half of 2023. Plans also exist for the 08 to be sold in selected export markets starting in 2024.
A sibling model to the next-generation Volvo XC60, the five-seat SUV features a number of design cues first aired on Lynk&Co's futuristic The Next Day concept car, revealed in June 2022, although the 08 swaps that show car's low-slung, two-door silhouette for a more conventional upright bodystyle.
It does, however, carry over the concept's flamboyant split LED headlights, as well as a contrasting black trim panel ahead of the door and LED tail-lights that wrap around into the rear wings.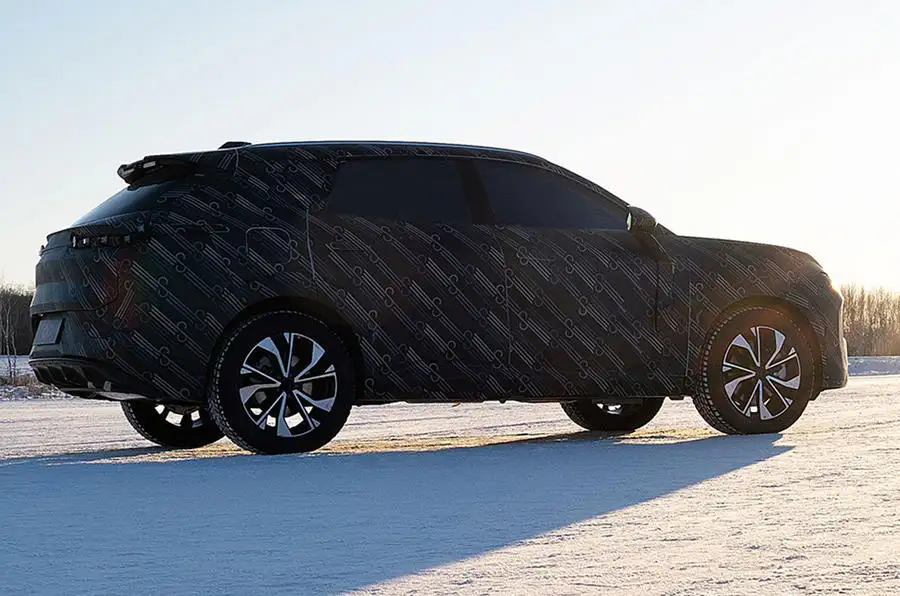 An earlier set of teaser images depicting a heavily camouflaged prototype provided details about the overall shape and size of the 08, which is based on parent company Geely's CMA 2.0 platform.
Among the drivetrains earmarked for the 08, known internally under the codename DX11, is Lynk&Co's new E-Motive hybrid system, which uses a turbocharged 1.5-litre three-cylinder petrol engine and three-speed Dedicated Hybrid Transmission (DHT) in combination with an electric motor and battery of varying power and capacities.
Two versions of the E-Motive system are planned. The first, known as the EM-F, is a parallel hybrid, in which the combustion engine charges a small battery that in turn powers an electric motor for a limited electric range. The second, called EM-P, is a plug-in hybrid set-up that allows the battery to be charged at up to 50kW and offer an extended electric range.
The so-called NordThor petrol engine to be used by the 08 is claimed to have thermal efficiency of up to 44.2 per cent and contribute to fuel savings of up to 15 per cent over Lynk&Co's existing mild-hybrid and plug-in hybrid systems.
Chinese-market versions of the new Lynk&Co model will also feature a new in-car operating system developed under a partnership between Geely and Chinese smartphone company Meizu.
Further details about the new Lynk&Co model will be made available at its unveiling later this month.