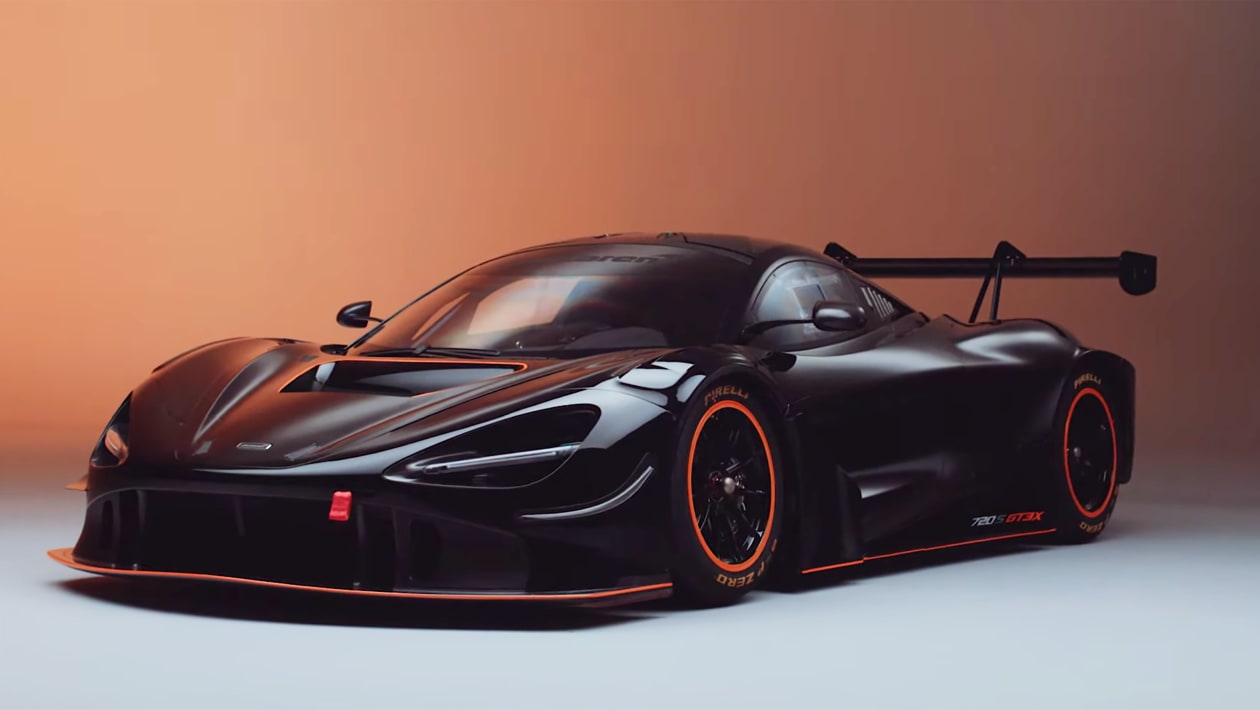 McLaren customers looking for something even hotter can now get a taste of the brand's race-ready machinery with this, the 720S GT3X – a track-only model doesn't have to conform to any rules or regulations, making it the most extreme version of the 720S yet.
Sitting above the 765LT track car, the 720S GT3X is the new range topper in McLaren's 'Supercars' series of models, previously known as the Super Series before the line-up was rejigged recently with the launch of McLaren's first plug-in hybrid, the Artura sports car.
The car has been developed by McLaren's motorsport arm and uses a tuned version of the 720S's 4.0-litre twin-turbo V8. The 720S GT3 runs to FIA GT3 regulations, but free from the restrictions of racing – and thanks to a lack of air restrictors and a pair of larger turbochargers, plus bigger manifolds and blueprinted cylinder heads – it produces 530kW.
There's a push-to-pass button that adds an extra 21kW on demand as well, taking its total output to 550kW, or around 150kW more than the regular GT3 racing car.
The GT3X features a revised cooling system to cope with the extra power, while the car's brakes have also been updated. It features a very similar aerodynamic package to the GT3, with front dive planes and a huge rear wing, with the package balanced for the GT3X.
The car's suspension system is carried across from the regular GT3 and, although unconfirmed, we'd expect the X to feature a similar electronics package as the racer, offering traction control and ABS.
"We've already got a very good GT3-based car," said Ian Morgan, Director of Motorsport McLaren Automotive. "We wanted to make it faster, so [there's] more power, more acceleration, better braking and overall lap times considerably faster than the GT3."
The chassis is the same MonoCage II carbon-fibre tub as used by the 720S road car and GT3 racer, while the interior is as stripped out and spartan as you'd expect from a track car. The GT3X also boasts a revised roll cage allowing space for a passenger seat.
This isn't McLaren's first foray into this area of the track day special market as, free from the rules of racing, the British brand embarked on a similar transformation of its MP4-12C GT3 competitor into the MP4-12C Can-Am back in 2012.
A limited production run of 30 cars, the Can-Am roughly AUD$670,000 at the time. Although McLaren hasn't yet revealed pricing for the new GT3X – it's simply asking interested parties to "register interest" currently, we know the 720S GT3 costs AUD$785,000, so an increase over this seems likely.
Sean Carson