Longtail treatment puts a deliciously sharp edge on the 720S' handling, and adds startling track pace and deeper driver appeal. On-road manners remain an unknown, but the rest of the package is formidable.
This latest special-series McLaren 'Longtail' model, the new 765LT, comes at what feels like a pivotal time. With Woking due to stat making its own carbonfibre chassis 'tubs' very soon, and almost ready to usher in plug-in hybrid powertrain technology for its series-production models, it feels very much as if a new, second era is about to start for the company – assuming the ship can survive that long, dark night before dawn.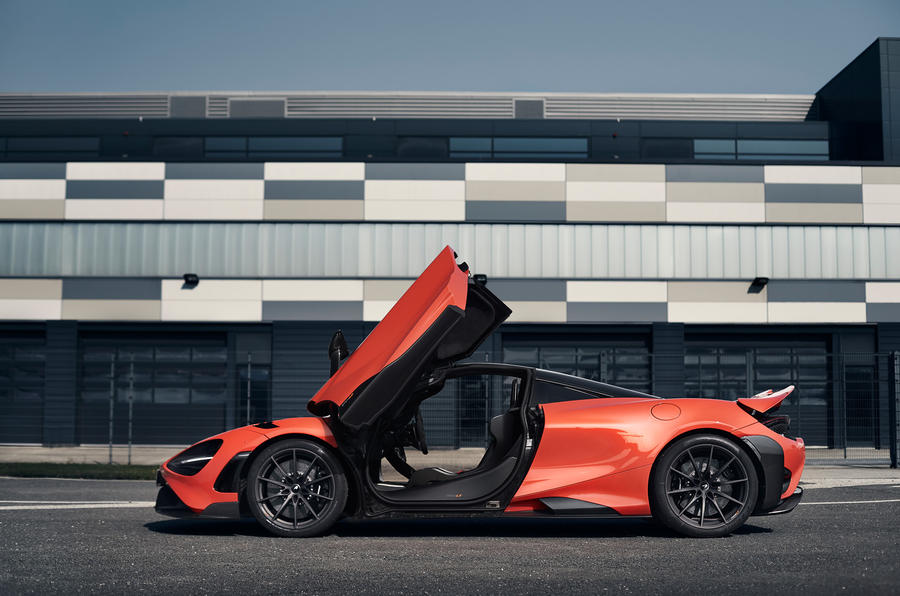 Before all that, though, McLaren Automotive has given us something of an explosive celebration of its current era; a yardstick, if you like, by which we might measure just how far it has developed in its first decade of continuous car production. The 765LT is the third installment in the firm's modern 'longtail' lineage. It's an astonishing car to drive in so many ways, taking what might be recognised as a broadly familiar McLaren driving experience but exaggerating and enlivening it to genuinely new and spectacular heights.
I'm not sure it changes the narrative; that it proves that Woking has finally vanquished every last dynamic demon that has haunted it since 2010, and wrung every last drop of handling appeal out of this carbon chassis and V8 powertrain, before batteries and motors and plug sockets change the game. It's so close, though – and so compelling in ways we'll get to shortly.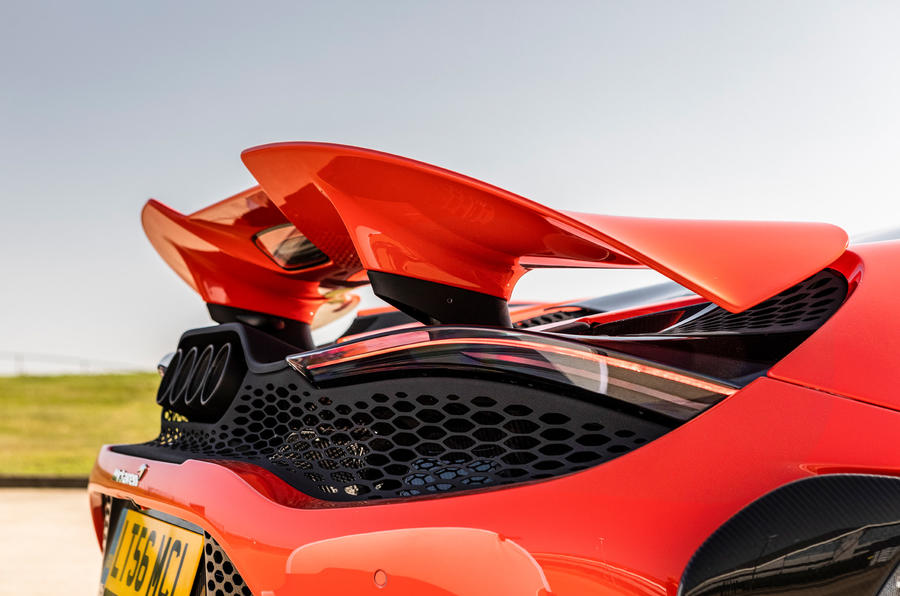 The effort, expertise and expense that has gone into what must count as Woking's most committed attempt yet at a special-series supercar is quite something in itself. It must be so hard taking weight out of, and adding outright track performance and dynamic purpose to, cars like the 720S which, let's face it, are damned light, fast and monstrously purposeful road cars already. And yet, thanks to the kind of attention-to-detail that accounts for the weight of titanium wheel nuts and cabin carpets among other things, the 765LT represents a weight saving of up to 80kg relative to its base car.
In order to hit that figure, you have to pay extra for some lightweight body panels and be satisfied not to have air conditioning or an audio system. But, if you're prepared to pay extra for some of them, every external panel and functioning aerodynamic feature on this car can be made out of carbonfibre. Its window glazing is 0.8mm thinner than is a 720S'. It's practically standing there in crate paper underpants.
A 765LT is at its lightest, in fact, only 30kg heavier than Woking's trackday immortal, the Senna; it also has the same amount of torque and only 25kW less peak power. That makes it considerably more powerful, on paper, than a Ferrari F8 Tributo; very nearly as punchy, in fact, as a V12-engined Lamborghini Aventador SVJ and about 300kg lighter.
And while on the one hand, McLaren is reluctant to play up the relationship between this new Longtail and the Senna, on the other hand it'll freely tell you, with a wink, that it 'borrowed' the Senna's handmade carbon brake discs and special calipers for this car, as well as its lightweight engine pistons and conrods, and its lightweight, deep-winged carbon bucket seats. The 765LT uses Pirelli's stickiest Trofeo R road-legal track tyres, just like the Senna did.
Meanwhile, its suspension specification and tuning makes it very clear that, when McLaren talks in general terms about the new levels of driver engagement it targeted for the car, and the limit handling exploitability it aimed for, the departure point was a key rebalancing of the 720S' grip levels. The car rides some 5mm lower than a 720S at the front axle, and has a front track that's 6mm wider. Those two changes alone – inclining the car's roll axis towards the nose and creating more grip and mechanical advantage for the front wheels – provide much of the extra bite perceptible in its handling. The car's interlinked 'active' damping system has been overhauled, too, although less widely; it's been given steel-skinned gas accumulators for better track robustness, and recalibrated with new software. The 765LT's coil springs themselves, meanwhile, are 20 per cent stiffer all round than those of a 720S, with new lightweight main springs and secondary rebound 'helper' springs replacing the simpler rising-rate spring setup of the 720S.
Sure enough, with that widened front track and those sticky tyres, the 765LT has an agility to test anyone's neck muscles. Its very plainly more alert-feeling through corners than a 720S, in a way that just begins to make you focus that bit harder on exactly where you're pointing the front wheels, and how smooth you're being on the wheel.
It's got huge lateral grip and body control too, needless to say; it's one of those cars with a near-limitless ability to make an apex, and is not just startingly quick (that powertrain makeover includes a shorter final drive this time, and for the first time in a Longtail model) but also really stable and powerful on the brakes. It allows you to carry speed into braking areas and trail-brake towards the kerbs in way that makes you feel like the chassis's is always one step ahead of you. That you could never be brave enough to find every bit of lap pace on offer – but you'll be damned if you won't give it a go. The Senna did that, of course, and even more vividly. But the 765LT has more than a hint of that same flavour – and somehow nobody quite conjures it like McLaren.
Even so, it isn't the 765LT's front axle that's foremost in your mind as you ramp up the speed that you're carrying; with both powertrain and chassis in 'track' mode and the electronics dialed back into 'ESC Dynamic', it's the rear axle you need to keep a watching brief over. I've never driven a McLaren road car as ready to rotate into fairly gentle, mid-corner, trailing-throttle oversteer as this one, or that feels quite so playful in an old-school sense. It's very clever tuning because, through quicker corners, it is as stable as supercars come; but through 2nd and 3rd gear bends you can back this Longtail into slides really readily. Fun? You bet your fireproof balaclava it is.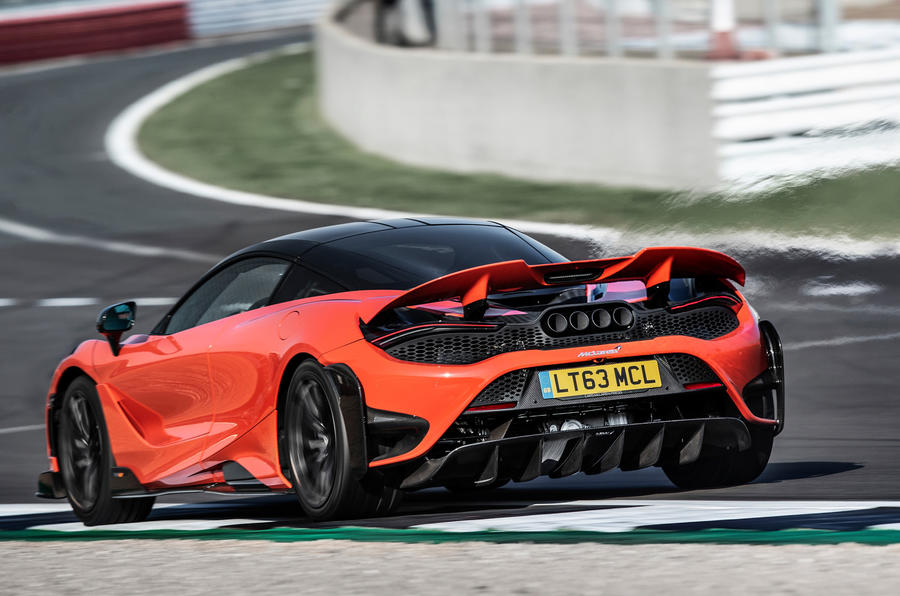 What happens next, as you come back onto the gas, remains just a little bit unpredictable; and this is the bit some will have been anticipating, by the way. With the ESC active but also at its most permissive, you can amuse yourself by maintaining the kind of power oversteer that certain mid-engined rivals serve up like a starter in a fast food joint; but you'll be busily adjusting the steering to do it, while the car's electronics very closely meter out how much torque is hitting the loaded rear wheel. It doesn't feel entirely natural; nor like you can take too much credit for it in the end.
If you're brave, bigger angles can be had with the electronics all the way off, of course – but the line between there and an unrecoverable spin remains very fine indeed, by the time the boost has built and the car's brake-based torque vectoring suddenly has its hands full with nearly 813Nm.
This is probably the most entertaining car that McLaren has yet built. Around a track it is searingly quick and still so absorbing to drive quickly; but it can also be driven with a bit more swagger, and reward you in a more indulgent way, when you feel like it. It isn't a one-dimensional car; far from it. And yet it still isn't quite as naturally given to extravagant cornering, or as easy to feel totally on top of, as its rivals.
You get the feeling here, possibly for the first time, that Woking cared significantly more about how much fun this car was ready to provide, and how many different ways and environments it could be driven and enjoyed in, than how quickly it went. They could have made it quicker still, quite clearly; but instead they did everything in their power, using the tools readily at their disposal, to make the 765LT really immersive and enjoyable.
In overwhelming part they have succeeded; even if, eventually, perhaps they did run out of options. We'll never know. Maybe they just think that a 520kW mid-engined supercar that can make you feel like Ken Block on your first track day, drifting with one arm out of the window, is a bit too 'flattering' for its own good.
It's a matter of personal taste in the end. However you feel about it, there's certainly an awful lot to like about a Longtail sub-brand that somehow keeps giving us one better driver's car after another; that is still on an upward curve. And, for now at least, if it means those cars aren't so easily mastered, and retain the capacity to catch you napping occasionally? Some would say it should come with the territory. And whether you agree or not, you'll certainly feel fully involved as and when they do.
McLaren 765LT Price: £280,000 Price as tested: unspecified Engine: V8, 3994cc, twin-turbocharged petrol Transmission: 7-speed twin-clutch automatic; rear-wheel drive; open differential Power 755bhp Torque 590lb ft Driveline layout Mid/RWD 0-62mph 2.8sec Top speed 205mph Kerb weight (DIN) 1339kg
Matt Saunders