McMurtry believes its Bugatti-quick EV represents the future of performance cars. We watch it in action
The UK's Donington Park's paddock is awash with supercars. I don't mean the impressive selection that you would find at a typical Goodwood Festival of Speed but industrial volumes that after 20 minutes of wandering around make you think that this is somehow normal. (Oh, there's another Bugatti Chiron…) But this is five levels above normality. It's known as the Michelin Secret Supercar Meet, although, judging by the crowds of smartphone-wielding teenagers at every junction between the M1 and the circuit, secret it is not.
I'm here to meet the team from McMurtry Automotive and learn more about its unique Spéirling (pronounced 'spearling') prototype race car, which presently occupies half of pit garage 22 and is making the Ferrari 250 GT SWB parked next to it look obese. At 3200mm long and 1500mm wide, it's around 30% smaller than the common Chiron, and with 1000bhp and less than 1000kg, its power to weight is 40% greater. No wonder McMurtry is bullish about a claimed 0-300km/h sprint time of less than 9.0sec.
We first saw the Spéirling when it made its debut on the hill at this summer's Goodwood Festival of Speed. In concept, it's a fully electric, single-seat, closed-cockpit competition car, designed around LMP1 safety standards, with carbonfibre monocoque/body construction and a cleverly integrated battery pack.
What sets the Spéirling apart, however, is its lack of downforce addenda, meaning that it can spear through the air without the need to counter the drag from a conventional rear wing. Instead, downforce is applied only when required, via an underbody fan that quite literally sucks the car to the track's surface while generating a very un-EV 120dB of jet-like noise. If you feel electrified motorsport lacks that all-important aural drama, you need to hear the Spéirling's fan at full chat.
This is the kind of innovation that you would expect from the likes of McLaren or Ferrari, but in fact McMurtry was formed only five years ago. The brainchild of Sir David McMurtry, the prolific Irish inventor and businessman who was a key player in the development of Concorde's Rolls-Royce Olympus engine, it now has a small but highly skilled workforce based in rural Gloucestershire.
Tom Yates, formerly of Mercedes AMG High Performance Powertrains (the UK-based firm behind Mercedes' seven consecutive Formula 1 titles) and now McMurtry's managing director, shows me around the Spéirling before its star turn on track in the command of test and development driver and hillclimb supremo Alex Summers.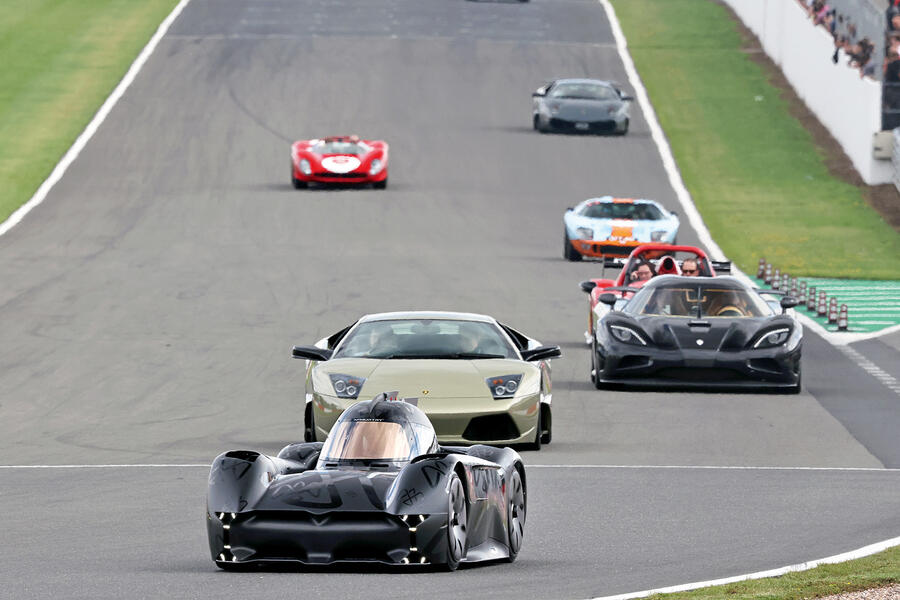 This is McMurtry's second-generation car, the first never having made a public appearance. "Car one was a huge learning exercise for us," Yates tells us. "We made such strides forward having to deliver a complete car from a clean sheet. Today's car is evolved from the first but has a slightly different design focus." With its gullwing door lifted, I'm invited to sit in the Spéirling. My initial thought is that, even at only 5ft 7in tall, I'm clearly not going to fit – it just looks so damned small in there. But perception gives way to reality, and once I'm installed, it's clear that McMurtry's claim that a 6ft 7in helmet-wearing driver can be accommodated is genuine.
You sit slightly reclined, bum down, the sides of the cabin close to your hips – a by-product of the battery effectively wrapping around the seat in a U-shape and partly being located beneath your legs. An adjustable pedal box helps you achieve a surprisingly comfortable driving position, with a pedal either side of the column necessitating left-foot braking. The accelerator has a long travel (to help meter the abundance of power, Summers later tells me), and once the prototype F1-style steering wheel is fitted, the only other controls appear. These comprise a paddle for taking manual control of the downforce fan (which otherwise operates automatically), a switch to vary the level of traction control and two or three other toggles to operate subsystems in the car. A digital display in the wheel's centre keeps you informed.
"Our focus from the beginning was to keep the car compact," Yates says. "With an electric car, you pay a huge amount for any inefficiency, especially in terms of overall weight and the weight of the battery. So from the start, the car had to be low-drag and as light as we could make it – and that included making it a single seater."
For now, McMurtry's aim is to develop a one-make race series for Spéirlings to showcase what's possible for an EV-shaped motorsport future. But does that mean that a McMurtry road car is out of the question? "No, we absolutely intend to do a road car in time," Yates says. "The concept has huge potential for the future of a driver's car in the electric era, with its low weight and compact size, making it smaller than most current road cars. It also has a WLTP range of 563 kilometres, which is right at the sharp end of EVs at the moment."
Although the concept of a race car with fan-generated downforce is far from new, Yates says that with the Spéirling, its benefits are more about efficiency than purely enhancing mechanical grip. "We need to deliver compelling levels of downforce with very little energy consumption," he explains. "With most race cars, you carry around the aerodynamics all the time, for which you pay a huge penalty in drag, and it means the cars are heavier, too."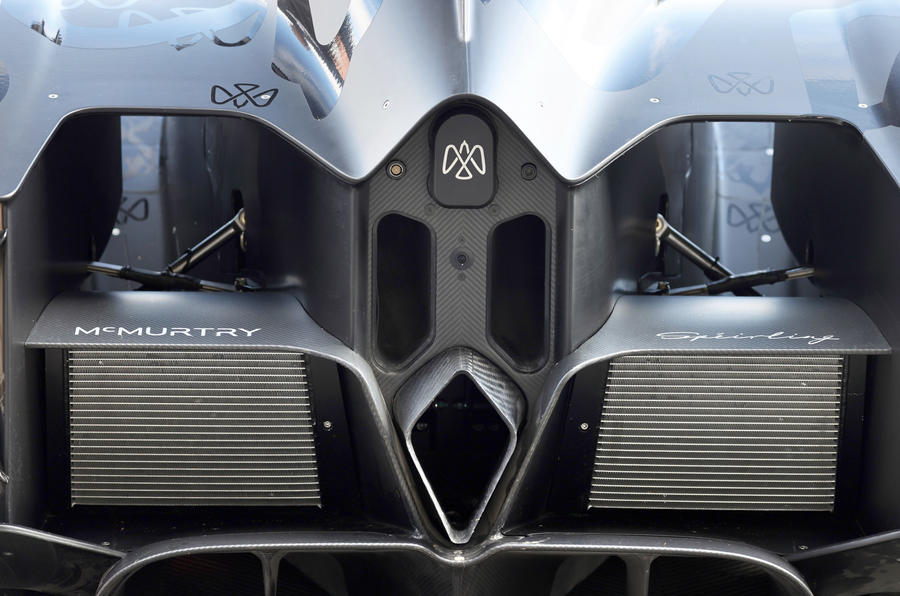 There's then the question about the technology's application in an existing electric motorsport championship, such as Formula E. Yates makes clear that McMurtry wants ultimately to deliver both cars and technologies (for many of which it holds patents) and says that he would "love to have the conversation and find out". For the time being, though, the focus is very much on continued development of the Spéirling.
And that should take a step forward today, since the 10-minute exclusive session booked for the Spéirling is only the second time it has been driven properly on a major track. All eyes are on the small black projectile as it circulates Donington, looking unfeasibly rapid and composed. At an event like this, raising awareness of the car and brand is vital, so it's reassuring when a small crowd forms around the car before it's backed into the garage.
And then a revelation. "It feels great," says Summers. "But we ran it with little to no downforce: I forgot to turn the fans on! What that has proved is how good the base (chassis) tune is."
While this was never intended to be any more than a brisk demo run, Summers was pulling at least 236km/h down the back straight – well within the car's capped maximum of 320km/h.
Summers emphasises that this isn't all about the headline numbers: "A lot of people are scared of the technology, insofar as it's going to change the driving experience. But when you're doing 150mph (240km/h) around here, you're not thinking 'it's electric, it's electric', you're just thinking 'this is really fast'."
McMurtry's next aim is to hunt down some world records for the Spéirling to set or break, although it's being tight-lipped for now about which these will be. But one thing is for sure: based on today's reaction, there will be a significant slice of the supercar community who might well have just seen the future of performance cars.
Simon Hucknall