The all-new Mercedes-AMG C63 S E Performance R has ditched its legendary V8 for a hybridised four-cylinder engine. How does this change it on the road?
Let's not beat about the bush. You're here because you want to know if a four-pot can really replace the legendary V8. And well, there's no escaping it: even with all its turbo whistles and synthesised noise, the new Mercedes-AMG C63 doesn't sound as special as it would have done with a V8.
Mercedes knows this. "Our customers come from a V8 sound, and of course this four-cylinder isn't going to have this V8 sound any more," says AMG product manager Arne Wiebking. "But it's a transition. We all know that at some point in the future, V8s will have to be gone for good, and this is our interpretation of what a performance car needs to look like in today's world."
Truth be told, from inside the C63 and in Race (aka full angry) mode, it does sound good. It's synthesised, but in a believable way. AMG hasn't made a bad pastiche of a V8: instead there are notes of V6, of Weber-carbed twin cam, overlaid with some turbo whistles and even some flat four, like a car show having a rev battle.
It stands comparison with the BMW M3's straight six, which in its current turbocharged form is also a far cry from the snorting E46 M3 CSL.
There's no doubt that, having lost its unique V8 calling card, the C63 needs to impress even more in other areas.
Our driver, Rene Szczepek, AMG's head of vehicle dynamics, starts out in EV mode, and although the smooth roads of AMG's proving ground aren't the most challenging surface, it's notable how quiet it is inside and how composed the 20-inch wheels remain when thumping over drainage covers.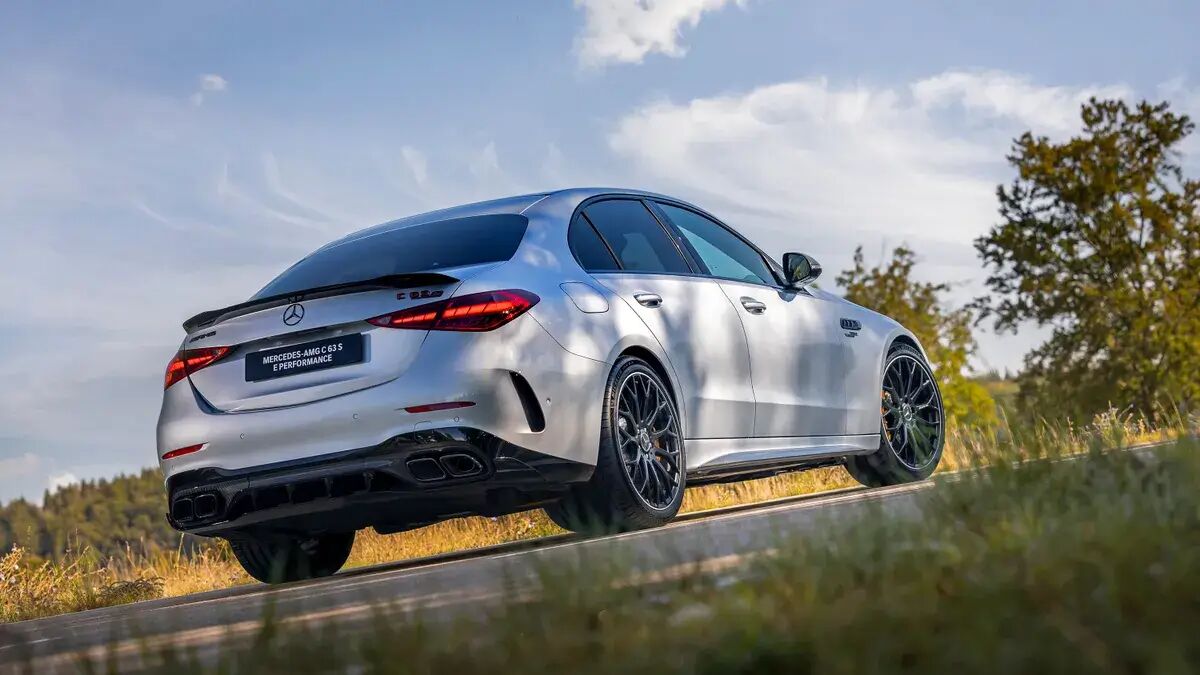 Szczepek is particularly proud of the GT3-style dampers in the new C63, explaining: "Damping is the game we really wanted to invest in, because you gain so much character of the car by just having good dampers. How confident you are in the car, how good you feel going into a corner, you need that feedback from the axles. And that's one thing we as a performance brand can't lose in this new game [of electrified performance cars]."
Anyway, enough electric pottering about. The engine fires up and we go straight into launch control, named Race Start. Taking just 3.4sec to 100km/h is nothing new, but in the C63 it does feel particularly violent, with not a hint of slip or even a chirp from the tyres.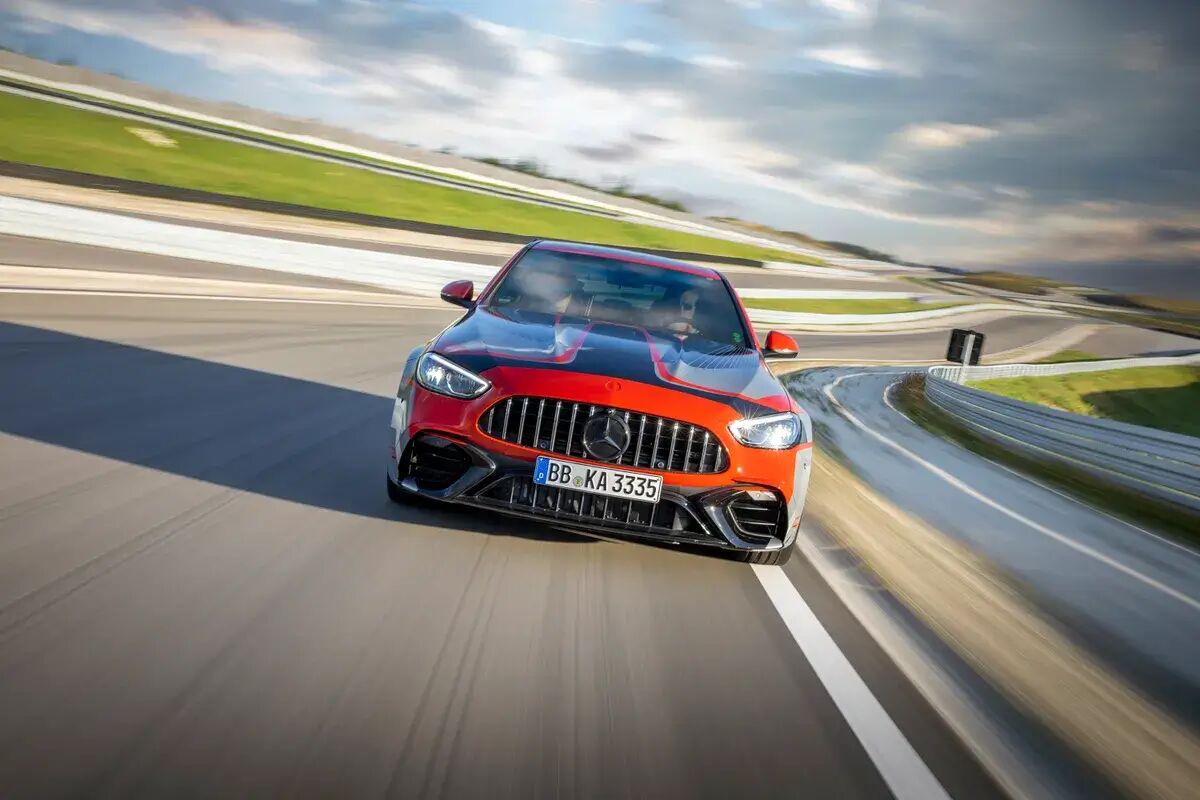 Onto the handling course and with two power sources, variable four-wheel drive and rear-wheel steering, there's plenty of scope for the driving modes to influence how the car behaves.
In Comfort mode, the engine sounds muted and more four-cylinder-like than before, while the electric motor contributes only up to 25 per cent of its maximum power. Through the corners, the balance feels secure and front-led.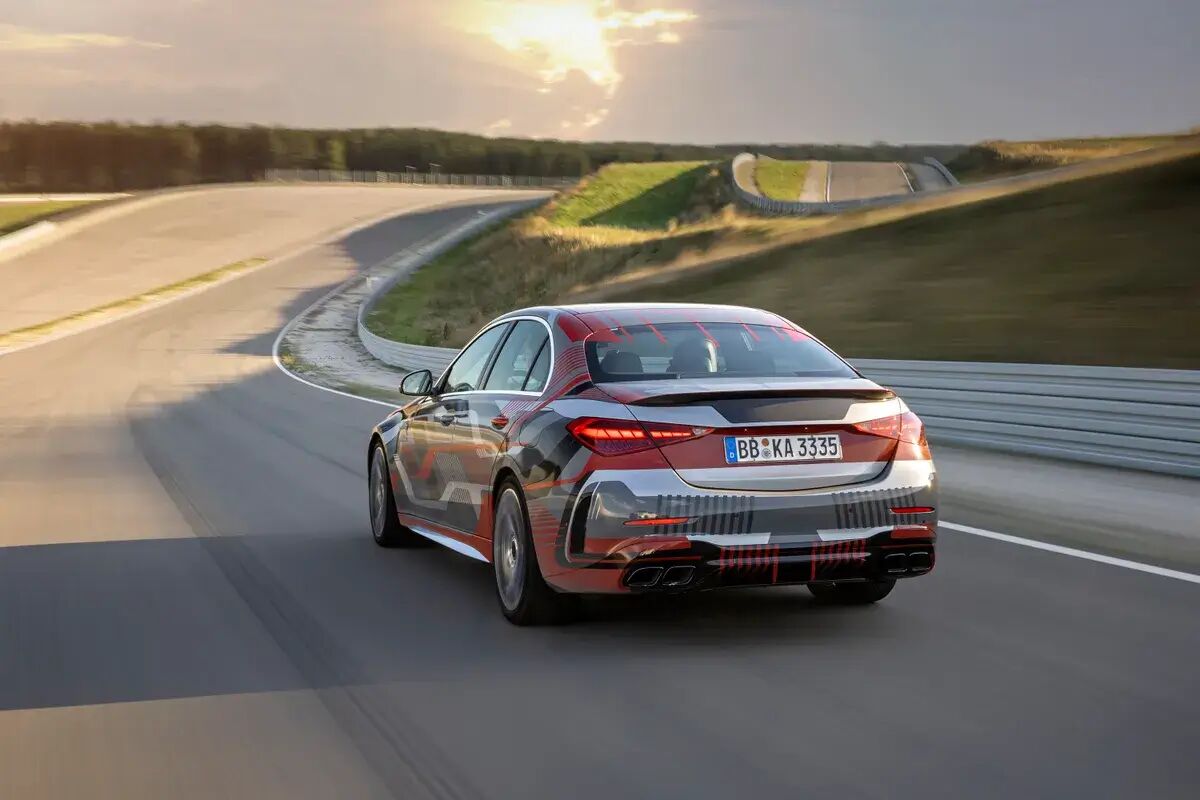 Up into Sport and with the electric motor dialled up to 65 per cent, the performance becomes noticeably brisker. There's a hint of the rear axle helping out but no chance of any lairiness.
Sport+ is more of the same, with up to 80 per cent of the electric power and the beginnings of a four-wheel drift when Szczepek throws the car into a long downhill sweeper.
Race mode is the real event. The engine sounds especially healthy, and even from the passenger seat, you can feel that there's a lot going on to make this 2.1-tonne car feel agile.
The rear easily steps out on the power, but there's enough torque being sent to the front that the car never reaches big drift angles. Meanwhile, the rear-wheel steering will adjust the yaw mid-corner.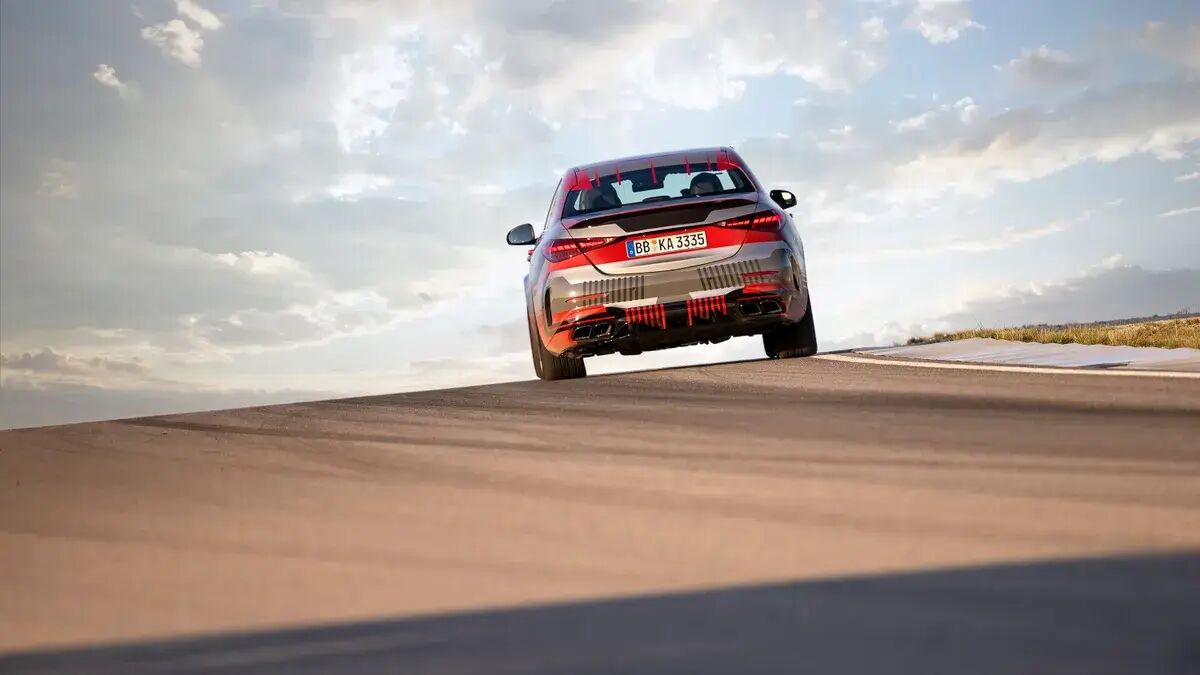 So far, we've not talked much about the plug-in hybrid system, because in practice it doesn't shout too much about itself. AMG's aim was to make the powertrain feel as linear and natural as possible, and that it does.
Unlike many PHEV systems, it's also pretty good at taking care of itself and using the battery and motor's 100kW of regenerative capability to keep the battery topped up. Using the Boost mode limits the electric power slightly to make the battery last longer on track, but whatever mode the car is in, the battery level gauge zips up and down quite quickly depending on the load.
We're also curious about how it will translate to the road. Happily, we don't have to wait too long to try the car for ourselves, and we will be able to bring you a review later this year.
Illya Verpraet