Mercedes has announced it will launch the pure-electric EQE SUV next year, and our exclusive images preview how it could look.
Mercedes-Benz has confirmed that a third pure-electric SUV will arrive in 2022 with the launch of the Tesla Model X-rivalling EQE SUV.
The EQE forms part of Mercedes's ambition to expand its range of fully electric EQ-badged vehicles so that it has an EV in every segment it serves by 2025.
It won't be the largest Mercedes electric SUV we'll see in the coming years, but it will be positioned towards the top end of the company's EV line-up, sitting above the EQC and the smaller EQA and EQB SUVs when it arrives.
The EQE badge will be shared across a large saloon and the SUV. Prototypes of both have been spied testing, showing that the two cars will share an almost identical front end.
Heavy camouflage makes it difficult to identify the finer details, but it's clear that the EQE models will have slender LED headlights which merge into a single-frame grille. From the A-pillars back, the SUV takes on more traditional 4×4 proportions. Compared to the EQC, styling changes include a stubbier bonnet, longer wheelbase and a more swept-back cabin.
The EQE will sit on the same EVA2 underpinnings as the EQS limo. It also marks a shift away from the conventions set by the EQC, which uses a modified version of the GLC's platform rather than dedicated electric architecture.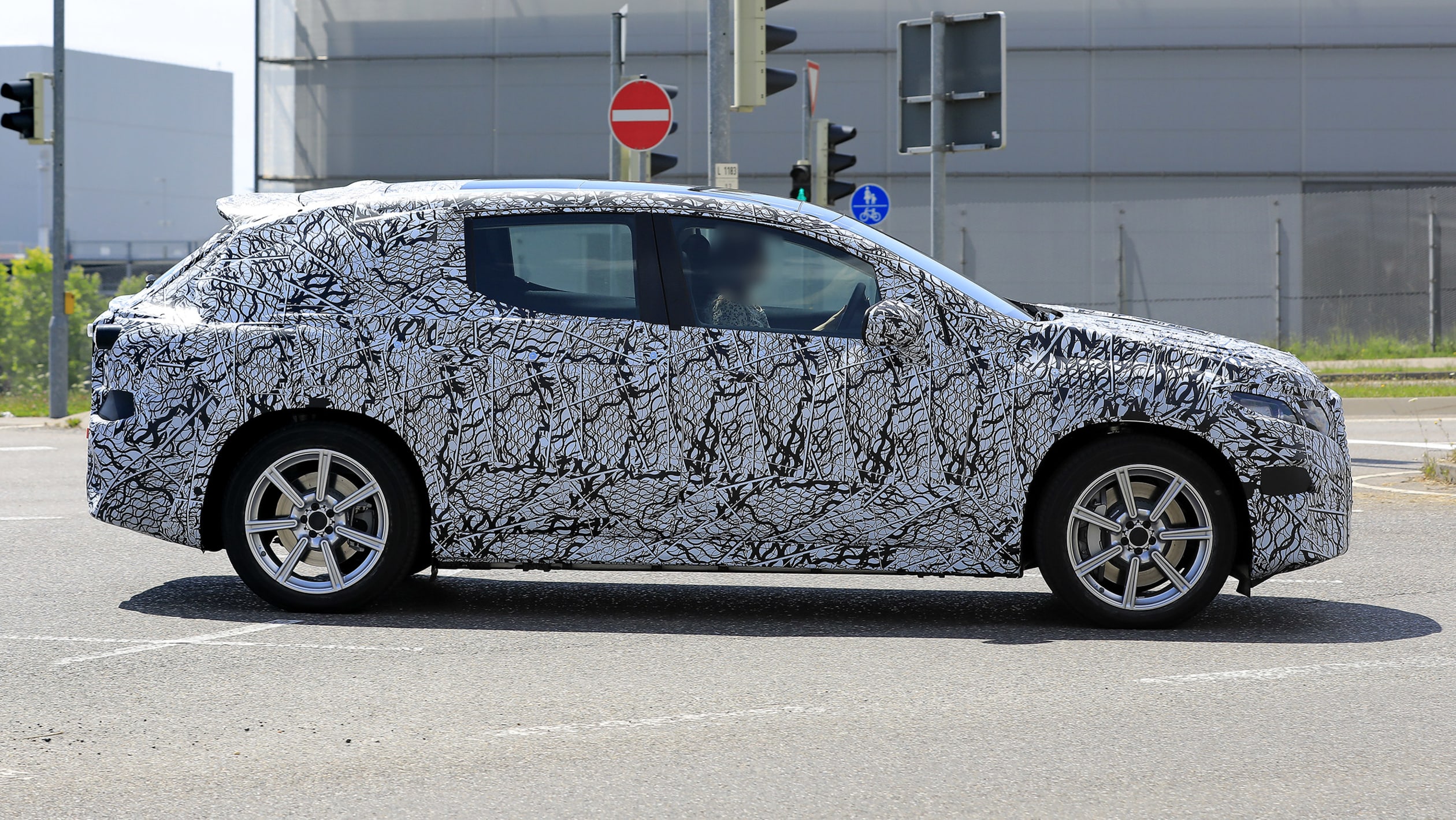 The EVA2 platform is highly modular, and Mercedes is expected to launch a broad range of powertrains and battery options across the EQE range. In fact, the German brand has already filed trademarks for a whole host of badges, from EQE 300 up to EQE 600.
The chassis is made from a mix of steel, aluminium and carbon fibre to minimise weight, and it should be able to accomodate a 100kWh battery pack if the specs of the EQS are anything to go by.
Mercedes has suggested that such a battery would make it possible to travel up to 690km. However, it's almost certain that this will appear in the range-topping model; cheaper versions fitted with a smaller-capacity battery and reduced range are also expected to feature in the EQE line-up.
As well as ensuring the EQE is able to accommodate a large battery, Mercedes has also been prioritising ultra-rapid recharging with the new architecture. The EQE should be able to charge at a rate of 350kW, which will deliver an 80 percent battery top-up in around 20 minutes. The firm has also partnered with providers such as Ionity and Shell Recharge to give its future EV drivers convenient access to rapid charging stations.
Speaking about the company's future, Mercedes CEO Ola Kellenius, said: "At Mercedes, we are going from EV-first to EV-only for our new architectures and cars. On a global level, the pace of change in the markets will vary, of course. A little faster here, a little slower there.
"But the transformation to battery electric cars is unstoppable. And it will pick up speed everywhere. We are accelerating our ramp-up in R&D activities to serve an all-electric era. Investments in new technologies will be significantly increased and pulled forward. This includes expanded activities in battery cells and systems."
Looking to the future, Mercedes will launch a range-topping EQS SUV next year, which will eventually spawn its own Maybach variant. The G-Class will go also all-electric in 2024 with a model called EQG confirmed and, in 2025, the firm will launch its next-generation MB.AE platform as it shifts towards becoming a pure-electric manufacturer.
Luke Wilkinson