When Mercedes-Benz CEO Ola Källenius unveiled the EQS back in April, he described it as a "defining moment" for the world's oldest car maker. Such statements are often heard in the car industry nowadays. In this case, though, it's hard to argue against.
Unlike the EQC, EQV, EQA and EQB that arrived before it, the EQS isn't derived from an existing ICE-powered model, instead having Mercedes' first dedicated EV platform to host a new high-density battery pack that promises a range of up to 780 kilometres and one of the most advanced interiors you will find in any car.
The luxury liftback-style flagship has been conceived to provide buyers with an electric alternative to the traditionally powered S-Class. Positioned at the top of a growing list of electric Mercedes, it acts as a technological showcase for the brand, featuring a number of innovations that we can also expect to see on the EQE saloon, EQS SUV and EQE SUV, which are all due by the end of 2023.
Tellingly, Mercedes doesn't see the EQS as a rival to the Porsche Taycan, Tesla Model S and Nio ET7. Instead, it points to the forthcoming Audi 'Landjet', BMW i7 and Lucid Air.
For the time being, though, the EQS's stiffest competition will come from plug-in hybrid versions of traditional luxury limousines, such as the Audi A8 60 TFSIe, the BMW 745e and Mercedes' own S580e.
Aesthetically, the EQS departs quite radically from traditional Mercedes models, with a design theme and cab-forward profile similar to that previewed by the EQS Vision concept back in 2019.
Distinguishing exterior elements include a black panel in place of a front grille and angular headlights that are linked by a slim light bar. Further back is a heavily raked windscreen and what Mercedes calls a 'one-bow' roof line, which stretches back into a steeply angled tailgate.
The doors are frameless and feature the same flush external handles as those available as an option on the S-Class, while the generously dimensioned wheel arches can accommodate a range of alloy wheels from 19-inch to 21-inch.
At 5216mm long, 1926mm wide and 1512mm tall, the EQS is 37mm longer, 28mm narrower and 9mm higher than the S-Class. It rides on a 3210mm wheelbase, which is 106mm longer than that of its ICE-powered equivalent, giving it relatively short overhangs and a very roomy interior. Mercedes claims that, despite its generous dimensions, the EQS betters the Model S for aerodynamic efficiency, with a record-breaking drag coefficient of just 0.20Cd.
The aluminium-intensive Electric Vehicle Architecture (EVA) of the EQS supports two different layouts: a single motor giving rear-wheel drive or two giving four-wheel drive. The motors are mounted low down within a subframe at the front and within the axle assembly at the rear.
Mercedes has put a lot of effort into the interior of the EQS, which combines bespoke elements with those already used in other models. As standard, it has a layout similar to that of the S-Class up front, with 12.3-inch and 12.8-inch digital displays for the instruments and infotainment system, in combination with a steering wheel that features touch-sensitive controls on its upper spokes.
Buyers can also specify the EQS with the new Hyperscreen: a one-piece curved display that stretches across the width of the dashboard, housing three digital screens: one for the dials, one for the infotainment and one for the front passenger.
It's impressive, no doubt, but the 1410mm-wide display is prone to reflections in sunny conditions, despite the inclusion of a sensor that alters automatically its brightness. It does work with impressive speed, mind you, thanks to an eight-core processor and 24GB of memory.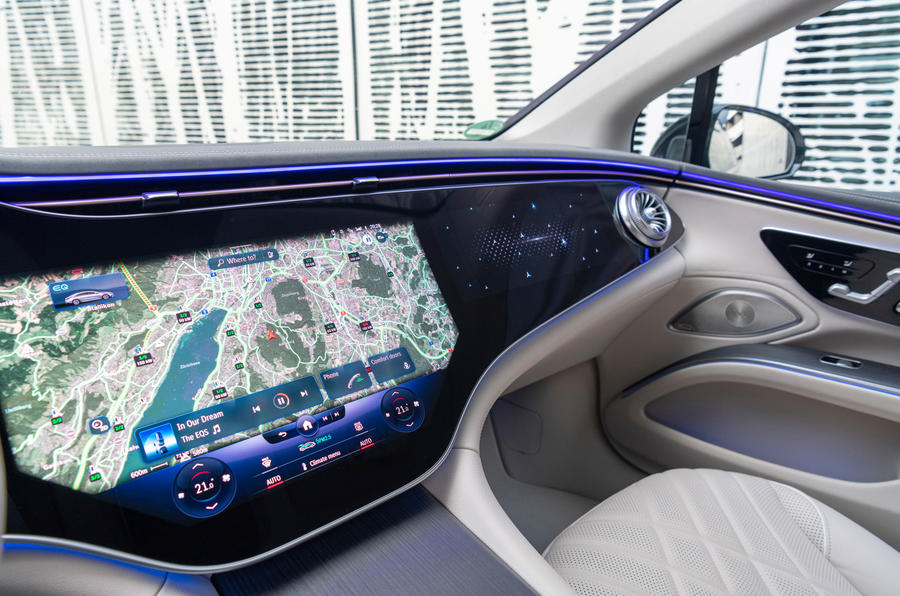 It's all controlled by the latest generation of Mercedes' MBUX operating system, which has both touch controls and 'Hey, Mercedes' conversational speech input as standard. It also supports over-the-air software downloads, so owners can update various features and tap into a new subscription-based service available via the Mercedes Me app. What's more, there's a head-up display with augmented-reality functions for the sat-nav directions.
A high-set centre console divides the front seats, providing various oddment storage possibilities. The seats themselves are broad and magnificently comfortable, if a little short on lateral support. They can be ordered with up to 19 adjustment motors and 10 massage programs.
The rear can be configured with either a three-person bench or two chairs. Accommodation is excellent, especially for legs and shoulders. While the EQS does without a 'frunk', unlike some EVs, its 610 litres of boot space is 60 litres more than that offered by the S-Class, and the space extends to 1770 litres when the split-folding rear seats are collapsed.
Two EQS variants are available initially. Opening proceedings is the 2480kg EQS 450+, which has one motor that develops 245kW and 568Nm, affording a 0-100km/h sprint time of 6.2sec. It gets a range of 780 kilometres from the 107.8kWh battery pack used by all models at launch, equating to efficiency of between 5 and 6.3 kilometres per kWh.
Then there's the 2510kg, all-wheel drive EQS 580 4Matic, as tested here. Its two motors give it combined outputs of 385kW and 854Nm for a 0-100km/h time of 4.3sec, while its efficiency is rated at between 4.6 and 5.5 kilometres per kWh for a 675-kilometre range.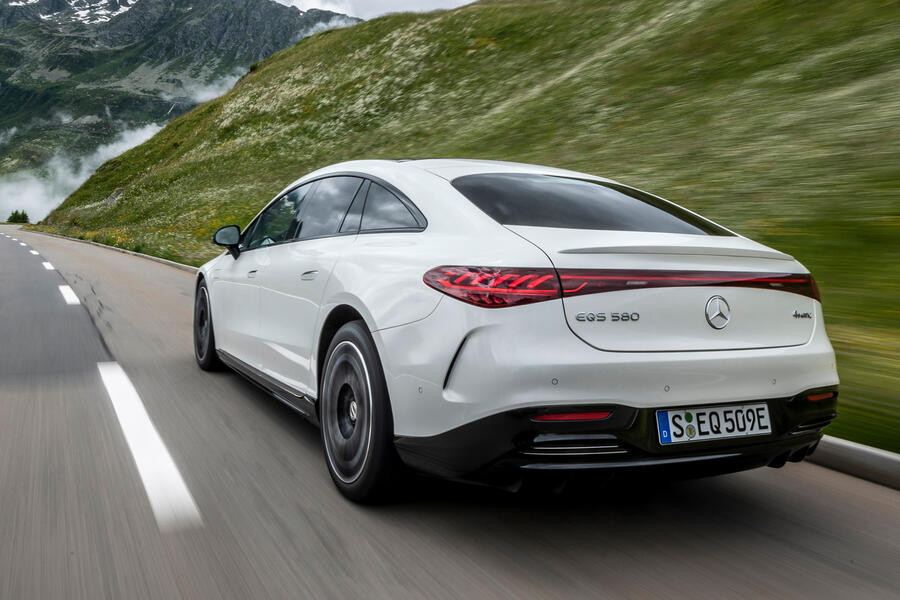 There's a terrific feeling of engineering integrity to the EQS, which is noticeable right from the moment you nudge its heavily sprung throttle and glide off down the road.
Step-off is strong, owing to the generous reserves of torque. The car launches with instant response and immense energy. Once momentum is established, it continues to gather pace strongly without any real let-up until you're at law-breaking speeds. Single-speed gearing ensures that the delivery is linear and unbroken.
This strong performance is clearly helped by the leading aerodynamics: with a slippery shape and minimal drag, the efforts of the motors aren't wasted on pushing a big pocket of air.
The EQS also tracks remarkably well, cruising up to and beyond typical motorway speeds with exceptional straight-line stability.
Even more impressive than the outright performance is the EQS's ability to recuperate energy on the move and under braking. Few if any EVs manage to recover electricity and stow it with such outstanding efficiency. This was brought to light when our car was still predicting some 400 kilometres of range after a three-hour run from Switzerland to Austria.
There are a range of recuperation strengths to choose from, including three manually selectable modes and an automatic one. Additionally, you can opt for a gliding function in which the EQS will roll for truly impressive distances without any perceptible mechanical drag.
The automatic regeneration mode's set-and-forget qualities makes it the preferred option, with the motors generating combined power of up to 290kW in optimal conditions.
Another standout is the drivetrain refinement, which is striking and very much at the centre of this car's driving appeal. We're used to the silent qualities of EVs by now, but the EQS takes things to a whole new level, proving wonderfully relaxing, whether you're threading through traffic around town or cruising at higher speeds out on the open road.
All of this is backed up a precise and a fittingly flowing feel to the handling. The EQS is a big and heavy car, yet its responses are more like those of a sports saloon than a limo.
The steering is lightly weighted, but there's still sufficient tactility to the variable-ratio system to ensure you feel involved. The EQS is very reminiscent of the S-Class in this respect, with fluency and accuracy that let you confidently place it on the road. There's a well-engineered delicacy to the whole steering process, making this a very relaxed car in everyday driving conditions.
Again like the S-Class, the EQS comes with the choice of two rear-wheel steering systems. The more advanced set-up (as fitted to our car) provides up to 10deg of counter or parallel steering to virtually shorten and lengthen the wheelbase at below and above 60km/h respectively. So configured, the EQS delivers excellent low-speed manoeuvrability around town, with a turning circle smaller than the A-Class's (10.9m).
The car also changes direction quite eagerly in Sport driving mode, feeling much more agile than you would expect, considering its heft.
Its body movements are very well controlled, the increase in lean being very progressive in proportion to the build-up of lateral forces once you're committed in corners. The overall balance is excellent, allowing you to generate a good deal of cornering speed before the tyres lose their grip.
It's all helped by a relatively low centre of gravity and near 50:50 front-to-rear weight distribution – although this is not to take away from the superbly struck tuning of the suspension. This controls the EQS's mass with great authority yet remains terrifically supple at all times, no matter the driving mode.
An electronically controlled four- wheel drive system that's claimed to apportion power faster than any of Mercedes' electromechanical set-ups provides the basis for outstanding traction, allowing you to deploy a good deal of the EQS's reserves for fast but controlled exits from corners. A torque-vectoring function also individually channels power to each of the rear wheels, dependent on the prevailing traction and wheel speeds.
The Airmatic air suspension with standard variable damping control is superbly compliant, endowing the EQS with great composure and truly impressive comfort. It doesn't quite match the S-Class for overall resolve, because it gets a bit floaty over undulating roads owing to the weight it is asked to control, but its absorption is very good, isolating shocks from the surface very well.
There's very little wind noise, but even more impressive is the way the EQS avoids road roar. Our car's 21-inch 265/40-profile tyres were whisper-quiet on smooth-surfaced roads, further adding to the serenity of the virtually silent powertrain. One might buy the EQS on the strength of its refinement alone.
Brake feel is good: there's a nice progression in the pedal action and a more defined bite point than in Mercedes's latest petrol-electric PHEVs, allowing you to wipe off speed with confidence, despite the myriad recuperation functions bundled with the friction brakes.
The EQS is truly a lesson in engineering detail. It has clearly benefited from the new-from-the-ground-up approach, with the sort of overall integrity that was missing from previous EQ models.
It's a terrifically rounded car, with very few compromises and a fittingly high level of perceived quality; a true Mercedes in many respects and quite possibly the world's most capable electric car right now.
Like the S-Class, which it seems destined to eventually replace, it comes at a high price: you can expect to pay around $240,000 for the EQS 450+ and more than $330,000 for the EQS 580 4Matic. But then you will be receiving a car that represents the cutting edge of EV development and has been executed to near perfection for the market at which it's targeted.
Technical specs
Model tested: EQS 580 4Matic Price: $250,000 (estimated) Electric motor/s: Dual synchronous electric motors Drive battery: 107.8kWh Driveline layout: Dual motor, all-wheel drive Power: 385kW Torque: 854Nm 0-100km/h: 4.3sec Top speed: 210km/h Kerb weight (DIN): 2510kg Energy efficiency: 18.3-21.4kWh/100km Range: 675 kilometres Max. charge rate: 200kW DC
Rivals: Audi A8 60 TFSIe, BMW 745e, Tesla Model S