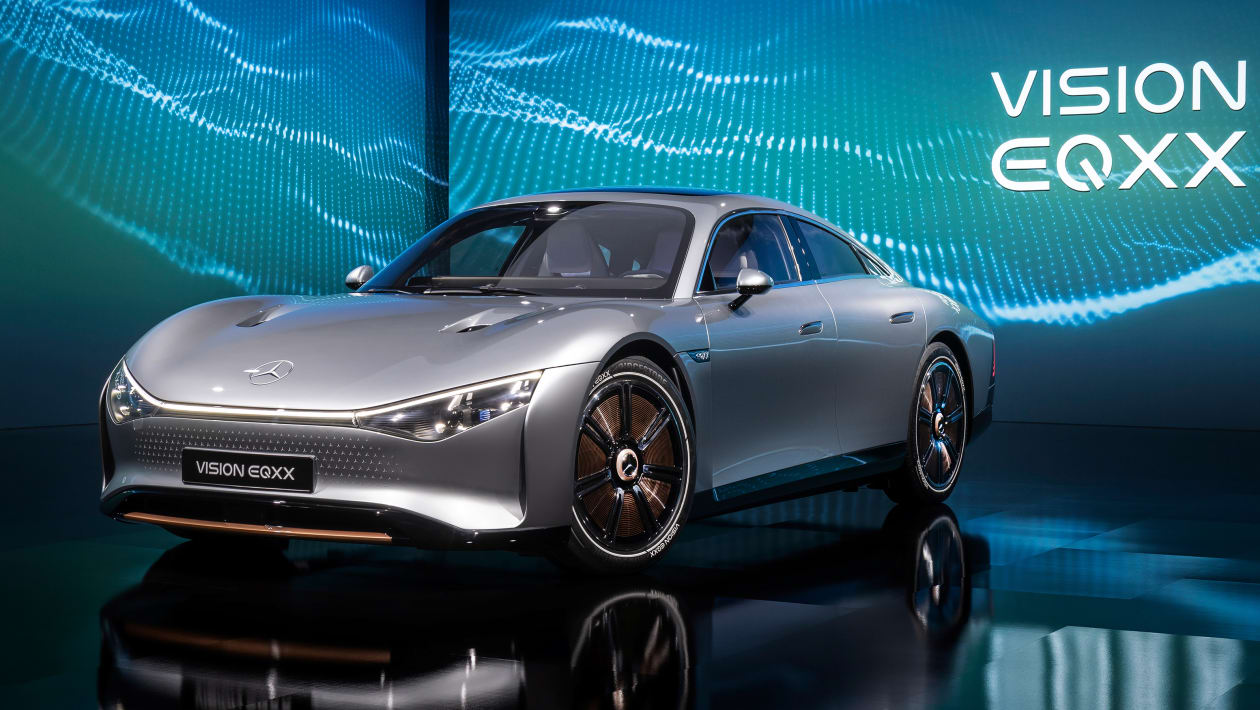 New Mercedes-Benz concept with 1000km of electric range is unveiled at CES 2022.
Mercedes-Benz has highlighted the future for its electric-car tech by unveiling the Vision EQXX at the 2022 Consumer Electronics Show in Las Vegas, offering more than 1000km from a full charge.
The German brand says that the Vision EQXX's range – typically double that of most current premium EVs – doesn't come from a larger battery, however. Instead, the four-seat family car "takes range and efficiency to a whole new level [by] rethinking the fundamentals from the ground up" using lightweight materials and a relatively conventionally sized battery, allowing the Vision EQXX "to go further with less", according to Mercedes.
The car is powered by a freshly designed battery "that holds almost 100kWh", as detailed by Mercedes' official specifications. The battery takes up 50 per cent less volume and is 30 per cent lighter than the pack in the firm's EQS electric limousine, weighs around 495kg and has been developed in conjunction with the Mercedes-AMG F1 team. With the Vision EQXX Mercedes is targeting efficiency of more than six miles per kWh.
The EQXX uses a more-than 900v electrical architecture and weighs approximately 1750kg; the brand has not yet detailed any exact figures for the car, only releasing approximations in most cases.
Developed extremely quickly thanks to a focus on software and digital engineering, it took just 18 months to go from a clean sheet of paper to 'on the road', with the EQXX. Mercedes says the car is "the outcome of an ongoing programme that is delivering a blueprint for the future of automotive engineering".
While the EQXX concept is positioned as a halo model for the brand, we can expect much of what is previewed here to feature soon in series production Mercedes models as the company moves towards a completely electric line-up by 2030. As such, Mercedes claims that the Vision EQXX is "part of a programme that can adapt innovative technologies for series production faster than ever before."
Compared with the firm's current EV line-up, the Vision EQXX's power output is relatively modest, at approximately 150kW, suggesting that the car features just one motor and driven axle. No performance figures have been unveiled, although the power electronics unit is closely related to that in the firm's AMG Project One hybrid hypercar.
Acceleration times have not been a key focus of the programme's development, with range and efficiency the big goals for the project. The car's maximum cruising range is helped by a new electric drive system – also developed in conjunction with the F1 team – that boasts efficiency of 95 per cent between the battery and wheels. This is the percentage of energy that makes it from the car's cells directly to the wheels. By contrast, a conventional combustion-powered vehicle offers only around 30 per cent efficiency.
According to Joerg Bartels, Mercedes' Vice President for Vehicle Engineering and Overall Vehicle Functions, "Electric range sounds easy but is a complex technical challenge. The easiest way is to put a bigger battery in the car. However, this leads to diminishing returns due to size and weight. This is definitely not the smartest route and it's also not the best use of scarce resources. With the Vision EQXX, we're presenting the results of an extraordinary challenge: we pushed efficiency to a totally new level. And we explored new ways to increase the range of an electric car."
Aerodynamics have also played a key part in the EQXX's efficiency, with the car achieving a drag coefficient of just 0.17Cd. Mercedes claims a reduction of just 0.01 can add as much as 2.5 per cent more range.
A 50mm narrower track across the rear axle compared with the front means plus the four-door body's heavy taper towards the elongated tail is matched by a stretched underfloor and a retractable diffuser helping the EQXX to carve through the air with less resistance, while an air curtain in the front bumper reduces turbulence as air passes over the front wheels.
Lightweight engineering extends to the bespoke EV chassis' subframes, aluminium alloy brake discs and many 3D-printed components inspired by natural forms that have been designed and engineered to remove weight (saving between 15 and 20 per cent compared with conventionally produced components) but not compromise strength. Mercedes calls this "bionic engineering".
Magnesium alloy wheels, 20 inches in diameter, are wrapped in ultra-low rolling resistance tyres with optimised aerodynamics. Meanwhile, slim roof-mounted solar panels contribute an extra 25km's of range.
The software-first philosophy employed in the development of the Vision EQXX included the car's battery management system as well as its in-car technology and user interface, which includes sat-nav guidance and a driving assistant to maximise the efficiency on offer.
Inside, this technology mixes with many recycled and plant-based materials highlighting the project's focus on sustainability and further lowering the EQXX's carbon footprint. The vegan interior integrates plenty of advanced technology, including what Mercedes calls a "neuromorphic" processor. This means that actions are processed in neural spikes, with energy only consumed during these spikes, helping to reduce consumption and improve efficiency.
An 8k 47.5-inch seamless display spans the full width of the car's interior. It features an avatar personal assistant as a 'road-trip sidekick' and real-time 3D navigation that uses satellite data that can be zoomed down to a height of 10m using conventional pinch and swipe gestures.
Sean Carson