The all-new Hyundai Tucson will go on sale in spring next year with a choice of electrified powertrains – the most important of which will be a new plug-in hybrid system that's designed to rival the Ford Kuga PHEV and the Volkswagen Tiguan eHybrid.
The new Hyundai Tucson PHEV's powertrain comprises a turbocharged 1.6-litre four-cylinder petrol engine, a 67kW electric motor and a 13.8kWh battery pack. The petrol engine sends drive to all four wheels via a six-speed automatic transmission and delivers an output of 195kW and 350Nm.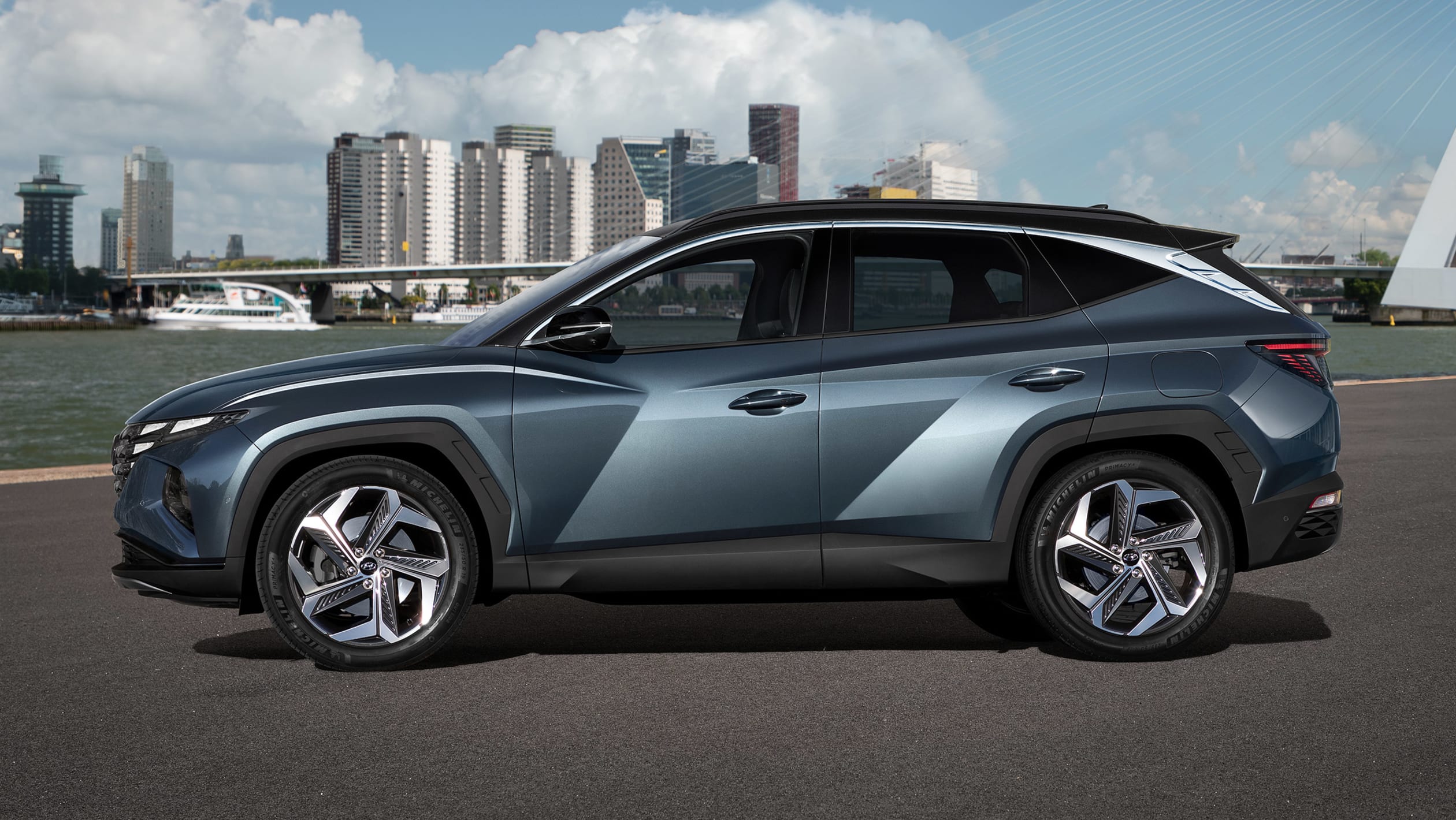 Hyundai is yet to homologate the Tucson PHEV's fuel economy, emissions and electric-only range figures. However, the company's internal estimates place the latter figure at around 50km between charging stops.
The brand is also keen to stress that the system's battery pack is mounted under the vehicle, which has minimised any intrusions on cabin and boot space. The Tucson boot is nine per cent larger than the old model's, at 558 litres. With the rear seats stowed, that figure swells to 1,737 litres, which is a 15 per cent improvement over the old car.
Hyundai will also offer the same 1.6-litre engine on the entry-level car, albeit stripped of any electrical assistance and mated to a six-speed manual gearbox. On the base-model, it has an output of 110kW and can be specced with either front- or four-wheel drive.
Three 48-volt mild-hybrids will also be available, two of which will be based on the same petrol engine as the rest of Tucson's line-up. The petrol options have either 110kW or 133kW – and both come as standard with the firm's new six-speed Intelligent Manual Transmission, which is a manual 'box that doesn't have a clutch pedal. A 100kW 48-volt diesel has been announced, too, but it may not come to the UK.
A full hybrid version will also be offered from launch, combining the 1.6-litre petrol engine with a 44kW electric motor and a small 1.49kWh battery pack, for a combined output of 169kW and 350Nm. A six-speed automatic gearbox will be standard on that model, while all-wheel drive versions of the Tucson Hybrid are available with a Terrain Control switch for driving off road.
For the first time, buyers will have two suspension set-ups to choose from. As part of the car's push upmarket, electronically controlled adaptive dampers will be optional on high-spec Tucsons, with two profiles – a softer setting for when the car is in Normal and Eco drive modes, and a firmer set-up when the new Sport mode is selected. Four-wheel-drive and a seven-speed automatic gearbox are also available as optional extras.
New 2021 Hyundai Tucson: design and interior
The next-generation Hyundai Tucson has undergone a total rethink inside and out, introducing a new and distinctive design language that will be kept unique to the model. Combined with some key technology updates, it's part of a grand plan hatched by the Korean brand to push its SUV further upmarket.
Hyundai previewed this new Tucson late in 2019 with the bold- looking Vision T concept. The production version features many of the Vision T's styling cues, and it looks like little else in Hyundai's line-up. The front is dominated by a new grille, with parametric detailing and integrated LED running lights that are designed to be completely hidden within the grille when the car is not being driven.
Compared with the conventional-looking current car, the new Tucson's flanks are more sculpted, with dramatic creases, bold shoulders, squared-off wheel arches and a sweeping chrome trim line flowing in one arch from the car's A-pillar to the C-pillar.
The tailgate features a new full-width LED lighting bar with fang-like elements – and the unit's lighting signature follows a similar pattern to the front grille's, which is also repeated on the rugged-looking lower bumper section. The rear wiper blade is hidden under the spoiler, to make the tailgate's surface as smooth as possible.
Hyundai's SUV is marginally longer and wider than before, and the wheelbase has been extended by 10mm. The brand claims this results in up to 26mm more legroom for passengers, while the boot now offers a capacity of up to 620 litres in front-wheel-drive petrol models.
Alloy wheels ranging from 17 inches to 19 inches will be available, while Tucson customers will have nine exterior paint colours to choose from. Every finish can be combined with a contrasting roof.
The comprehensive transformation continues with an all-new interior; the dash is set low to increase forward visibility, and the design is defined by two chrome lines that sweep seamlessly around the doors, across the top of the dash and then flow downwards into a new higher centre console, which is at the driver's hand level.
Hyundai says it has made improvements in material quality with the use of soft-touch plastics at hand height, while buyers will have the option of black or black-and-beige upholstery in leather or fabric, alongside a contrasting black-and-teal package. A total of 64 ambient cabin light colours can be selected, too.
New 2021 Hyundai Tucson: technology and infotainment
Hyundai has completely removed the instrument cluster housing, instead fitting a configurable, tablet-style 10.25-inch digital instrument panel. Another 10.25-inch screen is used for the central display, which offers support for Apple CarPlay and Android Auto.
Google and Apple Calendar integration is a new feature, as are selectable user profiles. Last-mile navigation is a new feature, meaning if the driver can't park at the exact destination, further directions will be sent to their smartphone for finishing the journey on foot. Live parking and traffic information is also part of the new navigation package.
The infotainment screen is part of a flush new centre console that uses touch-sensitive and illuminated buttons instead of physical switches. The gear selector has been changed to a compact shift-by-wire set-up, too.
Finally, Hyundai has introduced a host of new driver-assistance and safety features, with the most important being the availability of the firm's Highway Drive Assist semi-autonomous capability. It can brake and accelerate the car automatically to keep a preset distance from other vehicles, while using Lane Follow Assist to keep the Tucson in lane on motorways and dual carriageways. Remote Smart Parking Assist is another new automated feature, which means the car can be summoned from a parking spot via a button on the key.
James Brodie