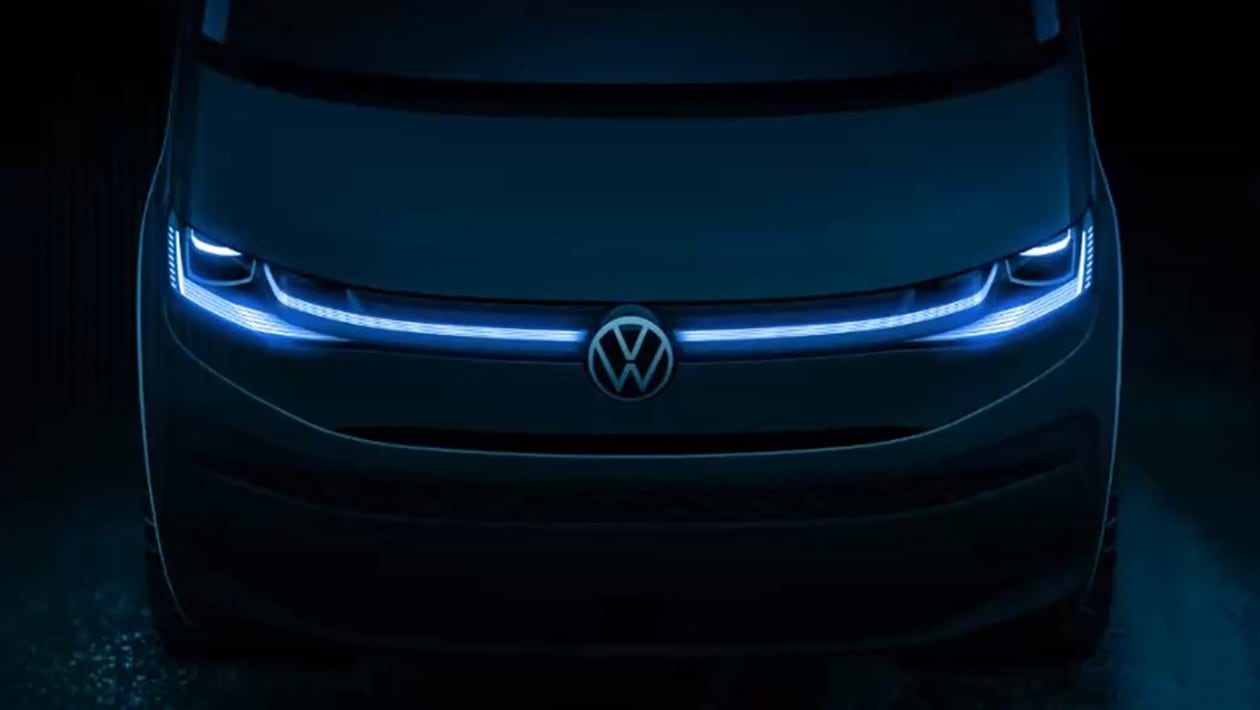 This shadowy teaser is our first official look at the next-generation Volkswagen Transporter. The upcoming T7 version of the German brand's combi van will make its debut later this year, providing fresh competition for the likes of the Ford Transit and Mercedes Sprinter.
This first image gives little away about the new Transporter's styling, but it'll likely be an evolution of the outgoing model's design, albeit with a few touches lifted from the brand's current passenger car range.
It'll feature a similar front end to the latest Golf, sharing the same winged LED headlamps, bumped contours and a kindred radiator grille. Spy shots also show the van will have slightly more rounded corners, a wider glasshouse and a slightly lower window line.
Volkswagen also says the seventh-generation Transporter will improve every aspect of its predecessor's design, claiming the T7 will be: "more sustainable, more comfortable, safer, more intelligent, better connected and higher quality than ever before."
Most of these improvements will be thanks to a shift off Volkswagen's van-only T platform and onto the MQB underpinnings as some of the company's latest passenger cars, which should also allow Volkswagen to take advantage of its existing plug-in hybrid technology.
Our previous spy shots added more substance to the rumours that the next Transporter will gain PHEV power. The mule featured an extra filler door on its front right quarter panel, in addition to the usual fuel filler door at the rear, which hides the system's charging socket.
We expect the plug-in Transporter will use the tried-and-tested powertrain from the Mk8 Golf GTE and new Tiguan eHybrid. It's a turbocharged 1.4-litre four-cylinder petrol engine and a 84kW electric motor, with a maximum combined output of 180kW and 400Nm.
The rest of the Transporter's engine range will be made up of the Volkswagen Group's familiar range of turbocharged 2.0-litre four-cylinder diesel engines, which are used in cars such as the Tiguan and SEAT Ateca SUVs. Like the T6.1, this new model should be offered with either front- or four-wheel drive, too.
Thanks to the switch to MQB, the Transporter T7's cabin should get the same range of technology as the Mk8 Golf. The flagship model will likely feature a digital instrument cluster and a fresh 10-inch infotainment system, along with the usual suite of safety equipment, such as lane-keeping assist, cruise control and a blind-spot monitoring system.
Luke Wilkinson