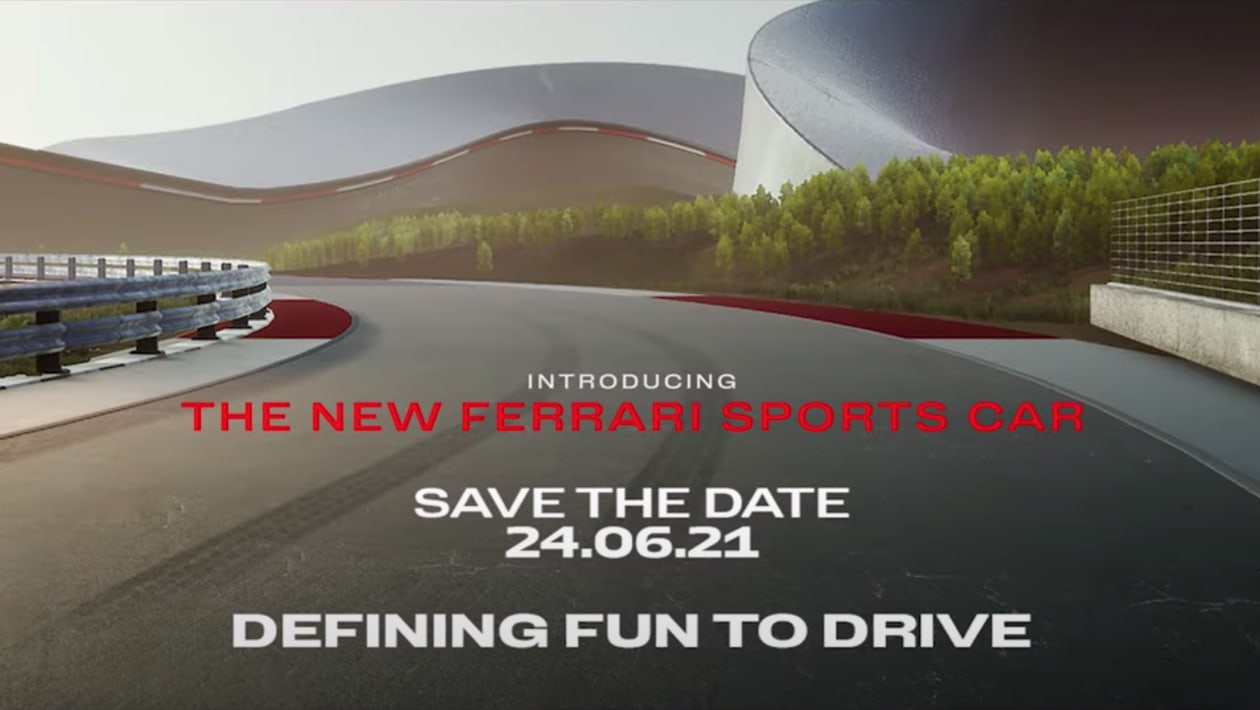 Ferrari will launch a new supercar on 24 June, which could become the first six-cylinder road car from the firm since the 1974 Dino 246 GT.
Speculatively codenamed 'F171', it will give the Maranello firm a new rival for the upcoming launched McLaren Artura, positioned as a new entry-level supercar in the firm's line-up beneath the F8 Tributo.
Details about the Ferrari F171 are still thin on the ground, but we know the company's engineers have been working on the car's new six-cylinder hybrid engine for some time, with executives referencing the unit in previous interviews.
Back in 2019, Ferrari's Chief Marketing Officer, Enrico Galliera, told Automotive Daily: "The philosophy is to try to be ready with different technologies in order to use them with the necessary evolution. That's why we have a wide range of engines: V12, V8 and, in the future, the V6."
Ferrari hasn't yet communicated any technical specifications or performance figures for the powertrain, but speculation suggests it will be a turbocharged 3.0-litre unit with some sort of electrified assistance, much like the system found in the Artura.
To be competitive with the McLaren, Ferrari will need to extract around 500kW from its new hybrid system. Incidentally, that's about the same amount of power produced by the 3.9-litre V8 in the outgoing 488 GTB, which the F171 will essentially replace.
Unlike Ferrari's other hybrid supercar, the SF90 Stradale, the F171 won't have an electric motor on the front axle, either. Instead, the extra torque provided by the hybrid system will go to the rear wheels alone.
Our spies have caught the new Ferrari F171 during its development programme, wearing its production bodywork. It follows Ferrari's current mid-engined styling language, sharing the same raked windscreen and door shape as the F8 Tributo. However, there are a couple of red herrings, such as the fake exhaust tips and some elaborate cladding around the diffuser.
It looks slightly smaller than the F8 Tributo, though, while the wheels have been pushed out towards the car's corners, which should help improve handling
Ferrari's new F171 supercar and its upcoming EV will be joined by the Purosangue SUV in the next four years. All three new cars will be key pillars of the Italian brand's electrification strategy – and it's possible that the Purosangue could use the same hybrid V6 engine being lined up for the F171.
In 2025 they'll both be joined by the brand's first pure-electric car, which will go up against the Lotus Evija and Tesla Roadster.
Luke Wilkinson