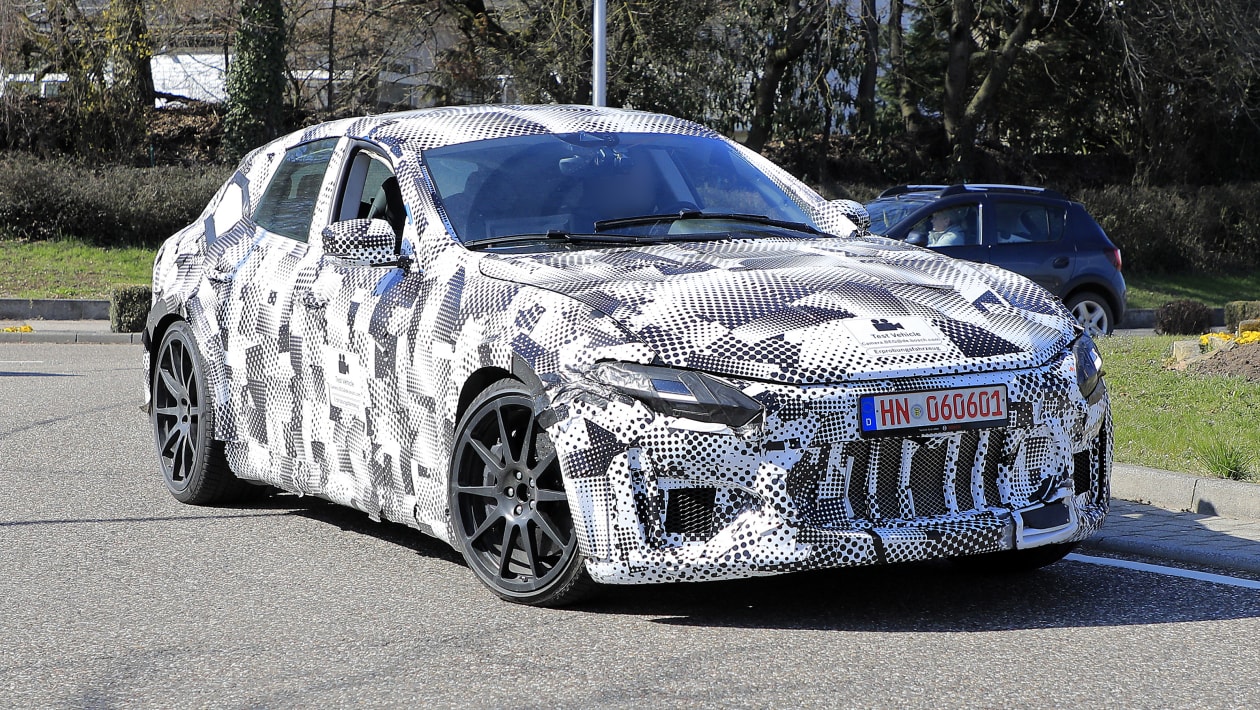 Our spy photographers have caught the new Ferrari Purosangue SUV on camera again, this time on public roads.
Due to make its debut next year as a Bentley Bentayga, Lamborghini Urus and Aston Martin DBX rival, this development car still uses a modified Maserati Levante body as its disguise, but with a few more changes over our previously spied development car.
It appears some of the production car's front end parts are now hidden under the masking – there's a slightly reshaped bumper and a pair of Ferrari Roma headlights in place of the standard Maserati units.
The Levante's wheel arches have also been flared to clear the Purosangue's wider platform and enormous 23-inch wheels, behind which sit a set of carbon-ceramic brakes. The rear bumper has been hacked back to make space for a stand-in quad-exit exhaust system.
These spies provide little indication of how the finished Purosangue will look, but our exclusive images could point in the correct direction. We expect the SUV will borrow some design elements from the Roma GT, retaining the car's long bonnet, short tail and flared haunches. However, the SUV's nose will likely use a more conventional radiator grille.
At the rear, a practical hatchback would make the SUV more usable, providing a larger boot and an easier load lip – both of which are factors not usually at the forefront of a Ferrari engineer's mind. It will also likely trump the GTC4Lusso for space and practicality.
Ferrari has already confirmed that the Purosangue will be based on the same platform as the Roma GT. Michael Leiters, the Italian brand's Chief Technology Officer explained: "In general, we will have two families of architecture – front- and rear-engine families.
"The modularity is there and, especially on the front-engined architecture, we have to foresee many more models. We have a 2+2, we have a 4+, we are thinking about Purosangue, and so on."
Leiters also mentioned that the SUV's platform is capable of accepting either V6, V8 or V12 engines, which suggests the Purosangue could be available with a plug-in hybrid powertrain, similar in design to the unit found in the SF-90 Stradale.
However, we expect the former two units are the most likely candidates for electrical assistance. Ferrari will continue to develop its 6.5-litre V12 engine independent of hybrid drive, as combining such a heavy combustion engine with an even heavier electric motor and battery pack is not favoured by the company's engineers.
Ferrari's Chief Marketing Officer, Enrico Galliera, told Auto Express: "To be honest, electrifying a V12 means creating – very probably – a heavy and big car. So electrification ideally should be coupled with smaller engines.
"The philosophy is to try to be ready with different technologies in order to use them with the necessary evolution," he added. "That's why we have a wide range of engines: V12, V8 and, in the future, the V6."
Spy videos of Purosangue mules have already started to circulate on social media, some of which feature a very distinct 12-cylinder engine note. However, as the Purosangue will share its underpinnings with the Roma GT, we expect it'll also be available with that car's turbocharged 3.9-litre V8 engine.
In the GT, the unit produces 456kW and 760Nm – which is likely to be a constant across the two models. Given the amount of extra space available in the Purosangue's body, though, Ferrari could shift away from the Roma's rear-drive layout and move instead to a four-wheel-drive system.
Luke Wilkinson