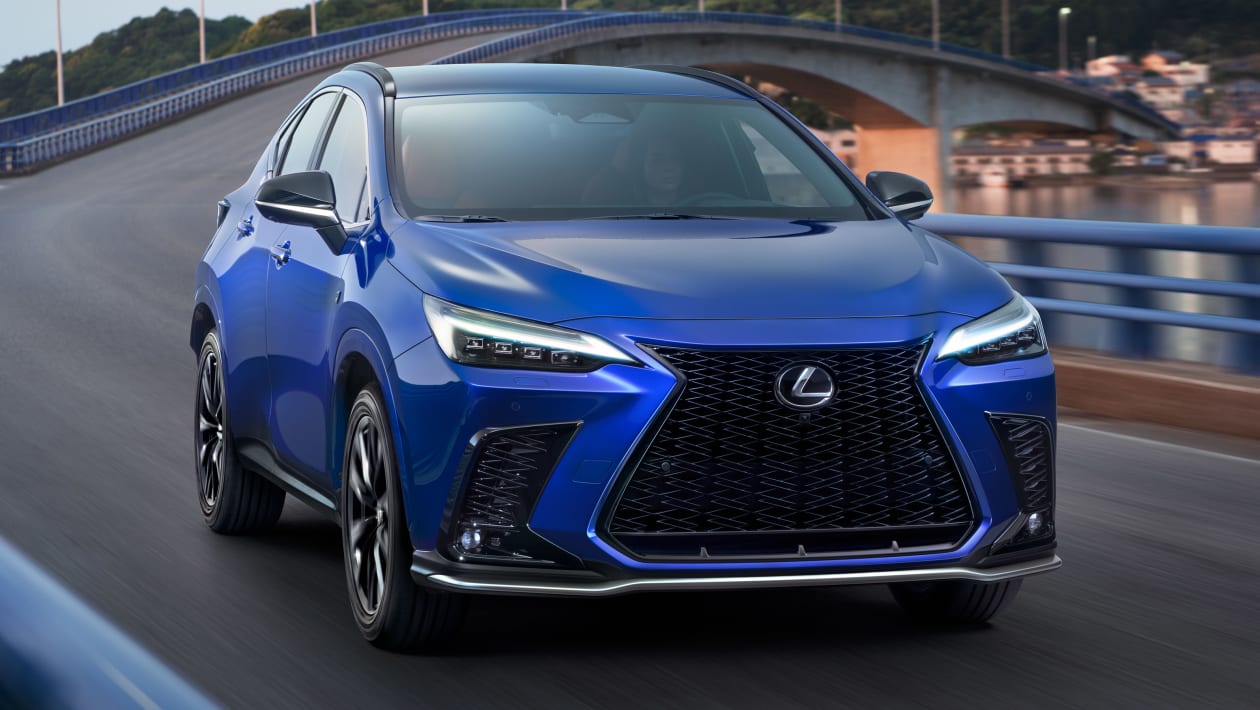 Lexus was one of the first premium brands to adopt electrified powertrains, back in 2005, but the company has resisted building a full plug-in hybrid. That changes now, with the all-new Lexus NX, which will become the Japanese brand's first PHEV when it goes on sale in the final quarter of 2021.
The NX has been a hugely significant model for Lexus since it was launched in 2014. So the all-new model's styling is an evolution of what's gone before; as head of Lexus and EV planning Spiros Fortinos says, "It is unmistakably an NX." There's Lexus's signature grille at the front, some complex side surfacing, including a noticeable 'kick' up near the C-pillar, and a neater tail-light arrangement that features a slim 'wraparound' signature across the rear bodywork. The last of these elements is expected to be adopted across more of the Lexus range in future.
The second-generation NX sits on TNGA-K, the version of Toyota's modular platform that's dedicated to larger vehicles, such as the RAV4. The new Lexus is larger all round than the car it replaces – 20mm longer, 20mm wider and five millimetres taller. TNGA's more efficient packaging means that its wheelbase is 30mm longer too – a development that should improve rear cabin space. The overall length is now 4,660mm, making this car around two centimetres shorter than an Audi Q5 but six centimetres longer than the RAV4.
The NX's underpinnings are almost entirely new; only five per cent of the entire vehicle can be traced back to its predecessor. The suspension configuration is standard TNGA-K fare, with MacPherson struts at the front and a double-wishbone layout with trailing arms at the rear.
The plug-in hybrid takes plenty of tech from its sister Toyota, mixing a 2.5-litre four-cylinder petrol engine with an electric motor for an identical total output of 225KW. In most situations the car defaults to running as what Lexus calls a 'self-charging hybrid' – in effect, the same type of set-up previously offered on the NX. But there's an 18.1kWh battery on board too, and when it's fully charged it is capable of taking the car up to 30 kilometres on electricity alone, at speeds of up to 135km/h.
No official efficiency figures have been released yet, but Lexus says it expects the NX 450h+, as the PHEV will be known, to deliver CO2 emissions of less than 40g/km.
The 'conventional' model will be called the NX 350h, although its mechanical make-up has also been overhauled. The fourth-gen hybrid system is also based on a 2.5-litre four-cylinder petrol engine, and produces 178kW (a gain of more than 20 per cent over the old car) for a 0-100km/h time of 7.7 seconds. The 350h will continue to be offered with a choice of front- or four-wheel drive, and the towing capacity of the front-wheel-drive edition has been increased to match the all-wheel-drive version, at 1,500kg.
Lexus says it expects CO2 emissions to drop by around 10 per cent compared with the outgoing model, which would give the front-drive model a figure of around 145g/km.
There's no pure-electric version of the car at launch, but when asked if Lexus might add such a variant at a later date – in a similar fashion to its approach with the smaller UX – the company's head of brand management Hiroo Togashi hinted that this could happen by replying, "The new NX will not have a BEV [pure-electric version] at the start of sales." The NX's chief engineer, Takeato Kato, confirmed that there is no technical reason why the NX could not be offered in pure-electric form.
Interestingly, Lexus is planning to introduce a single front-motor version of the plug-in NX, badged NX 400h+, in China, but right now the PHEV is seen as a 'halo' for the model, so there are no current plans to offer that slower, less expensive variant here.
The cabin features arguably a more radical approach than the exterior, with a total overhaul of Lexus's much-criticised infotainment systems at the heart of a new fascia. The standard set-up, called Lexus Link Connect, features a 9.8-inch anti-glare touchscreen display with increased processing power to deliver responses that are more than three times faster than before.
The flagship system will be Lexus Link Pro, which brings a huge 14-inch high-definition screen that's one of the largest on offer in the NX's class. Wireless Apple CarPlay and wired Android Auto are supported, and the NX features four USB ports (three of them USB-C), split between front and rear cabins.
A smartphone app, Lexus Link, will allow NX customers to remotely lock and unlock their vehicle, and control pre-conditioning of cabin temperature. On the 450h+, owners will also be able to monitor and schedule recharging.
Regardless of which system is installed, Lexus's controversial touchpad infotainment controller has been dropped, at least partially because of the interface requirements of the Apple and Android integration. Kato said the company "will not continue the touchpad at the current moment" and for now at least, all future Lexus models are expected to feature a touchscreen and voice commands only.
There's no word yet on specific trim levels and pricing, but Lexus's vice-president of value chain Pascal Ruch said customers should expect "continuity" in this area. That's likely to mean only a very modest increase on the NX 350h, delivering a starting figure of around $80,000.
John Mcllroy