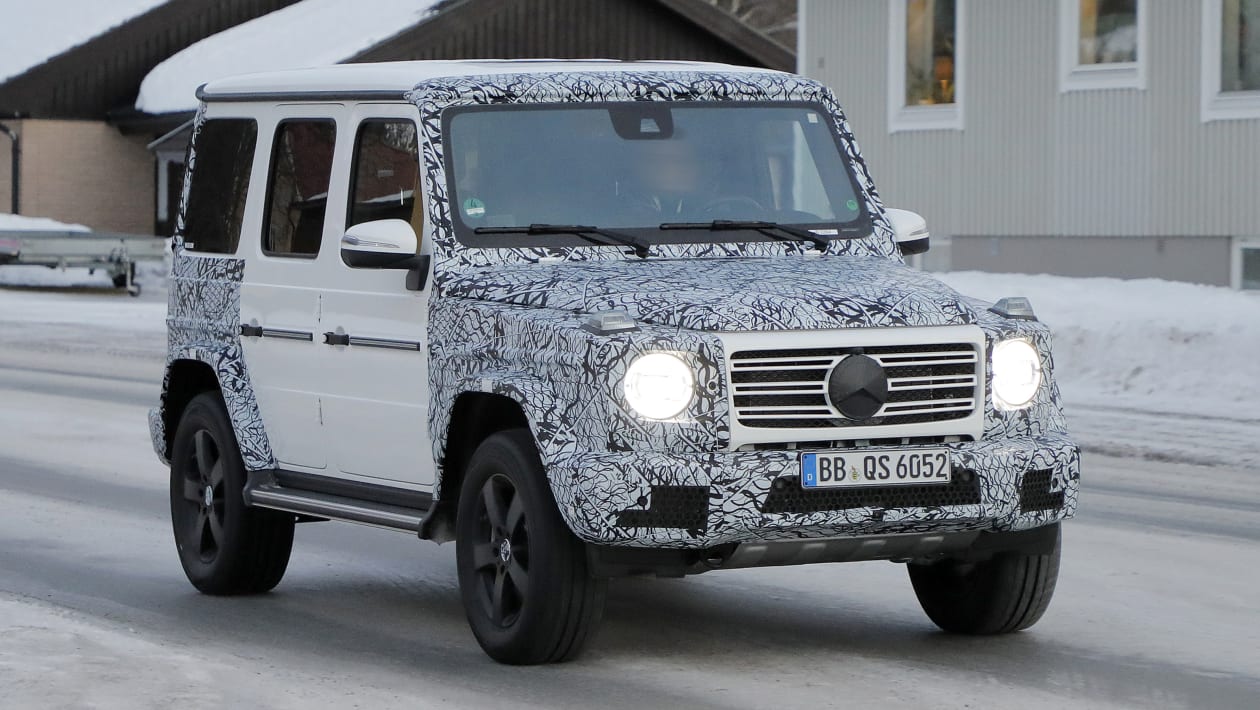 A facelifted version of the tough-going Mercedes G-Class is set to arrive in 2022, and it looks to receive a mild refresh ahead of the brand's first electric G-Class – named the EQG – that is due to arrive in 2024.
Our spy photographer shot these photos of the new facelifted G-Class during winter testing, and it looks broadly the same as the current design. The second generation of the German off-roader is expected to remain largely untouched regarding its exterior design.
The current generation Mercedes-Benz G-Class was revealed in 2018, featuring many of the characteristics and styling elements from the 1979 original on top of a brand new chassis. It carried over the same boxy shape, the off-roader characteristic door handles, external door hinges and the spare wheel mounted on the rear door, and its level of popularity has never been greater, with over 40,000 sold globally in 2021.
A slight revamp of the front and rear bumpers is expected for this mid-life facelift, and the rear LED tail lights could receive an update too. However, the main changes are expected to occur in the cabin and under the bonnet, especially when it comes to the Mercedes-AMG G 63 flagship model.
Inside, the interior will finally get the latest version of Mercedes' MBUX infotainment software, as the G-Class is the only current Mercedes without it.
It is unknown at this stage what other changes will be made but the German marque is unlikely to as far as completely redesigning the centre console to accommodate a larger touchscreen like the one found in the latest S-Class, C-Class and SL Roadster, as the G-Glass uses its own, bespoke body-on-frame architecture instead of the new MRA2 platform used by the brand's passenger cars.
Instead, the focus will be on new software, new functionality, updated switchgear including a touch-sensitive pad in place of the older rotary dial found in the current car, and an updated selection of trims and interior finishes for buyers to choose from.
Mercedes will also use this facelift as an opportunity to introduce a lifted model with even greater off-road ability. Spies have caught mules for a 4×4 Squared variant of the G-Class as far back as June 2020.
This iteration of the G-Class as we know it could be the last of its kind before the brand's electric version arrives. The EQG concept was first shown to the public at the 2021 Munich Motor Show and it boasts a refreshed design with some distinct features such as its unconventional square-shaped rear 'spare wheel mount'.
Ben Welman