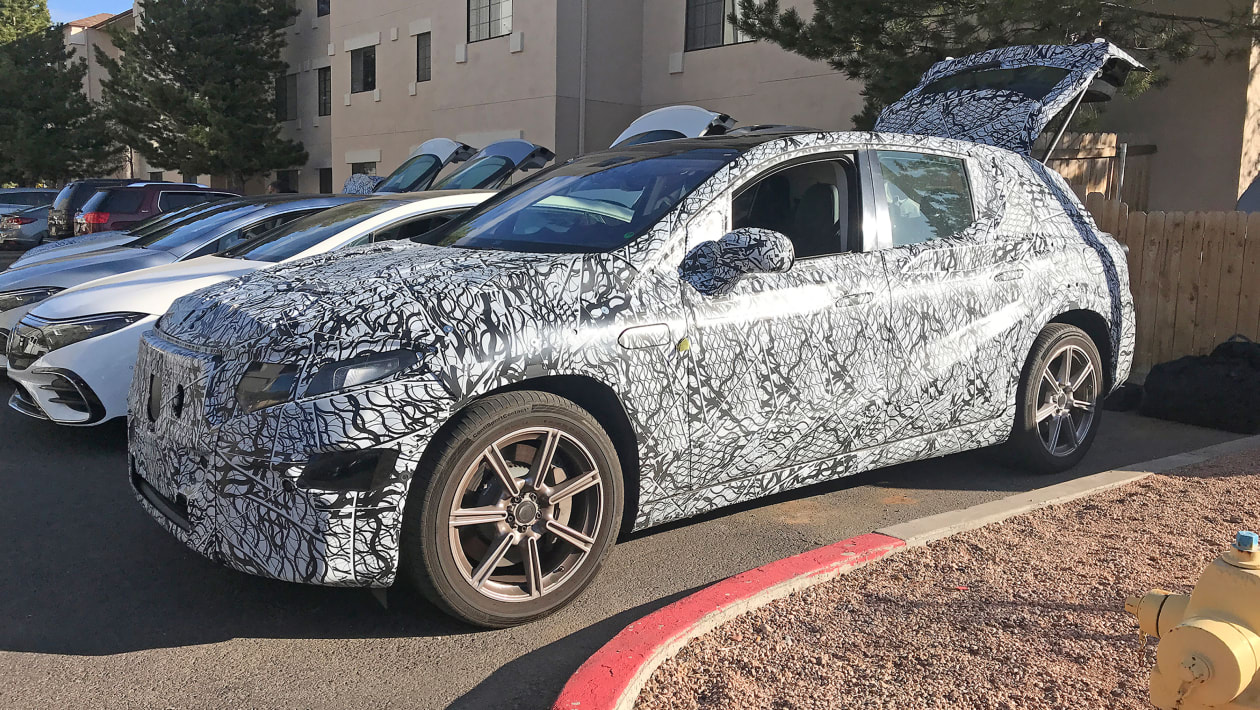 Mercedes-Benz will unveil the new EQS SUV next year – an all-electric alternative for luxury SUVs such as the BMW X7 and the Range Rover – and these are the latest spy shots.
This newly spied prototype has dropped the cladding under the camouflage wrap to give us a better look at the car's lines. Much like the Mercedes EQS sedan, the SUV will have very clean surfacing with minimal creases in the doors and bonnet – presumably in the interest of aerodynamic efficiency.
Up front, the EQS SUV will share the same blanked-off black grille and C-shaped bumper intakes as the saloon. It's headlamps also have a similar triangular shape, although they've been enlarged to suit the car's more bulbous styling.
Also like the sedan, the Mercedes EQS SUV will have cab-forward styling. As there's no engine and gearbox eating up space in the chassis, the brand's engineers have pushed the windscreen towards the front wheels to make more space inside compared with the petrol and diesel powered GLS SUV.
The EQS's rear end will look a little unusual compared with the GLS. It's stretched out due to the cab-forward design, making the car look more like an estate in profile. However, this should liberate a little more legroom for rear-seat passengers and maximise boot space
Mercedes's design chief, Gordon Wagener recently discussed the EQS and upcoming EQE SUV's design brief with Automotive Daily, saying: "They will look different in a similar way as I describe the EQS. They will be more seamless, more integrated, more aerodynamic, more futuristic looking, so it will be a new type of SUV."
Our spies also offer a decent look at the new SUV's interior, which looks set to receive the same 55.5-inch Hyperscreen infotainment system as the EQS saloon. The system comprises a 12.3-inch digital instrument cluster, a 17.7-inch central touchscreen and, hiding underneath the cladding, we expect there's a third 12.3-inch unit for the passenger.
During its recent electrification conference, Mercedes confirmed that an even more luxurious Maybach version of the EQS SUV has been scheduled for launch.
Britta Seeger, Mercedes's head of marketing and sales, said: "Next year we will present SUV versions of our EQE as well as of our EQS. All these cars will provide high range, first-class comfort and impressive dynamics.
"And I can promise you that we will maintain this momentum going forward. What applies to the Mercedes portfolio also applies to our incredibly strong sub brands – we want to go electric. So, you can look forward to a top-notch EQS SUV version of Mercedes-Maybach, for example."
The EQS SUV should also adopt Mercedes's Level 3 autonomous driving technology, which will allow the car to drive itself with limited driver supervision at speeds up to 60km/h, when in slow-moving motorway traffic.
New 2022 Mercedes EQS SUV: powertrains and platform
Mercedes is yet to confirm any technical details on the EQS SUV, but we expect it'll be based on the same EVA2 underpinnings as the saloon. As such, it should be offered with a similar range of battery packs and electric motors.
The EQS saloon is available with either a 90kWh or 107.8kWh battery pack, the larger of which offers a maximum range of 770 kilometres. We expect the SUV's less aerodynamic shape will make a dent in that figure, but a range of at least 650 kilometres could be achievable.
Mercedes has confirmed specifications for two of the EQS saloon's powertrains, called 450+ and 580 4MATIC. The first features a single electric motor mounted on the rear axle, which develops 245kW and 569Nm. The second features an electric motor on each axle which gives four-wheel drive and an output of 385kW and 855Nm.
However, Mercedes is working on an AMG-badged performance electric powertrain which develops 560kW. The system will first appear on the EQS sedan, although it could easily be transplanted into the EQS SUV if it winds up being based on the same EVA underpinnings. There's certainly a business case for a high-performance version of the EQS SUV, too, as Mercedes already makes a 450kW AMG 63 version of the GLS.
Luke Wilkinson