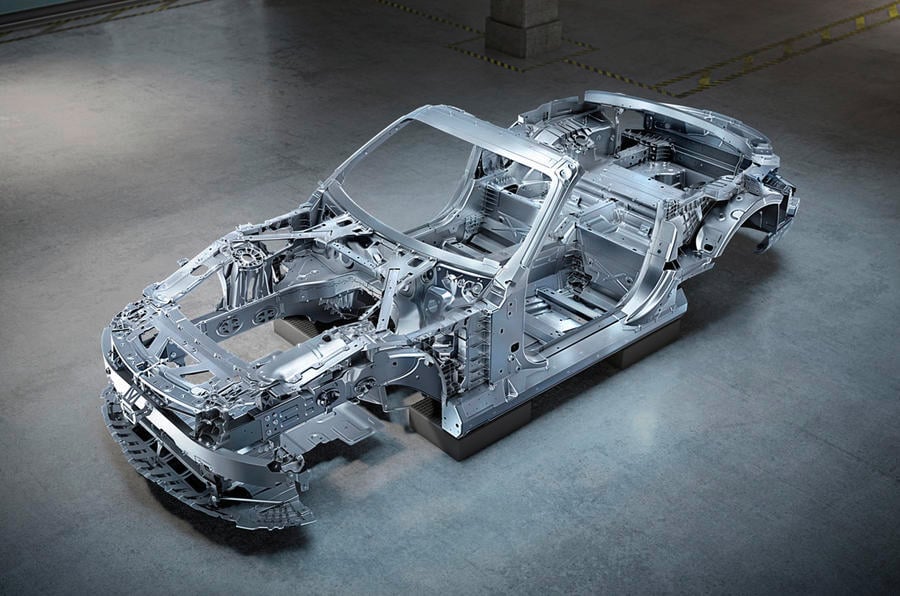 Mercedes-Benz is gearing up for the launch of the new SL roadster, and to keep us in suspense until the big day the brand has teased the car's clean-sheet architecture with these new images.
The seventh-generation Mercedes SL's chassis will use a blend of aluminium, steel, magnesium and fibre composites to help keep weight to a minimum. The skeleton you see in these images weighs just 270kg.
Mercedes is also keen to stress that there's nothing in the SL's chassis carried over from any of its existing models – not even the AMG GT Roadster. However, there are rumours that the new architecture will also be used to underpin AMG's replacement for the GT.
The new SL's body is 50 per cent more rigid than the AMG GT Roadster across its width and 40 per cent stronger over its length. Mercedes says these improvements will translate into more precise handling and better agility, as the body will deform less under heavy cornering.
To further benefit the car's road manners, Mercedes has also lowered the SL's centre of gravity. The pick-up points for the subframes and axles are as low down as possible, while the engine will be mounted low, and close to the cabin.
New 2021 Mercedes SL: engines and performance
Recently, Mercedes confirmed that the new SL will be exclusively sold under the AMG banner. It'll also be available with four-wheel drive for the first time, using the same 4MATIC+ system as the AMG E 63 S.
That means the range will likely open with a 43-badged SL powered by a 3.0-litre straight-six petrol unit. It's likely that the SL 63 will use AMG's 450kW twin-turbocharged 4.0-litre V8.
Former AMG boss Tobias Moers (now Aston Martin CEO) previously told Auto Express that AMG will look to offer a hybrid version of every model Mercedes sends its way. He also hinted that the SL, as a heavier sports car focussed on touring, could be a natural fit for a heavier electrified powertrain with an enormous power output.
Mercedes is already developing such a powertrain for the upcoming range-topping AMG S 73 e PHEV, which is set to have an output of more than 597kW. AMG will also give the SL's suspension a thorough overhaul in an effort to increase its appeal to keen drivers, although it will still act as a more comfortable alternative to the AMG GT sports car.
New 2021 Mercedes SL: design and styling
Over the past few months, we've spied numerous Mercedes SL prototypes tackling handling tests and cold weather assessments. Our most recent shots showed the brand's engineers pushing the convertible in development at the Nurburging.
The images show how Mercedes has reinvented its flagship roadster. Its design language has a strong AMG influence, sharing the same Panamericana radiator grille and square exhaust tips as the Mercedes-AMG GT. This is unsurprising, though, considering Mercedes's performance division has taken responsibility for the car's development.
Like the old car, which went out of production last year, the seventh-generation Mercedes SL will retain a 2+2 seating arrangement. The previous model's long bonnet and relatively short tail is reflected in the new car's proportions, although Mercedes has swapped its folding metal hardtop for a new fabric roof, which should shave a few kilos off its kerb weight.
Gorden Wagner, chief design officer for Daimler AG, told us: "Each SL is a mirror of its decade. If you think of the fifties and you think of the beauty ideal during that time, it was opulence. Then you move into the sixties, models got skinny, skirts got shorter, and when you look at the Pagoda this is a super-light car, and again represents the taste of the time."
Despite the car's AMG-inspired proportions, Robert Lesnik, Mercedes's director of exterior design, assured us it will still retain the original car's DNA. He said: "Gorden mentioned all those models through decades, but they keep something in common, that is a typical proportion – a front mid-engined car, with a long bonnet, small cabin, cab backward design.
"The last SL was designed for a certain trend at the time, which was a retractable hard-top. That was, at the time, state of the art, and everyone wanted to have one. It's something that we will not do with the next one," Lesnik explained.
New 2021 Mercedes SL: a set-up for the next AMG GT
In 2019, sports cars contributed to slightly more than one per cent of Mercedes's total sales worldwide, with around 28,400 cars sold. That's a rise of 48 per cent over 2018 but, by the firm's own admission, the AMG GT line-up accounts for most of that, with the compact SLC roadster now banished from the line-up and full-size SL dwindling in importance.
While the SLC now has no future, the brand's decision to build the new SL with AMG hinges on the shared use of a new lightweight, aluminium-intensive platform that will eventually underpin the next AMG GT.
Speaking to Automotive Dail before his switch to Aston Martin, former AMG boss Tobias Moers explained how the project was developing: "This is a programme that's really intense," he said. "The new SL aligned with maybe the next generation of GT.
"I think it's time to change the attitude of SL a little bit and bring back a bit of the history of this touring DNA of SL – make it sportier, and other things."
Timeline: six generations of Mercedes SL
W198 (1954-63): Iconic Gullwing lasted for three years before Roadster replaced it. Four-cylinder 190 SL was the affordable alternative.
W113 (1963-1971): 'Pagoda' model came with a removable hard-top. 230, 250 and 280 models all came with six-cylinder engines.
R107 (1971-1989): As well as a roadster, Mercedes produced the four-seat SLC coupé up until 1981. This was the first SL with a V8.
R129 (1989-2001): SL moved into the nineties with V12 power introduced for the first time. AMG versions also appear.
R230 (2001-2011): Introduced folding hard-top roof first seen on the SLK, as well as adaptive body control and other hi-tech aids.
R231 (2012-2020): Outgoing SL was a heavily updated version of the R230 that used an all-aluminium body for the first time.
Luke Wilkinson