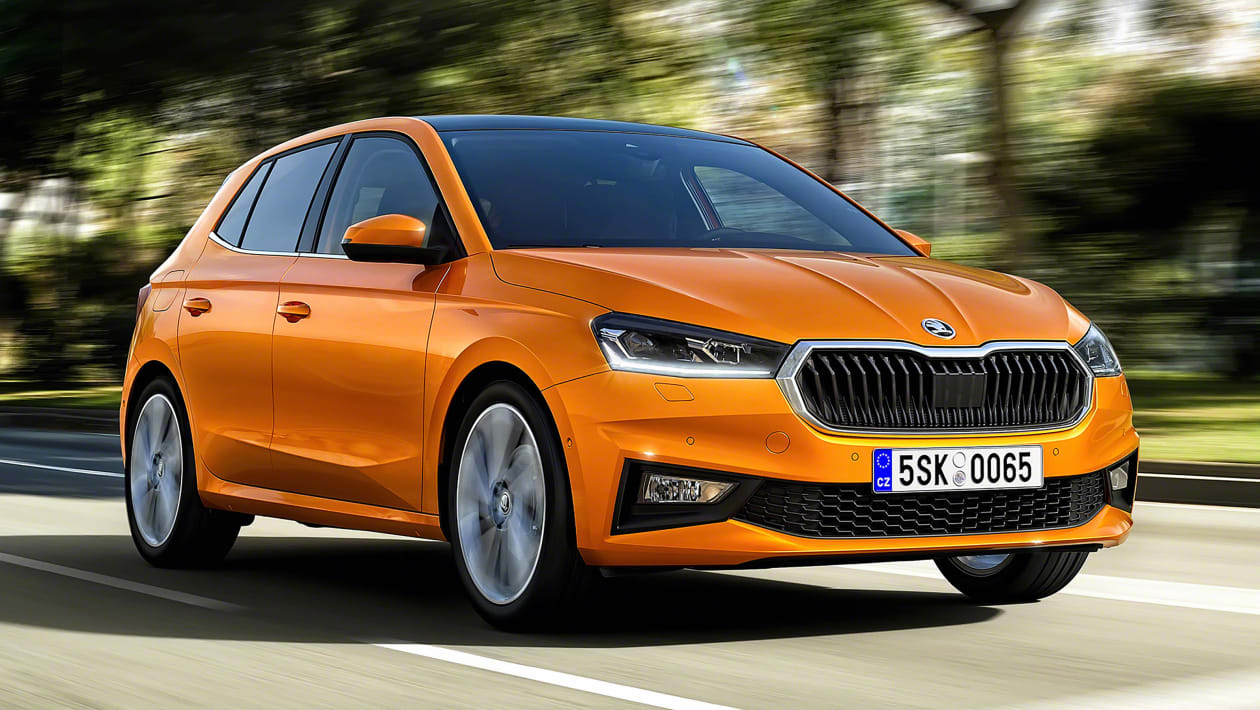 The Skoda Fabia has long been one of the more conservative but practical choices in the supermini market, with less driving flair but more space than a Ford Fiesta. But Skoda is hoping that the Fabia can appeal to heart as well as head with this all-new fourth generation, revealed ahead of its arrival in showrooms in early 2022.
The Mk4 Fabia really is all new, too, because it's the last of the Volkswagen Group superminis to finally move off the ageing PQ26 platform onto MQB A0, as used by the recently updated VW Polo. It gives Skoda's smallest model access to new powertrains, more 'big-car' features and fresh cabin technology.
The design of the new Fabia follows the lead of other recent Skodas like the Kamiq, while the overall stance is helped by an increase in length and width over the outgoing model, offsetting a slightly raised roofline. In fact the new car is a full 111mm longer, taking its bumper-to-bumper figure to 4,108mm. The front gets Skoda's latest grille and swept-back headlights, plus active cooling vents in the lower bumper that can shut to improve efficiency when cruising.
At the side, there's a neat crease at the bottom of the doors (designers claim that the triangle motif at the leading edge of this is a nod to the Czech flag) and the window line sweeps up to meet a characteristically thick C-pillar. The rear gets wider lights than before, a spoiler integrated into the top of the tailgate and Skoda's new lettering stretched across the centre of the bootlid.
Skoda is offering nine body colours, including the new Phoenix Orange shown in these official images, and the option of a contrast-colour roof on some versions. 
The car will be available with 14-inch and 15-inch steel wheels, or alloys ranging from 15 inches to 18 inches.
The profile reveals that Skoda has stretched the Fabia's wheelbase by 94mm, to 2,564mm; that's longer than the original Octavia's was back in 1996, but still around 19mm shorter than the latest Renault Clio's.
The new arrival gains a full 50 litres of boot space, taking its load bay to 380 litres – or roughly the same as many family hatchbacks from the class above. Even so, this figure is 11 litres shy of the Clio's, although the new Fabia trumps its French rival by offering 1,190 litres when the rear seats are folded down.
There are no plans to electrify MQB A0, so the new Fabia's engine line-up will be heavily based on three-cylinder petrol engines – both the normally aspirated 1.0 MPI and the turbocharged 1.0 TSI. The entry points internationally will be 1.0 MPIs with 48kW or 59kW, each equipped with a five-speed manual gearbox. There will be a choice of turbocharged TSI motors, with either 70kW and 115Nm (five-speed manual) or 81kW and 200Nm (six-speed manual or seven-speed dual-clutch auto). At the top of the range will be a 1.5 TSI Evo four-cylinder turbo petrol with 110kW and 250Nm. It's available as an auto only, and can reach 100km/h in 7.9 seconds.
The lack of even mild-hybrid tech means the cleanest motor will be the 70kW TSI, with CO2 emissions as low as 113g/km. The 110kW auto will deliver a best of 142g/km, depending on spec and equipment levels.
Inside, the dashboard gets a fabric coating on SE-spec models upwards, along with a line of body-coloured trim to help break up the grey plastic. The car will have conventional dials and a 3.5-inch information screen as standard, but 10.25-inch digital instrument panels will be available as an option.
Skoda is retaining a 6.5-inch infotainment system with DAB radio for entry-level cars, but the bulk of Fabias will come with an eight-inch Bolero touchscreen system that features Bluetooth and wireless Android and Apple smartphone integration. There will also be a 9.2-inch system that offers online-supported navigation and a WiFi hotspot, along with gesture control. The car will offer up to five USB-C ports, including one mounted in the rear-view mirror making it easy to get charge to a dash cam.
The switch to MQB A0 has allowed Skoda to bolster the Fabia's options list; features such as ambient lighting, a heated steering wheel, a phone box with induction charging, a heated windscreen and dual-zone climate control will be available on the car, depending on trim level.
There are also up to 43 of Skoda's trademark clever features. Stalwarts such as the parking ticket holder and umbrella in the driver's door return, but there's now flexible space in the boot and a storage box for rear passengers that clips into place between the centre console and back seats.
There's no word yet on Australian prices and specs for the new Fabia, which is expected to go on sale early next year. But since basic MPI models still feature in the overall line-up, we wouldn't expect a major hike in pricing.
No hybrids or vRS planned
Skoda believes that customer requirements for equipment, practicality and value for money make it impossible to electrify the all-new Fabia. Currently no VW Group models on the new generation's MQB A0 feature even mild-hybrid technology – but while Skoda's powertrain and chassis boss Martin Hrdlicka says the firm is "prepared" to use these assisted engines in the Fabia, the car's project leader Jiri Dytrych insists the focus remains elsewhere.
"As a brand, Skoda is now concentrating on this segment with the Enyaq iV, a pure-electric car, and also with the plug-in hybrid versions of the Octavia and Superb," Dytrych said. "But from a customer point of view, we've reached the best value for money because of the best fuel consumption, and this means we are not currently planning any solution for electrification on Fabia. We are focused on customer expectations, and the customers are asking us for value for money. We've had the discussion many times already, but this is still the decision."
Dytrych also confirmed that there will not be a hot vRS version of the new Fabia. The Mk2 edition of the car had a hot diesel variant, but falling demand for high-performance cars like the Fabia across Europe means it has not been possible to build a case for a faster Mk4. Dytrych said. "In this segment, to find big potential in these volumes to do a vRS version is really not so easy. We don't expect such big volume potential, so we don't find a business case for it."
There will be a Monte Carlo version of the Fabia, featuring sportier styling, since this trim level has proved popular in the Kamiq and Scala models, accounting for up to 14 per cent of sales.
However, Skoda is pushing ahead with development of a new R5 rally version of the Fabia, to support its burgeoning motorsport division. Skoda doesn't compete at the top level of the World Rally Championship but its vehicles have proven popular and successful in the tiers immediately below, often in the hands of customer teams whose purchases have made the Fabia R5 programme a lucrative one for the Czech manufacturer.
Hrdlicka said, "We are celebrating 120 years of motorsport tradition in our company this year, and of course we are planning to keep this tradition. Rallying is the segment where we see Skoda competing because it shows the advantages of our brand.
"So we are working on the new model based on the MQB A0 platform, and we will soon homologate the new generation [for competition]. I think Fabia has been very successful, not only in championships but also in terms of sales; it's good business we do with our cars."
John Mcllroy