Aston Martin looks to be readying a V12-powered, track-ready version of its Vantage coupé to rival the Porsche 911 Turbo S from 2023.
There are exciting times ahead for Aston Martin, but before we start considering what the iconic British brand will look like with mid-engined supercars and profit-friendly SUVs dominating play, it's worth remembering that the classic sports car program isn't being left behind. Under CEO Tobias Moers' aggressive new strategy for expansion he'll be leveraging Aston Martin's technical partnership with his former employer, Mercedes-AMG, in the development of a range of new variants of its existing sports car lineup, including this more aggressive take on the Vantage spotted in testing at the Nurburgring.
Moers has been open about how Aston Martin's current range of sports and GT cars need to expand to offer more than one or two derivatives, and with DB11, Vantage and DBS all due considerable midlife facelifts in the very near future those plans for expansion appear to start with a more hardcore variant of the Vantage.
This next edition to the Vantage lineup is expected to adopt Aston's twin-turbocharged V12 engine first, before further variants arrive with a tuned version of the current Vantage's V8. With the wet-sump M177 unit currently employed in the Vantage offering a relatively low-output there is plenty of room to grow, with this 'base' V8 already available with up to 470kW in AMG's flagship GT63 S 4-Door. Yet with more input from Aston Martin in AMG's engine development process, a bespoke tune might also be on the cards.
Instead, this mule is expected to be running Aston's 5.2-litre V12 engine currently found in the DB11 and DBS models. Final power figures are yet to be confirmed, but it's likely to sit below the 515kW figure of the current DBS and V12 Speedster limited edition, to maintain the hierarchy within Aston's current range.
Aston Martin as a whole will almost certainly adopt some of AMG's new plug-in hybrid elements in the future, too, but this new hardcore Vantage's compact footprint will likely keep it free of electrification, given the packaging requirements of the electrified rear axle.
Regardless of what's hidden away under the skin, significant changes to the Vantage's chassis and engine cooling capabilities will also be undertaken, with a new front bumper featuring a much larger front grille opening and cooling vents within the bonnet, cleverly obscured underneath the disguise that mimic the U-shaped openings of the previous Vantage GT12.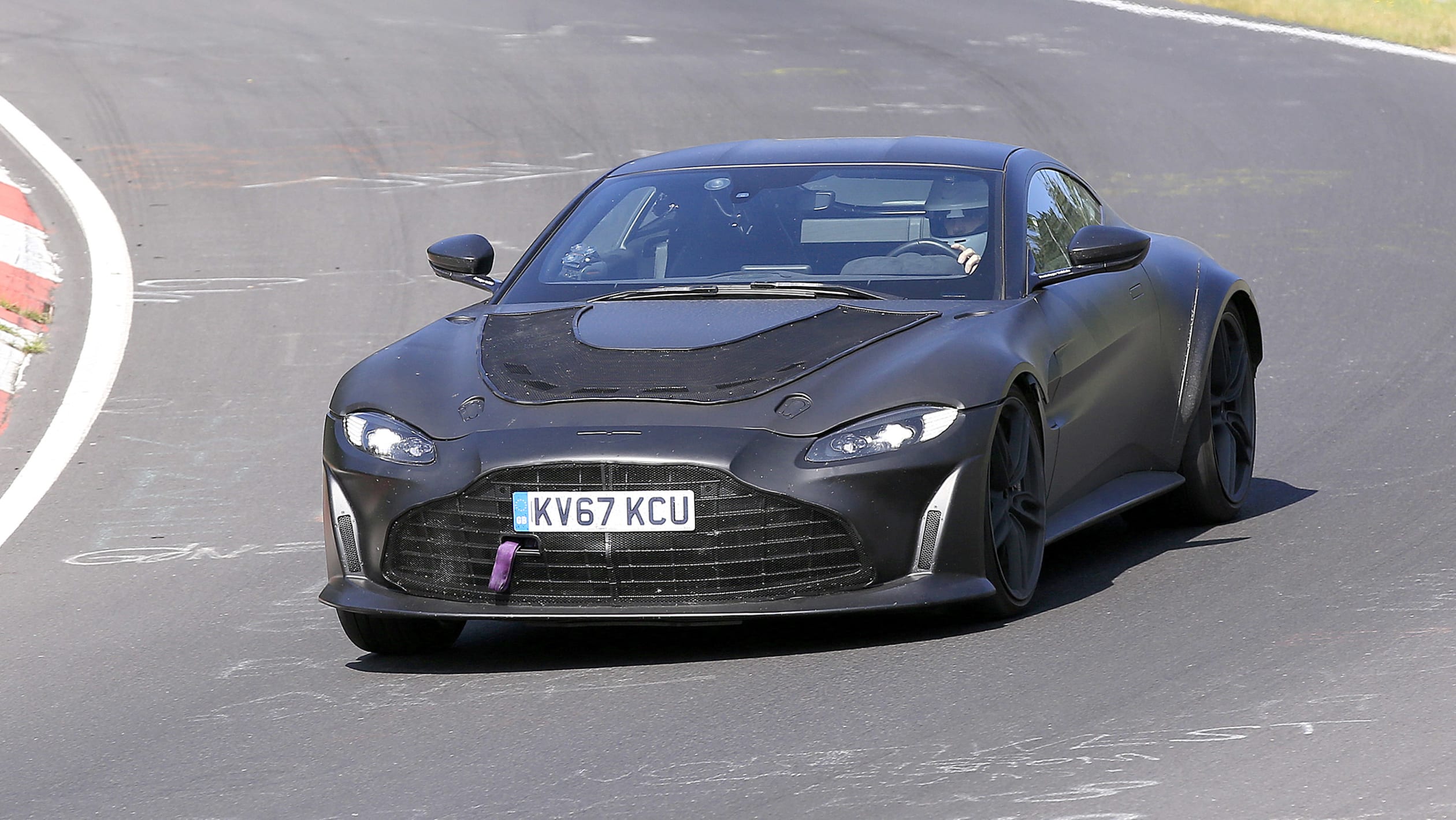 Yet while the new bonnet and front wings feature new openings, they also clearly preview a wider front track and rear axle, with haphazard bolt-on arch extensions barely containing the width increase and a 21-inch wheel design borrowed from the current DBS. This prototype also features a central exit exhaust system, which has already been seen on the V12 Speedster, and there's also a small gurney flap at the leading edge of the bootlid suggesting it'll have some form of aero appendage fitted.
So it looks like there's plenty still to come from the Vantage, and indeed Aston Martin's front-engined sports car range. With this driving force pointing forward, we look forward to seeing if Aston's true potential can be unlocked with Moers at the helm, especially with AMG's extensive box of tricks to dip into.
Jordan Katsianis