The new MINI Cooper Electric will get more personalisation options and new infotainment tech.
Mini is going back to its roots with a simple, retro-futuristic cabin arrangement for its 2024 Cooper EV – inspired by Alec Issigonis's design for the original 1959 car.
Revealed ahead of the car's official debut in the coming months, the new Mini's cockpit is described as "more Mini than ever before".
The centrepiece of the redesigned interior is an expansive central touchscreen, modelled on the trademark central speedometer that has featured in every Mini hatch since the original Austin Seven.
Hosting eye-catching new graphics and motifs, the screen will run a totally new and largely bespoke infotainment interface – and unusually it is not paired with a digital gauge cluster, with a simpler head-up display featuring instead for critical information such as speed and directions.
Elsewhere, it's a case of tradition meeting innovation, with distinctive LED lighting patterns integrated into the knitted dashboard, but a familiar panel of toggle switches retained for climate control functions.
Drive selection is now handled by a lever behind the steering wheel – itself now smaller and "sportier", but still hosting physical controls – with the new-look, low-set centre console given over to a pair of cupholders, two USB-C charging ports and a generous storage cubby.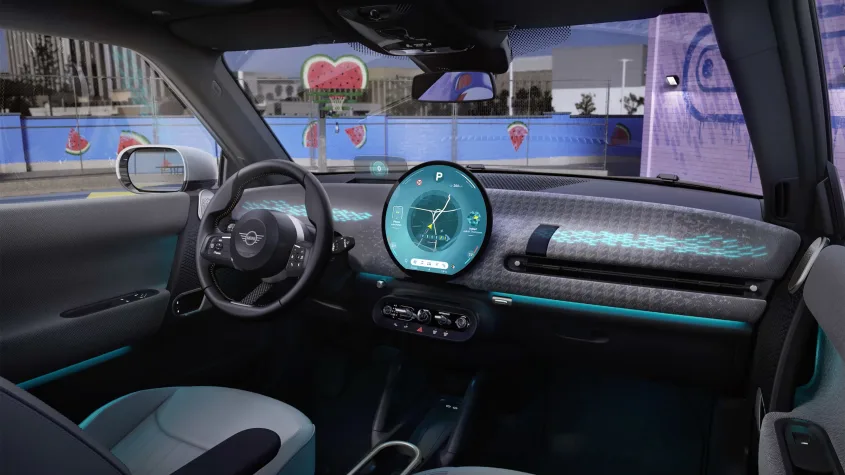 Mini says the "immersive" interior, complete with a raft of new animations, sounds and projections, makes the Mini "your digital partner in crime" and making the cabin more minimalist allows "more creative space for digital interaction and new, digitally amplified experiences".
Each model in the new-look Mini line-up – Cooper, Aceman and Countryman – will bring with it a new suite of driving soundtracks and jingles to provide what the brand calls a more "immersive" driving experience.
Design boss Oliver Heilmer said: "The new sounds are an integral part of the digital experience and individually tailored to the character of each of the new models.
"They make an emotive appeal to the passengers in the interior while shaping the acoustic perception to the outside world. They also make it sound, as well as look, unmistakably a Mini."
There will be four 'experience modes': Core, Go-kart, Timeless and Balance, each with a bespoke sound to accompany acceleration. They are completely synthesised, but said to still convey an authentic and informative link with throttle inputs.
The Core soundtrack, notably, will be audible from both inside and outside the car, with a view to alerting pedestrians of the car's approach. Unlike the Abarth 500e's artificial exhaust note, Core is described as an "inviting, energetic and inspiring" sound, reminiscent of "the sun radiating warmth".
Meanwhile, Go-kart has been tuned to convey sportiness, Timeless adds elements of celebrated combustion-engined Minis of days gone by, and Balance is "based on thesounds experienced in a forest at different times of the day and night: from the babbling of a stream to the chirping of crickets and the rustling of the wind in the treetops".
The second generation of Mini's small EV – now called the Cooper – will be built in China atop a new front-wheel-drive platform engineered by Spotlight Automotive, BMW's joint venture with Great Wall.
A petrol-engined version, evolved more obviously from the current car, will be built in Oxford, sitting on an entirely different platform but taking the same design direction.
The resemblance to today's car is evident, and indeed it still measures roughly 3800mm from bumper to bumper, but it's clear Mini's designers have worked hard to make good on a promise to bring "the iconic hatch back to its roots".
Read more: best small electric cars UK
A wider track, shorter overhangs, a longer wheelbase and larger wheels give the Fiat 500 rival a noticeably more purposeful stance, while the company's vocal commitment to minimalism (and thereby sustainability) extends to a much purer and simpler overall treatment.
Gone are the chunky black plastic wheel-arch claddings, clamshell bonnet, contrasting trim accents and chrome headlight surrounds of today's Mini Electric in favour of a fresh look majoring more on function than fashion.
Wurst recently gave Automotive Daily Network partner Autocar some insight into why the car was being reinvented with less of an overt 'premium' focus: "I think Mini in away is a very modern and contemporary product. It isn't about being big or premium. It's about a certain lifestyle that you have. You take things more easily. You're not tense about what your income status is, what kind of hierarchy level you work at. It's more a state of mind."
The electric Cooper is due on sale in 2024, followed about two months later by the petrol Cooper.
The electric Cooper will use a 40kWh battery for a claimed range of 390km, while the Cooper SE will use a 54kWh pack to push closer to 480km.
Mini has yet to confirm how quickly the electric Cooper will charge, or how the battery is arranged within the platform.
From launch, the Cooper line-up will comprise just a three-door hatchback with the choice of a petrol or an electric powertrain.
The five-door hatchback will be indirectly replaced next year by the similarly long but higher riding, electric-only Aceman. A replacement Convertible is also in the works, but this isn't expected before 2025.