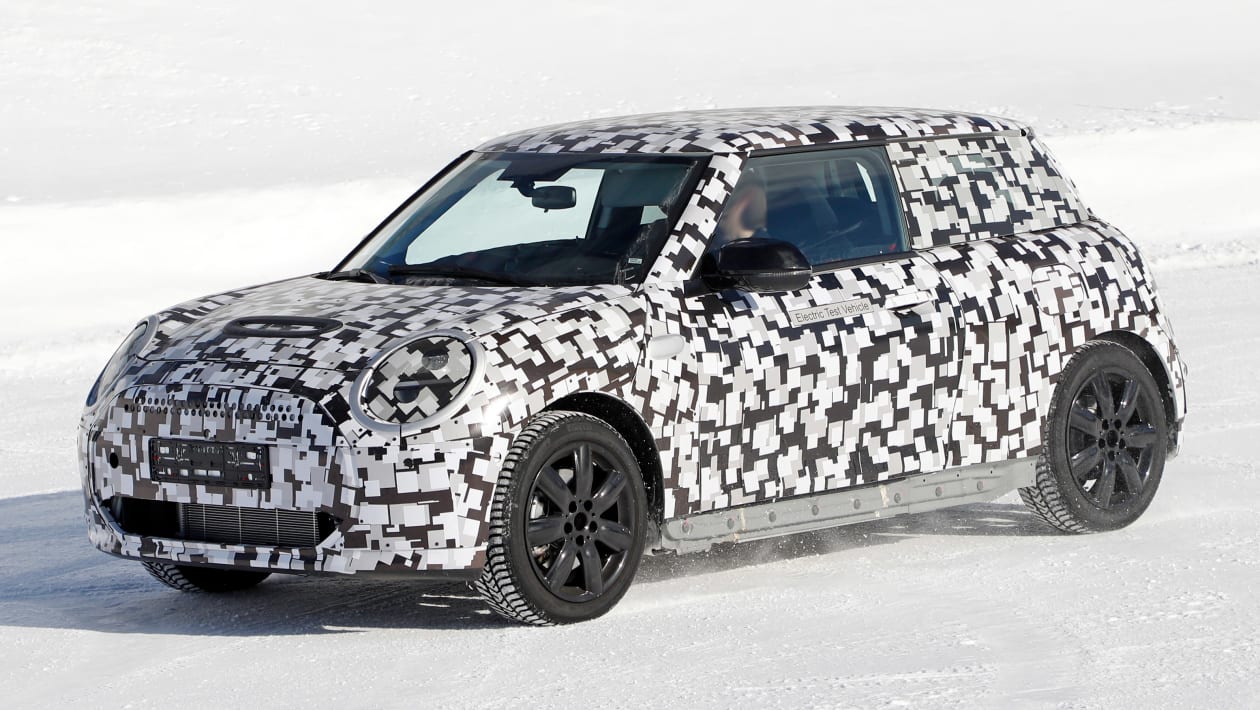 These spy shots provide our first look at the fourth-generation MINI Hatch. It'll go on sale in 2023, with smaller dimensions and a choice of either petrol or electric powertrains.
The new MINI EV will be built in China, using a new electric platform that's been jointly developed between BMW and Chinese SUV maker Great Wall. The petrol variant will have the same design and dimensions, but it'll be based on BMW Group underpinnings and be assembled at MINI's UK Oxford plant.
MINI has been public with its plans for some time now and, on two separate occasions, the firm's boss, Bernd Körber, has told Auto Express of his desire for a smaller MINI hatch. His vision will reverse a significant growth in size since the introduction of the first BMW MINI in 2001 and return the brand to its roots as a purveyor of small, functional vehicles.
Speaking exclusively to Automotive Daily last year, Körber told us: "When I say small, I mean I want to make a small three-door hatch again. Today there are some restrictions for pedestrian safety, but we would like to, in terms of design and exterior, make the three-door hatch as small as possible."
The prototype in our spy images shows the extent of MINI's downsizing. Expectations of a shift to city car-sized proportions were unrealistic, with the new car instead straddling the line between city runabouts and small hatchbacks, providing direct competition for Fiat's recently reinvented 500.
Some of the features on this development vehicle are placeholder items to hide the final design of the vehicle. The Cooper S intake on the bonnet is fake and it's likely that the large headlamp housings are a red herring, too, with the real lights still hidden under the disguise.
The tail-lights aren't the real deal, either, and this prototype is missing some trim, such as its side skirts and radiator grille.
There are some interesting design features hiding in the new MINI's panelling, though. The windscreen, for instance, is far more steeply raked than the current model's, which will provide better aerodynamics and boost the efficiency of the electric powertrain.
Also, while the new MINI will be smaller overall, its wheelbase could well be the same as its predecessor's. The front wheels appear to be the same distance ahead of the driver as the current car's, but there's a shorter overhang up front.
Our spy photographers got a glimpse inside the new MINI, too, revealing a sweeping screen sitting on top of the dashboard which incorporates the instruments and infotainment system into one unit.
MINI has also hinted that a high performance John Cooper Works (JCW) version of the new car will remain on the cards, even if it goes fully electric. Körber suggested: "We have to go and define JCW in an electrified context and era. But that's possible, there's no problem, no contradiction."
MINI's pure-electric future
MINI has already taken the first steps to becoming an all-electric brand. The company's plan is "80 per cent" complete, according to the company's chief, Bernd Körber, with this new hatchback playing a key role in the brand's rethink.
Following the three-door hatch will be a completely new model from MINI: an electric-only crossover, which is due in 2024. The newcomer is tasked with capitalising on growing consumer appetite for fully electric crossovers, as well as helping MINI gain a stronger foothold in China.
As for the Countryman, Körber explained that MINI's current largest model will get even bigger for its next generation. "I would say in terms of dimensions, we talk half a segment increase for the Countryman, so in the direction of [BMW] X1 size but with the MINI proportions," he explained.
It'll be offered with a choice of petrol, diesel or pure-electric powertrains but, unlike the hatch and crossover, it'll be based on a single BMW Group-sourced platform.
Luke Wilkinson