Audi's long-awaited riposte to the Tesla Model S, the E-tron GT, has been launched and the first examples are due to arrive in showrooms in the spring.
Described by Audi as "the gran turismo of the future", offering an "emotional and fascinating" take on electrification, the E-tron GT has been revealed and will go on sale from day one in both 'standard' and hot RS forms. The launch variants will start from €99,800 ($158,000) in Germany, although Australian pricing has yet to be confirmed.
Exterior design and dimensions
Audi has attempted to retain as much as possible from the first E-tron GT concept of 2018. To that end, the four-door electric flagship has a nearly identical stance and proportions, with a heavily sloping roofline, wide track, broad shoulder line and low bonnet.
At 4.99m long, 1.96m wide and only 1.41m tall, the E-tron GT is just under 3cm longer and taller than the Porsche Taycan, with which it shares its architecture, and virtually identical in width. The roof is 17mm lower than that of an A7 Sportback – a key target for designers to ensure a more athletic look. Despite the presence of a large underfloor battery, rear passengers are said to have "generous head room" thanks to a recess in the battery pack that allows them to slide their feet low into what's dubbed a "foot garage".
A new interpretation of Audi's single-frame grille makes its debut on the E-tron GT. A honeycomb-pattern grille is painted in the body colour – an Audi first – with a black 'mask' surround, although it can also be specified in grey or black with matching side trims and rear diffuser, depending on colour choice. Rather than cooling, the grille's main purpose is to hide a number of sensors used by the car's assist systems.
Great focus has also been put on the aerodynamics of the E-tron GT, which has a claimed 0.24Cd. Active aerodynamic elements include controllable cooling inlets in the grille and a rear spoiler that extends to one of two positions, depending on the driving scenario.
Further details include LED headlights in three guises: standard with dynamic indicators; matrix LED headlights; and matrix LEDs in combination with the Audi Laser Lights system. All lights offer front and rear LED animations for the 'coming and leaving home' function. Wheel sizes range from 19-inch to 21-inch.
Chassis, drivetrain and performance
The standard E-tron GT quattro features a 175kW electric motor powering the front axle and a 320kW motor at the rear axle. With both motors retaining reserves "for extreme driving situations", the total system output is 320kW and 630Nm. However, a boost mode takes peak power to 390kW for 2.5sec when using launch control. The top speed is 244km/h, with 0-100km/h achievable in 4.1sec.
As with the Taycan, the E-tron GT uses a two-speed transmission for the rear motor, with a short-ratio first gear for "stunning acceleration" and a long-ratio second gear for greater efficiency and high-speed performance. If launch control is not used, the E-tron GT starts off in the second gear.
The battery, mounted low in the car and allowing a weight distribution "very close" to 50:50, provides 85kWh (93kWh total) of usable energy. It's an 800V power system, enabling faster charging and reducing wiring complexity. The battery's inner structure and frame are made of aluminium and contribute "significantly to the rigidity and crash safety of the body", Audi claims.
Standard AC charging is 11kW, enough for a full charge "overnight". A 22kW charger will be offered later in the year. DC charging allows for a peak rate of 270kW – sufficient for 62 miles of range to be added in just over five minutes. The official WLTP range has yet to be set, but Audi's predicted figure is 488 kilometres for the base GT. Customers can use 200,000 public charge points in 26 countries via Audi's E-tron Charging Service, using Ionity chargers.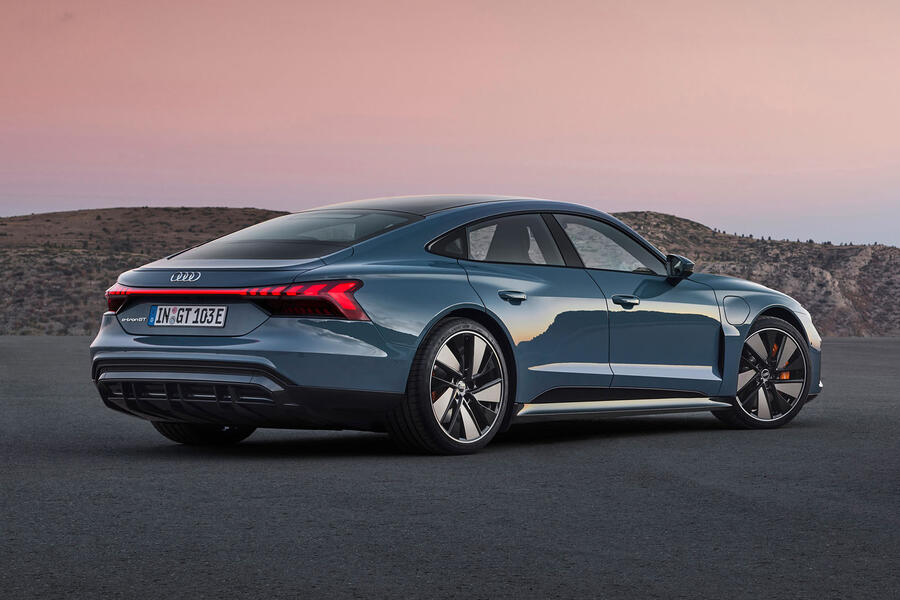 The suspension, with double wishbones and made almost entirely from aluminium, can be specified optionally with an adaptive three-chamber air spring system. The drive select functions allow multiple parameters of control and the body can rise or fall by up to 22mm, depending on mode.
The E-tron GT's dual-motor system enables four-wheel drive but the Efficiency driving mode prioritises drive through the front wheels. Drive can be sent to the rear axle five times faster than with combustion engine quattro drivetrains, Audi claims, and the torque distribution is fully variable.
A fixed rear axle diff lock comes as standard to improve traction and stability, but a fully variable multi-plate diff lock is optional. Four-wheel steering can also be specified.
Regenerative braking is capable of up to 0.3g of decelerative force. Standard models feature steel discs, but a carbon-ceramic system with 420mm front discs is optional. Low-rolling-resistance tyres can be swapped for performance-focused items on models with 21in wheels.
The final part of the E-tron GT's dynamic make-up is the optional E-tron sport sound. Engineers have composed a synthetic 'engine note' for both inside and outside the car, projected by four speakers. The pitch rises and falls depending on speed and acceleration and can be customised via driving modes.
Interior and technology
The E-tron GT's dashboard evolves the design used in Audi's existing large saloons with a more wraparound, driver-focused approach. The central stack is tilted towards the driver, who sits in a "sporty low position", while a wide central tunnel houses a space-saving gear selector switch with haptic feedback.
The dashboard itself is a technical, angular design intended to make the digital instruments appear freestanding, with a piano black bezel surrounding the central touchscreen.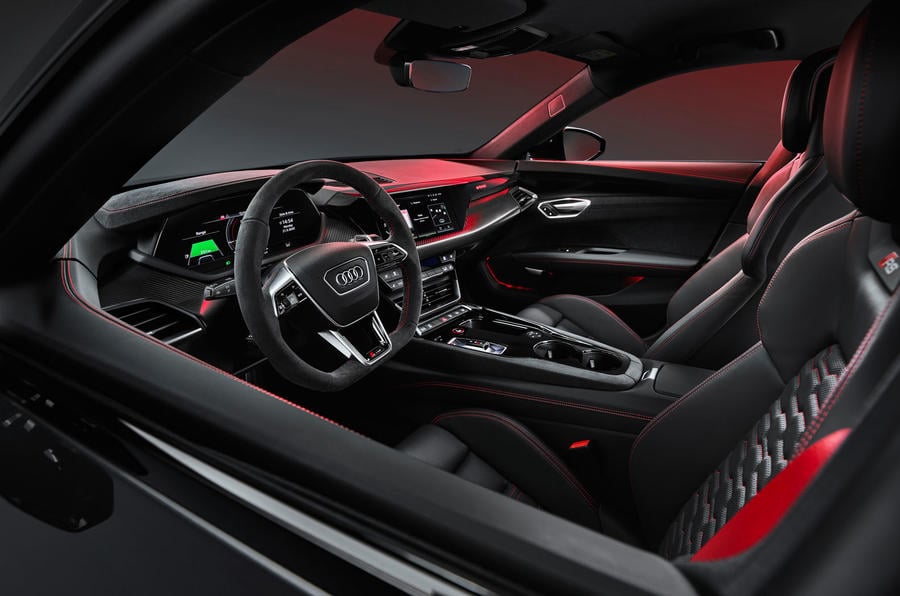 Rather than incorporating the dual-screen MMI touch system from cars such as the A6, A7 and A8, Audi has elected to return to a more traditional, physical button stack for the standard three-zone climate control.
The instrument display – dubbed Audi Virtual Cockpit Plus – is 12.3-inch and comes with three screen modes to vary the information displayed: classic, sport and E-tron. An optional, customisable head-up display is also available.
The 10.1in touchscreen offers a typically wide variety of connectivity features similar to those found on the E-tron SUV. All variants come with the MMI Navigation Plus media centre, with LTE connection for features such as real-time route calculation via Here maps and car-to-x functionality. The E-tron route planner is also able to incorporate charging stops into a journey in the most efficient way and can pre-cool or heat the battery prior to a planned charging stop.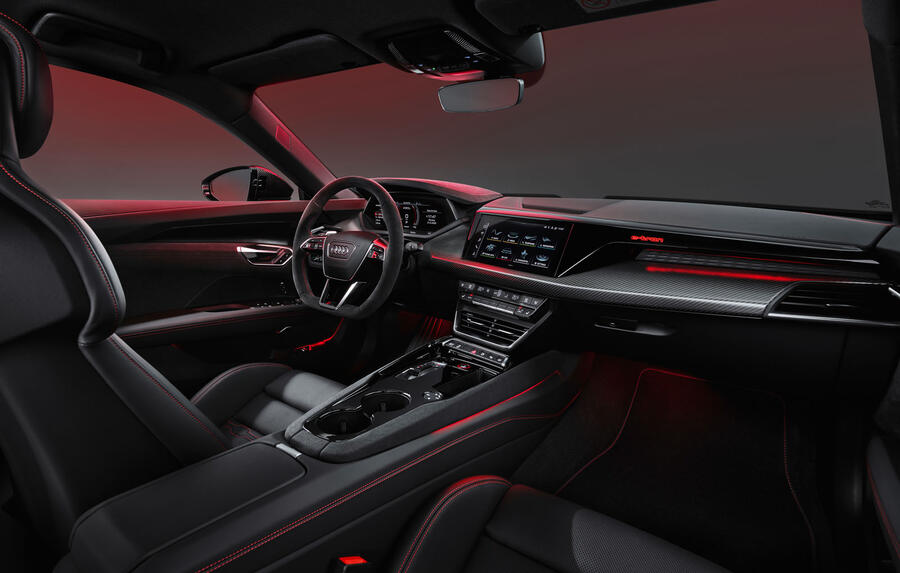 Options include a 16-speaker, 710W Bang & Olufsen sound system. The usual wide variety of driver assistance and safety systems offered on high-end Audis also feature.
As is typical with EVs, the new car's interior can be preheated or cooled via Audi's smartphone app. An optional "deluxe thermal conditioning system" even allows you to operate the heated mirrors and rear window using the app.
Audi has given a nod to sustainability with the material choices inside. An optional leather-free design package mixes man-made 'leather' with either Alcantara-like microfibre cloth or wool-like Kaskade upholstery. Econyl, a 100% recycled material that uses nylon fibres from fabric waste or even old fishing nets, is employed for the floor carpets and mats. Dashboard options include grey or silver metal-effect trim, open-pore walnut wood and matt carbon.
Two choices for the seats are offered in the standard E-tron GT: base real or artificial leather items with eight-way electric adjustment; and Sport Seats Plus, which provides 18-way adjustment, pneumatically adjustable bolsters and heating, cooling and massaging features.
The four-door is Audi's first German-built EV, produced in the same facility and on the same flexible line as the R8 sports car. The Böllinger Höfe facility claims to have a net-zero carbon footprint.
RS E-tron GT unleashes 475kW on overboost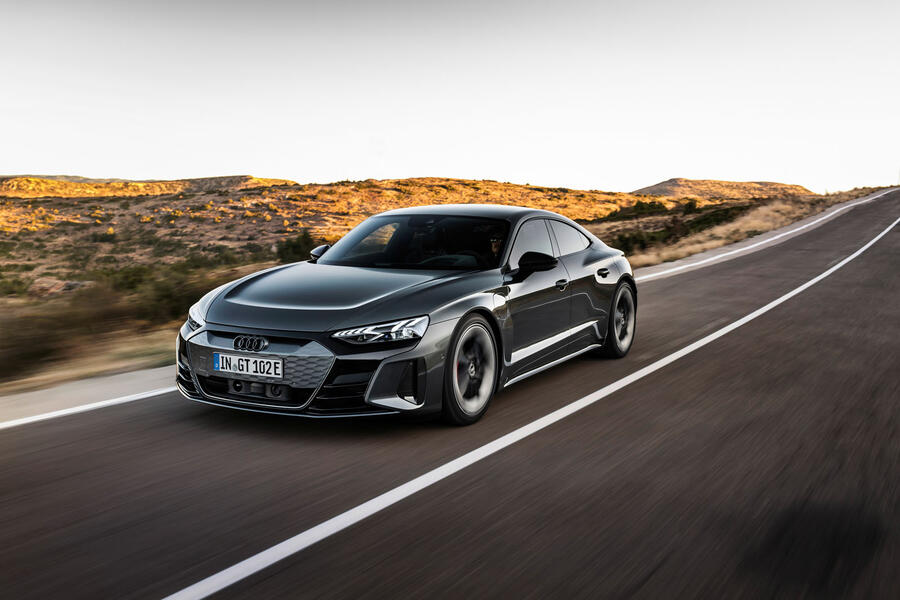 Priced from €138,200 (AUD$217,000) in Germany, the performance-focused RS E-tron GT is described as the "dynamic spearhead of electric mobility at Audi" and offers key upgrades over the standard model.
Unlike with Audi's combustion-engined RS models, external changes aren't extensive. Besides RS-specific badging, Audi lists only standard-fit matrix LED headlights, "more dynamic" light animations and wheel options of 20-inch or 21-inch.
Instead, the main focus has been on upgrading performance. Total system output rises to 440kW thanks to a more powerful rear electric motor and torque is up to 830Nm. In boost mode, power rises to 475kW, and the RS E-tron GT is capable of 0-100km/h in 3.3sec, with a top speed of 250km/h. The estimated range reduces slightly over the standard car, to 472 kilometres.
The normally optional air suspension is standard on the RS, enabling a variable ride height. Also fitted as standard is the multi-plate rear axle differential and the steel brake discs are replaced by cast iron discs with a tungsten carbide coating, mated to 10-piston fixed front calipers.