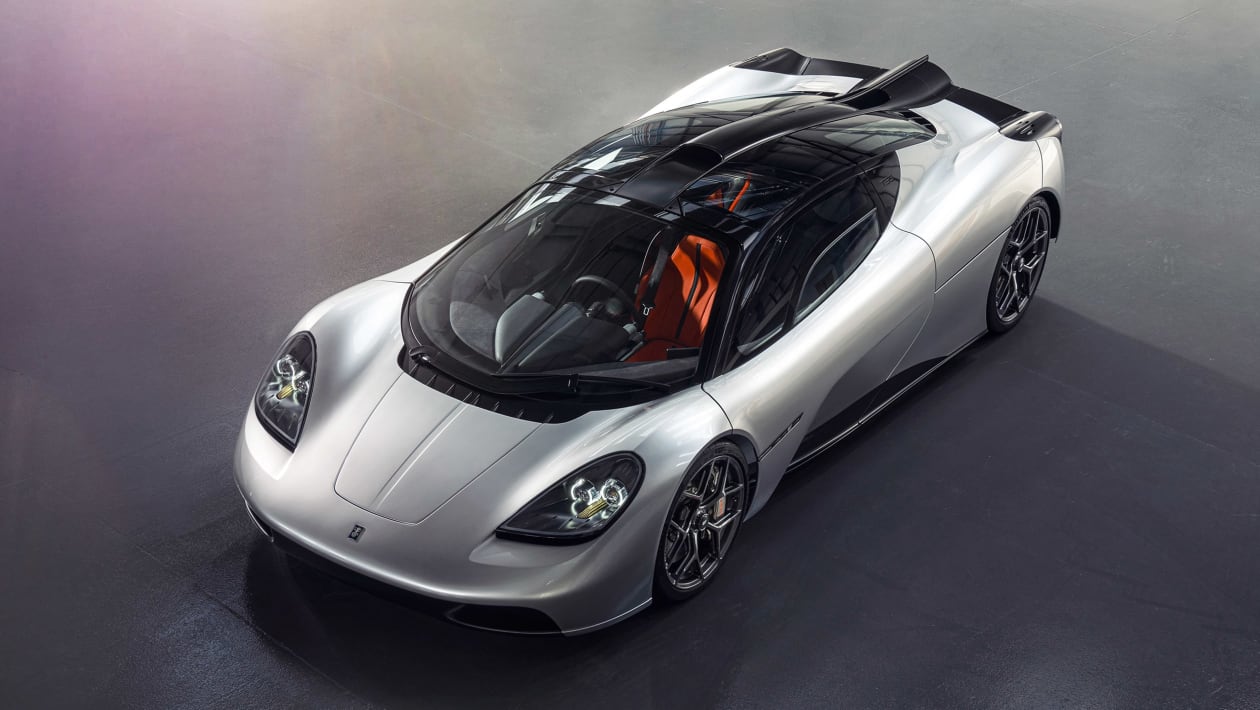 Gordon Murray has already started work on the follow-up to his spectacular T.50 supercar – and he has revealed to Auto Express that the next model will be more affordable while still using the T.50's high-revving, normally aspirated V12 engine.
The T.50 and its T.50s track version are both now sold out, despite before-tax price tags of $4.15 million and $5.6 million respectively. The first examples of the road model, which is limited to 100 units, should arrive in customers' hands in 2022.
But as his Gordon Murray Group announced a £300 million (AUD$542 million) investment plan that will allow it to develop its own pure-electric vehicle architecture, the former F1 designer revealed that his team is already formulating the car that will follow the two Gordon Murray Automotive fan-assisted supercars.
Referred to as Project Two, the car will have a more conventional two-seat layout instead of the T.50's three-seat configuration – and this means that its construction will need to be designed from scratch. "The T.50's powertrain feeds back into Project Two," Murray said. "But it is a brand new platform; we're starting again on that. The T.50 was a unique monocoque because of the fan and the central driving position, and it's very difficult to take that and adapt it to a two-seater.
"We've looked very long and hard at future regulations, the emissions targets, and we can get one more normally aspirated car – not just a non-hybrid, but a non-turbocharged. With the money that it cost us to build the V12 and the transmission for scratch, we've got to try to get a little bit back."
Murray also suggested that Project Two will be cheaper than T.50 – although that would still allow scope for it to cost well over a million pounds, not least because GMA is committed to making no more than 100 examples of any model or variant. "If you're doing only a hundred cars, they're not going to be £150,000 (AUD$270,000)" he told us. "But I promise that T.50 will be our halo car. We're not going to be at the same level [of cost] with Project Two."
The newly created Gordon Murray Electronics has a brief to develop partnerships and EV architectures – and this, Murray believes, will ultimately prove useful to his road-car division. "It's perfect timing, really," he said. "We can only do one more vehicle without hybridisation. Project Two will be our last non-hybrid. So we have to start working on our own hybrid systems and eventually our own EV systems."
There's no word yet on timing. But assuming GMA meets its goal of building all 100 T.50 road cars in 2022, and the 25 T.50s track specials in early 2023, Project Two could arrive later that year or in early 2024.
John Mcllroy