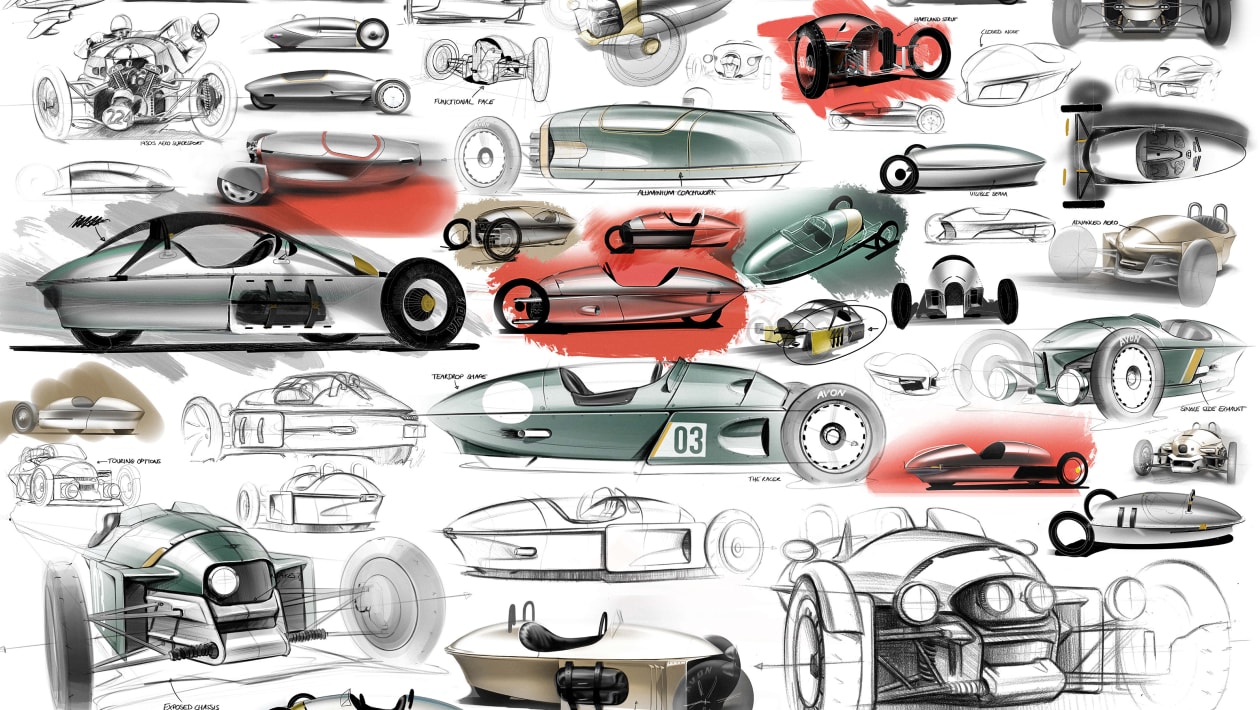 Morgan is preparing for the launch of its next-generation 3-Wheeler. The quirky cult car will make its debut next year, sporting a fresh design language that will carry the torch for the company's future models.
Morgan says none of these sketches preview the new 3-Wheeler's design alone. Instead, elements of each drawing will be blended into the final car, and we can already spot some of the features destined for production by comparing these sketches with the firm's recently released images of a camouflaged pre-production 3-Wheeler prototype.
The sketch at the bottom right of the collection has some new aero screens, which also feature on the prototype car in our gallery. The wheels on the green car in the middle of Morgan's design drawing also look similar to those on the test car.
The prototype also shares some key design details with the previous car, such as the skinny front tyres, large front mudguards and round headlamps. However, the front end will change significantly to suit the new engine, and the side-exit exhausts appear to have been omitted.
Morgan's boss, Steve Morris, said: "Morgan was founded on the production of three- wheeled cars, and when the 3-Wheeler was re-introduced in 2011 it became a firm pillar of the company's product range. We recognise the importance of evolving this bloodline and continuing to provide our growing community of enthusiasts with new, exciting and unforgettable motoring experiences.
"Creating the all-new three-wheeled model has been a ground-up project, throughout which safety, durability, and character have been at the forefront of our focus. It has been an absolute joy seeing the new vehicle take shape, and we cannot wait to present it to the world next year, continuing the legacy of the model."
Production of the first-generation 3-Wheeler ended last year, bowing out with the limited edition P101. However, Morgan was quick to confirm that a replacement was on the way, although the company has hinted that it won't look or sound like its predecessor.
The old car's motorcycle-derived 61kW 2.0-litre, twin-cylinder petrol engine won't survive the generation change, partly because it no longer complies with emissions regulations. In its place, there'll be a naturally aspirated 1.5-litre three-cylinder petrol engine from Ford.
Morgan hasn't yet announced how much power the new engine will produce, but the firm has said the car will benefit from plenty of "engineering enhancements," so we're expecting it'll beat the old car's 0–100km/h time of six seconds. The new 3-Wheeler should also stick with the old car's rear-wheel-drive layout.
Luke Wilkinson