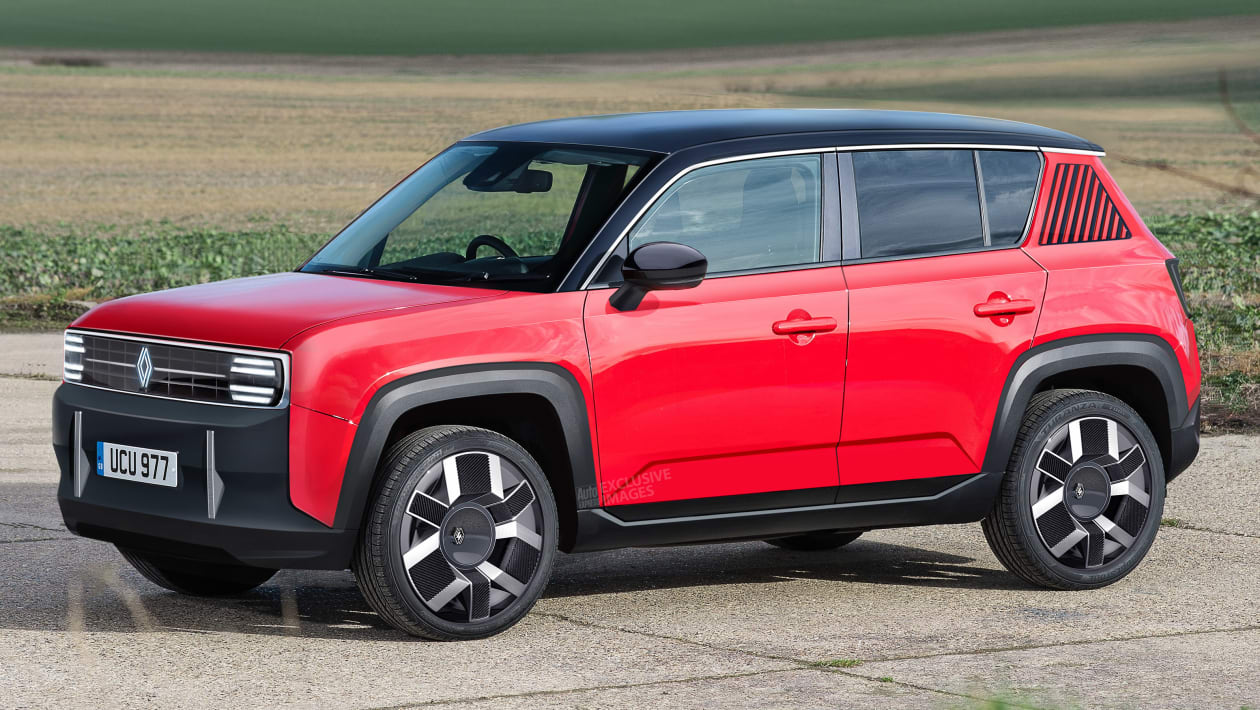 Renault has confirmed plans for a new Renault 4 model to join the reinvented Renault 5 in its retro-themed electric car range.
As revealed recently by Automotive Daily, the firm has been working on a concept based on the 4, the iconic small family car that sold more than eight million units during an extraordinary production run between 1961 and 1992.
Now, as part of an EV-focused announcement, Renault said it "will revive another magic, iconic star currently named 4ever and signifying the intention to make a timeless classic". If the new model follows the approach of its predecessor, it should be slightly more practicality-focused than the 5, with a larger boot, a more pared-back cabin and, potentially, scope for a commercial van version.
The new Renault 4 is part of an aggressive push towards electrification; Renault is already gearing up to launch its all-new, pure-electric Megane next year, and says it will introduce a total of 10 new EVs by 2025. Seven of them will be Renaults; the other three are likely to be Alpines as the sports car brand moves to full electrification from 2024.
Renault believes it will have the greenest sales mix in Europe by the middle of this decade, when over 65 per cent of its line-up will be fully electric or electrified. And it says up to 90 per cent of its models will be pure-electric by 2030.
Pictures of a proposed Renault 4 design have been uncovered on a trademarking website, as well as a new version of the Renault logo featuring the number 4.
Our exclusive images show how the trademarked car could look in the metal. Renault chief executive officer Luca De Meo recently confirmed to Automotive Daily that there would be more retro-inspired models in the future line-up after the well received launch of the Renault 5 Prototype. "There have been so many products that made history, so it would be a pity not to reconnect with that long history and tradition.
"We're not here to only look in the rear-view mirror, we're here to reinvent things and I think the Renault 5 is a good example," he told us. "A lot of people say to me, 'why are you doing retro design?' This is not retro design, it's just reinvention of a concept. In our library we have a lot of things that we can reinvent."
Auto Express understands that the Renault 4 concept, expected to be unveiled towards the end of this year to coincide with the 60th anniversary of the original car's launch in 1961, has not yet been completed. As a result, the car in the trademarked images is likely to be one of a number of options put forward by Renault's design team, led by Gilles Vidal.
The new 4 will, however, follow the boxy, upright look of the original car, which was Renault's answer to the Citroen 2CV and a pre-runner to today's crop of small SUVs, such as Renault's own Captur. The newcomer will aim to follow the original 4's mantra of offering affordable, spacious transport for families, but with a dose of style, too.
As with the new Renault 5, we'd expect to see a number of retro design touches on the R4, such as the headlights and grille sitting within a single frame, and design features on the front bumper that mimic the overriders seen on the original car's steel bumpers.
When the original R5 was launched, it borrowed mechanicals from the R4, but the roles are expected to be reversed this time around. Should the R5 use an updated version of Renault-Nissan Alliance's CMF-B platform that underpins the Renault Zoe, or a new platform borrowing from CMF-B called CMF-BEV, the same technology is expected to be used for the R4 to keep costs down.
We're some way off specifications for either model being finalised, but the Zoe has a 50kWh battery and a maximum range of 400 kilometres, with 50kW fast charging available. Renault has hinted of a maximum range of 400 kilometres for cars using the forthcoming CMF-BEV platform, which has been designed specifically for cheap, small electric cars and comes with a standardised 100kW electric motor.
Traditionally the R4 was priced slightly below the R5, but with the cost of the technology and Renault hinting at a circa sub $40,000 price for the R5, we'd expect Renault to aim for similar prices for its retro twins. If the concept is well received, De Meo could give the project the green light to go on sale shortly after the new 5's debut, meaning first deliveries in late 2023 or early 2024.
James Brodie