The Arese is a popular V8 Italian supercar clothed in a bespoke suit created by famous coachbuilder Touring Superleggera.
Pulling a handle marked 'eject' is generally not a good idea, unless you happen to be a jet fighter pilot faced with a sudden need to depart your aircraft's cockpit. In the case of the Touring Superleggera Arese RH95, pulling the handle so marked is likely to bring on a tinge of regret rather than an otherwise doomed pilot's gushing relief, because the opening of this car's door signals journey's end. And journeying in this car is the thrill and delight you'd have every right to hope for from a car offering 493kW, a beautifully wrought carbonfibre skin, gullwing doors and the mild sculptural drama of a so-called dorsal scoop.
It's a novel pleasure to find a slice of wit in the labelling of a car's controls, although you can be assured that the Arese RH95 is a very serious machine indeed. You can immediately see that in the quality of its finish. Its carbonfibre bodywork is beautifully moulded and glass smooth not just outside but inside too, the matt black inner surfacing of the spectacular rear-hinged clamshell presented to a standard that would satisfy any mainstream high-end manufacturer.
Inch your way across this car's intriguing details and you'll discover that the silver waistband traversing the wing and door is fashioned from a solid billet of aluminium. Every cut line, compound curve, indentation, light and model identifier is perfectly formed, the sizeable carbonfibre opening panels aligning just so.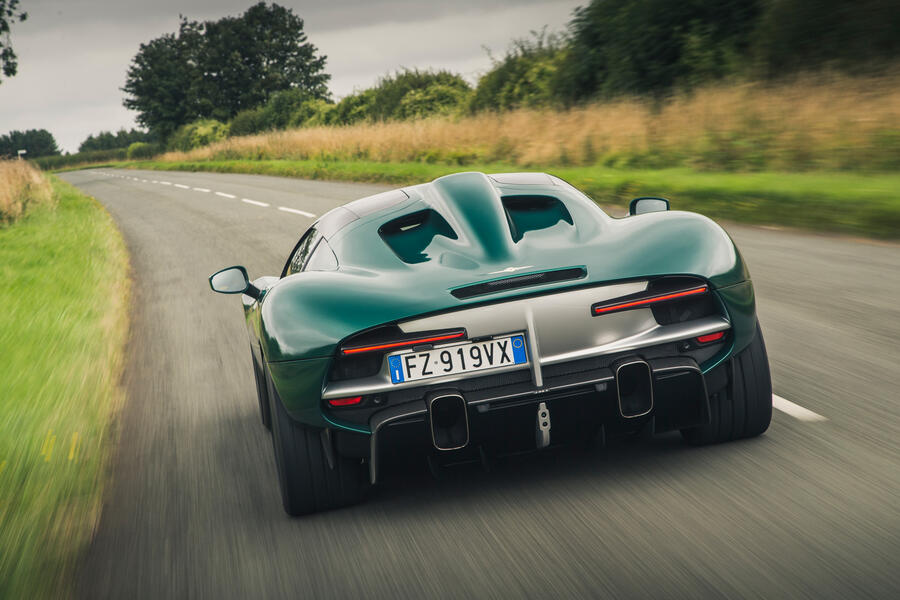 The interior is no less convincing. This particular Arese cabin, specified by its owner, is gloriously furnished in beige and brown Alcantara, subtly highlighted with slender flashes of yellow and long threads of highly accurate stitching. The pattern needled into the seat facings, for example, elegantly repeats the shape of the Touring badge. This colour scheme might sound a little dubious until you see it, but the cabin's dual-cockpit architecture and the classy fabric hues make this an irresistible space to occupy, and never mind the performance and dynamic treats to come.
Before they do, you may well be wondering who Touring is and what its somewhat cumbersomely named Arese RH95 is, too. Only if you're of a certain (depressingly advanced) age or a keen follower of the Italian coachbuilt car industry will you know of Carrozzeria Touring Superleggera, an Italian coachbuilder that has enjoyed two lives.
The first began in 1926, when Carrozzeria Touring was founded by Felice Bianchi Anderloni. It was not long before this Milanese coachbuilder was winning concours events with its designs, wealthy enthusiasts bringing Touring Alfa Romeos, Isotta Fraschinis, Lancias and BMWs to be clothed. During those four decades, Carrozzeria Touring fashioned some especially beauteous cars, besides developing the Superleggera advanced lightweight body manufacturing technique. Superleggera models, famously including Aston Martin's DB4, DB5 and DB6, were constructed from elegant latticeworks of small-diameter tubes, over which thin aluminium skin panels were hung. The light, rigid structure lent itself to hand-formed panels and bespoke construction and many famous makers drew on this patented technology, including Maserati, Pegaso and Bristol, as well as Aston.
But the advent of monocoque bodyshells, which made bespoke designs much harder to engineer, threatened Touring's survival. It didn't go bankrupt, but it was wound up in 1966. What happened next you can discover in the separate story opposite, but the company was re-established in 2006 to produce bespoke, high-end, limited-run cars in the Touring visual tradition.
The Arese RH95 is just that, and the last in a series of 21st-century Touring triplets, following the 2016 Alfa Romeo Disco Volante and the 2020 Aero 3. "This is the first exploration of mid-engine, or mid/rear proportions, the other two being front engined," explains Touring design chief Louis de Fabribeckers. "This car is about agile handling. The three cars share the 'victory' grille, the horizontal tail-lights and the smooth, elegant, almost feminine surfacing in combination with very strong details such as the vertical exhausts and the assertive headlights."
Like coachbuilders of the 20th century, Touring has to choose a car on which to base its work, bringing us to a slightly sticky issue. Which is that the company is reluctant to reveal the source of this car's innards, because it cannot be seen to be profiting from that firm's stellar reputation. Instead, it says it wanted a powerful, mid-engined car with pedigree and has picked an Italian supercar maker's excellent V8 machine as the basis for the Arese. It can be had in another, more potent form than the car featured here, to issue 530kW.
It might seem mealy-mouthed not to mention the marque and it was indeed this scribbler's original intention to do so. But it's not hard to work out and avoids potential problems for Touring. And when you've sampled this car, you're almost certain to conclude that what it is doing is a good thing, adding variety and colour to the new car choices available to buyers. An extremely deep-pocketed buyer in this case, which we'll come to later.
It must be quite something, however, to buy one of the most admired mid-engine junior supercars of the moment and agree to pay a substantial multiple of its price to have it filleted by a team of engineers on the outskirts of Milan. In terms of exterior body panels, the filleting is near total. Only the windscreen and its surround survive the transition. There's a good reason for the retention of this element, and of the car's powertrain, suspension, front-end structure, dashboard, seats and safety systems, and that's the need to carry over the homologation and crash test results of the donor car. Without doing this, the cost of the programme would mushroom, what with the need to crash test the car and gain heaps of official approvals.
In any case, there's very little wrong with the donor car, whose V8 you order to life with a red start button on the manettino-equipped (clue alert) steering wheel. Twin plumes of condensation drift across the screen of the electronic rear-view mirror, whose camera is fed from a lens sat low between the Arese's boldly rectangular exhaust orifices. These vapours provide a mildly diverting sight until combustion warms them away. The engine settles to a promisingly busy idle that can be harnessed either by leaving the seven-speed dual-clutch transmission in the auto mode, or by finger-flicking the right-hand, fixed-position paddle shift to trigger first. Almost from the moment the Arese moves, you sense its chassis is special. You feel bumps, not uncomfortably but with such sensory clarity that if you're travelling slowly enough, you can imagine the severity of each one. This chassis is about feedback.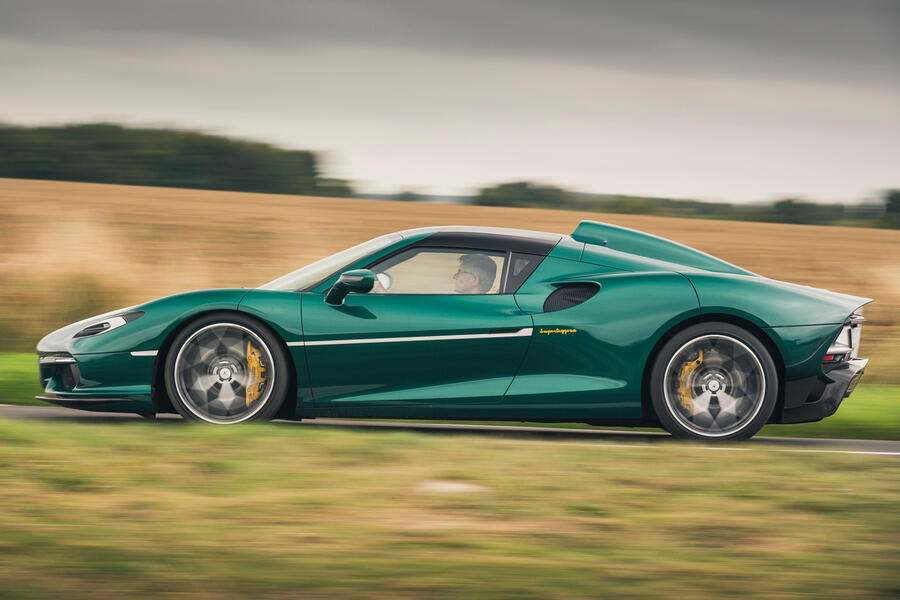 Add speed and the car rides crests, dips and camber shifts almost languorously, yet with an undercurrent of firm wheel control. It's fascinating to feel the interactive motions of the body and dampers. No less beguiling is the sound of the V8, which takes on a guttural, hollow roar under load, a roar that turns to mechanised rip as the revs soar to 8500rpm. Although not today, as this car is still running in.
A less welcome sound comes from the fan that draws air into the dorsal scoop just above your head, this air intake ensuring a vital supply of cool air to the engine. The motor is too loud, its roar frequently invading the cabin even on a cool day. To be still pickier, the Arese's scissor doors require quite some heft to open and you notice that the steering wheel rim turns diggingly hard on your palms after half an hour.
All of which is forgotten when you experience the Arese's supreme balance. Once you're used to the dartingly fast steering, the car holds a line as if it were pinioned there by a vertical wall of death, rounding speedily taken bends with near insouciance. This is a car that can ride demanding roads at speeds to take your mind off everything else, not because it's difficult to control but because it allows such blisteringly rapid progress. Not that this can entirely be discovered today, because as well as this car bedding in, it has already been sold to the owner of the 'RH' in the Arese's full name, whose other elements are explained by the factory's Arese location and the 95 years since Touring's foundation.
The unrevealed 'RH' part-funded the Arese's engineering development, and for that investment he not only gained oblique recognition but also helped determine the design direction of the project, as de Fabribeckers explains: "Our patron had in mind the sports cars of the '50s and '60s and in particular the Alfa 33 Stradale." References to this especially beautiful 1967 eight-cylinder, mid-engine Alfa Romeo can be seen in the extended doors, with their glass roof panels, and the fact that when every moving panel is open, the car looks as spectacular as it does with them closed. A further link is that Alfa built only 18 examples of the 33 Stradale, and it's the same number that Touring is aiming for with this series.
That might seem a modest ambition, until it comes to the question of price, which Touring will not reveal, beyond saying that each car requires 5000 highly skilled man-hours to construct. If you assume $380 per hour, you instantly get to $1.9 million without adding in each car's share of the tooling and development costs and the price of all those high-end materials. So it's a seven-digit sum and with taxes may even flirt with $2.84 million. Which makes the cost of the donor car near incidental.
Yet the market for million-pound-plus cars is undoubtedly there, as all the blue-blood supercar and luxury car makers, and the classic car market, repeatedly prove. So has Touring Superleggera, which has sold well over 50 limited-edition cars, many of them for seven-figure sums. The exquisite, exotic, exclusive Arese may sit far beyond the reach of almost all of us, but the fact that coachbuilt, limited-edition cars like this are once again being produced is surely to be celebrated. Especially when they look this good.
Richard Bremner