Nissan sets timing and model lineup for Australian Z.
Nissan has confirmed that the new generation Z will arrive in Australia around the middle of 2022.
The Japanese maker's sports coupe will be sold in one trim level, although there will also be a limited edition available at launch.
The main model sold in Australia will simply be called the Nissan Z, offered with the choice of either a six-speed manual or a nine-speed automatic transmission.
The limited-edition model will be the Nissan Z Proto Spec, which gains unique 19-inch bronze alloy wheels, unique yellow brake calipers, black interior finished with unique yellow interior accents and stitching, and the option of a two-tone 'Ikazuchi' yellow exterior paint with black roof.
Exact pricing and specifications will be announced closer to the model's launch next year, although we should be prepared for a reasonable increase on the almost $50k price of the old outgoing model.
Existing information from the Z's international unveil confirms that it will be powered by an Infiniti-sourced VR30DETT 3.0-litre twin-turbo petrol V6 engine producing 298kW at 6400rpm and 475Nm from 1600-5600rpm – more power but less torque than its direct rival the Toyota Supra which makes 285kW and 500Nm from a BMW engine.
The automatic is a nine-speed transmission with manual shift override via aluminium steering-wheel-mounted paddles and launch control. The manual has six cogs with an EXEDY light-weight clutch, carbon-fibre driveshaft and automatic rev-matching.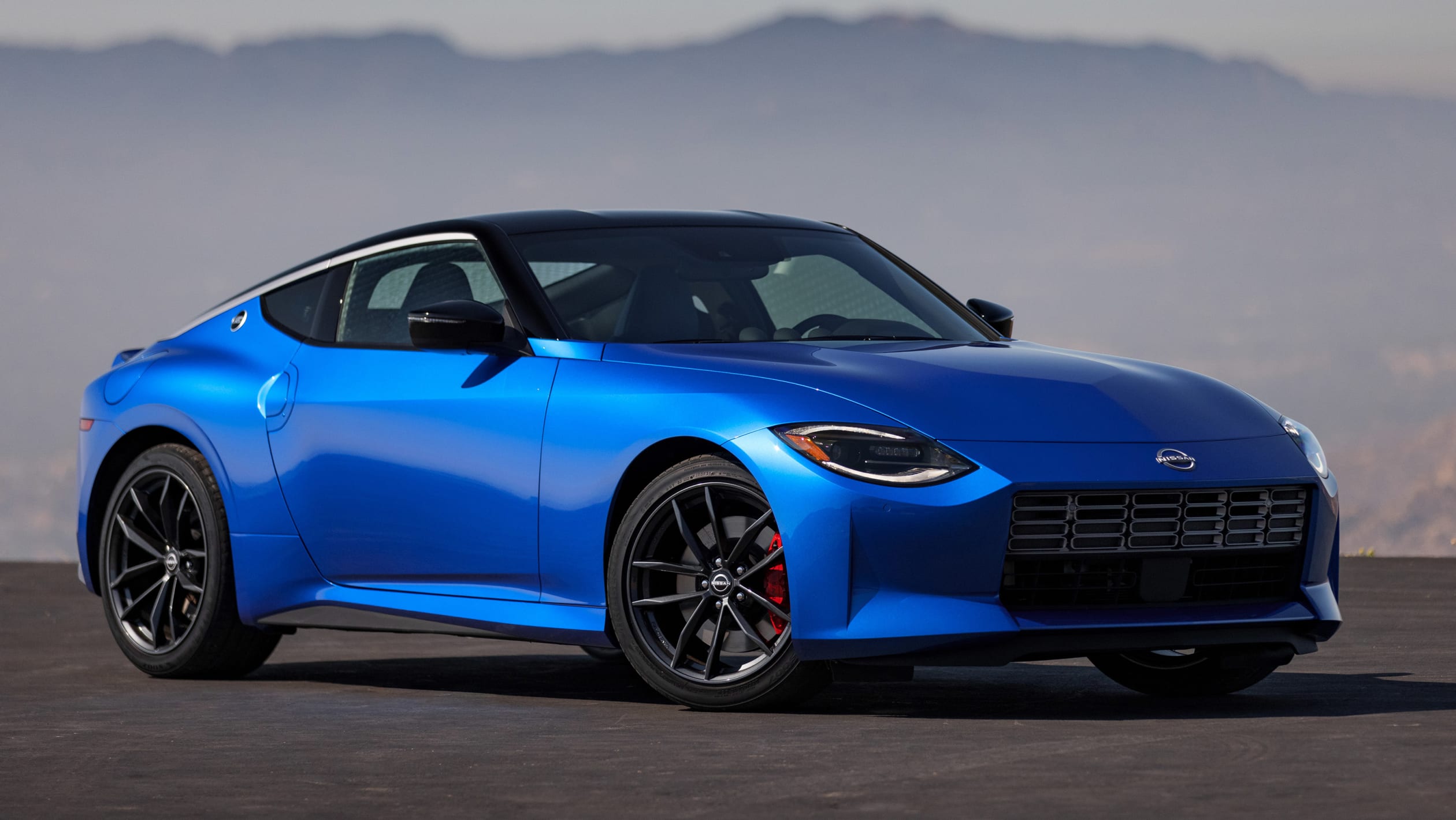 Sitting on the same platform as the 370Z, the new Z has a revised double-wishbone front and multi-link rear suspension setup. The larger passive dampers are fitted with increased caster up front, larger front and rear stabiliser bars bolted in, a mechanical clutch-type limited-slip differential in the rear and 14-inch front, 13.8-inch rear Nissan Sport brakes. The wheels on the US Performance model are 19-inch RAYS forged aluminium alloys with Bridgestone Potenza S007 rubber. The Sport variant gets 18-inch alloys with Yokohama Advan Sports.
A significant upgrade to safety sees the model now come with AEB with pedestrian detection, forward collision warning, lane departure warning, rear cross-traffic alert and blind-spot monitoring, though adaptive cruise has not been specified.
Inside the cabin, the exterior retro influence carries on, with a 240Z-inspired dash housing three analogue gauges for boost pressure, turbo speed and volts. The black cloth sports seats have suede highlights and share access to an 8.0-inch touchscreen with Apple CarPlay and Android Auto connectivity, and the driver enjoys a 12.3-inch digital cluster.
Nissan Australia's new Managing Director, Adam Paterson, says the new Z is a transformation in all manners.
"I'm thrilled that the new Z doesn't just further the story, it rewrites it. From power to handling, technology to cabin comfort, this is a vehicle designed to delight, and we can't wait for its Australian fans to get behind the wheel."
Pricing and specification will be revealed closer to the on-sale date next year.
Alex Rae