Ten years ago, with then all-powerful Carlos Ghosn standing in the foreground to accept plaudits, Nissan revealed its revolutionary Leaf, a Ford Focus-sized hatchback and the world's first modern mainstream EV.
Its design and development had cost about AUD$7.5 billion, Nissan insiders boasted, which was around double what they would have had to spend on a similarly sized conventional car. But, they said, their view of the future made that outlay well and truly worthwhile – and so it has proved.
Reception of the Leaf was mixed. Futurists, early adopters and the eco-minded all admired the confidence of Ghosn and co in seeing where car engineering would need to go, but industry pragmatists were much less sure. Where were the customers for this car or the market forces that would make car buyers, always conservative, take it seriously? People rarely change their habits without powerful inducements, and there were none here.
It helped that the world's motoring journalists were encouraging. Many hadn't driven a decent electric car until their first go in a Leaf so had laboured under the delusion that an EV would be as sluggish and unresponsive as the proverbial milk float or golf buggy. (A delusion that took longer to shift among potential customers and still lingers today.)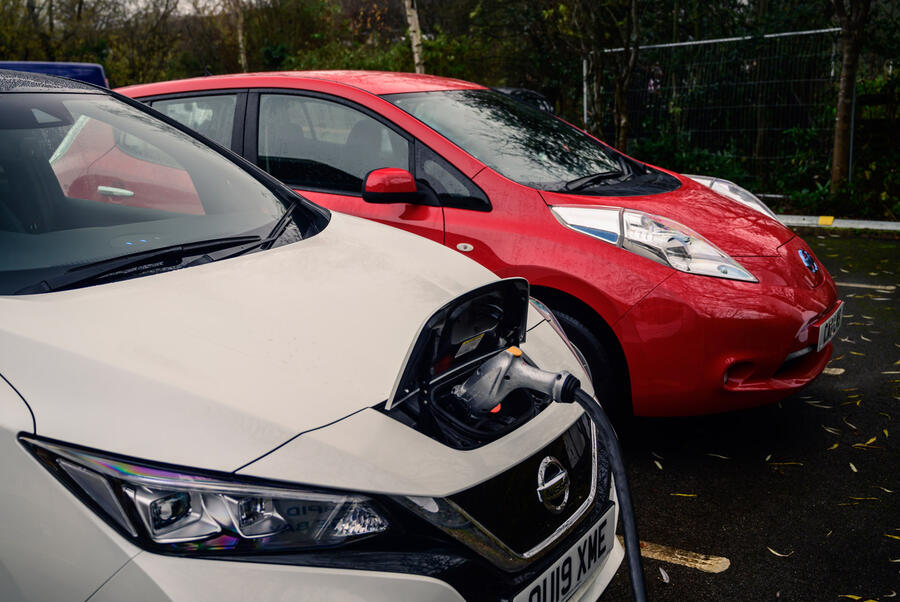 They loved the Leaf's simplicity, refinement and responsiveness, thus it was voted both Europe's Car of the Year and World Car of the Year in 2011 – better recognition than even Ghosn and his most optimistic colleagues could have expected.
To underscore the Leaf's decade of achievements, crowned by the fact that global sales of this car have now passed 500,000 in 59 countries, we decided to borrow both an original and a current model from Nissan to view and drive them – and, above all, to compare them for steadiness of concept. After all, many of Nissan's decisions back in the 2000s, when it was deciding what EV owners would want, were essentially shots in the dark.
The early Leaf we found was in near-perfect order because of low kilometres and a fastidious owner; the current car was an example of the recently launched Leaf e+, packing more than twice the power and range of that original, and with 0-100km/h acceleration that shaved more than 3.0sec off the 2011 model's perfectly respectable 9.9sec.
Such progress in a decade paints an interesting picture of the speed and direction of all EV development: the latest Leaf may be dynamically more capable but it also, despite growing very little in its exterior dimensions, adds handily to the original's cabin and boot space.
In early 2011, the Leaf created immediate headlines by playing an unexpected but vital role in Japan's recovery from a disastrous earthquake and consequent tsunami. With regular supplies knocked out, power from Leaf batteries provided much-needed electricity and light to assist Japan's doctors to continue treating patients in some of the worst-affected areas. A total of 4.8 million households lost power; and Nissan provided 66 Leafs, grabbed back from early distribution, to power clinics and operating theatres.
This unique-to-Leaf contribution has been repeated several times since in Japan, which suffers 10% of the world's earthquakes and experiences frequent typhoons.
Nissan has since made its EVs' ability to 'give something back' a powerful selling point: working through a suitcase-sized power converter, a fully charged Leaf can power an average house for between two and four days, and when the power is expended, it can travel to an EV charger and return to do it all again. Small wonder that Nissan is a leader in efforts to portray EVs as lifesaving power sources as well as mere cars. The day is fast coming, says Nissan, when EVs will play a full-time role in powering households.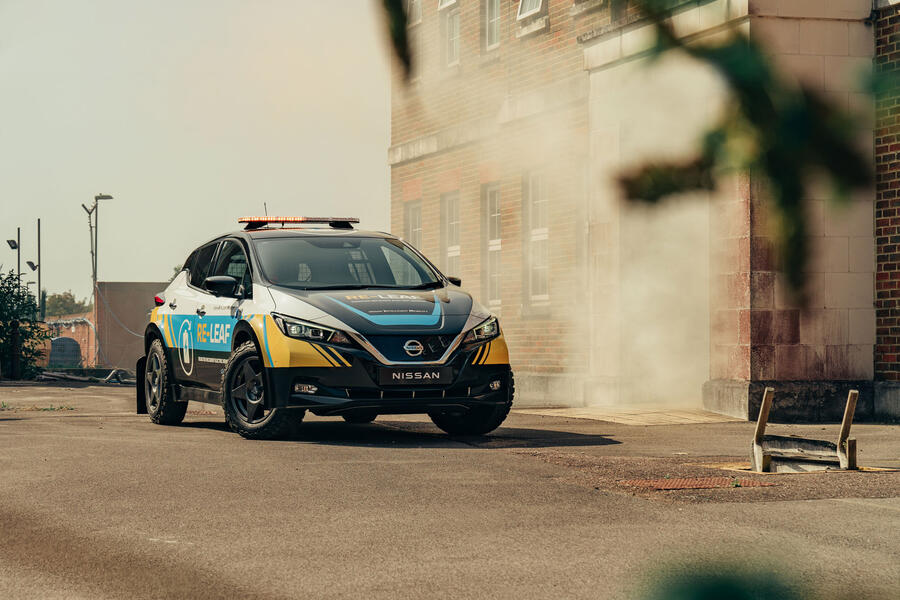 To show the direction of travel, Nissan last year uncovered the 'ruggedised' Re-Leaf concept, with underbody protection, an elevated ride height, all-terrain tyres, roof-mounted lights and external power outlets (as already offered on the e-NV200 electric van) and a workspace instead of rear seats, demonstrating how the Leaf could function as a power source and command centre in a disaster.
In the past decade, the Leaf has made much progress in important areas, notably battery capacity and drivetrain power and efficiency. However, the relatively small changes to its size and mechanical layout pay their own tribute to the wisdom of the Japanese creators' original decisions about size and price. The Leaf was always proposed as a proper family car, with decent rear passenger room and a practical boot, which is why the original model and the Mk2, launched in 2017, are within 50mm of one another in overall length (4.5 metres for the latest car) and sit on the same 2.7-metre-long wheelbase.
Today's most elaborate and priciest Leaf, the e+, is much faster and has a much longer range than the original, though. The Leaf started life with a 80kW motor, fed by a 24kWh battery to deliver a range of about 180-200 kilometres. Things changed fast: early cars were soon being made with smaller and more efficient motors and a "far more capable" 30kWh option became the norm.
On the 2017 arrival of the new-shape Leaf, base models were offered with a new output of 110kW and a basic battery capacity of 40kWh, which, despite some extra weight and the addition of potentially power-sapping gadgets such as heated seats and a steering wheel, boosted the WLTP range to around 270 kilometres
As British customers showed a preference for extra performance and longer ranges from EVs, Nissan launched the Leaf e+, with a 62kWh battery and a 160kW motor, resulting in near-hot hatch performance plus a range close to 390 kilometres.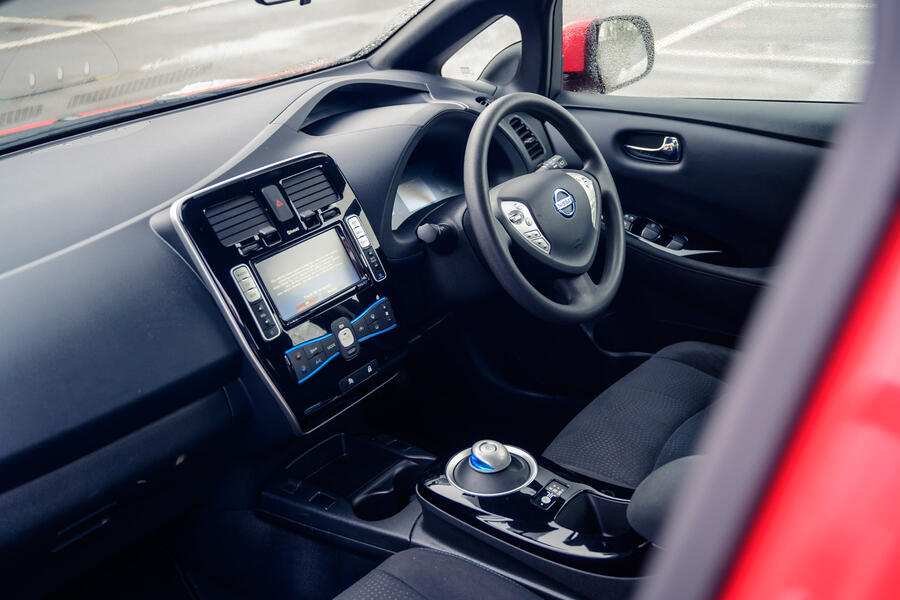 Given the validity of the Leaf concept, backed so far by half a million motorists, there seems little chance that the Mk3 model will be greatly different when it arrives in three years or so. We would guess that it might migrate to the new platform of the Ariya electric SUV (which has a 2770mm wheelbase, compared with the current Leaf's 2700mm one) but that, despite promises of more exotic battery tech than lithium ion packs, technology will creep rather than rush forward.
In short, with the arrival of the e+, the Leaf appears to offer as much performance and range as it will need for the near-to-medium term. Nissan's emphasis must now surely be directed on EV line-up expansion. But as it heads into new territory, it will undoubtedly benefit from a priceless decade of experience at producing and developing that original Leaf, remembered forever as the pioneer of the electric age.
Buying an early Leaf
The early Nissan Leaf you buy is likely to be affordable, rather than a giveaway. These cars are well-made and they tend to hold their value.
Our hunt was especially for 30kWh Mk1 versions built from around 2015 to 2017 (when supply built up in the market), because the Leaf experts tell us that '30s' are considerably more capable for range than the earliest 24kWh cars, some of which were inclined to lose battery performance quicker than later models.
Look to be paying around $20,000 (after haggling) for a 2016 model year car with around 50,000 kilometres on the clock in good condition and you won't be going too far wrong.
The best bet against declining battery capability (generally less of a problem than it's billed) is with a car with low kilometres. Fewer charges, especially fast charges, means less battery decline. But in any case, many people buy Leafs of this age for exclusively short-haul use.
"I bought our Leaf as a second car, but it soon became our first," is a remark you hear all the time.
Leafs on the road
Practically speaking, these two cars don't show much of a difference from 10 years. Both have the characteristics their buyers chose them for: extreme smoothness of power delivery, lots of urge from step-off and a freedom from troublesome stuff like the need to operate a clutch or a gearstick.
Given its apparently meagre power, the Mk1 Leaf seems really frisky, although it's easy enough to see why that is by scanning its specification and seeing that it packs 280Nm. That's more than enough when you consider you don't even have to wait for your engine to climb to the top of a torque curve to deliver the maximum. You're on top of the mountain without trying.
Mind you, the graduation from Mk1 to Mk2 brings many advantages. One is the seating position: the latest Leaf e+ corrects a tendency for the driver to be set too high. The same goes for the dynamics: compared with the latest Leaf, on lower-profile rubber and with a decade's development of its chassis, you have to deal with considerably less body roll and a helping of extra steering alertness that have arrived since the era of the original Leaf's somewhat spongy, tall-wall tyres.
Without meaning to be rude about our original Leaf loaner, the biggest difference across the years is in driving pleasure. The Leaf has moved a long, long way since 2011. Its steering is accurate and not too light but a little languid – not least because the car weighs 1.6 tonnes at the kerb. The ride is pretty good for the same reason, with what feel like quality dampers (better than those on its predecessor) to tame body movements.
As befits a car with a sub-7.0sec 0-100km/h time, you can drive the Leaf e+ with verve, provided you're smooth with it. So-called e-pedal driving, whereby you get powerful retardation just by easing the accelerator pedal (and a stop when you lift right off) is accurate and efficient – although, if you're like me, you might prefer allowing the car to coast a bit more.
Smoothness is the key – as is the case with most electric cars, because they're heavy and get untidy and unsatisfying if flung about. Drive this Leaf pair together, as we did, and they're plainly related in response and feel. It's just that, as you would expect from 10 years of development, with more power and more range, the later car feels much the more capable in a wider envelope of usage. But in both cars, Nissan's quality is obvious, perhaps the more so in the Mk1 version. It may already be 10 years old, but it's clearly going to last a lifetime.
Steve Cropley