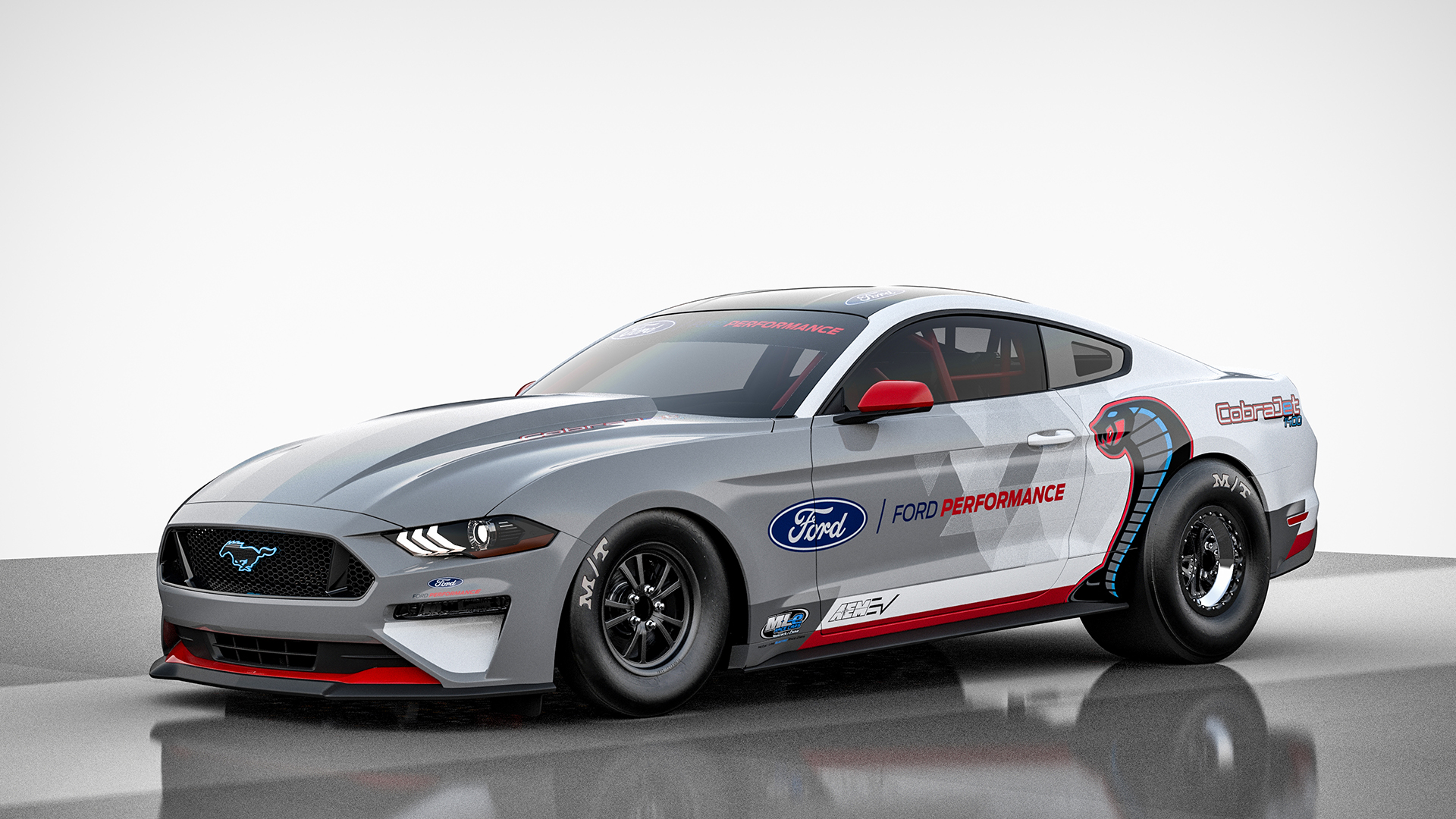 Ford's Mustang-based drag racer prototype features a 1044kW electric powertrain – and it can cover the quarter-mile in eight seconds
This is the Ford Mustang Cobra Jet 1400. It's the American brand's first factory-developed, EV dragster prototype, built to showcase the capabilities of Ford's electric powertrains. The car shown in these images is still undergoing development, but we expect the finished product will make an appearance at the SEMA Show in Las Vegas later this year.
Ford's claimed performance figures are impressive. There's a single (but rather large) electric motor mounted up front, which produces 1044kW or 1400bhp (thus the 1400 reference) and almost 1500Nm. Power is sent to the rear wheels via a sequential transmission – all of which allows the electric Cobra Jet to cross the quarter mile mark in just eight seconds at more than 275km/h.
The usual suite of drag car chassis upgrades also feature. Ford has fitted the Cobra Jet with a full roll-cage, beefier suspension, uprated brakes and a pair of enormous Mickey Thompson rear tyres. There's also a parachute system (as found on a Top Fuel dragster), which helps to slow the car at the end of the track, as well as a wheelie-bar, which prevents the car from flipping over after launching from the start line.
Ford's new all-electric Mustang Cobra Jet 1400 also pays homage to the brand's original factory-developed drag-racer – the 1968 Mustang 428 Cobra Jet. That was powered by a carbureted 7.0-litre V8 engine which produced upwards of 300kW; although Ford rated it at around 250kW in an effort to pacify insurance companies and fool dragstrip regulators.
Dave Pericak, Global Director for Ford Icons, said: "Ford has always used motorsport to demonstrate innovation. Electric powertrains give us a completely new kind of performance and the all-electric Cobra Jet 1400 is one example of pushing new technology to the absolute limit. We're excited to showcase what's possible in an exciting year when we also have the all-electric Mustang Mach-E joining the Mustang family."
Luke Wilkinson