Chiron Super Sport Golden Era features stunning murals of Bugatti's most famous creations.
The new Bugatti Chiron Super Sport Golden Era has been revealed as a one-off, painstakingly decorated celebration of the French marque's illustrious heritage.
Designed according to the wishes of a "very important" customer, the latest special edition pays homage to Bugatti's venerable W16 engine and the historic models that established the firm as one of the world's best-known luxury brands.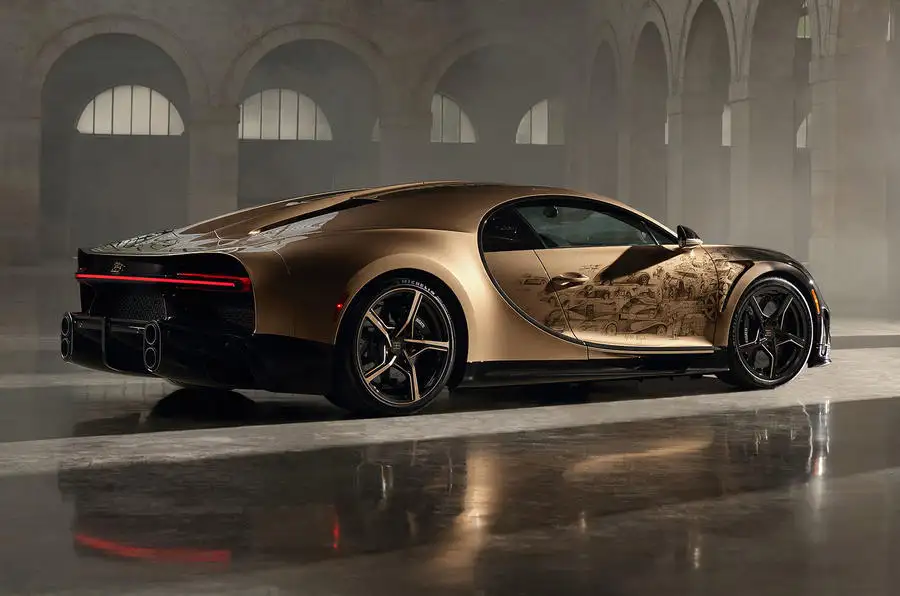 It's decorated with a hand-drawn mural featuring 45 historic Bugatti models, which took more than 400 hours to create – a process that Bugatti itself called "extremely intimidating".
The ink was developed for durability and should last the lifetime of the car.
The passenger door features 26 cars, including the Type 41 Royale – regarded as the world's most luxurious car when it launched in 1926 – and the Type 57 SC Atlantic, a personal favourite of Bugatti's former design director, Achim Anscheidt, who oversaw this project.
The 'modern' era of Bugatti is depicted on the driver's side, with sketches of the EB110, Veyron and Chiron itself.
As a nod to the 16-cylinder engine that Bugatti has used for the last two decades, the 3712 components that make up the unit are also sketched onto the doors.
The entire car is coloured in two-tone Doré gold and Nocturne black.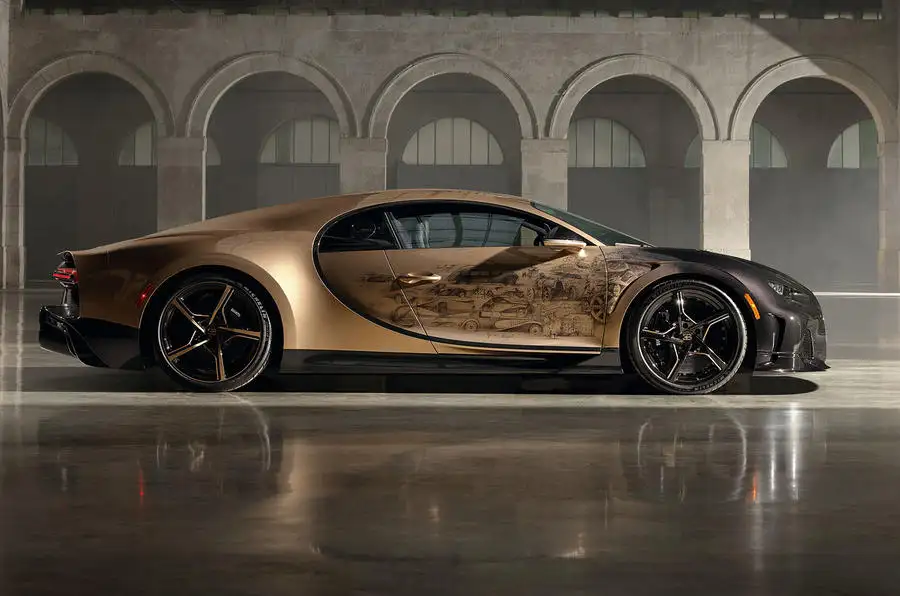 Anscheidt, who retired from his role as Bugatti's chief designer last month, said: "Our customers can be incredibly creative, and we take great pride in helping them realise what they dream of, but extensive special commissions such as this are exceedingly rare: we usually see no more than one or two creations on this scale each year.
"Given the exacting nature for this project, [the] Golden Era is probably the most demanding piece of tailored personalisation work that my team and I have ever worked on."
The calligraphic theme continues inside on each of the door panels, with the EB110, Veyron, Chiron, Type 57 SC, Type 41 and Type 35 painted directly onto the leather.
The Golden Era will be handed over to its owner at Monterey Car Week this Friday. It's not known how much the highly personalised car cost, but that the standard Super Sport cost £3.2 million (AUD$6.2 million) when new.