Hypercar artisan extraordinaire makes a fully committed entry to traction machinery.
It's no exaggeration to say that the Pagani Huayra R might be the most gloriously unnecessary car in the world.
The Italian company's previous creations are hardly likely to be used as daily drivers, but at least they can be used on public roads. The Huayra R s both a track-only special and a piece of automotive art, a hypercar that feels frankly too beautiful to be risked in the environment it's designed for.
Its otherworldliness is quickly proved when I arrive at the Vallunga circuit near Rome in a rented Fiat Panda. The first thing I hear is what seems to be an old V12 Formula 1 race car on track, a howling, yowling exhaust note echoing around the empty grandstands. Are we sharing a track with a Ferrari 412 T2?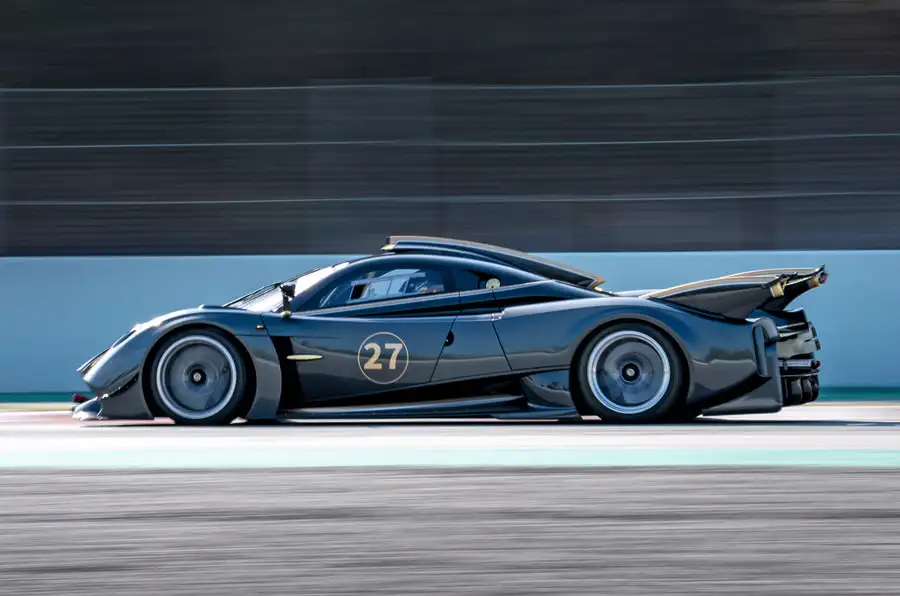 Leaning over the pit wall reveals that the noise is actually coming from the Pagani factory's Huayra R demonstrator, at a volume that will surely exceed the limits at almost every track in the world. Apparently, there is a quieter exhaust option, but Pagani has been allowed to come to Vallelunga with what are basically straight pipes.
Despite its name, the Huayra R has almost nothing in common with any of the previous road-legal Huayra variants. The only shared components are the door mirrors. It sits on an ultra-light carbon fibre frame built to satisfy FIA safety standards (although there are no plans to race it) plus a structural naturally aspirated V12 engine made in Germany by HWA, that being the former part of AMG that Mercedes-Benz didn't acquire.
Horacio Pagani insisted on a switch from the twin-turbocharged V12 of the regular Huayra to reduce mass and improve responses, but the new 6.0-litre unit still makes 625kW and revs to 9000rpm. It drives the rear wheels through a Hewland dog-ring transmission. It also needs to propel just 1050kg of dry mass. So let's call it around 1200kg with fluids and an average-size driver.
The Huayra R is a track car but definitely not a race car. That's true dynamically, with it giving you a friendlier driving experience than a real competition machine would, and also because of the dazzling high standards of fit and finish that Horacio Pagani insists on for all his cars. That applies to not just the bits on show, including optional naked carbon fibre bodywork and beautiful yoke-type steering wheel, but also to normally invisible components, from milled suspension arms to tiny bolts with 'Pagani' engraved on their heads.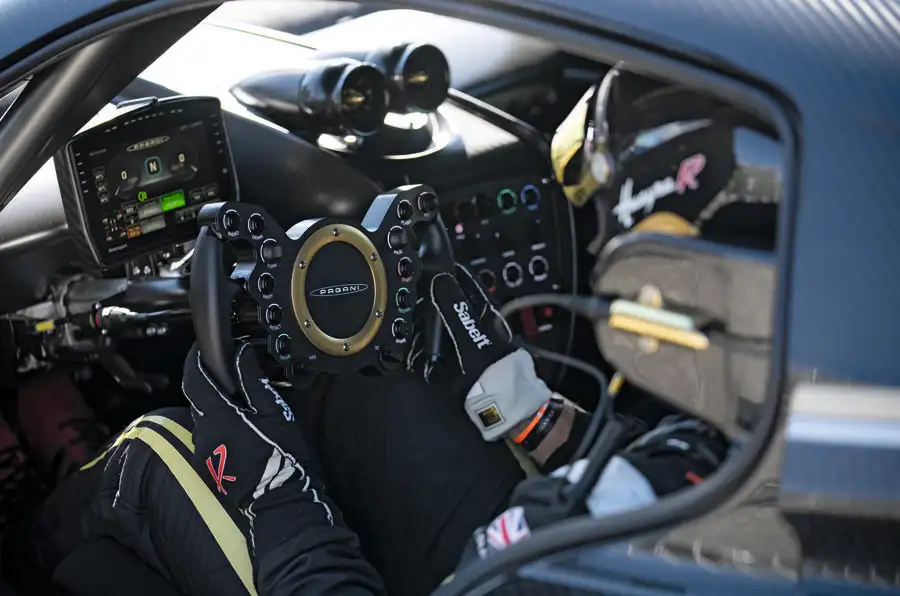 Despite integral air jacks to make wheel changing easier, and which drop me excitingly as the engine is fired into life, getting rolling is easy, thanks to an anti-stall system and an electrically controlled clutch.
But the end of the pit lane brings a sensory overload as the V12 starts to work. The exhaust note is glorious but almost uncomfortably loud, even through the padding of a helmet. Performance is predictably massive, but so is your sense of security once the slick tyres have warmed through, with adjustable anti-lock braking and traction control standing guard.
Although toweringly fast, the Huayra R is much less savage and unforgiving than a true GT racer. By happy coincidence, I drove a Lamborghini Huracán Trofeo Evo on this track not long ago, and that felt edgy even when riding on what the mechanics admitted were gentleman racer's suspension settings. The Huayra R feels more solid, less frenetic on turn-in and much more tolerant of mistakes. It's much happier over kerbs, too; I suspect it would cope well with a bumpier track.
As speeds rise, the Huayra R's huge rear wing and diffuser also start to add to the sense of stability. With the wing in its highest downforce setting, the car can generate 1000kg of downforce at its top speed of 320km/h.
The biggest challenge with getting the most out of the Huayra R is a common one for track specials: the need to bring the levels of physical strength necessary to deal with the high g-force loadings it can generate. I don't think it's unfair to suspect that those capable of paying the seven-figure price but not wanting to actually go racing might not possess motorsport levels of endurance. My neck muscles were starting to fade after five laps, although the car showed no signs of wilting, the massively powerful carbon-ceramic brakes still hauling off huge speeds without complaint.
Let's be honest, though: the Huayra R isn't just about driving. An owner won't even need to leave the pit lane of a high-end track day to be the most envied person there. Horacio Pagani admits that he was uncertain about the reception a track-only car would receive, the Huayra R being such a radical departure from its road-going predecessors. He didn't need to worry: the full allocation of 30 examples has been sold, despite a price tag that starts at €2.6 million (AUD$4m) before taxes or any of the bespoke options that pretty much every buyer has opted for.
That's an amount of money that could pay for multiple seasons in a real race car, but the Huayra R is still one of the most spectacular machines to ever grace a track. If you ever get the chance to see one in action, more especially to hear it, you should jump at the chance.